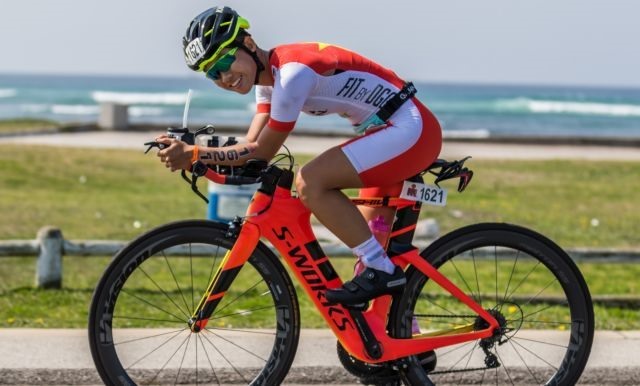 Could you please tell us about yourself?
My name is Lam Tuc Ngan, I'm 25 and I live in HCM City.
I'm a marketing manager for Garmin Vietnam, one of leading worldwide navigation software providers.
People call me a "wild card" because I do unexpected and impossible things. No one expected me to compete in a triathlon in 2017 after only five weeks of training, and last year, no one believed I could break the record in the sport, but I did.

What first attracted you to the triathlon?
I enrolled in the triathlon at the Ironman 70.3 Da Nang in 2017 almost accidentally. I did it only to promote sport out our company. Luckily I finished second in the 18-24 age group with a time of 7 hours 29 minutes for a 1.9km swim, 90km bike ride and a 21km run.
One year later, I returned with a time over an hour faster to claim my age group and the overall women's title. That earned me a ticket to take part in the world championships in South Africa.

You've been a triathlete for just two years. What inspired you to take up triathlon as a sport?
I've played football, basketball and badminton since I was very young, but I had no idea about triathlon. I had never run 10 kilometres, never ridden a road bike, never swam in the ocean before. Everything was quite new to me.
I took part in the sport because it's a good way to create an iron spirit to overcome challenges and finish any race. I also wanted to experience a world race in tough conditions to find out where I ranked, and that was the reason I tried my best.
What do you think are the advantages of triathlon?
Overcoming ourselves is the hardest but biggest thing. This is about an iron spirit, not a physical challenge.
The triathlon is an endurance sport which requires consistency: repeat and repeat, daily. It's a solitary sport. Many times I wanted to give up, but I did not. I reminded myself to keep moving. I think, along with improving health and having a strong heart, it helps develop other soft skills.
When did you evolve as an athlete?
I've always loved competition. I always try my best, and only turn to other sports when I've done my best in one.
I played for the District 6 women's football team and we won the HCM City Championship in 2012. I was called up for the team to play at national tournaments.
Then I turned to boxing which brought me one silver and two bronze medals from 2012 to 2017.
What are the challenges you face training for a race?
The most challenging thing for me is balancing my practice sessions with work, because triathlon requires much more time than other sports.
Of course, success never comes easily. If you really love something, you find a way to overcome the obstacles.
How do you feel when you reach the finish line?
The moment you cross the finish line is amazing and makes me so happy I can't put it into words. But it's a short moment because to me, each race is just a landmark. The thing I want most is to do better next time.
My coach used to say to me that if I was not exhausted at the finish line, it meant that I had not tried my best and I would regret later. And he was right.
What are your records in the triathlon so far?
I've taken part in many competitions over 15 years. But in triathlon alone, I've taken part in:
- Ironman 70.3 Da Nang 2017 (second place age group 18-24, with 7 hours and 29 minnutes);
- Ironman 70.3 Da Nang 2018 (first place Vietnamese female, first place age group 18-24, and first place Vietnamese female fastest run solo, with 6 hours and 16 minutes);
- and Ironman 70.3 World Championship in South Africa (where I was the only female triathlete from Southeast Asia to reach the finish line).
How do you feel about what you've achieved?
I am happy with what I have achieved. I am also proud to have represented Vietnam at the world championship in South Africa, and to be the only female triathlete from Southeast Asia to reach the finish line. I'll try my best to do even more in the future.
What do you want to do besides triathlon?
Triathlon takes up most of my time, so I have no time for other pleasures. I'm trained by more coach, so my time depends on his strict plans. However, if I have a chance, I want to save time for my family, instead of others.
What are your plans for the future?
In the next two years, I want my company to hit the targets we've set. I also want to set more records in all fields of sport while improving my soft skills.
Have you got any advice for young people who have never done a sport before?
Let's start with what you have and what's accessible. Some sports will fit you, at every stage of your life.

VNS