Republican Donald Trump stunned the world on Tuesday by defeating heavily favored Hillary Clinton in the race for the White House, ending eight years of Democratic rule and sending the United States on a new, uncertain path.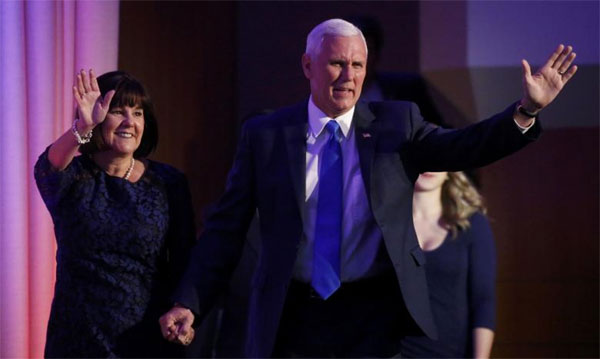 U.S. Republican vice presidential nominee Mike Pence and his wife Karen Pence arrive at U.S. Republican presidential nominee Donald Trump's election night rally in Manhattan, New York, U.S., November 8, 2016.
A wealthy real-estate developer and former reality TV host, Trump rode a wave of anger toward Washington insiders to defeat Clinton, whose gold-plated establishment resume includes stints as a first lady, U.S. senator and secretary of state.
Worried a Trump victory could cause economic and global uncertainty, investors were in full flight from risky assets such as stocks. In overnight trading, S&P 500 index futures fell 5 percent to hit their so-called limit down levels, indicating they would not be permitted to trade any lower until regular U.S. stock market hours on Wednesday.
The Associated Press and Fox News projected that Trump had collected just enough of the 270 state-by-state electoral votes needed to win a four-year term that starts on Jan. 20, taking battleground states where presidential elections are traditionally decided.
CNN reported Clinton had called Trump to concede the election.
A short time earlier, Clinton campaign chairman John Podesta told supporters at her election rally in New York to go home. "Several states are too close to call so we're not going to have anything more to say tonight," he said.
Victorious in a cliffhanger race that opinion polls had forecast was Clinton's to win, Trump won avid support among a core base of white non-college educated workers with his promise to be the "greatest jobs president that God ever created."
His win raises a host of questions for the United States at home and abroad. He campaigned on a pledge to take the country on a more isolationist, protectionist "America First" path. He has vowed to impose a 35 percent tariff on goods exported to the United States by U.S. companies that went abroad.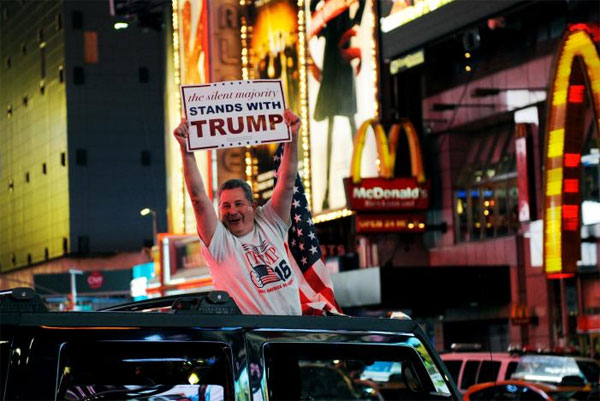 A man leans out of a Hummer shouting words in support of U.S. Republican presidential nominee Donald Trump while driving through Times Square in New York, U.S., November 9, 2016.
Both candidates, albeit Trump more than Clinton, had historically low popularity ratings in an election that many voters characterized as a choice between two unpleasant alternatives.
Trump, who at 70 will be the oldest first-term U.S. president, came out on top after a bitter and divisive campaign that focused largely on the character of the candidates and whether they could be trusted to serve as the country's 45th president.
The presidency will be his first elected office, and it remains to be seen how he will work with Congress. During the campaign Trump was the target of sharp disapproval, not just from Democrats but from many in his own party.
Television networks projected Republicans would retain control of the U.S. House of Representatives, where all 435 seats were up for grabs. In the U.S. Senate, the party also put up an unexpectedly tough fight to protect its majority in the U.S. Senate.
Trump entered the race 17 months ago and survived a series of seemingly crippling blows, many of them self-inflicted, including the emergence in October of a 2005 video in which he boasted about making unwanted sexual advances on women. He apologized but within days, several women emerged to say he had groped them, allegations he denied. He was judged the loser of all three presidential debates with Clinton.
TOUTS HIS BUSINESS ACUMEN
During the campaign, Trump said he would make America great again through the force of his personality, negotiating skill and business acumen. He proposed refusing entry to the United States of people from war-torn Middle Eastern countries, a modified version of an earlier proposed ban on Muslims.
His volatile nature and unorthodox proposals led to campaign feuds with a long list of people, including Muslims, the disabled, Republican U.S. Senator John McCain, Fox News anchor Megyn Kelly, the family of a slain Muslim-American soldier, a Miss Universe winner and a federal judge of Mexican heritage.
Throughout his campaign - and especially in his acceptance speech at the Republican National Convention in July - Trump described a dark America that had been knocked to its knees by China, Mexico, Russia and Islamic State. The American dream was dead, he said, smothered by malevolent business interests and corrupt politicians, and he alone could revive it.
He offered vague plans to win economic concessions from China, to build a wall on the southern U.S. border with Mexico to keep out undocumented immigrants and to pay for it with tax money sent home by migrants.
The Mexican peso plunged to its lowest-ever levels. The peso had become a touchstone for sentiment on the election as Trump threatened to rip up a free trade agreement with Mexico.
His triumph was a rebuke to President Barack Obama, a Democrat who spent weeks flying around the country to campaign against him. Obama will hand over the office to Trump after serving the maximum eight years allowed by law.
Trump promises to push Congress to repeal Obama's troubled healthcare plan and to reverse his Clean Power Plan. He plans to create jobs by relying on U.S. fossil fuels such as oil and gas.
CLINTON'S FAILED SECOND BID
Trump's victory marked a frustrating end to the presidential aspirations of Clinton, 69, who for the second time failed in her drive to be elected the first woman U.S. president.
In a posting on Twitter, Clinton acknowledged a battle that was unexpectedly tight given her edge in opinion polls going into Election Day.
"This team has so much to be proud of. Whatever happens tonight, thank you for everything," she tweeted.
The wife of former President Bill Clinton and herself a former U.S. senator, she held a steady lead in many opinion polls for months. Voters perceived in her a cautious and calculating candidate and an inability to personally connect with them.
Even though the FBI found no grounds for criminal charges after a probe into her use of a private email server rather than a government system while she was secretary of state, the issue allowed critics to raise doubts about her integrity. Hacked emails also showed a cozy relationship between her State Department and donors to her family's Clinton Foundation charity.
Trump seized on the emails to charge that Clinton represented a corrupt political system in Washington that had to be swept clean.
Trump's national security ideas, opposed by most of the elite voices across the political spectrum, have simultaneously included promises to build up the U.S. military while at the same time avoiding foreign military entanglements.
He wants to rewrite international trade deals to reduce trade deficits. He has taken positions that raise the possibility of damaging relations with America's most trusted allies in Europe, Asia and the Middle East.
He has promised to warm relations with Russia that have chilled under Obama over Russian President Vladimir Putin's intervention in the Syrian civil war and his seizure of Ukraine's Crimea region.
"Wouldn't it be nice if we could get along with Russia?" he said at many rallies.
Source: Reuters