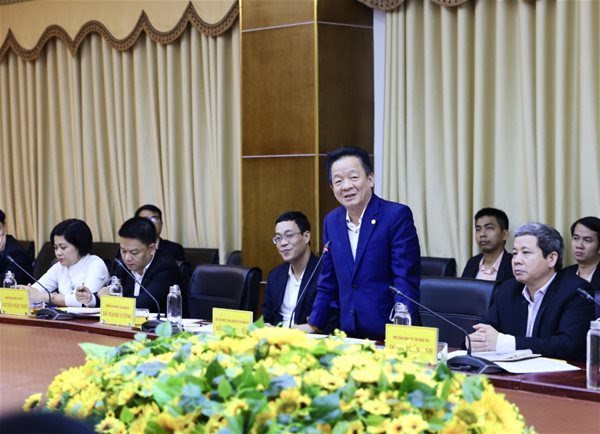 Do Quang Hien (standing), chairman and general director of T&T Group, attends a meeting with the authorities of Quang Tri Province – PHOTO: T&T
Covering nearly 120 hectares of land, the plant is located in the outlying district of Hai Lang, within the Quang Tri Southeastern Economic Zone.
It will have an initial output of some 1,200-1,500 megawatts and will later raise it to 2,400-3,000 megawatts. The first phase is scheduled to begin operations in 2028.
The proposed project followed an investment call from the provincial government in April this year. T&T Group later received the go-ahead from local authorities and put forward the proposal.
The revised plan will be sent to the Quang Tri government before being submitted to the Ministry of Industry and Trade and the Prime Minister for consideration.
The firm also expressed its intention to start three real estate projects: an urban, service and tourism zone called Gio Hai; an eastern urban area in Dong Ha City; and a tourism and service zone, called Trieu Van, in the rural district of Trieu Phong.
The province's chairman, Nguyen Duc Chinh, told the firm at a recent meeting that the local government will submit a scheme on adding the LNG-fire power plant to the revised national power development plan to the trade ministry and the prime minister at the end of this month.
Chinh noted that the urban tourism project is part of the province's general master plan, so he urged the firm to speed up the completion of an application for investment in-principle so that the province can allocate land for the project.
In June this year, T&T Group sought the approval of authorities of the southern province of Ba Ria-Vung Tau to develop an LNG-fired power plant worth nearly US$6 billion. This plant is expected to be operational in 2023 and has a designed capacity of 6,000 megawatts of electricity.
So far this year, Quang Tri Province has attracted 29 major projects with total investment reaching roughly VND100 trillion (US$4.3 billion). The projects are mainly located in the Quang Tri Southeastern Economic Zone, according to the Vietnam News Agency. SGT
Dung Nguyen

The shift from coal to gas in energy planning is important for Vietnam's future. 

The application of international LNG standards would ensure safety in the design, construction and implementation of infrastructure projects in Vietnam, a US official said.