VietNamNet Bridge - Two pop stars of Vietnam – My Tam and My Linh – are named in the category "World's Best Female Artist" for the artists with impressive album consumption in the year.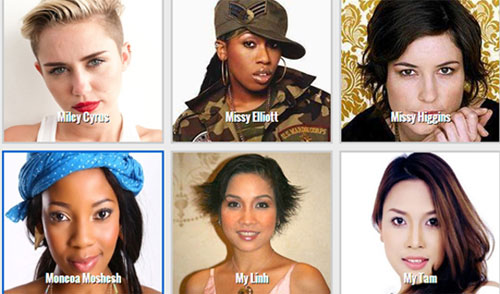 The names and photos of My Linh and My Tam are now posted on the website of the World Music Awards 2013.
The two Vietnamese singers are among the 62 Asian nominees. The list has many famous names such as Adele, Jennifer Lopez, Miley Cyrus, Selena Gomez, IU and Katy Perry.
My Tam is also nominated for the "World's Best Live Act" and the "World's Best Entertainer" Awards.
My Tam says: "I am proud to be nominated for the three categories of the World Music Awards. This will be one of the most memorable milestones in my musical career. I am very thankful for the support of the audience, I will try harder!"
In 2013 My Tam was nominated for the World's Best Female Artist title of the World Music Award but she failed. However, she was first Vietnamese artist who was nominated for the MTV EMA 2013.
After a month of voting, the organizers announced that My Tam's MV "Like a dream" passed Olivia Ong (Singapore), Hafiz (Malaysia), NOAH (Indonesia), Sarah Geronimo (Philippines), and Slot Machine (Thailand) to win the title "Outstanding Artist of Southeast Asia".
The World Music Awards 2014 will be held on May 27 in Monte Carlo, Monaco. The award was launched in May 1989 to honor the artists with the bestseller albums from all continents, according to statistics of the International Federation of the Phonographic Industry (IFPI).
The winners are determined through votes by the public on the Internet, including: World's Best Male Artist, World's Best Female Artist, World's Best Song, World's Best Album, etc.
The three main categories of the World Music Awards include: Legend Awards for the artists who have greatly contributed to the world music and are admired by global fans; Diamond Awards for artists who sell more than 100 million records in their career; and Millennium Awards for artists from many countries and territories whose albums are sold well.
Michael Jackson and Mariah Carey are the male and female singer most honored at the World Music Awards with 16 and 12 times, respectively.
The four artists who won most awards in the same year are Whitney Houston, Michael Jackson, 50 Cent, and Lady Gaga with five awards each in 1994, 1996, 2003 and 2010.
P. Linh