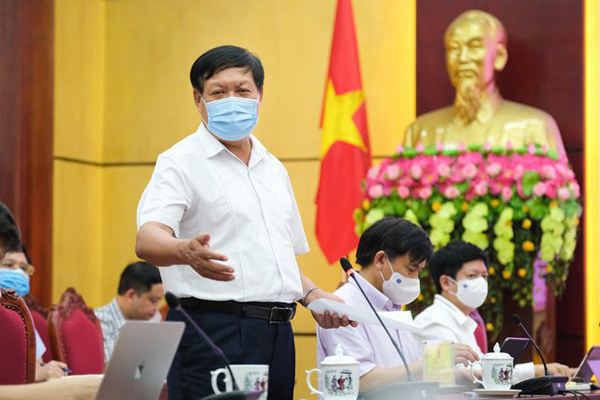 Deputy Minister Do Xuan Tuyen attends a meeting with Bac Ninh officials on solutions to combat Covid-19. Photo: Ministry of Health
On May 27 morning, Health Minister Nguyen Thanh Long announced the decision to set up a special task force in Bac Ninh, led by Deputy Health Minister Do Xuan Tuyen.
Mr. Tuyen can use the authority of the Minister of Health to mobilize human resources, means and equipment of agencies under the Ministry of Health to serve epidemic prevention and control tasks in Bac Ninh.
The special task force also includes many officials of the Ministry of Health, such as Director of the Information Technology Department Tran Quy Tuong, who is responsible for the application of information technology to prevent and control the epidemic; Deputy Director of Department of Health Environmental Management Luong Thi Mai Anh, who is in charge of quarantine and environmental treatment in industrial parks; Deputy Director of the Department of Preventive Medicine Hoang Minh Duc who is responsible for the investigation, monitoring of epidemics and environmental treatment in the community; and Deputy Director of the Central Hospital for Tropical Diseases Nguyen Trung Cu, who is responsible for covid treatment.
The special task force is assigned to support and guide the organization and implementation of monitoring, zoning covid outbreaks, monitoring quarantine areas and handling outbreaks in communities and industrial parks, and establishing field hospitals, covid treatment, screening, classification and collection of patients and others.
Earlier, a special task force was set up in Bac Giang province, led by Deputy Minister Nguyen Truong Son.
Bac Giang and Bac Ninh are currently the two largest epidemic centers in the country. So far, Bac Giang has recorded more than 1,540 cases while Bac Ninh has had over 620 patients.
Bac Giang, Bac Ninh asked to control COVID-19 spread at industrial zones

Deputy Prime Minister Vu Duc Dam on May 27 requested the northern provinces of Bac Giang and Bac Ninh to continue speeding up the implementation of COVID-19 prevention and control measures to prevent the pandemic from spreading to other industrial zones.

Speaking at the National Steering Committee for COVID-19 Prevention and Control's online meeting with leaders of the two provinces, Dam, who is also head of the steering committee, suggested the Health Ministry's special team in Bac Giang and local authorities combine Realtime-PCR testing and quick testing at current pandemic hotbeds, and speed up the self-collection of samples for quick tests among workers.

Bac Giang should collect samples for screening testing at places that have yet to detect any infections or districts that have yet to apply social distancing, and strengthen monitoring over people with symptoms of cough and fever, Dam said.

He agreed with the plan to rearrange production of enterprises in Bac Ninh's industrial zones. Accordingly, the province temporarily allows a number of workers to stay at factories, and at the same time arrange accommodations outside factories for workers who have to work in shifts, and transport them to the factories safely.

However, the Deputy PM also stressed the threat of the pandemic spreading outside industrial zones, asking all localities to raise awareness and vigilance at the highest level.

Reporting at the meeting, Director of Bac Ninh's Health Department To Thi Mai Hoa said that as of 12:00pm on May 27, the province had recorded 669 COVID-19 patients, with 5,056 "F1" cases who had direct contact with confirmed patients.

Notably, screening testing for workers at Khac Niem industrial cluster in Bac Ninh city on May 26 detected 19 workers positive for the coronavirus. Additional 40 cases were found on May 27. VNA
Thuy Hanh

The two northern provinces of Bac Giang and Bac Ninh, Vietnam's largest Covid-19 hotspots, have received 300,000 doses of vaccine for 300,000 workers in industrial parks. Vaccinations started on May 27.