VietNamNet Bridge – Not having money to buy alcohol, two young men became robbers. They robbed VND12,000 ($0.7) from a couple and were sentenced 6-7 years in jail.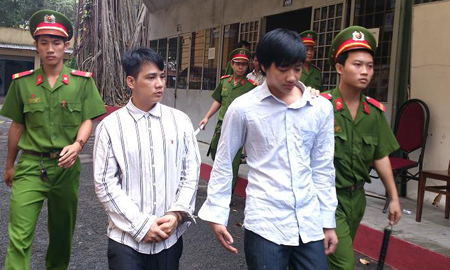 The two defendants.
On December 16 the Ho Chi Minh City People's Court rejected the appeal of mitigation and confirmed the penalty for two robbers, Lam Van Cung, 33 with seven years in jail and Nguyen Dat Thanh, 18, with six years in jail.
Cung and Thanh were workers, residing in Binh Chanh District, HCM City.
At 10pm on December 30, 2012, they and some friends drank beer at the restaurant in front of the Nguyen Ba Company in Hung Long Commune, Binh Chanh District.
At 2.30am on December 31, 2012, Cung and Thanh returned their inn but the inn owner closed the door so they could not get in. They wanted to return to the restaurant to keep drinking but they were out of money. The two men decided to rob to have money to buy alcohol.
Each of them held a stick, stood along the road to wait for their victims. They saw a couple on a motorbike and stopped them. The woman gave them VND12,000 left in her purse.
The two men kept waiting for another victim. They again saw a couple on a motorcycle. They also stopped them but the couple kept going. The robbers chased the motorbike and broke the plastic basin held by the woman sitting behind.
After robbing VND12,000, the two men bought alcohol and were arrested by the police. They admitted their act of robbery.
M.Phuong