Two Vietnamese fishermen missing in boat sinking in RoK
A fishing boat sank off the coast of Sinan county in the province of Jeonnam, leaving 9 out of its 12 crewmembers missing, including two Vietnamese citizens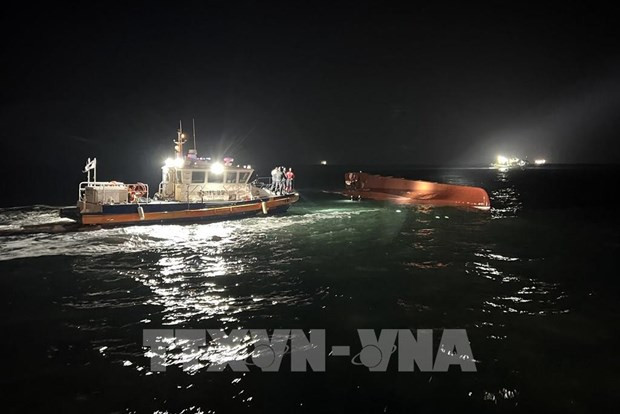 Rescuers are searching for the victims. (Photo: Yonhap/VNA)
The Republic of Korea (RoK)'s Ministry of Oceans and Fisheries has announced that on February 4 night, a fishing boat sank off the coast of Sinan county in the province of Jeonnam, leaving 9 out of its 12 crewmembers missing, including two Vietnamese citizens, according to the Vietnamese Embassy in the RoK.
On February 6, the RoK side discovered four bodies of the victims whose nationalities were unidentified. The search is still ongoing.
Upon hearing the news, the Vietnamese Embassy in the RoK actively held working sessions with the RoK's Ministry of Foreign Affairs and Coast Guard on the case.
It also directed the Vietnam Labour Management Office in the RoK to request the dispatch company and competent authorities to determine the identity of the Vietnamese victims, inform their families and guide them with necessary procedures.
Following the Vietnamese Ministry of Foreign Affairs' directions, the embassy is actively working with Korean agencies concerned to promptly conduct necessary citizen protection measures.
According to the embassy, the host authorities are highly concerned over the incident and working closely with the embassy to handle issues related to the Vietnamese citizens./. VNA