Two Vietnamese universities enter top 500 in the world for first time
Duy Tan and Ton Duc Thang universities in Vietnam have been named in the top 401-500 of the world university rankings THE 2022. This is the first time that Vietnamese universities have ranked that high.
.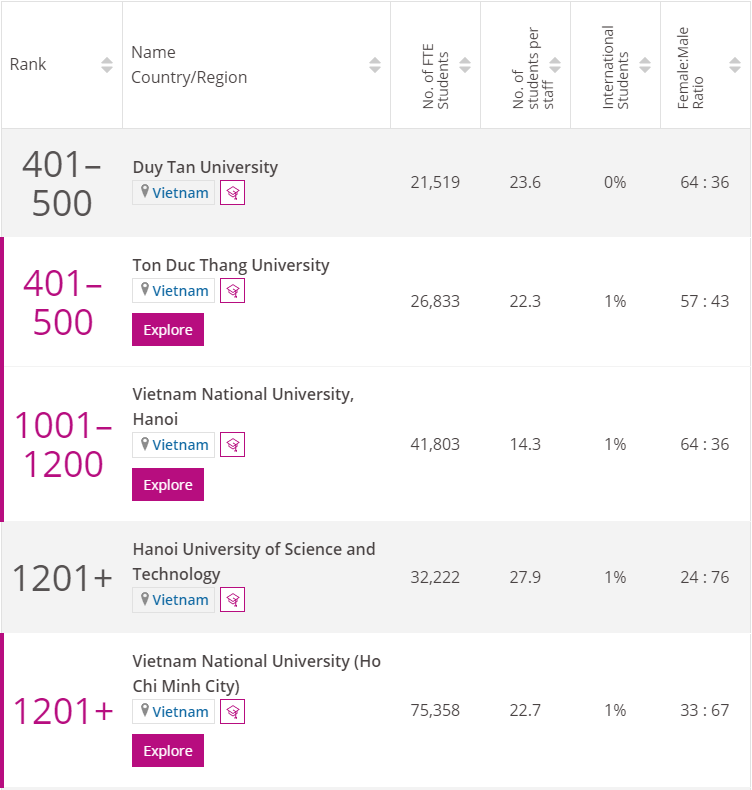 Both universities are in the top 401 – 500 due to their strong growth in citation indexes.
Specifically, Duy Tan University has a citation index of 100 (ranked 1 in the world), and Ton Duc Thang University 99.3 (ranked 18th in the world), even higher than that of top universities such as Harvard University, and University of California.
The Vietnam National University Hanoi, which previously had entered the group of 801 - 1,000 top universities in the world twice, this year ranked in the group of 1,001 - 1,200.
In addition, Vietnam National University Ho Chi Minh City and Hanoi University of Science and Technology were ranked in the group 1,201+.
The ranking has the participation of more than 1,600 higher education institutions across 99 countries and territories. This is the largest and most diverse university rankings in the world.
Overall, this is the sixtjh year in a row that Oxford University has topped the rankings, followed by California Institute of Technology, Harvard University (2nd place); Stanford University (3rd place) and Cambridge University.
For the first time, China has two representatives in the top 20, including Peking University and Tsinghua University, together in 16th place.
The US has the highest number of representatives in the rankings and in the top 200, with 183 and 57 universities, respectively, although its proportion of universities in the top 200 is decreasing.
Six countries have representatives in the ranking for the first time this year, including: Azerbaijan, Ecuador, Ethiopia, Fiji, Palestine and Tanzania.
According to THE 2022, Harvard University ranked first in teaching, while Oxford University led in research, and Macau University of Science and Technology ranked first in international outlook.
The criteria for THE 2022 are similar to those of the 2021 rankings, with 5 groups, including:
1. Teaching (learning environment), accounting for 30%
2. Research (volume, income and reputation), representing 30%
3. Scientific citations (research influence), with 30%
4. International outlook (of staff, students and studies) with 7.5%
5. Income (knowledge transfer) with a rate of 2.5%
Thuy Nga

Three Vietnamese universities have been listed in the Times Higher Education (THE)'s Asia University Rankings 2021.