The United Nations and the World Bank on Wednesday announced a concerted effort by governments, international agencies, civil society and the private sector to scale up financing to provide sustainable energy for all, with UN Secretary-General Ban Ki-moon calling for massive new investments in the face of a rising "global thermostat."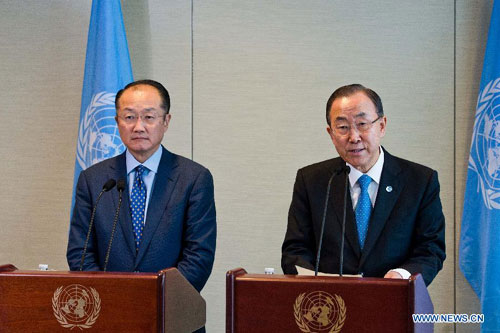 UN Secretary-General Ban Ki-moon (R) and World Bank President Jim Yong Kim attend a joint press conference at the UN headquarters in New York, on Nov. 27, 2013.

Ban and Jim Yong Kim, president of the World Bank Group, made the announcement to the press here after they co-chaired a meeting of the Advisory Board of the Sustainable Energy for All initiative, during which Ban called for action in four areas: finance, energy access, energy efficiency and renewable energy.
"Sustainable energy is the golden thread that connects economic growth, social equity, a stable climate and a healthy environment," Ban told reporters.
Launched two years ago, the initiative seeks to achieve three inter-linked goals by 2030: universal access to modern energy, doubling energy efficiency, and doubling the share of renewable energy, thus providing services such as lighting, clean cooking and mechanical power in developing countries, as well as improved energy efficiency, especially in the world's highest-energy consuming countries.
Kim said that financing is the key to achieving these goals. "To reach our goals for access to energy, energy efficiency, and renewed energy, we need to mobilize an additional 600-800 billion dollars a year from now to 2030."
"We are now starting in countries in which demand for action is most urgent," he said. "In some of these countries, only one in 10 people has access to electricity. It is time for that to change."
Ban praised Brazil's "Light for All" program that has reached 15 million people, Norway's commitment of 2 billion kroner (some 330 million U.S. dollars) in 2014 for global renewable energy and efficiency, and Bank of America's Green Bond that has raised 500 million dollars for three years as part of its 10-year 50 billion dollars environmental business commitment.
He also lauded the announcement of the Organization of Petroleum Exporting Countries (OPEC) to earmark 1 billion dollars for energy access.
"Now we need others to follow and build on these commitments. Achieving the goals of Sustainable Energy For All needs massive new and additional investment," Ban said, underlining the initiative's crucial roles in achieving overall sustainable development, reducing poverty and raising opportunity, combating climate change and "laying the foundations for the future we want."
"The global thermostat is rising, threatening development goals and economies small and large," he added. "It is clear that we need a transformation in how we produce, use and share energy."
Ban and Kim also announced that energy assessments have been launched in 42 countries, which account for 361 million people without access to electricity. At least 12 of these assessments will be completed by April 2014, and will serve as the basis for energy investment prospectuses developed for each country, they said.
The Wednesday meeting was the Advisory Board's second, bringing together 42 representatives of business, finance, governments and civil society in a global public-private partnership. A Finance Committee was established on Wednesday by the Advisory Board and will lead efforts to seek financing.
Kandeh Yumkella, the secretary-general's special representative and chief executive of Sustainable Energy For All, pointed to widespread support not only for the UN initiative, but also for energy to be at the heart of the global development agenda beyond 2015, the deadline for the anti-poverty targets known as the Millennium Development Goals.
"Eighty-one countries are now participating in this initiative," he said. "Their action is complemented by that of private sector companies and associations, as well as civil society groups. We will continue to work with key stakeholders to achieve sustainable energy for all, to drive action that transforms lives."
Source: Xinhuanet