UNESCO accompanies Vietnam in protecting cultural heritages

The UNESCO has been accompanying Vietnam in protecting, preserving, and promoting the country's cultural heritages. The goal is to create a future based on the bond between past and present.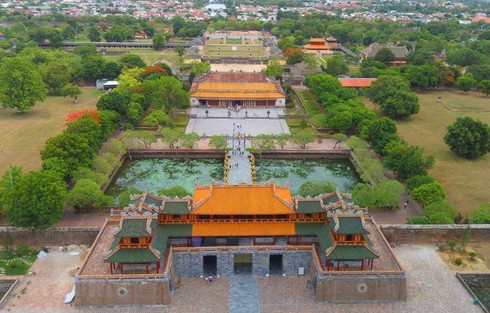 The Complex of Hue Monuments is recognized by UNESCO as the World Cultural Heritage in 1993.
Vietnam is proud to have 39 heritages recognized by UNESCO, including 8 cultural and natural heritages. Over the years, the Vietnam National UNESCO Committee has collaborated with authorities to preserve these treasures.
Cung Duc Han, Vice Director of the Department for External Culture and UNESCO under the Ministry of Foreign Affairs, told VOV "UNESCO has a lot of ideas, and has provided Vietnam a great deal of resources for heritage conservation. They were all very helpful."
During the 1980s, UNESCO helped Vietnam protect its cultural heritages in the former imperial city of Hue by organizing a global campaign and promote the beauty of Hue and Vietnam worldwide through films and posters. UNESCO agencies have provided support to the Vietnamese government through different means to help protect its recognized heritages.
UNESCO has assisted Vietnam in getting local heritages registered on UNESCO's list, shared advice and experience of its operation, and proposed policies.  UNESCO Vietnam's network with heritage sites and local governments worldwide also contributes to this effort by sharing related information and experiences and strengthening coordination.
UNESCO as a guide and a companion has recognized and successfully promoted the local heritages of many regions in Vietnam such as Ninh Binh, Hue, and Hoi An.
"The UNESCO recognition of heritage is not only a title but also a basis of development, so getting recognized is just a start. The development of heritages relies on how they're managed. It's necessary to raise public awareness on protecting values recognized by UNESCO. These values must be protected and can not be sacrificed for anything else," said Mrs. Tran Thi Hoang Mai, Head of the Vietnamese delegation to UNESCO and deputy head of Department for External Culture and UNESCO under the Ministry of Foreign Affairs.
UNESCO promises to uphold the global commitment to preserve Vietnam's heritages, and will continue to support Vietnamese in preserving its values through raising public awareness and educating the younger generations on this effort.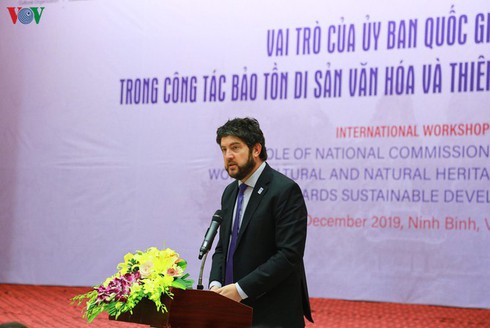 Michael Croft, head of UNESCO Vietnam. 
"Two and a half years ago when I came here and I was accompanied by the Director General to promptly review the UNESCO activities in Vietnam and to be honest, the review found that UNESCO was under-performing in Vietnam," said Michael Croft, head of UNESCO Vietnam.
"As you know this is the time of rapid transformation in Vietnam, the country now has new ambition, new objective, but now with the rest of the office stable and strong we can turn our focus to our collaboration in the communications and information sector and I've had discussions with both Vice Ministers of the Ministry of Information and Communications in terms of ways we could cooperate," he noted.
Heritages are the treasures of a nation, contributing to its economy, social status, and community development, while boosting tourism and promoting its image worldwide. Vietnam's heritages are not only national treasures but also a part of human culture that needs to be well preserved for future generations. VOV