UNESCO to commemorate Vietnamese poets' birth, death anniversaries
Vietnamese classical poets Ho Xuan Huong and Nguyen Dinh Chieu are among the World Cultural Celebrities whose birth and death anniversaries will be celebrated between 2022 and 2023.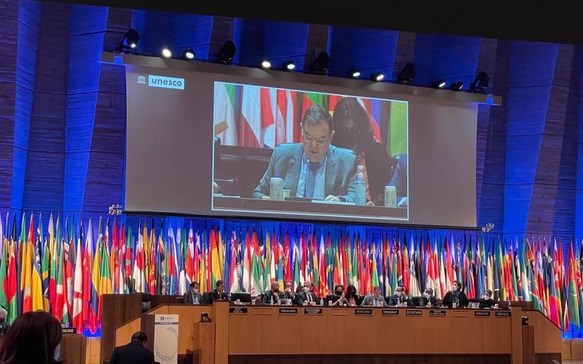 UNESCO approves the commemoration of the birth and death anniversaries of Vietnamese classical poets Ho Xuan Huong and Nguyen Dinh Chieu during its ongoing 41st General Conference in France's Paris on November 23. (Photo: Vietnam's Ministry of Foreign Affairs)
The decision was made during the ongoing 41st General Conference of UNESCO in France's Paris on November 23.
Vietnam's nominations for the commemoration of Ho Xuan Huong's 250th birth and 200th death anniversaries and Nguyen Dinh Chieu's 200th death anniversary were approved together with 58 other nominations.
Permanent Representative of Vietnam to UNESCO Le Thi Hong Van said the approval of the nominations show that Vietnamese cultural values have been highly regarded by the international community. It also reflects the UNESCO's effort to promote freedom and equality for all, particularly in education, she noted.
Nguyen Dinh Chieu, also known as teacher Chieu, Trong Phu and Hoi Trai, (1822 – 1888) was born in Binh Duong district, Gia Dinh province (now District 1, Ho Chi Minh City).
The blind poet was not only known for his nationalist and anti-colonial writings against the French colonisation of Cochinchina and his exemplary teaching, but also a popular medical practitioner. He is a typical example for people with disabilities around the world. Despite the blindness, he studied Confucianism and Oriental medicine from relatives.
His typical work of Luc Van Tien (The Tale of Luc Van Tien) is an epic poem written in nom (the old Chinese-based Vietnamese script) in the 1850s. It is regarded as one of the two most recognisable and influential epic poems in Vietnamese history, besides Truyen Kieu (The Tale of Kieu) by great poet Nguyen Du.
His poems tell about the people's worries in the wartime, their war injuries and losses.
Ho Xuan Huong (1772-1822), whose name means "Spring Essence", is also one of the most important poets in Vietnam's history.
Born and living in the time of feudalism, which disregarded the role of women, she became renowned for her poetic skills, especially for her subtly risqué poems which used double-entendres and sexual innuendos to comment several social, religious and political issues.
A concubine, she had the courage to mention topics which were taboo for women at that time.
Previously, the UNESCO commemorated birth anniversaries of five Vietnamese celebrities, namely President Ho Chi Minh, educator Chu Van An, and poets Nguyen Du and Nguyen Trai./.
Source: VNA