Unique art exhibition opens in HCM City

The first exhibition in Vietnam to unite three disciplines -- fashion, architecture and visual arts -- has being held in HCM City.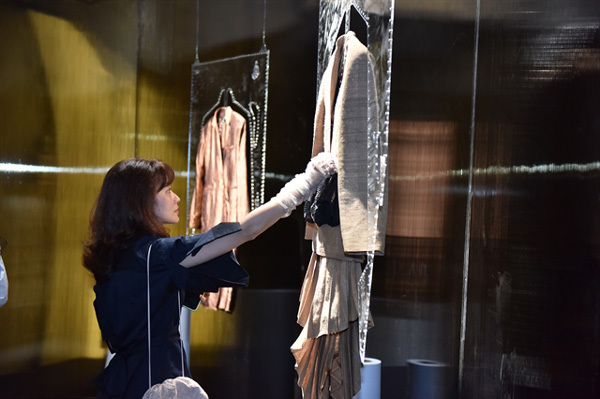 The Metamorphosis | Hình Biến art exhibition being held at LIM Tower in HCM City's District 1 from November 30 to December 14. Photo courtesy of the organisers
"Metamorphosis | Hình Biến", inspired by the concept of "originality", introduces the avant-garde creations of fashion designer Nguyen Hoang Tu.
His collection is placed inside a unique structure designed by architect Nguyen Thanh Tan of D1 architects and also showcases a beautiful transformation, inspired by "cocoon" with unique lighting designed by visual artist Cao Hoang Long.
Tu was born in 1990 and graduated from the Industrial University of HCM City in fashion design.
In 2014 he was the only Vietnamese candidate among the 12 finalists in Audi Star Creation, one of the four main events at the Asia Fashion Week - Asian Fashion Exchange - AFX.
This year he signed a deal with France's BOON Fashion making it the media, PR and commercial representative for his brand in Europe.
Tan founded D1 in 2017 with a mission to design characterful cities. D1's philosophy is that every project is a constant dialogue between it and the city, its inhabitants and nature.
Long, based in HCM City, combines video, audio, light, the internet, and Vietnamese culture as art materials, and focuses on exploiting the secret topic, memory and relationship between people and the universe.
The organisers, Ken at LIM Tower art space and LIM Tower, spent nearly a year preparing for the exhibition.
The exhibition, which runs until December 14, offers audiences the innovative cocoon-shaped art space, haunting lighting techniques and avant-garde fashion designs.
It has being held at LIM Tower 3, 29A Nguyen Dinh Chieu, District 1. Admission is free.
Ken at LIM Tower is an experimental project driven by LIM with a mission to explore and promote the unique talents, products and original development of the modern Vietnamese generation. - VNS

Hanoi Book Street is currently hosting an exhibition known as "Be the change" which features a number of displays of items made from plastic waste.

An installation exhibition running with the theme of "Turning into Butterflies" by Korean artist Ahn Yun Mo is to open to public at the Korean Cultural Center from August 21 to September 14.