Unique fishing village market in Hoi An
Tan Thanh Flea Market is gradually becoming an interesting attractive meeting place in Hoi An, allowing visitors to not only trade unique products but also experience the local culture in a close and friendly community.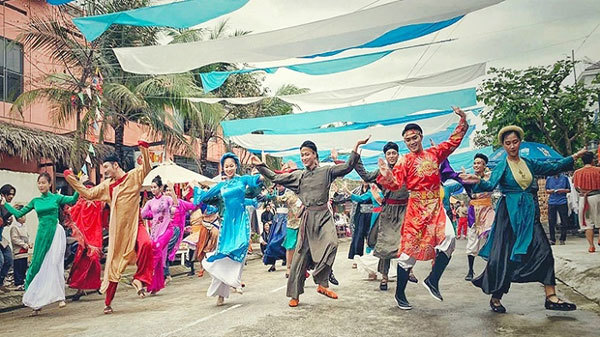 A street art performance at Tan Thanh Flea Market. Photo: Huynh Toan/NDO
The beauty coming from difficulties
Since the first days of the new year, locals and visitors have been flocking to Tan Thanh Flea Market to enjoy the joyful and bustling atmosphere of a typical local market – a rare and precious thing after a tough year in which the famous tourist destination of Hoi An suffered severely amid the COVID-19 epidemic and successive natural disasters in 2020.
Having become a habit in the past couple of months, Tran Thi Kim Soi – owner of the recycled handmade brand SOI Handmade – along with her husband and their associates all follow the weather every weekend in the hope of good weather to join the trade fair in the fishing village of Tan Thanh. The epidemic combined with severe natural disasters last year has resulted in a dramatic decline in the number of tourists to Hoi An, making it difficult for Soi's business in the old town as well as many other small household businesses. The fair, which was launched in late September 2020, has helped them to have more places to introduce and sell products and earn income. Ms. Soi's booth and more than 100 eye-catching stalls of antiques, handicrafts, apparel and cuisine are beautifully decorated along Nguyen Phan Vinh Street, right next to the famous wild beauty An Bang Beach. In a series of events to celebrate the new year 2021 and stimulate domestic tourism demand in Hoi An, Tan Thanh Fair is a bright spot with many traditional cultural and artistic activities, mixed with modern zumba dance and musical performances by expat communities in Da Nang and Quang Nam.
Tan Thanh Flea Market is an initiative of a group of businesses providing accommodation and travel services in the area. In the quietest and saddest period of Hoi An tourism, they met and discussed means to consume backlogged goods and create a new vitality. The weekend market is an appropriate model not only to liquidate furniture, food and drinks, but also to help villagers sell farmed and caught products. Le Quoc Viet, the owner of the Santa Villa accommodation facility, who was elected to be the head of the market organising committee, shared: "The original idea was to build a place to liquidate and exchange things on the scale of local businesses and households in the fishing village. Then, thanks to benefits brought about by the market, it quickly became bustling and got support from Quang Nam Tourism Association and Hoi An authorities. Founding members have more motivation to maintain and promote the market operations. For us, this is not only a job that brings economic benefits, but more importantly creates a destination imbued with the community-based cultural identity."
In each land, the market is the convergence of all the fullest and most authentic cultural nuances. Indeed, walking around the Tan Thanh Market, visitors have the opportunity to enjoy flavours from all over Quang Nam and Hoi An, with a range of specialties such as cao lau noodles, bean tea, Tra Que vegetables and Cua Khe fish sauce. Fashion lovers have many choices from scarf stalls, hand-embroidered shirts, handmade leather goods and silver jewellery with very "soft" prices compared to the luxury shops in crowded urban streets. Those who like old and "unique" items are even more enamoured, because the market has many creative products made from pottery, wood, wool and brocade, along with decorations of hotels, restaurants and coffee shops. Here, children can gather together and have space to play, learn to make crafts and draw. Ms. Luong Ha, one of the market's founders and operators, said: "Tan Thanh fair is always open to new members. However, the organisers also set clear criteria for the stalls to maintain the market's identity, such as prioritising in handicrafts, locally sourced products, recyclables, and environmental friendliness. When registering to sell dry or processed on-site foods, there must be a certificate of food hygiene and safety."
Stalls at Tan Thanh Market are carefully selected and checked regularly. Thanks to that, most of them bring new colours and stable quality to the fair. SOI Handmade specialises in creative and recycled products, such as using fashion store rags to make hairpins, ribbons and bows or debris from old boats to make pictures and statues. Hoa Man Vy by Ms. Nguyen Thi Man Vy uses natural ingredients such as coffee grounds, lemon, lemongrass and grapefruit to create 30 organic cosmetic products that have won several awards in contests for creativity and start-up in Quang Nam Province and the Central and Central Highlands regions. Ms. Nguyen Thu Thao's tofu brings moulded beans made from non-GMO soybeans with high nutritional content and familiar taste from old days. Vinastraws cereal straws made from rice and tapioca starch can be eaten. Another special and worth welcoming thing is that the market discourages the use of plastic bags and disposable plastic products. The sellers here create many ways to package things such as using banana leaves, old newspapers, cloth bags or recycled bags from animal feed packaging to contribute to reducing waste and protecting the environment.
Good words spread fast, and more and more people have learned about the fishing village of Tan Thanh in Hoi An. Vice Chairman of Hoi An City People's Committee Nguyen Van Lanh commented: "The flea market creates a new destination to attract more visitors to Hoi An, while also helping to relax guests outside the old town. This area also owns a long, comfortable, clean and beautiful beach, so after going to the market you can swim, relax or enjoy fresh seafood."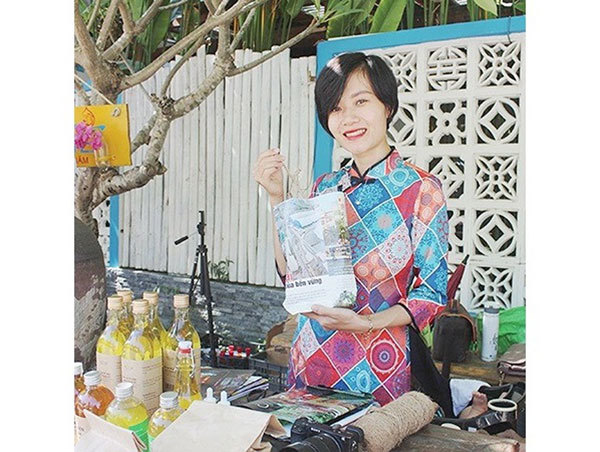 All products at the fair are wrapped in banana leaves or paper bags. Photo: Lan Anh/NDO
Attraction from a cohesive community
After a successful opening session that attracted more than 5,000 visitors, the fair was forced to be delayed due to continuous strong storms at the end of 2020. However, thanks to various ways to maintain, promote and expand the market, from media calling to advertising on social networks. The organisers' patience and humanitarian goals have helped mobilise more resources for the project, including support from new local businesses, Motamba – a musician band from the Philippines, and the Truong Son Xanh project sponsored by the United States Agency for International Development. Artists from Hoi An Memory Theatre also bring to the market many exciting free performances that are always surrounded by viewers (normally such performances are performed on the stage and require tickets). From January 1, 2021, Hoi An Shuttle Bus's public car service officially opened a fixed route from the old town centre to Tan Thanh Village and back.
More than a market for trading goods, Tan Thanh fair becomes a place to exchange of all feelings and hopes as well as bring the community closer together. Many practical and meaningful activities have been organised such as cleaning up An Bang Beach, teaching English and providing selling skills for free to local residents. Each member of the market, regardless of who they are, are enthusiastic and want to contribute to the market and spread good things. It's excitement to know that the traditional Ao Dai show at the market is "modelled" by local women in the fishing village, even some have never even been wearing ao dai and makeup before, but still exuding radiant beauty. The market also has old fisherman Le Chu, 90, who is still singing well the traditional folk songs of Quang Nam. Local people bring to the market their home-grown products such as vegetables, self-caught fish and crabs, homemade fish sauce, cakes, jams and fruits. They are always welcome and arranged any stall for free at the market.
Not only attracting domestic tourists and residents of Hoi An Ancient Town, the fair is also popular among foreigners living and working in the central provinces, or those who were on traveling but unable to return home due to the epidemic. Many share that they feel safe and warm when welcoming the new year in Vietnam, and coming to Tan Thanh fair makes them feel like participating in weekend markets or suburban flea market at home. For example, the family of Ms. Nadil from Australia, who have lived in Hoi An for 10 years, also participated in the Tan Thanh fair with a small stall ran by her children. They even donated household and homemade items to let their children experience labour and independence. According to the organisers, during Christmas and New Year's Eve, the number of foreign visitors reached about 70% of the figure from the same period last year – an impressive number during this difficult period. In an open space and friendly conversation in the market, there is no distance between the owners and the far away guests. In the hugs, hands holding, no one feels "trapped" but only sees sincere of human love.
According to Phan Xuan Thanh, Chairman of Quang Nam Tourism Association, Tan Thanh Fishing Village's fair market is among the efforts towards sustainable tourism after a year full of fluctuations and challenges in 2020. Currently, Hoi An has two marketplaces, if further developing towards ecology and community, it is possible to form a network of unique tourist markets, contributing to building and strengthening the tourism brand of Hoi An post COVID-19. Collaboration of local businesses, people and authorities has created a unique tourism product such as Tan Thanh fair, which is both methodical, well-rounded but still retains its rustic and unique characters. When the core cultural values ​​of the community are preserved and promoted, it is also a strong and long-term source of vitality for economic activities such as production and tourism. Certainly, many tourists coming to Hoi An in particular and Quang Nam in general in the coming time will not be able to ignore the Tan Thanh fishing village fair. 
Nhan Dan

Hoi An city, central Quang Nam province, is to officially launch tours to Tra Que vegetable village in Cam Ha commune on January 1, 2020, with a wide range of activities set to be on offer for visitors.
At the age of 80, craftsman Huynh Ri in Kim Bong carpentry village, in Hoi An City, still creates unique wooden carvings and souvenirs at his family workshop.