Universities' English language requirements may hinder rural students, experts warn
As more and more top Vietnamese universities consider prospective students' English language ability for admission, concerns have been raised about inequality for students in rural areas.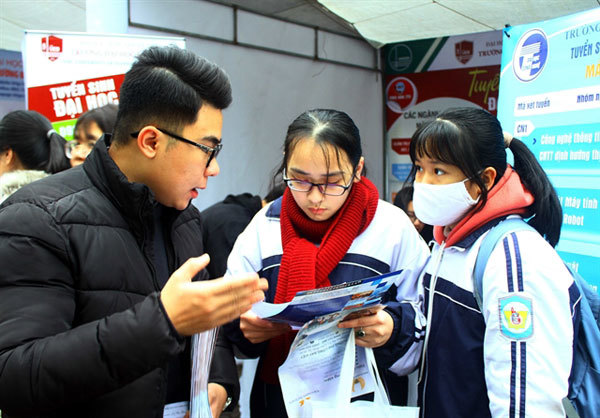 Students seek information about universities enrolment at an event organised in Vinh University. in Nghe An Province in January. 
At least 30 universities have announced they would prioritise or enrol students who have IELTS certificate score from 4.0 to 6.5 and use the English language proficiency certificates as part of admission criteria.
Many people support the move to help improve the quality of enrolment.
Vu Thi Hien, head of the Department of Training Management under the Foreign Trade University (FTU), said the FTU would admit students based on their high school performance and English competency. 
Hien said many training programmes in universities use English as the main language, even the language of instruction.
For example, the FTU has 17 out of 32 training programmes taught in foreign languages, including 14 in English. Therefore, it is important to select candidates with foreign language competency to study these programmes.
"International English certificates such as TOEFL and IELTS are highly reliable, so admission based on these certificates will be a trend of universities", Hien told VOV2 (The Voice of Vietnam).
Concurring with Hien, Tran Trung Kien, head of the Admissions Department of Hanoi University of Science and Technology (HUST), said the use of international English certificate is a common trend of many universities worldwide, not just in Vietnam.
The assessment of students' foreign language ability would not only increase their opportunities but also help them gain advantages for their future studies, he said.
Candidates for HUST's majors in English and economic management must have an IELTS certificate score of at least 6.5 or an equivalent international language certificate and an average academic score of 8.0 at high school 
Phan Thai Son, a student from the High School Education of Sciences under Education University (Vietnam National University), said admitting students based on English competency would diversify assessment methods.
"We have more options and the door to enter the university is open to us," he said.
Bui Dieu Anh, another student, said: "As soon as being informed of IELTS scores, I prepared necessary skills to adapt to the new environment at the university." 
Caution
Vu Khac Ngoc, a well-known online teacher, said since 2015, the high school graduation and university entrance exams have been combined into one national exam to determine enrolment eligibility. Thus, he said, the use of international English certificates was an important base for making enrolment decisions.
Giving priority or admitting candidates with international English certificates such as TOEFL and IELTS may promote studying English in high school. However, Ngoc said, it might create inequality for students in rural or remote areas.
He said students in these areas faced more difficulties accessing English learning programmes.
"Many parents let their children participate in TOEFL and IELTS preparation courses very early to have a priority certificate for admission to 10th grade and university. This has a positive side, but sometimes it is a burden," Ngoc said.
He said some students from nearby provinces such as Bac Ninh or Hung Yen had to travel long distances to English centres in Hanoi to practise for IELTS exams and to study with native English speaking teachers every week.
"Not many families can afford that," Ngoc said.
He suggested careful consideration should be made regarding enrolling students based on international foreign language certificates so as not to hinder disadvantaged groups in society.
"Using IELTS scores for university admission could take opportunities away from students who lack IELTS or relevant certificates," Nguyen Thanh Binh, a Hanoian mother of a 10th-grader, told Việt Nam News
According to Ngoc, if universities really care about the students' English competency, the Ministry of Education and Training or universities should organise English proficiency tests for students. Thus, their competency will be measured through a general test that is not as costly as international English certificates.
However, Nguyen Thi Hoa, an English teacher in Hanoi, said people should not too worried about the issue as universities allocate 10-20 per cent of their enrolment quotas to students who have high school results and either an IELTS or TOEFL certificate.
Hoang Minh Son, deputy minister of Education and Training, agreed, saying: "I don't think assessing applicants based on their international language certificates will pose a risk of inequality because the total enrolment quotas are still the same." 
VNS

Many universities in HCM City offer programmes in English to enable their students to communicate in that language when they work elsewhere in the ASEAN Economic Community, within which the bloc's nationals can freely migrate.

Several universities in Ho Chi Minh City will launch dual-degree training programmes in the 2020-2021 academic year in an aim to offer more diverse choices for students.