Universities lack funds for research
VietNamNet Bridge – Lack of funding is a serious obstacle for lecturers doing research at universities in Viet Nam.
VietNamNet Bridge – Lack of funding is a serious obstacle for lecturers doing research at universities in Viet Nam.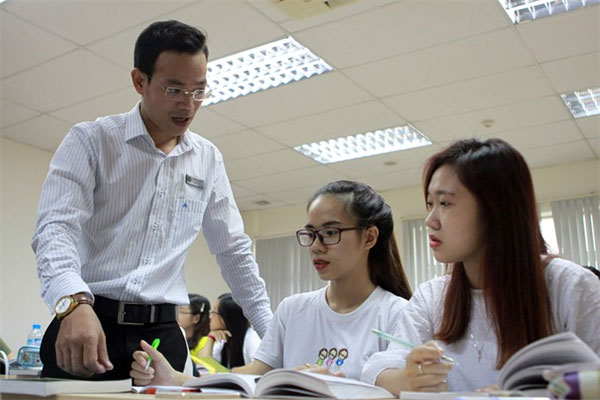 A lecture instructs students at the Civil Law Department in HCM City Law University. -- VNA/VNS Photo Phuong Vy
The country's Ministry of Education and Training requires university lecturers to spend at least one third of their working time on conducting research.
However, lecturers are struggling to afford both teaching and research, the Thanh nien (Young People) newspaper reported.
The newspaper said the ministry regulated that every university lecturer had to deliver 270 lectures per year. If they do more, they will receive an extra allowance, but the number of extra lectures cannot be more than 200 a year.
Associate Professor Hoang Minh Son, principle of Ha Noi University of Science and Technology, said payment for an extra lecture should be 50 per cent to double the payment for a normal lecture, according to Ministry of Labour regulations.
However, if lecturers followed the Labour Ministry's regulation, universities would not have enough money to pay them, Son said.
So, universities allow the rate for extra lecturers to be set by themselves, commonly VND60,000–VND80,000.
Professor Do Duc Thai, head of the Mathematics Department under Ha Noi Teacher Training University said that a PhD holder at the university had a monthly official income of only about VND8 million. They found it hard to increase their incomes because of busy teaching schedules, Thai said.
Professor Nguyen Van Son, principal of the Medical School at Thai Nguyen University, said that post-graduates working at the university earned about VND6 million monthly.
Son said the university was worried about holding on to qualified lecturers, especially when sending them to attend higher education.
A former lecturer at the university moved to work for a hospital in Ha Noi and got a monthly salary of VND40 million.
Because of modest fixed salaries, many lecturers tried to work extra or deliver extra lectures to get the allowance. This also cost them time and work.
Once the lecturers failed to complete a research assignment, they did other activities, such as compiling studying materials for students or attending training workshops.
In some cases, teaching hours were converted into researching hours with rate 1:3, Thanh nien reported.
Dr Hoang Ngoc Vinh, former senior official of the Ministry of Education and Training, told Vietnamnet.vn last month that conducting research in universities was for many purposes, including to improve training quality and prestige at the universities, to serve demands of socio-economic development, promote connectivity and co-operation with other universities and research institutions or with companies.
In Viet Nam, few universities had succeeded in their research endeavours while others' faced many limitations, Vinh said.
For example, research topics are so outdated compared with those across the world, particularly in fields of economics, education and social sciences.
There are few research projects on applicable technologies or research products to meet practical needs, so it's difficult to call for funding.
Technology transfer was also not effective because transferrers and transferee did not meet each other.
Vinh said lecturers at Vietnamese universities did not have proper foreign language competence, research methods or skills on writing reports, analysis or presentation. He noted that lecturers preferred teaching to conducting research.
A linguistic lecturer at a university in Ha Noi told Viet Nam News that she was always battling to afford teaching and improving her expertise and knowledge, let alone obligations to family.
She said that to promote herself and gain trust from students, she usually "showed off" to her students that she had graduated from a prestigious overseas university and held a PhD, but after that, she felt ashamed of herself.
"I'm usually exhausted after school because of the busy teaching schedule," she said, adding that she had little time for reading or learning new things while knowledge that she gained previously began to fade.
"I'm very confused. I wish I could be brave enough to decide which is my priority now: teaching to get money, doing research, fulfilling family obligations or improving heath," she said.
One of her friends suggested her that to fulfill all tasks, she should sleep only three hours a day.
Universities and lecturers in Viet Nam are still struggling to find how to promote research and stop lecturers from becoming teaching machines.
VNS