University entrance exam floor at record low

The floor exam marks announced by many universities are surprisingly low, raising concerns about the quality of input students.
The Ministry of Education and Training (MOET) will not set the national floor marks this year, but schools will set floor marks themselves.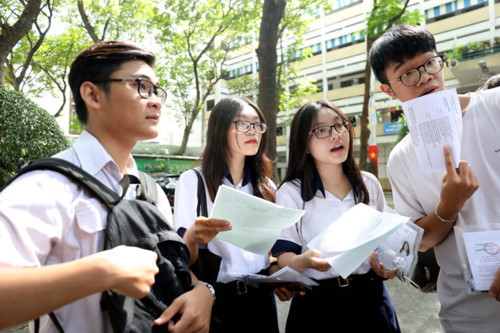 Floor mark is the minimum exam score students must have to be eligible to apply for certain universities. Schools will consider the numbers of applicants and their enrollment plans to define matriculation scores.

The floor marks set by many schools are surprisingly low. Students just need to have 23 score for 3 exam subjects, or 4 score for one exam subject, to be eligible for applying at some schools.

The Hanoi University of Internal Affairs, for example, announced that students who got 12 score from the national high school finals can apply for the school branch in Quang Nam province.

The Ministry of Education and Training (MOET) will not set the national floor marks this year, but schools will set floor marks themselves.
 The floor marks for the HCMC branch are also low, 12-14.
Bac Lieu University has also set low floor marks of 12-13 for its different majors. The common floor mark for 11 majors of Cuu Long University is 12.5. The HCMC University of Agriculture and Forestry accepts students with 13 score at Gia Lai and Ninh Thuan branches.

Hoang Ngoc Vinh, a member of the National Education Advisory Council, commented that the low floor marks raised questions about the quality of schools and students.

On an education forum, people also expressex their concern about the nation's higher education quality in recent years. It appears that more students have had opportunities to go to university in recent years because of lower requirements on input students.

A member of a forum affirmed that students with 12 score won't be able to follow university training curriculum, especially when the 2019 exam questions are easy and average students can obtain 16-17 score.

Nguyen Kim Phung, director of the Higher Education Department, said under the new Higher Education Law, schools can decide by themselves on enrolling students. MOET makes no ontervention into schools' enrollment plans, but only sets floor marks for two important majors – healthcare and pedagogy.

However, Phung said, MOET recommends schools not to set low floor marks, because this will affect schools' prestige and brands. The schools which set low floor marks are considered less prestigious and find it difficult to attract students.

In reply, some schools have adjusted their floor marks. Da Nang University has raised the floor mark from 12.5 to 14 for the Kon Tum branch, while Dong Thap University has raised the floor mark from 13.5 to 14.
Thanh Lich

Son La, Hoa Binh and Ha Giang, which were involved in a high-profile score manipulation scandal in 2018, were listed among the 10 localities with the lowest average scores for the national high school graduation exam 2019.  

Some defendants in the exam cheating scandal said that VND1 billion was paid for each 'exam score fabrication'.