Up-and-coming Vietnamese performers emerge as stars
VietNamNet Bridge – Though veteran artists are still shining, 2016 was the year that saw several young talents in movie and theatre emerge from working hard to make their mark on the domestic entertainment industry.
VietNamNet Bridge – Though veteran artists are still shining, 2016 was the year that saw several young talents in movie and theatre emerge from working hard to make their mark on the domestic entertainment industry. These performers have made fans and critics stand up and take notice.
Issac
Issac was one of Viet Nam's most outstanding actors in 2016. He received the Rising Star of Asia Star Awards at the 21st Busan International Festival in South Korea for his leading role in the film Tam Cam: Chuyen Chua Ke (Tam Cam: The Untold Story), a production of director Ngo Thanh Van.
He was also nominated for best actor at this year's Mai Vang (Golden Ochna) awards, given by Nguoi Lao Dong (Labourer) Newspaper.
In 2012, Issac was invited to play the leading role in his first film Gia Su Nu Quai (Tutor and Naughty Girl) directed by Le Bao Trung.
"I'm happy with my success in the movie industry. However, before being known as an actor, I was a singer," he said. He was the leader of the 365 daband, one of the most popular Vietnamese boy bands, which broke up in late 2016.
Two months ago, Issac, 29, released his music video Get Down, which has received more than 1.6 million views on YouTube, a good start for his solo career.
Nha Phuong
Actress Nha Phuong brought home many prizes from local and international competitions in last year.
Phuong won the Asian Star award at the Seoul International Drama Awards, the Best TV Serial Actress at the Golden Kite Awards organised by the Viet Nam Cinematography Association, and the Impressive Actress award at the Viet Nam Television (VTV) Awards.
She is known in South Korea and Viet Nam for her role in the TV series Tuoi Thanh Xuan (Forever Young) and Tuoi Thanh Xuan 2, co-produced by VTV Film Centre and South Korea's CJ E&M Pictures.
"I realise that to win these prizes I must work hard and spend more time improving my acting skills," said the 27-year-old. "I'm doing my best to prove my talent and passion for film."
Phuong is the heroine in a new movie by Vietnamese-American director Victor Vu, together with dancer Cuong Seven. The movie is being filmed in Da Lat City in the Central Highlands province of Lam Dong, and is expected to be released in October.
Chi Pu
Young actress Chi Pu achieved great success in her new role as producer of the web series Tinh Giac Toi Thay Minh Trong Ai (Wake Up). The seven-episode series on the lives and loves of young people attracted more than 1.4 million views on YouTube channel Chi Pu Official and www.vlive.tv three months after release.
"Web series are very popular in Asia. I hope my series gets a lot of attention in Viet Nam and other countries," the 25-year-old said.
The film brought her the Rising Star Award at the Asia Artist Awards 2016 in Seoul, South Korea in November.
Chi Pu, who is known primarily as an actress, not a producer, has played minor roles in several movies. In 2015, she was invited to play the leading role in HCM City Film Studio's (TFS) 30-part TV series Van Co Em Ben Doi (Having You by My Side). She won the prize for favourite TV serial actress at the 2016 HCM City Television (HTV) Awards.
Chi Pu has decided to take time off from acting after winning a scholarship to study in the UK.
Luk Van
Over the past year, Luk Van of Ha Noi, a female film director, has overcome challenges and proven her ability to inspire young audiences. Her latest film, 4 Nam 2 Chang 1 Tinh Yeu (Four Years, Two Boys and One Love), was released last Christmas and became a big hit.
She began her career in 2013 by making short films for YouTube. Her works have won acclaim from young audiences. Two of her films, Ha Noi, Em Yeu Anh (Ha Noi – I Love You) and Dung Thich, Hay Yeu (Don't be Late, Just Love), attracted more than a million viewers on YouTube last year. Her works focus on the aspirations and difficulties faced by young women.
In a recent interview with local media, the 26-year-old, who has more than 15,000 fans on her fanpage, said that she still believed "men and women are equal in art" although she has faced some obstacles in the field.
Her new project this year is making a film on the lives of urban youth.
"My family and friends have supported me to develop my career as a movie director," she said.
Vu Phuong Anh
Fashion model and film actress Vu Phuong Anh is studying business administration at the Assumption University of Thailand. The 21-year-old girl travelled between Thailand and Viet Nam to participate in two film projects last year.
Anh played a leading role in Cho Em Gan Anh Them Chut Nua (Let Me Come Closer to You), a film on youth and love released in cinemas last month. The movie, directed by Van Cong Vien, stars a group of young actors including Dinh Hieu and B Tran.
It is seen as the Vietnamese version of the Hollywood film Me before You, a US$207 million romantic-comedy film by female director Thea Sharrock screened last year.
Last year, Anh made her debut by playing in 12 Chom Sao: Ve Duong Cho Yeu Chay (12 Zodiac Signs), a production by the HCM City-based 21st Century Film Studio. The film attracted more than 12,000 fans on the first day of release.
Born in Ha Noi, Anh moved to Thailand to study when she was 15. She has worked as a fashion model for Thai and international agencies. "I've worked hard to balance my studies and career. After leaving school, I will return home to develop my career professionally," said Anh, who is known as Jun Vu.
Pham Ngoc Lan
Pham Ngoc Lan is one of the film industry's new faces, who competed last year in the Berlinale shorts category at the 66th Berlinale International Film Festival.
His short film, Another City, was among 25 nominees from 21 countries competing for the Golden and the Silver Bear at the festival. The 25-minute work tells the story of a group of office employees who are lonely city dwellers.
To make Another City, Lan received US$6,000 from the Danish Cultural Exchange and Development Fund.
Born in 1987 in Ha Noi, Lan graduated in urban planning from Ha Noi Architecture University. He began making films "to capture the whimsicality of human life".
In 2011, his first film, The Story of Ones, was screened at numerous film festivals and art museums, including the Visions du Reel in Switzerland, CPH-DOX in Denmark, New Cinema and Contemporary Art — Rencontres Internationales in France, and Tokyo Metropolitan Museum of Photography. A year later, he was invited to a Creators Residency Programme in Hokkaido, Japan.
His new work, Culi Never Cries, was selected as one of 27 films at the Busan Film Festival in Korea last December. He and his producer, filmmaker Phan Dang Di, are working to find investors for the film.
Angela Phuong Trinh
In her latest interview with the media, 21 year-old actress Angela Phuong Trinh of HCM City declared that she was "coming back".
Last year, she played a leading role in two blockbusters, Su Menh Trai Tim (Mission of Heart) and Taxi, Em Ten Gi? (Taxi Driver - What's Your Name), which marked her return after three years of staying home.
While Su Menh Trai Tim (Mission of Heart) attracted more than 250,000 viewers after just a week of release, Taxi, Em Tên Gi? earned VND10 billion (US$450,000) within 10 days of release in cinemas.
"I thought I had reached the highest level of art, but I was wrong. Art is unlimited," said Trinh, who found success in the industry when she was only 12 years old.
"Through my new films, I hope my fans can see how I have changed and have tried to work carefully, selecting my roles based on my talent and suitability, rather than just personal feelings," she added.
Her latest projects include a film on urban youth and a TV game show. Both will start shooting in February.
Ninh Duong Lan Ngoc
Ninh Duong Lan Ngoc of HCM City returned to the screen by playing a leading role in the blockbuster, Tam Cam - Chuyen Chua Ke (Tam Cam - The Untold Story), a 90-minute fantasy produced and directed by Ngo Thanh Van last year.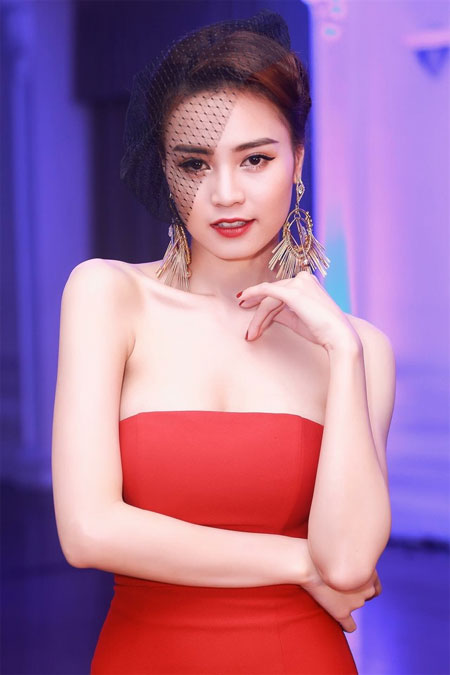 Ninh Duong Lan Ngoc
Ngoc helped the film's producer earn more than VND22 billion (US$975,000) in ticket sales after three days of release.
Many of her fans, mostly teenagers, flocked to cinemas to see Ngoc in Tam Cam - Chuyen Chua Ke. Her first film, Canh Dong Bat Tan (Floating Lives), was released in 2010.
Her first film helped Ngoc, 27, bring home the Golden Lotus prize for best actress at the Viet Nam Film Festival 2011, launched every two years by the Department of Cinematography.
"2016 was a chance for me to restart my career after two years of refusing projects from film producers. I hope my role in Tam Cam - Chuyen Chua Ke showed that I am a professional artist to people who weren't my fans, who thought I was lucky to have my position today," said Ngoc, adding that a long path was awaiting her in 2017.
Miu Le
Young singer and actress Miu Le, winner of the Blue Star for best movie actress launched recently by the The Gioi Dien Anh (World of Cinema) magazine in HCM City, will perform in three film and music projects this year.
"Nothing is impossible if you want it," said Le, 25, who began her career in 2008 as a solo singer.
Le has worked hard to develop her career in both movies and music. "Filming is different from singing. I wanted a challenge and to prove myself as an actress," she said.
She performed in 10 movies, including box-office hits Thien Su 99 (Angel 99), Nha Co 5 Nang Tien (Five Fairies) and Nhung Thien Than Ao Trang (Angels in White). She also released more than 12 solo albums.
Last year, her latest film Em La Ba Noi Cua Anh (Sweet 20), a Vietnamese remake of the South Korean film Miss Ranny, earned more than VND100 billion (US$2 million) in ticket sales.
Le performed a leading role and sang one of the film's soundtracks, Con Tuoi Nao Cho Em (Time for You), a love song composed by the late Trinh Cong Son, who was a well-known musician in Viet Nam.
Nguyen Khac Duy
Theatre director Nguyen Khac Duy, leader of the Buffalo Theatre Club, a private art troupe of young actors, has worked to develop Broadway musicals.
His play, Chicago, a Vietnamese version of a Broadway musical, left a very strong impression on audiences after being staged in HCM City last year.
His production's 30 members, selected from over 200 candidates, practised singing and dancing for nearly five months.
"I've always admired Broadway musicals for their music and sound and light effects," said Duy, 27, winner of the special award for innovation at the National Theatre Competition for Young Talented Directors in 2013.
"Broadway [shows] allow you and your actors to interact with audiences in an entirely new way that is very different from traditional theatre," he added.
Duy said that apart from difficulty in funding and casting, the unprecedented copyright purchase of a Broadway musical was also a challenge, as the copyright holder produced a series of conditions to be completed.
Duy and his staff are working on Tam Cam Musical, a Broadway-style performance based on a Vietnamese fairy tale, which will be staged from February 9-14 at HCM City's Ben Thanh Theatre to celebrate the Tet (Lunar New Year) festival.
VNS