US-based AES Corporation plans to build LNG hub in Vietnam

LNG fits the new strategy of the government of Vietnam in power sector and becomes AES' major focus in Vietnam.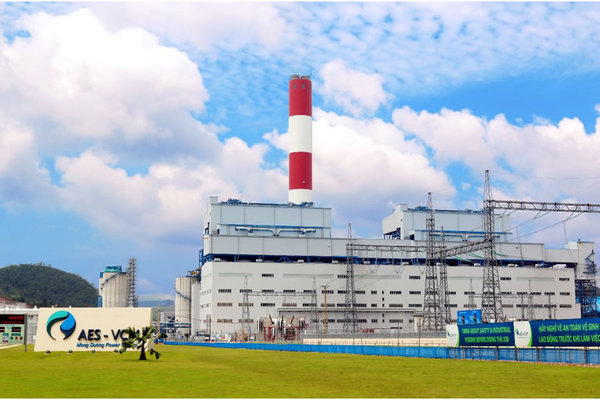 AES Mong Duong Power Plant in Vietnam. Photo: AES
The AES Corporation announced on October 18 the operations of AES Colón plant – the first liquefied natural gas (LNG) hub in Panama and Central America – a model that the company plans to build in Vietnam in the coming years. 
AES plans to build a similar project in Vietnam in the coming years, which will bring many of these same benefits to Southeast Asia, David Stone, CEO and Managing Director of AES Vietnam said at the inauguration event of AES Colón plant.
AES Colón consists of the 180,000-cubic meter (m3) LNG tank and a 381-MW combined cycle power plant, which reached commercial operations in 2018 and had been previously operating with gas from temporary sources.
LNG has the potential to be a transformative energy technology by providing both economic and environmental benefits. It's also AES' major focus in Vietnam as it fits the new strategy of the government of Vietnam in power sector, Mr. David Stone said. 
The use of LNG helps both reduce CO2 (carbon dioxide) emissions and increase renewable energy penetration. Furthermore, LNG conversion lowers electricity costs and provides greater price stability to support economic growth.
"Recently, we were officially granted approval by the Government of Vietnam to develop Son My 2, a 2.25 GW combined cycle gas turbine power plant and 450 TBtu Son My LNG terminal in Binh Thuan province. With these two projects, AES is fully committed to the country's growth in cleaner energy sources and offering the most reliable and affordable electricity to support the continued economic growth of Vietnam," he emphasized. 
Under the Vietnam Gas Industry Development Master Plan to 2035, the gas production volume across the country will increase from 10 billion cubic meter (cu.m) per year to 21 billion cu.m/year in the 2015 – 2035 period. 
To reach the goal, Vietnam will develop the LNG terminal systems and related facilities which will hit 3-4 LNG terminals with annual capacity of 1-3 million tons each depot for 2021-2025 and 5-6 LNG terminals of approximately 3 million tons/year each for 2026-2035.
AES Vietnam is running 1,200-MW Coal-fired Mong Duong 2 Power Plant in Vietnam's northern province of Quang Ninh in partnership with South Korea's Posco Energy and China Investment Corporation. Hanoitimes
Linh Pham