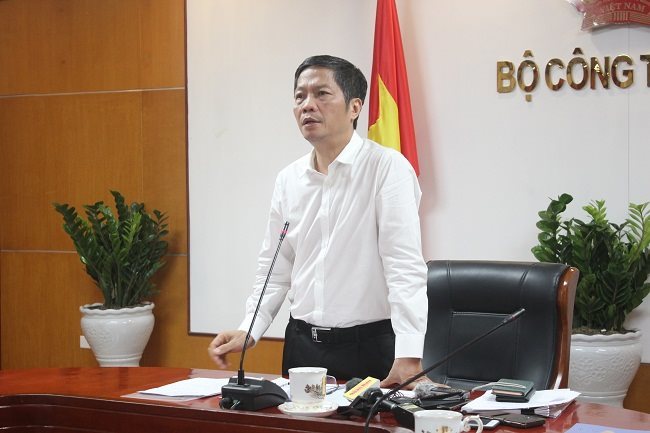 Minister of Industry and Trade Tran Tuan Anh chairs a meeting on imports and exports in Hanoi on August 7 – PHOTO: VGP
Given the global economic slowdown in the first half of this year, the prices of some exports, especially produce, dipped after having soared to high levels in 2017 and 2018, said Phan Van Chinh, head of the Import and Export Department at the Ministry of Industry and Trade.
Chinh noted that exports to China rose by a slight 0.3%, equivalent to US$42.7 million, to reach US$16.68 billion during the period. Exports of phones and rice edged down by US$549 million and US$329.3 million, respectively, from a year earlier.
The outbound sales of phones were the largest drag on revenue from exports to the northern neighbor, he added.
He ascribed the decline to China's surplus rice stocks, which shot to 113 million tons in the 2018-2019 crop from the previous 76 million tons in the 2014-2015 season. As a result, Chinese rice traders sped up exporting their stocks while lowering their imports significantly.
"Exports to China increased by too little, partly due to its lower import demand as the economy in the first few months of 2019 did not prosper," he said.
He explained that the Sino-U.S. trade tensions has led to Chinese producers being unable to win new orders, which has prompted them to cut down on the number of laborers they employ. The situation has significantly affected the Chinese people's income and consumption.
Also, the weakening yuan has led to higher prices of foreign goods in the world's second largest economy.
Data indicates that Vietnam's exports to the European Union fell 0.6% to US$20.5 billion in the first six months of the year, he said.
He pointed out that the exports of many agricultural and aquatic products had dropped due to their lower prices, which resulted in a reduction of US$1.22 billion in revenue. Six out of nine key exports in this group – seafood, vegetables, cashew nuts, rice, coffee and cassava – declined in value.
He said that oversupply and increasing inventories have resulted in falling prices of exports. Protectionism has become more complicated, while the ongoing trade war between the two major economies has affected exports to China and other countries.
Deputy Minister of Industry and Trade Tran Quoc Khanh said that the falling demand for rice imports from China is due to the Chinese market's efforts to purchase rice through official channels, so Chinese authorities are likely to lay down more stringent criteria for checking goods.
Khanh asked the Import and Export Department to work with the Ministry of Agriculture and Rural Development to speed up negotiations on market expansion based on quality issues and to raise the number of fruit and vegetable export lines to the Chinese market from the current nine items.
Minister of Industry and Trade Tran Tuan Anh also told the department and other relevant agencies to adopt measures that help products overcome official export barriers.
Anh said developments surrounding the U.S.-China trade conflict are worrisome, and its effects on Vietnam's exports would become more acute because the competitiveness of Vietnamese enterprises remains low.
Data from the department shows that Vietnam exported US$145 billion of goods between January and July, which was roughly US$1 billion lower than the target. The figure for the entire year is predicted to hover around US$261-262 billion, a year-on-year rise of 7%-7.5%. SGT

Asia-Pacific businesses benefiting from shift in manufacturing from US-China trade war, according to Grant Thornton study.

The prices of seafood and fruits imported from the US into Vietnam have drastically decreased due to a US-China trade war.