US investors eager for post-TPP opportunities
VietNamNet Bridge – Leading US businesses are anticipating the Vietnamese government to conclude talks on the Trans-Pacific Partnership and accelerate the country's economic reform.
VietNamNet Bridge – Leading US businesses are anticipating the Vietnamese government to conclude talks on the Trans-Pacific Partnership and accelerate the country's economic reform.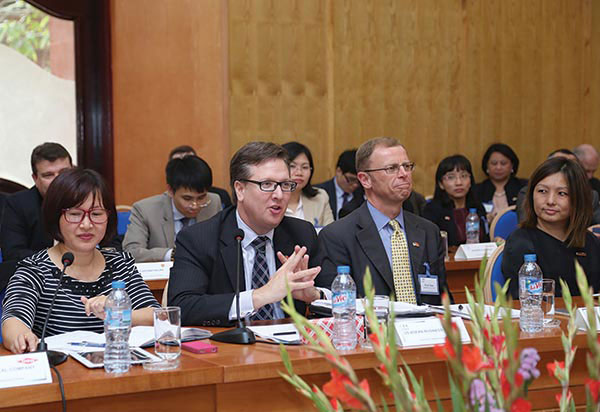 A heavy-weight delegation of leading US firms visited Vietnam last week
A delegation of senior executives from 29 leading US companies organised by the US-ASEAN Business Council including Coca-Cola, eBay, ExxonMobil, Ford, General Electric, Google, Halliburton, IBM, Johnson & Johnson, MasterCard, Mead Johnson Nutrition, Monsanto, Qualcomm, AT&T and Suntory PepsiCo, wrapped up its nearly week-long trip in Vietnam last week.
The delegation held high- level meetings with the Vietnamese government which focused on Vietnam's economic restructuring efforts which they suggested would make Vietnam an even more attractive destination for business and investment.
Alexander Feldman, president of the US-ASEAN Business Council said Vietnam was the main exporter to the US among ASEAN countries, with more than $30 billion in export value in 2014. This was the direct result of the Vietnamese government's efforts to continually reform its economy and create an investment-friendly business environment.
"However, as Vietnam continues to grow, it will be increasingly important to provide a business environment that embraces the development of technology and innovation in Vietnam, including the ability for data to flow freely across borders as well as within the country," he added.
Stuart Dean, CEO of GE ASEAN stated that the Trans-Pacific Partnership (TPP) "will be critical for Vietnam, and its future growth".
"We are encouraged by our conversations with the government of Vietnam and the mutual recognition that finalising the TPP is a high priority," he said.
Nguyen My Lan, CEO of GE Vietnam and Cambodia, said that GE had built a good reputation in Vietnam's renewable energy sector, most notably in wind power, and it had also provided technological support to other renewable energy and power- generation projects in the country.
"We recently signed a memorandum of understanding with other projects in the Central Highlands province of Dak Lak, in addition to the Bac Lieu wind power project, and we expect to take part in supplying more turbines to local renewable activities in Vietnam in the coming time."
A representative of UPS, which is the first global express delivery company to be wholly foreign-owned in Vietnam, said that the firm hoped to expand its operations in Vietnam in express delivery and logistics. As a part of its global growth strategy, UPS has invested in new facilities and technology in key commercial and industrial centres across Vietnam, including Ba Ria-Vung Tau, Binh Duong, Hai Duong, and Bac Ninh provinces.
Caterpillar, the leading manufacturer of construction and mining equipment, said that there would be more opportunities for them to co-operate with Vietnam if the TPP was signed.
Meanwhile, regarding the master plan for the automobile industry that had been approved by the prime minister in Decision No1211/QD-TTg on July 24, 2014, Ford said that the special consumption tax on cars needed to be addressed.
The US firms also offered ideas on how Vietnam could deepen stakeholders' involvement and improve its policy consultation processes. They also supported Vietnam's efforts in the TPP talks, and reinforced how the ASEAN Economic Community was crucial to American businesses.
This year also marks the 20th anniversary of normalised bilateral relations between the United States and Vietnam.
VIR