US-sponsored John Midgett coast guard ship en route to Vietnam
The US-sponsored John Midgett coast guard ship, a Hamilton-class cutter, has departed from Seattle (Washington) and is expected to arrive in Vietnam in the coming days.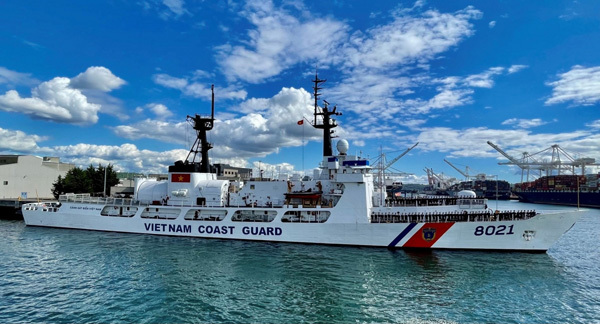 Vietnam Coast Guard ship CSB 8021 is on its way to new home in Vietnam. (Photo: US Embassy)

The vessel painted with the symbol of the Vietnam Coast Guard and number 8021 is part of the US's Excess Defence Articles (EDA) program that offers excess military equipment to US partner and allied countries in support of military and security modernization efforts.
"Vietnam Coast Guard (VCG) ship CSB 8021 departed Seattle, Washington for Vietnam on June 1, 2021," the US Embassy in Hanoi said on its Facebook.
According to the US Embassy, the VCG crew will sail the former US Coast Guard cutter to its new homeport in VCG Region 3 this summer.
"This cutter donation to Vietnam is another concrete example of the strengthening US-Vietnam regional security partnership."
CSB 8021, formerly known as the USCGC John Midgett (WHEC-726) run by the US Coast Guard, belongs to the Hamilton class built in the 1960s, the most modern at that time.
The vessel has a length of 115 m, a width of 13 m, a draft of 4.6 m, and displacement of 3,250 tonnes. One of the great advantages of the Hamilton-class patrol boat is that it can operate continuously at sea for up to 45 days.
The US had dismantled sensitive electronic equipment on board and tested the vessel before handing over it to Vietnam.
In May 2018 the US Coast Guard also transferred its first High Endurance Cutter named CSB 8020 to Vietnam.
The ship is expected to improve the Vietnam Coast Guard's maritime domain awareness, increase its capacity to perform maritime law enforcement operations, and conduct search and rescue and other humanitarian response operations.
VOV

The United States is testing its USCGC John Midgett coast guard ship, a Hamilton-class cutter in Washington, and is expected to deliver it to Vietnam in the coming weeks.