Use of e-cigarettes by youth rockets with easy availability at shops
Many students and young people have been hospitalized in a deep coma after using e-cigarettes, which are easy to buy.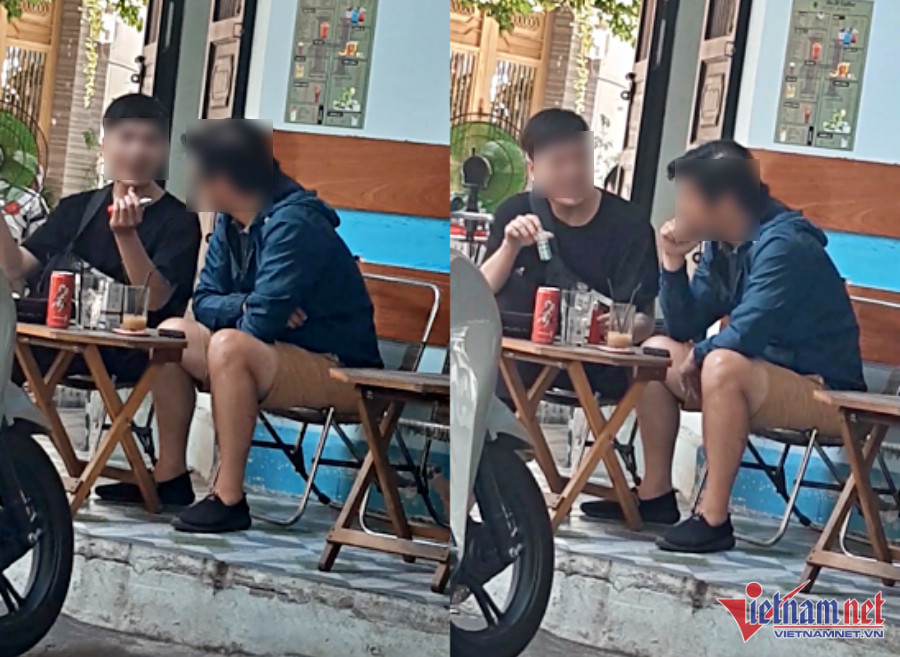 Many students argue that e-cigarettes are not harmful, they are fragrant, and that smokers look cool. But, in addition to the nicotine added to the cigarettes and colorants, experts have discovered synthetic drugs and other toxic substances.
Nguyen Trung Nguyen, director of the Poison Control Center of the Bach Mai Hospital, confirmed that the hospital receives patients who were poisoned by e-cigarettes every month. The common symptoms of acute poisoning with e-cigarettes include: unconsciousness, foaming at the mouth, convulsions, cyanosis, and incontinence. In severe cases, multiple organs are damaged, and patients fall into a deep coma.
According to Nguyen, e-cigarettes are an artificial product containing elements except nicotine. The liquid substances in e-cigarettes change time after time and there are new substances and flavors every day. Manufacturers even aadd synthetic drugs to increase the feeling and enhance addiction among users.
The substances can cause mental disorders. They also cause effects on the heart, nerves, brain ... and other organs, and even can cause death.
"I can say that e-cigarettes are an ideal environment for next-generation drugs to enter the market. This is the place for the substances to live and cause harm to users," Nguyen said.
More young people use e-cigarettes, creating concern among medical experts. Meanwhile, it is easy to buy e-cigarette. With just a mouse click or a call, anyone who has hundreds of thousands of dong can obtain these products in minutes.
A search for 'mua thuoc la dien tu' (buy e-cigarette) on Google receives 42,300,000 results after 0.43 seconds. This includes articles introducing products of e-cigarette shops.
However, according to N.H.L.Q, a student at a secondary school in BInh Tan district in HCM City, students mostly get e-cigarettes through social networks.
On social networks, sellers post articles with advertisements about their products with attractive images.
"If you have a bad day today, please use Pod (or Pod System, the latest-generation e-cigarette), or Vape (e-cigarette types). We are offering a sale, just 135k. You can choose tge taste, try and if you don't want it, you can refuse," one ad says. The seller was pleasant and replied soon after receiving the message.
When someone contacts another account with the name Best Pod-shop, he affirms that he specializes in selling e-cigarettes to students. Through an online chatting app, he sends images of e-cigarettes for customers' choice.
Best Pod-shop advertised that its products had an anti-counterfeit stamp, QR code and a warranty for one year.
The seller also has products targeting students. He introduced a pod which looked like a pen. "The product is cheap, just 250,000 per product, with two bottles of essential oils, free ship," he said, adding that it has been available in the market for four years.
He said the product is always available and are delivered within half an hour after the order. Customers can check the products carefully before making a payment.
After many hours of talking to a man named L.K, 27, in Tan Phu, HCM City, reporters made an appointment with K, saying they wanted to smoke e-cigarettes as a beginner.
They met at a café on Lu Gia street in district 11, where the young man and his friends sometimes gather to smoke cigarettes.
K showed a vape to reporters and said: "If you want to smoke e-cigarette just to replace a traditional cigarette, you should use the pod. But if you want to feel chill, you should try a vape. However, vape is expensive, VND700,000-800,000, not including battery. A battery costs VND120,000," he said.
In Hanoi, reporters also can easily purchase a pod and vape at numerous shops that sell e-cigarettes.
A 20-year-old female on Truong Chinh street in Dong Da district, Hanoi, told reporters that young men should use products with 'playboy' features such as Femivape Mars, Starss Blazer, Mech Mod, while girls should use eye catching products such as Caliburn Uwell, Feelin Pod by Nevoks, and Acro 25w 1000mAh.
Linh Trang