Utilising national advantages with crucial infrastructure
Small airports and dual-use airports are expected to be valuable infrastructure fulcrums for many remote localities to attract investment and exploit the advantages of tourism, if selected and added to the plan and early investment implementation.
Starting in September, the Ministry of Transport (MoT) gave instructions for the evaluation and preparation of a detailed assessment report on the possibility of forming new airports in localities according to the criteria set out in the planning dossier and strategies to address local recommendations.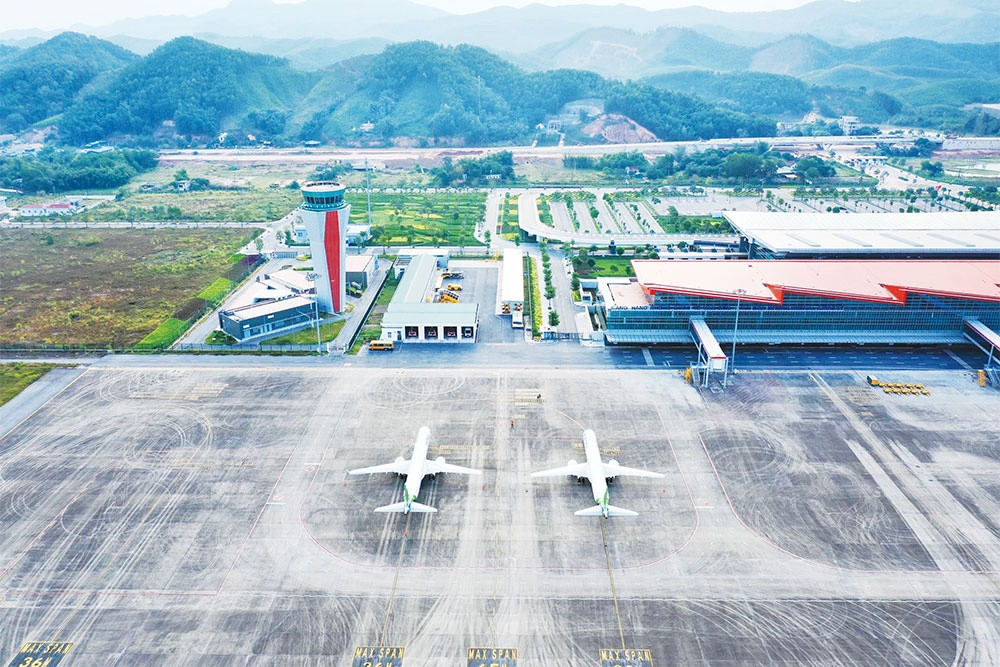 There is a belief that the transport infrastructure must be one step ahead to entice investment and tourists
Pham Huu Son, general director of Transport Engineering Design Incorporated (TEDI), a consulting unit for the formulation of a master plan for the development of the national airport system, said, "We are pressingly evaluating the possibility of incorporating a number of potential new airports into the draft master plan on advancement of the national airport mechanism in the 2021-2030 period, with a vision to 2050, so that we can report to the MoT."
According to Son, additional airports may be explored and included in the plans provided there are no aircraft conflicts and the firms commit to spending all of their investment resources.
"Of course, it is not realistic for all 63 cities and provinces to have airports, but in the near future, emphasis will be given to rural locations, islands, and places with high tourist potential growth.
As the economy is now expanding at a rapid rate, aviation planning must also evolve to allow regions to actively request the construction of critical infrastructure," Son said.
In addition to the airfields proposed by the people's committees of Tuyen Quang, Ha Tinh, Quang Ngai, Dak Nong, Kon Tum, Khanh Hoa, and Son La, which were directly considered by Deputy Prime Minister Le Van Thanh, TEDI looked into the possibility of including Tan Quang (Ha Giang), Quan Binh (Bac Kan), and Go Gang (Ba Ria-Vung Tau) in the planning.
These would be brand-new, small-scale airports with a total area of between 300 and 500 hectares and a load capacity of 1-2 million passengers per year. They are outside the network of 28 airports planned by the MoT for the 2021-2030 period.
Active approach
According to TEDI experts, the majority of proposals to include airports in municipal planning are feasible, which is especially evident in the northern province of Ha Giang.
Given that the investment in highways connecting this locality with the capital has a high initial investment and the project schedule can last decades, investing in an airport of a decent size for the cost of a few dozen kilometres of freeways can bring a significant uplift to investment appeal.
Michel Werson, chief economist and lead of Financial Advisory at NACO – a subsidiary of Royal HaskoningDHV, stated, "Local airports and minor airports play an essential part in the national port network. They are critical to the successful operation of the system in this case."
"This is crucial for distant regions or areas that require transport connections that promote local economic development, such as tourism destination development; employment generation, tax revenue income, and the swiftest base station for disaster relief; as well as the provision of accelerated access to specialised emergency treatment that is sorely missing in that area," Werson explained.
According to the TEDI spokesperson, the investment dispersion of airports has a major role in profitability, since it takes around $210 million to invest in a new 3C airport in order to obtain an Airbus 320/321. With an annual passenger demand of fewer than one million, no airport that invests via public-private partnership (PPP) can be successful.
"Without doubt, while investing in airports, investors will not rely just on the aviation infrastructure industry for revenue. However, according to the regulations, investors may decrease the cost burden by determining the size of the station and apron based on the real utilisation requirements," said Son.
When composing the first draft of the aviation master plan in April, the MoT listed six important criteria for an airport to be included in the plan: cargo volume; socioeconomic development needs; the need to ensure national security; the need to respond to emergency and relief activities; natural conditions; and proximity.
Infrastructure is crucial
Many experts believe that an airport should only be developed and built in a particular region if there is sufficient demand.
Nonetheless, there is a belief that the transport infrastructure, including the airfield, must be one step ahead in order to entice investment and tourists, hence generating an opposing demand for aviation growth.
The most prominent example is that of Quang Tri Airrport. Right after the prime minister authorised the PPP scheme for the construction of a new Quang Tri Airport, the neighbourhood obtained two $5.5 billion in energy sector capital and five international real estate and resort projects.
Vo Van Hung, Chairman of Quang Tri People's Committee, stated that the new airport would serve as a catalyst for economic growth and guarantee the region's national security and defence. "People in the project region are extremely supportive," Hung said, adding that the province intends to begin construction of the airport in early 2023 and operate it in 2025.
"This is the province's resolve, with a PPP investment mechanism serving as the key," he said.
According to Dr. Tran Quang Chau, chairman of the Vietnam Association for Aviation Science and Technology, the airspace resources of Vietnam have not been fully used.
"If this scenario persists, it will be difficult to attract foreign investment capital, since many provinces now have five to six huge industrial zones or areas with extremely rich tourist potential but no airports. Thus, the development of airports is quite logical. In addition to transporting people, these airports also convey agricultural products and high-value import and export items, particularly when Vietnam develops a large-scale fleet of specialised cargo planes," he said.
Chau also said that Vietnam's aviation potential is enormous because of its stunning scenery, diverse coastlines, and unexplored islands.
Therefore, for the socioeconomic growth of the nation, it is necessary to extend the airport network widely. In particular, it would be vital to improve the system of legal papers and sub-law documents by making them public and accessible in order to secure the alignment of government, investor, and citizen objectives.
Source: VIR