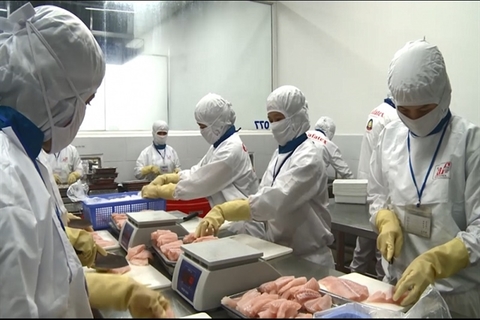 Regulations on inspection of imported seafood cause difficulties for enterprises. — Photo diendandoanhnghiep.vn
In the petition, VASEP said that the seafood business community had been facing big problems regarding quarantine regulations.
VASEP said that the State inspection of imported aquatic products carried out in accordance with the provisions of circulars on quarantine of the Ministry of Agriculture and Rural Development, were not the correct nature of an inspection activity as per processed seafood products used as food.
VASEP said that in accordance with the circulars, products processed from animals, animal products or products containing aquatic animals, either frozen, dried, cooked or instant use continues to be on a list subject to quarantine.
This made the scale and number of shipments subject to quarantine very large as almost 100 per cent of containers had to be checked before customs clearance, VASEP said.
The maintenance and expansion of the list of "processed goods" that are subject to quarantine as prescribed in the circulars was an excessive and unnecessary measure, noted the association.
It is not in line with the policy of reducing the list of goods subject to specialised inspection by the Government, or current legal regulations, or international practices, VASEP proposed in the document.
The association also said that the regulations had "expanded" the concept of "animal products" compared to the Law on Veterinary Medicine and the Law on Food Safety, causing many processed seafood products to be subject to inspection, contradicting the specialised inspection principles for import and export goods as prescribed by the Government.
VASEP said that while the Government was speeding up administrative reform and cutting down on specialised inspection procedures, the Ministry of Agriculture and Rural Development went against the Government's Resolutions 19 and 02.
Truong Dinh Hoe, VASEP secretary general, said that it was necessary to consider and remove the quarantine regulation for frozen processed seafood products imported for export production, processing for export and not for domestic consumption.
VASEP also proposed removing the quarantine regulations for imported processed seafood products for domestic consumption that are assessed as having no risk of spreading aquatic diseases into Viet Nam.
At the same time, he said it was necessary to amend the circulars used by the Ministry of Agriculture and Rural Development in the first quarter next year to clearly define import inspection activities in accordance with different product lists.
Source: VNS