Vietnam after one year of vaccination: Facts and figures
The foreign investors' positive sentiment towards the business environment in Vietnam is largely thanks to the country's high vaccination rate.
March 8, 2022 marked one year since Vietnam launched the inoculation campaign against Covid-19, which resulted in the country ranking among six nations with the highest vaccination rate.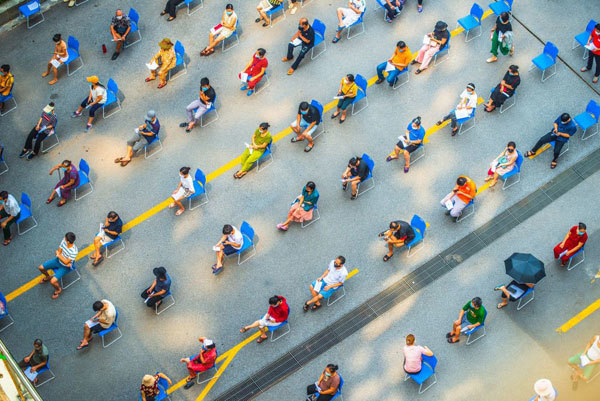 Vaccination in a residential area in Hanoi in 2021. Hanoi Times Photo: Le Tuan Thanh 
After one year of efforts, Vietnam has administered more than 198 million doses, raising the vaccination coverage (fully vaccination) to 98.7% of adults aged above 18, 94% of children of 12-17 years of age, and 38.4% of adults given the booster shots.
Meanwhile, 11 million children aged 5-11 are subject to the upcoming vaccine rollout that is now fully prepared. According to the Ministry of Health (MOH), seven million doses out of 22 million inked with Pfizer Inc. will arrive in Vietnam in the next one or two weeks. 
In addition, the ministry considers administering the fourth jabs to boost immunity.
MOH's statistics showed that althrough the number of infections rose 198% over the past 30 days, the rate of fatalities out of infections dropped to 0.1% on Mar 3 from 0.9% on Feb 1 and the critical cases decreased by 43%.
In mid-2021 when the Covid-19 outbreak was widespread in the south, the fatality rate was reported at 2.4% sometimes, a little bit higher than the world's average of 2.04%.
Health Minister Nguyen Thanh Long said vaccination remains the special remedy to bring down the rate of critical cases and deaths. For that reason, immunization should be the first and foremost priority in the pandemic fight.
Vaccination was considered key for Vietnam's Covid-19 response strategy when the country switched its antipandemic strategy from zero-Covid to flexible adaptation to the virus in October 2021, six months after the outbreak ravaged the southern region, putting a brake on the production there.
Prime Minister Pham Minh Chinh had demanded fast inoculation campaign, saying that the drive would enable Vietnam to reopen the economy in a safe and sustainable manner.
Explaining the change in the pandemic response policy, Carl Thayer, emeritus professor at the University of New South Wales (UNSW), Canberra said Vietnam abandoned its Zero Covid-19 policy following a recommendation from the National Steering Committee for Covid-19 Prevention and Control that this goal was unrealistic if not impossible to achieve while the Delta variant was active. Another factor weighing on this decision was the financial impact of a prolonged lockdown on the economy and associated mental health issues.
Currently, the country undergoes the Spring Inoculation campaign with an aim to bring total children back to school as soon as possible and open borders to all international tourists from Mar 15.

 Vaccination rate in Vietnam. Photo: Ourworldindata
Inoculation drive 
Starting on Mar 8, 2021, the rollout plan in Vietnam has shown impressive results with approval given to nine vaccines namely AstraZeneca, SputnikV, Janssen (Johnson & Johnson), Spikevax (Moderna), Comirnaty (Pfizer), Vero Cell (Sinopharm), Hayat-Vax, Abdala, and Covaxin. 
Sources of the vaccines are from purchases and donations that include the global vaccine sharing scheme COVAX Facility and donating countries. So far, the country has received 53 million doses from COVAX and dozens of millions from donors. The US is the biggest donor providing over 26 million, followed by Germany over 10 million, Australia nearly 8 million, China 7 million, Japan 6 million, Italy 3 million, France 2 million, Poland nearly 1.5 million, South Korea one million, among others.
The COVAX Facility is co-led by WHO, Coalition for Epidemic Preparedness and Innovations (CEPI) and GAVI – the Vaccine Alliance, and with UNICEF as a key delivery partner.
One of the reasons explaining the high vaccination rate in Vietnam is the sentiment towards vaccines. A global poll conducted from October to December 2020 found that Vietnam had the highest vaccine acceptance rate in the world as 98% of people surveyed responded they would definitely or probably get vaccinated when a Covid-19 vaccine becomes available, compared to 91% in India and China, 87% in Denmark and South Korea, 51% Paraguay, 44% in France and Lebanon, 38% in Serbia, according to the book "Challenges in ensuring global access to Covid-19 vaccines: production, affordability, allocation, and deployment" published in March 2021 by The Lancet, an independent, international weekly general medical journal founded in 1823.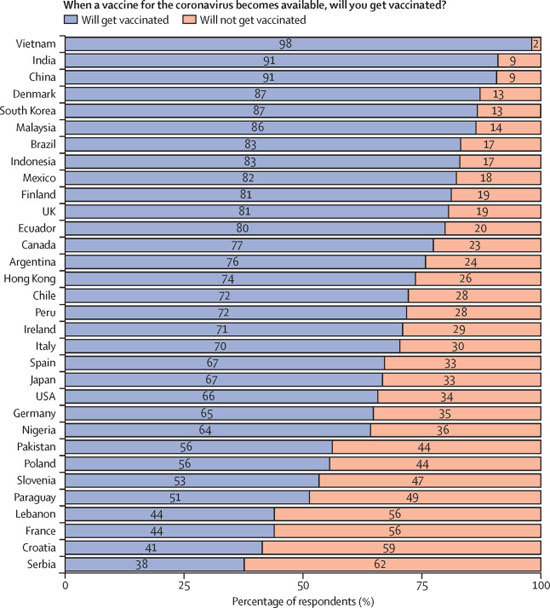 Vaccine acceptance rate in Vietnam and other countries. Source: The Lancet
Outlook 
While concerns over the interruption of global supply chains linger due to serious outbreaks of Covid-19, Vietnam is attempting to remain on the front foot with continued business confidence and inflow of foreign investment. The foreign investors' positive sentiment towards the business environment in Vietnam is largely thanks to the country's high vaccination rate.
Data from the European Chamber of Commerce in Vietnam (EuroCham) shows that European business leaders started 2021 with positive and optimistic sentiments about Vietnam's trade and investment environment. The EuroCham's Business Climate Index hit 73.9 points in the first quarter of 2021, the highest score recorded since the third quarter of 2019 before the Covid-19 pandemic inflicted damage on global trade and investment.
Vietnam posted strong GDP growth of 5.8% in the fourth quarter of 2021, overshooting market expectations for moderate growth (HSBC: 3.8%; Bloomberg: 3.9%). HSBC attributed the growth to quick improvement of manufacturing productivity and record-high export turnover.
Vietnam's economy is set to return to solid growth of 6.5% in 2022, although the spread of Omicron poses risks locally and globally, HSBC predicted.
Source: Hanoi Times

The Ministry of Health is speeding up procedures aimed at completing its contract with Pfizer to purchase 21.9 million vaccine doses for children aged five to 11 in March.

After giving the first Covid-19 vaccine dose to almost all adults, Vietnam is turning to a new strategy to curb the number of Covid-19 deaths.