Vietnam aims for $100 billion export turnover from textiles and garments

Prime Minister Nguyen Xuan Phuc emphasized that it was necessary to settle six problems in the textile and garment industry to avoid losing important export markets.
Vitas last week oganized a ceremony to commemorate the 20th anniversary of its establishment.

The target of exporting $100 billion worth of textiles and garments by 2030 is far higher than the targeted figure of $80 billion set by Vitas.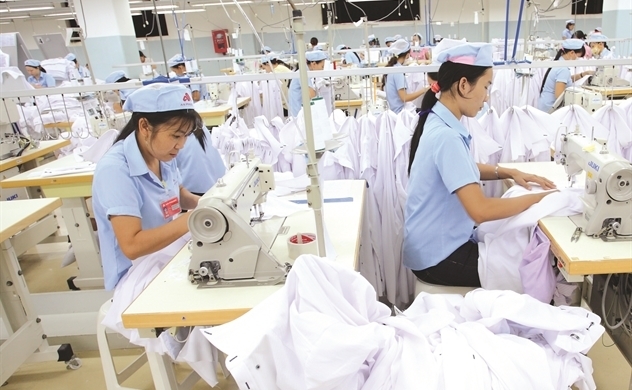 Meanwhile, the industry is still waiting for a new development strategy to improve the existing problems in material supply.

Globalization has brought big benefits to Vietnam's textile and garment industry. The export turnover of textiles and garments in 2019 is estimated to reach $39 billion, or 22 times higher than $1.75 billion in 1999.

The multilateral FTAs, including CPTPP and EVFTA, that Vietnam has signed are expected to give a push to a new development stage.

However, economists said it would be not easy to take full advantage of the opportunities as Vietnam has to import 86 percent of fabric it needs to make garment products for export, according to Vitas.

Vietnam has jumped to the third position, just after China and Bangladesh, in the list of the world's biggest textile and garment producers.
Vietnam has jumped to the third position, just after China and Bangladesh, in the list of the world's biggest textile and garment producers.

However, the US-China trade war is causing more competition among textile and garment powers.

According to Vu Duc Giang, chair of Vitas, buyers are more demanding and setting higher requirements, from sample development to material sources. They are also considering the conditions of enterprises, including the environment and working conditions.

Buyers were thinking more carefully before making decisions and comparing the prices offered by Vietnam and other countries such as Bangladesh and Myanmar.

The rapid increase in labor cost has placed difficulties for Vietnamese enterprises. Meanwhile, Bangladesh still has low labor costs, $110-150/worker/month.

There are two big problems the textile and garment industry isfacing. First, the domestic supply of materials can satisfy 50 percent of demand. Second, even if Vietnamese enterprises do the outsourcing or 'buy materials and sell finished products', they have to make profit of over 25 percent of total capital to have capital for re-investment and equipment upgrading and improve the productivity by 20 percent.

Experts said Vietnam needs a new development strategy for the time to come. If it just seeks market opening opportunities through tariff cuts under FTAs, the advantage will fade over time once other countries also sign FTAs with Vietnam's current partners.
Thanh Mai 

The number of orders that textile and garment companies have received for 2020 is just equal to 80 percent of that in the same period last year.

The domestic textile and garment industry was still striving to reach its export revenue target of US$40 billion this year despite facing many difficulties, said Vu Duc Giang, chairman of the Vietnam Textile and Apparel Association (VITAS).