Vietnam Airlines pilots free wifi service for 30 minutes

The national flag carrier Vietnam Airlines (VNA) began pilot free wifi service on some Airbus A350 aircrafts for routes connecting Hanoi and Ho Chi Minh City /Shanghai/Osaka and linking Ho Chi Minh City up to Osaka/Singapore.

Passengers accessed to the in-flight wifi service, which has been applied for Vietnam Airlines' airplanes for the first time. 
Through the wifi service, they can send text messages on popular applications such as Viber, iMessage, Messenger, Whatsapp, etc which would be suitable with passengers having high demand of frequently exchanging information during their flight. 
With the prices between US$ 2.95 and US$ 29.95 (equivalent to VND 75,000 to VND 735,000), passengers are able to choose internet packages with cellular data up to 80 MB.
According to the passengers' evaluation, the in-flight wifi service meets the requirement of updating information of users.
With VND 735,000 package, passengers can access to the websites, upload photos to the social medias such as Facebook, Zalo, etc.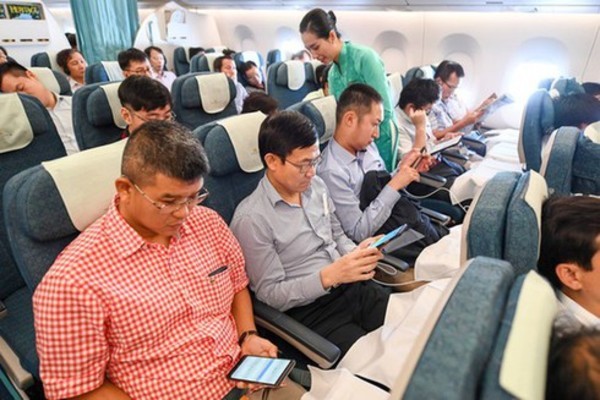 Passengers experience the in-flight wifi service of Vietnam Airlines
The service can operate smoothly as the aircraft reaches the height of over 3,000 meter; however, the wifi signal is interrupted sometimes in the airspaces that are not allowed to use the service.
In order to use the service, passengers can register and pay online by credit cards such as Visa, MasterCard, American Express, JCB or Diners Club. 
In order to easily realize the in-flight Wifi service, Vietnam Airlines will notice to passengers at the check-in counters, set up the identification signs at the boarding gates, instruction letters at the in-flight seats as well as notice via loudspeaker.
On the occasion of opening the new service, the national flag carrier will offer 30 minutes for its passengers to experience the in-flight free wifi service for sending text messages from October to the end of the year. SGGP

Vietnam Airlines has officially launched in-flight wifi service on some of its flights using Airbus A350 aircraft from October 1.