Vietnam Airlines welcomes 100th aircraft to its fleet

National flag carrier Vietnam Airlines welcomed the 100th aircraft of its fleet at Noi Bai International Airport in Hanoi on October 22.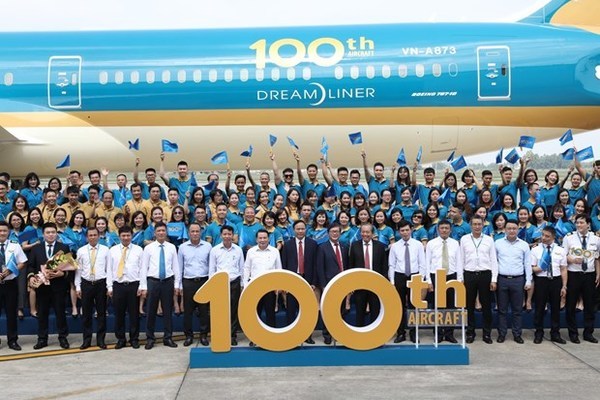 Participants in the welcome ceremony for the 100th aircraft of Vietnam Airlines pose for a group photo
The plane is the third among the eight Boeing787-10s Vietnam Airlines has been receiving from August 2019 to March 2021.
This is the biggest aircraft type in Vietnam atpresent. Within two months, the first two Boeing 787-10s of the carrierconducted nearly 140 flights with more than 83,000 passengers on routes linkingHanoi with Ho Chi Minh City and Vietnam with the Republic of Korea.
Pham Ngoc Minh, Chairman of the Board ofDirectors of Vietnam Airlines, said the reception of the 100th plane is animportant milestone, affirming the leading position of the firm with thebiggest fleet in Vietnam that is comparable to other carriers' in the region.
The fleet of new-generation aircraft has helpedVietnam Airlines improve its operating capacity, flight safety and servicequality so as to become a five-star international carrier in the near future,he noted.
At the ceremony, Deputy Prime Minister TruongHoa Binh said the joining of the 100th aircraft in the fleet demonstrates thedevelopment of Vietnam's aviation industry in general, and of Vietnam Airlinesin particular.
However, the aircraft number is just one of theelements of a carrier's strength, he noted, adding that service quality,technical infrastructure, and the capacity of personnel in all steps are alsokey to its development, sustainability and success.
Vietnam Airlines currently owns the secondlargest fleet of Airbus A350 and Boeing 787 wide-body planes in Southeast Asia,with 14 Airbus A350-900s, 11 Boeing 787-9 Dreamliners, and three Boeing 787-10Dreamliners.
While the firm's wide-body airplanes mainlyoperate on long-haul domestic and international routes, the narrow-body onesconsisting of 52 Airbus A321s, 14 Airbus A321neos, and six ATR-72s have provedeffective on short-haul routes and those with lower travel demand or toairports with limited infrastructure./.VNA

The national flag carrier Vietnam Airlines (VNA) began pilot free wifi service on some Airbus A350 aircrafts for routes connecting Hanoi and Ho Chi Minh City /Shanghai/Osaka and linking Ho Chi Minh City up to Osaka/Singapore.

The first Vietnam Airlines flight using Boeing 787-10 Dreamliner arrived in Seoul from Ho Chi Minh City on October 2, as part the carrier's effort to serve increasing travel demand between Vietnam and the Republic of Korea (RoK).