Vietnam-Asia trade reaches nearly 475.3 billion USD in 2022
Vietnam's merchandise trade with Asia reached 475.29 billion USD in 2022, increasing by 9.6% compared to 2021 and accounting for the highest proportion (65.1%) in the country's total import-export value.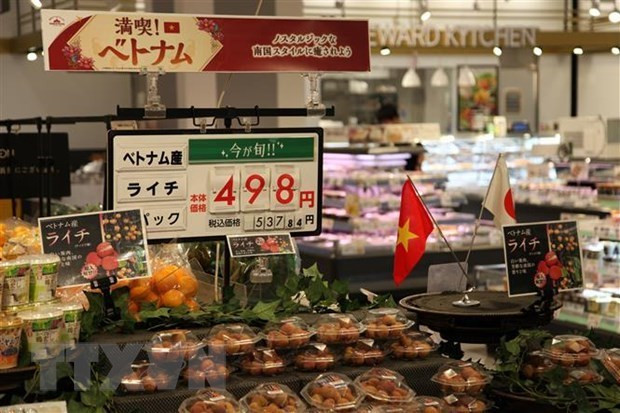 Vietnamese lychees are sold at an AEON supermarket in Japan which is a major trade partner of Vietnam in Asia. (Photo: VNA)
Accordingly, Vietnam's exports to other Asian countries reached 177.26 billion USD in 2022, up 9.5% year-on-year. The country's imports from other Asian nations hit 298.03 billion USD, up 9.6%.
Vietnam saw a trade deficit with only Asia among the five continents.
Major trade partners of Vietnam in Asia include China, the Republic of Korea, Japan, and the Association of Southeast Asian Nations (ASEAN).
According to preliminary statistics of the General Department of Customs, Vietnam's total import-export value of goods reached 730.2 billion USD last year, up 9.1% compared to 2021.
The value of imports and exports between Vietnam and Americas, Europe, Oceania, and Africa was 153.73 billion USD (up 10.5%), 75.45 billion USD (up 2.8%), 17.62 billion USD (up 24.3%) and 8.1 billion (down 3.9%) respectively./. VNA