"No, Vietnamese must not accept the existence of such blocks, even though these are institutional constraints. They need to remove the blocks to move forward," said Ousmane Dione, country director for the World Bank Vietnam.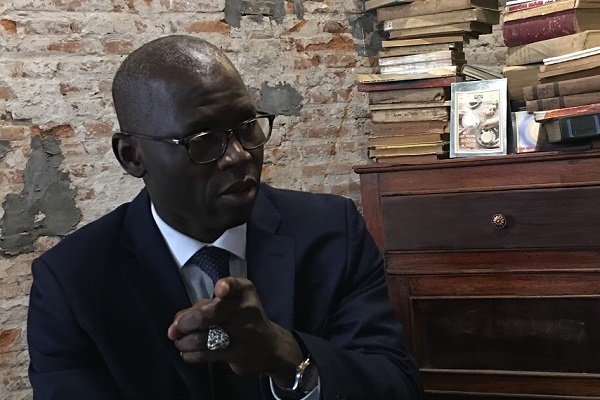 Ousmane Dione, WB Vietnam Country Director
Dione: You have to admit that there are still rocks blocking the way forward. Why is it so difficult in some cases to remove them? Do you want to step back and wait until someone moves the block before going on? No. Vietnamese people cannot tolerate such blocks, though these are institutional constraints or whatever. They need to remove the blocks to advance.
I believe in the ability of Vietnamese people. They can learn more, can improve their capacity and be more creative. I also believe in their openness. They are willing to listen, absorb creative ideas and convert to create new energy.
You need to accelerate the innovation process. Some innovation measures may be easier than others, but we have to take all the necessary measures because each reform action is related to changes.
The whole world is changing very fast, and the most successful people are not always the best, and of course, they most not be the most conservative.
Modernizing the education system
You just spoke about the changing world, and Vietnam needs to change. So where should we start?
Successful people are those who are open to innorvation. The Vietnamese society has a high ability to acquire innovations. Look, your offspring are living different lives from yours. How did your parents live 20 years ago? Different from you now. Do you see the difference? Our parents sacrificed so much so that we can have a better life today. We have the same responsibility for our children and grandchildren, and responsibility is even higher today for this simple reason.

No, Vietnamese must not accept the existence of such blocks, even though these are institutional constraints. They need to remove the blocks to move forward,"
Ousmane Dione, country director for the World Bank Vietnam.
How many of you knew only a little about Africa, the US and the world 20 years ago? Yet today you are sitting in this room and discussing with an African who is World Bank Director in Vietnam. You may not know it, but your children may be playing games on a computer or TV with other children in Europe, Africa, London and New York. The world is globalizing. And the process of globalization goes with a series of challenges.
Technology will have an impact on everyone's life. You can call it a breakthrough, but I think it is more than a breakthrough. That would be a complete transformation. It will come with social impacts. The way we learned in the past and our children learn today are quite different.
In the old days, we studied with books. We sat in classrooms, teachers asked questions and you raised your hands to speak, right? But it is different now. If students have questions, instead of searching for answers in books, they will take out their iPhone and search for answers on Google. But that also implies one more thing that our children will live in a world of higher complexity.
In my home country, students have to learn three common foreign languages. Three foreign languages, remember, and compulsory. This will help them better compete.
I enjoy talking with Vietnamese children. Why? Because we can speak the same language – English.
Sometimes I get frustrated talking to older Vietnamese. I was annoyed, but it was not their fault. I can even say that I am a guest here, it was my fault. I should speak Vietnamese better to be able to speak to people in Vietnamese.

This is what I want to talk about – modernizing the education system. We cannot accept that Vietnamese children speak Vietnamese only, because they will have to compete with others all over the world.
This is the paradox of Vietnam. Why does such an open society, where people are open to new things, still hesitate to learn foreign languages? Nelson Mandela said, "If you speak to someone in that person's language, they will understand what you say." If you speak to someone in their language, you will touch the person's heart.
Now let's return to the starting point of our story. When Vietnam is an open economy with 15-16 free trade agreements (FTAs) and partnerships with the whole world, how can you refuse to speak foreign languages? But this is one of the challenges. If Vietnamese enterprises want to compete in the world, they should start to learn foreign languages.
Getting older before getting rich
We have signed EVFTA and we will have 15-16 FTAs, becoming a country with the highest openness. What do you think about this?
Trade is the engine of growth. Vietnam is the most signatory nation of FTAs in ASEAN and the world.
A lot of economic achievements have relations to trade. When we talk about trade, it's not just about export and import, but also the production system.
Agriculture modernization is an example. Around 25 years ago, Vietnam was an agricultural country that could not produce enough food. Today, Vietnam is a leading country in exporting many farm produce items.
Trade also relates to internal development trends, has impacts on poverty reduction and promotes prosperity, creating a middle class. Today, one million more people in Vietnam become middle-class every year. Currently 35 percent of the Vietnamese population lives in urban areas. By 2030, the figure will be 50 percent in Vietnam.
Closing the doors is not a good choice, and it must not be a choice for Vietnam. Your economy has become very open. However, you need to think about what to do to diversify partners, further modernize some important business fields and protect the environment.
There's one thing that I recommend Vietnamese people not do – staying against trade liberalization. And you should understand that you can't create wealth and prosperity for the nation just by attracting foreign investment (FDI). You have to have industries and businesses of your own, and conquer the world market.
If analyzing the great successes of East Asian countries, such as South Korea, Japan and China, we can see that the wealth that the countries have accumulated relate to trade, but not only in the domestic market. Japanese enterprises are present all over the world, and so are South Korean. In Latin America and Africa, for example, 70 percent of cars there are Japanese or South Korean made. If you go to remotes areas in Latin America, you will see that household appliances there are either made by General Electrics, or Samsung, or Japanese.
Currently, only few Vietnamese enterprises can do this. Viettel is one of them. It is present in Burma, Mozambique and other countries. If the enterprises like Viettel can succeed, they will bring opportunities and lay a firm foundation for other Vietnamese enterprises to conquer the world market.
Vietnam's population is aging at a very fast pace but the country is not rich enough. Vietnam's income per capita is just $2,600 or so. In order to raise Vietnam's income, it is necessary to create more wealth, diversify the economy, and maintain achievements. Where does Vietnam find financial resources to develop in the future? What should be done to create competitiveness for Vietnamese businesses? I think Vietnamese businesses need support.
ODA and the clap of one hand
Let's talk about another important issue – the official assistance development (ODA) given by the World Bank. I heard that the ODA disbursement rate is at a record low. What is happening?
The ODA disbursement rate is 11-13 percent, lower than the 18-20 percent of the last financial year. This (low disbursement rate) was also the topic of discussion of the last meeting of the ODA steering committee. The Ministry of Finance has committed to accelerate. I think there will be some flexible mechanisms that can be implemented between ministries.
Why is the disbursement rate so low, when Vietnam needs huge capital to develop infrastructure?
The 11 percent disbursement rate is the problem. Government agencies have recognized that there are many issues to be addressed. I hope to solve those problems, otherwise the consequences will be very negative. It takes seven years to disburse capital for one project instead of five years.
When estimating budget for projects, we calculate for a period of five years. But if the project implementation is extended to seven or 10 years, the prices won't be stable, and everything will be more expensive.
In Vietnam, sometimes you cannot make procurement without the government's capital. Imagine that we have contracts but the money hasn't come yet. So what will people do? They sit and wait.
Why has disbursement gone so slowly? Is this because of the fight against embezzlement?
There are many reasons. The most important factor is the newly applied MTIP (Medium-term public investment plan). Any projects not yet included in the plan won't get capital allocated. The problem is that MTIP does not contain all projects.
Second, even when one project gets capital allocated, the way of capital allocation sometimes doesn't allow to distribute resources to all activities necessary in the project. This causes difficulties in planning because some projects can receive too much money, while others can receive less money than the spending capability. The current law doesn't allow a flexible mechanism which allows to bring some capital from some projects to others in a quick way.
Regarding the fight against embezzlement. The World Bank supports the fight. So does the fight have any impact? We see the decision-making sometimes is low. To be frank, the decision-making delays take place at all levels.
People have to understand that corruption is the worst, which affects the economy and influences many different levels. Therefore, fighting corruption is a must. However, it is necessary to ensure that the right investment activities still need to be carried out. 
Tu Giang

Experts from the World Bank have observed several major improvements in the ease of doing business in Vietnam, the Ministry of Planning and Investment (MPI) has said.  

"Vietnam doesn't have other options other than moving forward. Frankly, Vietnam must move forward," said Ousmane Dione, the Vietnam Country Director for the World Bank.