Vietnam attempts to increase profits for farmers
VietNamNet Bridge – Authorities in Vietnam are discussing solutions to rice production so as to increase the incomes of farmers who have continued to complain about modest profits.
VietNamNet Bridge – Authorities in Vietnam are discussing solutions to rice production so as to increase the incomes of farmers who have continued to complain about modest profits.
Vietnam to restructure agriculture and profit farmers: Minister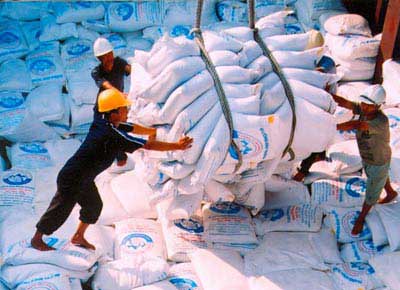 Currently farmers' profits yet to account for 30% of rice revenues.
It is obvious that agriculture plays a vital role in Vietnam's economy, especially when it helped turn a country that mainly imported rice before 1989 into world's second biggest rice exporter.
However, public concerns have been raised over that fact that, even though rice prices in the world market have increased considerably, no significant change in Vietnamese farmers' incomes have been made. Worse still, their incomes are tending to decrease in recent years due to increased production costs and low export prices.
Inadequate policies
A report entitled "Who has benefited from high rice prices in Vietnam?", jointly conducted by Oxfam and the Institute of Policy and Strategy for Agriculture and Rural Development (IPSARD), released on October 17, showed that several problems remained at all phases of the rice supply chain in Vietnam, including incompetent farmers, unprofessional traders and irresponsible exporters who do not pay proper attention to farmers and rice production, but use proceeds from rice exports to invest in other sectors.
"Although the government has issued several policies in support rice growers, their incomes are remain low, even in the context of the price hikes in the world market," said Dr. Do Anh Tuan, IPSARD Deputy Director at the report launch event.
According to Tuan, two separate research by the World Bank and Oxfam in 2012 both showed that the incomes of farmers in the Mekong Delta region, Vietnam's major rice production area, averaged at only VND535,000 (USD25.3) monthly, equivalent to a half of the standard minimum wage.
Amid price hikes in the world market, the government's policies to shore up prices for domestic consumers did not adequately benefit farmers. The government's temporary ban to new rice export contracts with terms of from three to six months between March and June 2008 pulled down domestic rice prices in Vietnam to a record low of around VND3,000 (USD0.14) per kilo. When the rice export prices in the world market rocketed from USD430 per tonne in early 2008 to USD900 per tonne in May of the same year, Vietnamese farmers' rice selling prices increased by only USD100 per tonne due to the moratorium.
Economist Pham Chi Lan attributed the situation to inadequate government policies, market mechanisms and other social factors.
"Even though the government's renewal policies has driven up Vietnam's status in the world's rice market, our thinking of rice production is still outdated. It seems that rice is regarded as serving food security. The cause is that too much attention has been paid to rice production, and not enough on carefully taking into account several related issues, including rising input costs, low selling prices, modest profits for farmers and increasing harm to the environment," Lan commented.
She assessed that the country's rice exports seem to focus on quantity instead of quality as rice export revenues are much lower than Thailand's. This is because the government has yet to consider rice production an advantageous industry of the national economy. The government's policies seem to target small-sized farming households instead of cooperatives and farming groups.
Whilst investment for agriculture is still the government's last priority, rice production continues to use an old model, according to many experts, leaving a widening the gap between farmers and the market.
Meanwhile, exporters do not pay proper attention to farmers as most of them are not in direct contact with the growers, but through small traders. Leaders of such export firms are nick-named as "briefcase cadres". They are portrayed by many as people who sit in air-conditioned rooms and direct traders to gather rice for export.
The rice export market is dominated by two state-owned giants: Vietnam Northern Food Corporation (Vinafood 1) and Vietnam Southern Food Corporation (Vinafood 2), which, together, hold over 50% of the market share. These firms do not use proceeds from rice exports to re-invest in rice production, but instead invest these funds into animal and fisheries feed, real estate, hotels and even motorbike production.
Many see that the government's policy to buy rice from farmers at the peak of the harvest season as inefficient because farmers have no influence in the policy making procedures.
"This is a result of lack of cooperation among farmers, traders, exporters and even ministries," Tuan emphasised.
He said that Vietnam's exchange rate is currently overvalued, benefiting importers but causing losses for exporters. Vietnam reported an agricultural trade surplus of USD15 billion last year, but the overvaluation caused a loss of up to 40% of that.
The blame game
Dr. Vo Tong Xuan, an agricultural expert, said Vietnamese farmers are at a disadvantage because of a lack of competence. VietGAP and GlobalGAP projects are aimed at improving their farming skills, but many of them refuse to comply with standards, resulting in the misuse of pesticides and chemical fertilizers, adding to input costs and greenhouse gas emissions.
Several other experts agreed that poverty has been farmers' major obstacle, forcing them to sell rice in the field directly after harvest to pay off bank loans and debts for seed, fertilizer and pesticides. They largely do not benefit from later price hikes as they are unable to store or process their products.
In order to deal with the aforementioned problems and build a sustainable rice supply chain, experts emphasised the necessity of improving all phases in the chain of rice production. This would mean that farmers be reorganised, likely into co-operatives or production groups, and education on ways to actively fight for their interests.
"Traders should cooperate with one another, at least until farmers improve their production capacity. The Ministry of Agriculture and Rural Development should be authorised to manage both rice production and exports. Currently, the Ministry of Industry and Trade seems to list rice exports as their last priority as they are managing several sectors that bring about much higher revenues, such as electricity," said Lan.
Xuan, however, said that if Vinafood 1, Vinafood 2 and VFA continue to control rice export prices and rice export quotas, and that such a move would annul innovation by private firms.
He also stressed the importance of finding enterprises who are competent and would keep farmers' interests in mind.
Source: DTriNews