Vietnam attends WEF, boosts ties with Philippines
In recent years, Vietnam has actively participated in the World Economic Forum on the East Asia (WEF East Asia) and successfully organized the WEF East Asia 2010 in Ho Chi Minh City.
In recent years, Vietnam has actively participated in the World Economic Forum on the East Asia (WEF East Asia) and successfully organized the WEF East Asia 2010 in Ho Chi Minh City.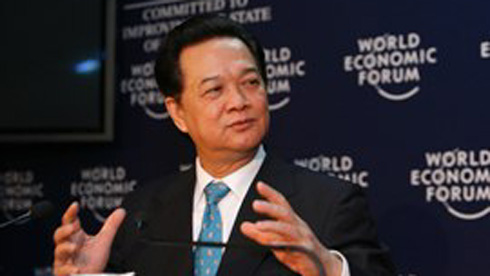 PM Nguyen Tan Dung at the WEF. Photo VGP

Prime Minister Nguyen Tan Dung will attend the World Economic Forum on East Asia 2014 (WEF East Asia 2014) and pay a working visit to the Philippines from May 21-22 at the invitation of Philippine President Benigno Aquino Republican and chairman of the World Economic Forum Klaus Schwab.
The event is expected to attract 450 delegates including politicians and leaders from regional and global leading groups.
In Southeast Asia, Philippine and Indonesian Presidents, Myanmar Vice President and Vietnamese PM Nguyen Tan Dung will attend the conference along with representatives from international organizations such as General Secretary of ESCAP, UNCTAD Secretary-General, UNDP Executive Director, OECD Deputy Secretary General and ADB Vice President.
The WEF East Asia 2014 themed" Leveraging Growth for Equitable Progress" will touch upon issues related to growth for equitable progress, promoting growth models towards sustainable development and regional connectivity.
Vietnam's active participation in WEF
In 2012-2013, PM Nguyen Tan Dung attended the WEF East Asia conferences in Thailand and Myanmar.
The WEF on East Asia 2010 in Vietnam left a strong impression on senior leaders and international business community and earned plaudits from and the WEF Board of Directors. The successful organization of the WEF East Asia 2010 contributed to promoting Vietnam's image especially in the context that the world economy is in recovery and investors are looking for stable markets capable of coping well with crisises.
At the WEF on East Asia 2014 in the Philippines, PM Dung is expected to deliver a speech at the plenary openingsession and attend discussions as a special guest on Asian growth initiative on ASEAN's agriculture and food security and promoting the ASEAN economic community by enhancing public-private partnership (PPP) cooperation. He will also chair a dialogue session with some leaders from international groups and businesses.
Currently, Vietnam has 13 groups and major corporations recognized as WEF members, namely the Vietnam Oil and Gas Group(PetroVietnam), FPT Group, Vinacapital Group, VinGroup, Post and Telecommunications Group (VNPT), Vietnam Import –Export and Construction Corporation (Vinaconex).
Strengthening ties with the Philippines
PM Nguyen Tan Dung will use the occasion to visit the Philippines with the aim of further fostering the ties of friendship and comprehensive cooperation between the two countries.
Vietnam-Philippine trade and investment cooperation is growing well. Annualbilateral trade has increased steadily, reaching over US$2 billion in 2008-2011 and US$2.6 billion in 2013.
The Philippines is one of few countries where Vietnam enjoys export surplus. Since 2008, Vietnam's annual export surplus to the Philippines notch up over US$1billion, the highest in ASEAN in which rice is a key product.
As of late February 2014, the Philippines poured US$285 million into 65 investment projects in Vietnam, ranking 29th among 101 countries and territories investing in Vietnam.
Bilateral cooperation in education, culture, sports, tourism, defense and security have also achieved positiveresults. Especially, both countries are paying attention to boosting marine and ocean cooperation, one of the main pillars in bilateral relations.
So far, Vietnam and the Philippines have conducted joint oceanographic and marine scientific research expedition (JOMRSE) in the East Sea which ended the first phase in 2008.
The two countries organized 3 meetings in 2008 to prepare for the second phase. They signed a cooperation agreement on handling oil spills and an agreement on search and rescue cooperation in 2010.
To date, they have inked a score of agreements and memorandums of understanding (MoUs) to create a legal basis for developing bilateral relations- a trade agreement (1978); an agreement on investment encouragement and protection (1992); an action plan for 2011-2016 (2011); a memorandum of understanding on strengthening cooperation and information sharing between the Vietnamese and Philippine Navies (2011); an agreement on setting up a hotline between the Vietnamese and Philippine Coast Guards (2011); a tourism cooperation program for 2012-2015 (2011).
PM Dung's upcoming visit not only enhances relationships with the Philippines but also contributes to equal economic development between regional countries.
VOV/VNN