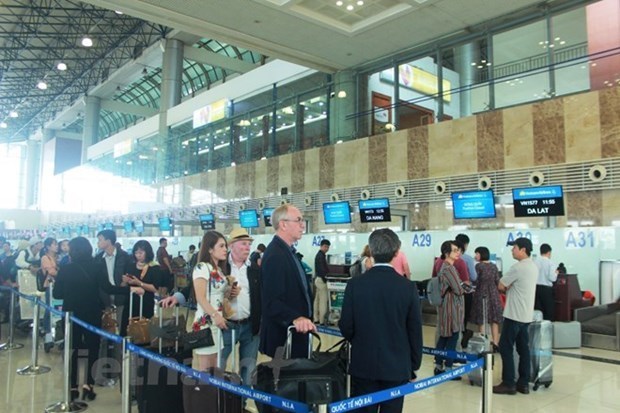 Passengers wait in front of check-in kiosks at Noi Bai International Airport in Hanoi
The report said ACV's airports served more than 46.7 million passengers in the period, up 8.7 percent on a yearly basis. The number of domestic passengers grew by 6.2 percent and that of foreign passengers 13 percent.
The number of landings and takeoffs surged 10.6 percent year-on-year, higher than target but mainly due to the participation of the new airline -
Bamboo Airways.
Airports with good growth in foreign passenger throughput were Noi Bai (13 percent), Da Nang (27 percent), Cam Ranh (26 percent) and Phu Quoc (86 percent).
The corporation earned total revenues of more than 8.3 trillion VND (over 356.1 million USD) during January-May, meeting 43 percent of the yearly target and rising 14.8 percent year-on-year. Pre-tax profit almost reached 3.4 trillion VND.
ACV said the growth in revenue was mainly driven by financial activities, core business operations such as aviation and non-aviation services, and goods sales.
It said the slowing down in the aviation market, particularly the international segment, is expected to affect the corporation in implementing its yearly plan. Therefore, the ACV plans to take measures to promote business, particularly non-aviation services, according to ACV Chairman Lai Xuan Thanh.-VNA

When the CEOs of Vietjet Air and Bamboo Airways signed multi-billion dollar contracts on purchasing Boeing aircraft during US President Trump's visit to Vietnam several months ago, logistics experts hoped the aircraft would include freighters.

Over the past few years, Vietnam's aviation market has been sustaining a two-digit growth rate, while the introduction of new airlines has also put high quality personnel in the industry on high demand.  

Vietnam's aviation sector has witnessed double-digit growth in passenger transport in the past decade, and the market is forecast to build up momentum in 2019, according to the Airports Corporation of Vietnam (ACV).