Vietnam braces for economic effects of COVID-19

Vietnam will optimise external resources to spur national economy as the impact of the outbreak of coronavirus on foreign investment flows into the country is visible, according to the Ministry of Planning and Investment (MPI).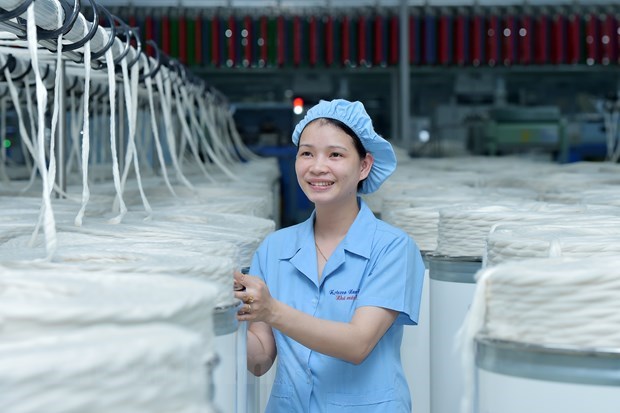 The worst impacts of COVID-19 can be felt in such sectors as garment-textiles, footwear and leather, electronics, computer, optics, motor vehicle manufacturing and metal production that heavily rely on materials imported from China. 
The General Statistics Office (GSO) estimated that Vietnam would attract 39.6 billion USD in foreign investment in 2020 if the virus had not come. The amount would reach 12.1 billion USD in the first quarter, 8.4 billion USD in the second and third quarters, and 10.7 billion USD in the last three months.
However, the complex developments of the outbreak have prompted China -Vietnam's biggest trade partner- to tighten its control of border gates and restrict exports and imports, thus greatly affecting production and foreign direct investment (IDI) in Vietnam this year.
China's investment in Vietnam is forecast to halve during the January-March period and drop 30 percent in the next three months, which will exert impacts on investment flows from other countries, with decreases of 10 percent and 5 percent projected for the periods.
In the first quarter, the accumulative registered and additional capital and that for share purchase of foreign investors is expected to stand at only 10.3 billion USD, down 1.8 billion USD or 16.6 percentage points from the initial scenario.
Meanwhile, the sum is expected to reach 7.7 billion USD in the April-June period, down 0.66 billion USD, equivalent to 8.7 percentage points.
For the whole year, foreign investment in Vietnam is forecast to fall 2.46 billion USD, or a decrease of 6.8 percentage points from the initial scenario, of which capital from China will drop 1.01 billion USD, or 2.8 percentage points and that from other countries will slump 1.44 billion USD, or 4 percentage points.
GSO head Nguyen Bich Lam said coronavirus effects ripple through agriculture, industry, construction, trade and services. Therefore, the fragile production will hinder investment activities in both short and long terms, especially foreign-invested and non-State sectors.
The MPI said the worst impacts can be felt in such sectors as garment-textiles, footwear and leather, electronics, computer, optics, motor vehicle manufacturing and metal production that heavily rely on materials imported from China.
Due to the outbreak, potential foreign investors, including those from China, have canceled their trips to Vietnam to seek investment opportunities.
The production sector takes a hit as coronavirus leads to the lower demand for non-essential goods, and large stockpiles have made investors hesitant to implement their new business plans or increase capital for existing projects.
Another problem is personnel reduction in FDI projects as many Chinese officials, engineers and experts cannot enter Vietnam due to restrictions of flights, the MPI said.
Formosa Ha Tinh Steel Corporation, for example, has 7,500 labourers, of whom 700 hail from Taiwan (China). However, 500 labourers have yet to come back after their Lunar New Year (Tet) holiday due to Vietnam's entry ban.
Besides, the company is facing a shortage of materials imported from China.
Like Formosa, LG Corporation of the Republic of Korea (RoK) said it will have no materials in service of production if COVID-19 is not curbed in the next two weeks.
Samsung Group, another conglomerate from the RoK, would have its business revenue halved as hundreds of its material containers have been stuck at the Lang Son border gate.
In the circumstances, the MPI has suggested stepping up the communication work to raise public awareness of COVID-19 and drastically fighting false information about the epidemic, Lam said.
Ministries, agencies and localities need to swiftly complete procedures for major multi-purpose public projects and deal with adverse impacts of climate change to support production and help people stabilise their lives.
Heads of ministries, agencies and localities should be more aware of their responsibility in order to soon kick-start important national projects like the North-South Expressway, Long Thanh International Airport, the coastal route from the northern province of Quang Ninh to the central province of Nghe An, and other transport and irrigation projects in the Mekong Delta region, he said.
Lam also proposed transform the investment model of some build-operate-transfer (BOT) projects to promote healthy public investment.
Nguyen Mai, President of the Vietnam's Association of Foreign Invested Enterprises, proposed Vietnam make greater efforts to improve the domestic investment environment and help enterprises surmount COVID-19 impacts.
According to the MPI, Vietnam will work harder to lure multi-national groups and prestigious companies and brands, especially those from the areas that have strength in technology, capital and management skills like the US, the EU and Japan.
The Vietnamese Government has allowed customs clearance at border gates with tightened control of the disease, the ministry said.
Do Nhat Hoang, head of the MPI's Foreign Investment Agency, said his agency will focus on high-tech sectors that may create breakthroughs and high added values such as new technology, pharmaceuticals, finance-banking, tourism, green technology and food processing.
The strategic target is to maximise external resources to boost national economic growth and speed up the process of industrialisation and modernisation, he said./.VNA

A number of U.S.-invested firms in Vietnam suffering supply chain complications have deep concerns about the economic impact of the novel coronavirus, or Covid-19, a survey of American Chamber of Commerce (AmCham) members indicated.  

The State budget may face a shortfall of some VND42.3 trillion (US$1.8 billion) this year due to the ongoing spread of the novel coronavirus, or Covid-19, according to the Ministry of Planning and Investment.