Vietnam's fruit exports reached about 1 billion USD in the first quarter of this year, up 10 percent compared to the same period last year. Of the figure, exports to the US - Vietnam's 4cond-largest fruit and vegetable market - accounted for 30 percent. The market's potential is expected to grow in the time to come.

Each year, this business exports about 50 million USD worth of fruit to the US, being among Vietnam's leading fruit exporters. Fruit export turnover to the US rose more than 20 percent in the first quarter of this year, making a strong recovery post-pandemic.
Growth is expected to continue in the future due to increasing market demand.
The US is Vietnam's second-largest fruit market, after China. It imports about 150 million USD worth of fruit each year. While the figure is rather modest, it is still significant in creating a driving force for fruit growers to improve the quality to meet the requirements of other demanding markets.
Greater profit margins will create fiercer competition in the market. The price of Vietnamese fruit, meanwhile, is always higher than in countries such as Thailand.
Prices are expected to fall in the time to come, though, as more enterprises invest in post-production facilities and irradiation areas. This will be a foundation for enterprises to cooperate more strongly to sustainably exploit markets./. 
SMEDF expects to directly provide loans for SMEs from this year
The Ministry of Planning and Investment's Small and Medium Enterprises Development Fund (SMEDF) expects to deploy direct lending for small and medium sized enterprises (SMEs) from this year.
This will help SMEs access the Government's preferential capital through many different forms, according to the ministry.
At present, this fund has often provided loans through the entrusted banks and financial supports for SMEs.
The SMEs enjoying those loans including start-ups, and enterprises in industrial clusters and value chains will take loans via five entrusted banks by the fund.
These five commercial banks are Joint Stock Commercial Bank for Investment and Development of Viet Nam (BIDV); Military Commercial Joint Stock Bank (MB); Saigon Hanoi Commercial Joint Stock Bank (SHB); HCM City Development Joint Stock Commercial Bank (HD Bank) and Bac A Commercial Joint Stock Bank (Bac A Bank), reported the Vietnam News Agency.
The lending rate of those loans in April 2021 was 2.16 per cent per year for short-term loans and 4 per cent per year for medium and long-term loans to overcome difficulties in production and business during the COVID-19 pandemic.
With the duties of receiving, managing and using financial sources, domestic and foreign entrusted capital to create capital to support the development of SMEs, the fund has more capital for SMEs.
According to the Ministry of Planning and Investment, early this month, the SMEDF had a meeting with those banks to evaluate the implementation of indirect lending in 2020. They have also set this year's disbursement target for loans providing for eligible SMEs.
The fund has also organised activities to improve operation ability of SMEs, such as seminars, training, consultancy and investment promotion.
Up to now, the capital from the SMEDF's lending programme has been used effectively. The enterprises with the loans are operating well with many production and business expansion projects being implemented as planned, so the enterprises have repaid principal and interest. 
Tax watchdog eyes further reforms in the next ten-year period
 The tax watchdog was eyeing further reforms in the 2021-30 period with focus on simplifying tax procedures and applying information technology in management to contribute to improving the business climate and bringing Viet Nam to the top 30 in the world in terms of the ease of doing business.
Director of the General Department of Taxation Cao Anh Tuan said that the tax reform strategy in the 2021-30 period aimed at two goals, improving and synchronising tax policies to implement socio-economic development goals and developing a modern and streamlined tax system that operates efficiently.
Tuan said that reforms must ensure the stability, sustainability and transparency of the tax collection revenue while seting up a competitive economic environment appropriate to the country's integration and development process.
The highest goal of reforms was to promote production and increase the competitiveness and encourage Vietnamese enterprises to participate in global value chains to create high added value.
Accordingly, the corporate income tax would be kept stable at 20 per cent as currently to the end of 2025 and adjustments could be put under consideration from 2026 depending on the Vietnamese economy's situation and the global context.
Regarding value added tax, it was necessary to narrow down the subjects for tax exemption to expand the tax base, from 20 categories of goods and services in 2025 to 12 in 2030.
He added that the efforts would be made to speed up the development of an e-government towards a digital government by 2030 and bring Viet Nam to the top 50 countries in the world and third in ASEAN in terms of e-government and digital economy.
The Ministry of Finance recently asked the General Department of Taxation to continue to strengthen the application of information technology in tax management. Specifically, priority would be placed on expanding the application of electronic invoices, electronic tax payment, registration fee payment and individual tax payment.
By 2022, the tax watchdog targeted that all administrative tax procedures would be conduct electronically with connection to the national public service portal at level 4.
Phi Van Tuan, Deputy Director of the General Department of Taxation, said that it was important to keep a close watch on the compilation of tax policies to ensure that the administrative reforms really create a more favourable environment for taxpayers and there would be no new procedures.
Currently, the tax watchdog was developing circulars and decrees to guide the implementation of the Law on Tax Management No 38, Tuan said, adding that close watch was being placed on the process to ensure that no new procedures arise in the new circulars.
The General Department of Taxation's report showed that electronic tax declaration was implemented in all 63 provinces and cities nationwide. The tax watchdog also cooperated with 50 commercial banks to facilitate electronic tax payment and refund. 
Gov't affirms FDI's important role in Vietnamese economy
 The foreign direct investment (FDI) sector continues to be an important economic driver, contributing to making Viet Nam more prosperous, Deputy Prime Minister Pham Binh Minh said.
At the connections for development forum 2021 with the theme 'Presenting opportunities and challenges from the movement of FDI flows in the new context' co-organised by the Ministry of Foreign Affairs and newspaper Vietnam Economic Times on Monday in Ha Noi, Minh said since 1987, along with the process of renewing and opening up the country's economy, the Law on Foreign Investment had been enacted. The country had seen three FDI waves, which had made the FDI sector present in many important industries and contribute significantly to the overall socio-economic development of the country.
As of December 2020, over 33 years of developing and attracting FDI, Viet Nam has 33,070 FDI projects with registered capital of more than US$384 billion, of which about $231.86 billion has been disbursed.
In order to successfully attract FDI in the new context, the Deputy PM said the Government would focus on solving four issues.
Firstly, Viet Nam would be determined to maintain a stable socio-political environment, considering it a competitive advantage of the country in the context that the world has many unpredictable uncertainties and it is difficult to forecast the COVID-19 pandemic.
Second, the country would focus on improving the quality of institutions and legal policies towards enhancing transparency, soundness, safety and efficiency as well as improving the governance and macroeconomic management of the State to attract high-quality FDI inflows and enhance the competitiveness of the economy.
In addition, the Government would encourage and support domestic enterprises to enter into joint ventures, contribute capital and purchase shares of FDI enterprises in projects using high and new technologies and supporting industries to master technology, manage and develop national products.
Third, the Government would prioritise investment in infrastructure development to create smart and efficient connections to help reduce transaction costs and enhance the competitiveness of businesses, investors and the entire economy.
In particular, the Government would encourage investment in education and science and technology, considering it an engine of growth for the country in the coming decades.
Finally, together with investment attraction, provinces and cities would organise and support investors to build their projects effectively and promptly through reforming the business environment and administrative procedures, especially in land clearance.
Minh expected the measures would help reduce investment costs for investors and strengthen their confidence besides supporting domestic enterprises to develop and participate more deeply in the global production and distribution chains. 
Vietnam not impacted by ban on importing 13 types of Algerian fruit
The Algerian Ministry of Trade has recently informed the Vietnamese Ministry of Finance about the updated list of suspended fruit imports into Algeria during the harvest time, according to the Vietnam Trade Office based in Algeria.
In total, there are 13 types of fruit, including oranges, tangerines, apricots, cherries, peaches, plums, grapes, pears, apples, almonds, figs, pomegranates, camellia, and quince, which are subject to the list.
The decision has been made with the aim of protecting domestic production, along with intensifying control over imported fruit as part of efforts to avoid billing over real value, whilst simultaneously ensuring food safety quality for the health of consumers.
Due to the nation not exporting these types of fruit to the North African country, there will no effect for Vietnamese farmers. In fact, this ban was initially introduced and applied by Algeria back in July, 2020, whilst they are among one the few countries globally not to be a member of the World Trade Organization (WTO).
COVID-19 crisis may be opportunity for Vietnam's agricultural trade: Experts
The COVID-19 pandemic has rocked the global economy and created unprecedented trade uncertainty and challenges for all sectors, but from the crisis may come opportunity for Vietnam's agricultural trade, experts have said.
At a workshop held by the Institute of Policy and Strategy for Agriculture and Rural Development (IPSARD) and the Australia - Vietnam Economic Reform Programme (Aus4Reform Programme), Do Lien Huong from IPSARD said that although the agricultural sector suffered a decline in agricultural trade last year, it maintained a trade surplus of 10 billion USD.
There are challenges for Vietnam's agriculture since the country has no particular support policies for the sector while demand in traditional trade partners such as China and the US are falling.
"The pandemic highlighted shortcomings in the agricultural sector and imposed stringent requirements on uniform policies as well as production and cultivation methods," Huong said.
She stressed that the agricultural sector could find new markets if changes are made in a timely manner.
According to Deputy Secretary General of the Vietnam Association of Seafood Exporters and Producers (VASEP) Nguyen Hoai Nam, the shipment of seafood in 2020 fell 1.9 percent year-on-year due to increasing input costs and labour shortages.
In the first quarter of 2021, however, seafood exports inched up 6.9 percent from the same time last year.
Nam said that Vietnamese firms may have opportunities to promote exports and gain greater market share in the time to come as large markets such as the US, Japan, and China are increasing imports while competitors like India and Thailand are struggling with spiralling pandemic outbreaks.
Regarding the production and trade of fruits and vegetables, Chairman of the Vietnam Fruit and Vegetable Association Nguyen Thanh Binh said production and shipments have fallen since 2019 as a result of the US - China trade war and COVID-19, but he believed they will bounce back this year.
It is necessary to promote production links and form a sustainable value chain to improve food safety, quarantine, and origin traceability, he suggested, adding that localities and businesses should focus on large-scale production and the application of advanced technologies and good practice standards such as VietGAP and GlobalGAP.
Other experts held that State agencies should provide businesses with full market information and raise awareness about import-export activities.
In addition to expanding markets and adjusting the export market structure, the State should also outline measures to stimulate the economy and support companies in production and business.
According to Director of the Legal Department at the Vietnam Chamber of Commerce and Industry, Dau Anh Tuan, Vietnamese enterprises expect support from the State, including exemptions from corporate income taxes, extensions on tax payments, and reductions or extensions on social security payments, among others./.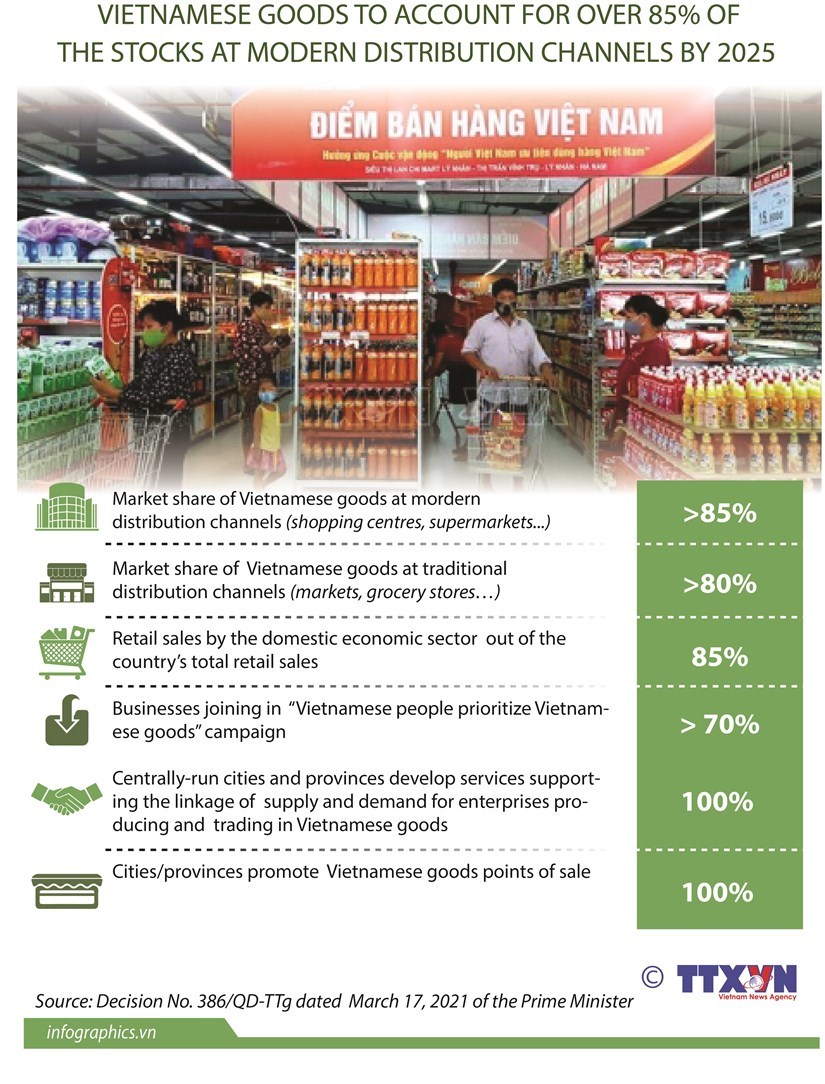 biz
Workplace productivity improvements needed for economic competitiveness: Expert
Vietnam must look to improve national workplace productivity if it wants to promote its economic competitiveness and growth, according to Chairman of the Vietnam Chamber of Commerce and Industry (VCCI) Vu Tien Loc.
Loc made the statement at a workshop held by the VCCI and the Japan International Cooperation Agency (JICA) in Hanoi on April 28, part of activities launched by VCCI to improve workplace productivity at businesses.
According to Loc, Vietnam's workplace productivity has improved remarkably in recent years, posting a rise of 5.8 percent each year in the 2016-2020 period and exceeding the target by 0.8 percent.
The country's growth model has gradually reduced a dependence on the exploitation of natural resources, raw material exports, low-cost labour, and credit expansion, and begun relying on the application of science, technology, and innovation, he said.
According to the International Labour Organisation (ILO), Vietnam's workplace productivity in the 2011-2020 period rose 5.11 percent, 2 percent higher than the average in ASEAN.
Its productivity has improved significantly but is still low compared to countries such as China and India, it noted.
Kenichi Ohno from the National Graduate Institute for Policy Studies of Japan said with the support of international organisations such as the Asian Productivity Organisation (APO), a number of productivity improvement programmes have been implemented in Vietnam over recent years, contributing significantly to boosting workplace productivity.
Vietnam should learn from Japan's experience and tools as well as those of other Asian countries to improve its workplace productivity.
The Japanese Government and business community are willing to cooperate and support Vietnam in effectively improving productivity, he said.
Participants at the workshop also highlighted the important contribution of the digital economy to productivity and efficiency in the economy, saying that this is a new driver of rapid improvements./.
Measures to bring Vietnamese goods to the world sought
Ways to facilitate Vietnam's development of cross-border e-commerce were discussed at a workshop on exporting Vietnamese products to the world with Amazon on April 28 in Hanoi.
The workshop was held jointly by the Vietnam E-commerce and Digital Economy Agency at the Ministry of Industry and Trade, the Hanoi Department of Industry and Trade, and Amazon Global Selling.
Lai Viet Anh, deputy head of the agency, said Vietnam has the fastest cross-border e-commerce growth rate in the world.
Cross-border e-commerce continues to be an effective way for Vietnamese businesses to open their doors to global supply chains and minimise risks when traditional supply chains are disrupted or stagnant due to the COVID-19 pandemic, she added.
Last year, despite the impact of the pandemic, Vietnam's business-to-consumer e-commerce sales grew by 18 percent to 11.8 billion USD, accounting for 5.5 percent of the country's total retail sales and service revenue. It is eyeing annual growth of 25 percent during 2021-2025, to hit 35 billion USD.
To help Vietnamese goods connect effectively with the global market, Anh stressed the need for enterprises to engage in and adapt to the trend, besides measures carried out by competent agencies.
Assessing cross-border e-commerce as an effective export channel, acting director of the Hanoi Department of Industry and Trade Tran Thi Phuong Lan said that sales via e-commerce platforms are also one of the fastest ways for businesses, especially those of small and medium size, to build their own brands for bringing goods to the world.
Gijae Seong, Vietnam Country Manager at Amazon Global Selling, said his company hopes to contribute more to the development of cross-border e-commerce in Vietnam.
Joining hands with the Ministry of Industry and Trade in helping Vietnamese businesses develop cross-border e-commerce, Amazon Global Selling officially launched a programme aimed at enhancing support for Vietnamese sellers on their journey to the world by providing them with cross-border e-commerce knowledge, helping them set up and operate stores on Amazon, and improve their competitiveness./.
Vietnam Grand Sale 2021 to offer discounts up to 100 percent
The Vietnam Grand Sale 2021 will take place nationwide from July 1 to 31, with discounts of up to 100 percent, heard a press conference in Hanoi on April 28.
Director of the Ministry of Industry and Trade's Vietnam Trade Promotion Agency Vu Ba Phu said merchants can register to introduce products and services in line with regulations.
Apart from exhibitions, they can also join traditional festivals in localities to develop tourism and e-commerce and encourage cashless payments.
Last year, over 27,450 promotional programmes were held in response to the event, nearly 1,000 of which offered discounts of 80-100 percent, 1,100 60-79 percent, and some 2,500 50-69 percent.
Discounts were mostly on apparel, consumer goods, electronics, and telecommunications via supermarkets, retail networks, and electronic transaction floors.
According to the General Statistics Office, the total retail of goods and services reached 431.9 trillion VND last July, up 3.3 percent against June and 4.3 percent year-on-year.
Experts said the event will help raise public awareness about Vietnamese goods and services and provide a means for suggesting support policies for participating firms./.
Measures sought to expand export markets for farm produce
Minister of Agriculture and Rural Development Le Minh Hoan asked agencies within the ministry, local authorities and departments of agriculture and rural development of localities to focus on measures to seek new export markets for Vietnamese farm produce, stressing that this is a decisive factor in the country's agricultural economic development.
Addressing a national conference in the Mekong Delta city of Can Tho on April 28, the minister underlined the need to pay special heed to building orientations for domestic and international market development for agricultural products.
Jointly held by the Ministry of Agriculture and Rural Development, the Ministry of Science and Technology, and the municipal People's Committee, the conference aimed to identify measures to effectively implement plans to restructure the agricultural sector in the 2021-2025 period.
Hoan said it provided a venue for ministries, localities, and businesses to share their experience and discuss ways to improve the value chain of Vietnamese farm produce in the time to come.
According to the minister, Vietnam is ranked 17th in agro-forestry-aquaculture exports in the world, with turnover hitting 41.2 billion USD in 2020, accounting for 1.95 percent of the global total. Therefore, there is major space for Vietnam to boost such exports.
Relevant ministries, sectors, localities and business associations were urged to work hard on addressing bottlenecks so as to develop agricultural product markets in the time to come. They were asked to continue negotiations to remove technical and trade barriers in key markets such as the US and the EU, while promoting negotiations to facilitate the export of fresh fruit and vegetables, aquatic products, birds' nests, and meat to China, as well as expanding exports to Japan, the Republic of Korea, India, the Eurasian Economic Union, Africa, and ASEAN, and for the Halal market.
Attention should also be paid to planning domestic production to create agricultural products that meet the requirements of fastidious countries, participants said.
They emphasised the need to strengthen trade promotion activities, bolster the application of technology in agricultural development, raise the quality of farm produce for export, while share experience, global market trends and issues relating to brand building and protection, and geographical indications with businesses operating in agriculture./.
Deputy PM lauds contributions of Japan's financial, credit organisations
Deputy Prime Minister Pham Binh Minh on April 28 hosted a reception for Masahiro Yoshimura, General Manager of Business Development Department at Japan's Sumitomo Mitsui Financial Group (SMFG), who is also in charge of managing Sumitomo Mitsui Banking Corporation (SMBC).
At the meeting, Minh said the Vietnam-Japan relationship is developing fruitfully across spheres, and Japan is now Vietnam's largest ODA supplier with about 27 billion USD.
Japan is also Vietnam's second foreign investor with accumulated investment amounting to 60.3 billion USD, making up 15.7 percent of total foreign investment in the country.
Japan is the fourth largest trade partner of Vietnam, with bilateral trade reaching 60 billion USD last year, the official added.
Minh attributed the achievements to contributions in terms of both finance and operational experience of Japanese financial and credit organisations over the past time, including SMFG.
The Vietnamese government appreciates the role of SMBC that has operated in Vietnam over the past nearly two decades, providing financial and banking services, as well as support for many major energy and infrastructure projects in the country with combined funding of about 20 billion USD.
Minh expressed his hope that SMFG and SMBC in particular will develop further and expand its investment and business in Vietnam, while continuing to work as a bridge for Japanese firms in the Southeast Asian nation.
The Vietnamese government also encourages the participation of credit organisations with financial potential, experience and capacity to help local credit organisations, the Deputy PM said, adding that he welcomed SMBC's investment in FE Credit – a consumer finance division of VPBank, and noted his belief that the cooperation will be a success.
For his part, Yoshimura pledged that SMFG will continue to prioritise its efforts and resources to business development in Vietnam, saying he believes that the group will contribute to the growth of relations between the two countries.
He said SMBC's investment in FE Credit is the biggest foreign invested project in the banking sector in Vietnam, which has demonstrated SMFG's commitments to contributing to the country's development as well as the bilateral ties for a long run.
Currently, Japan ranks third in terms of its presence in Vietnam's banking sector, with six branches, two financial companies and 10 representative offices./.
Room for Vietnam - US post-pandemic cooperation considerable: Experts
Vietnam and the US have huge potential to boost cooperation in trade and supply chains after COVID-19 is brought under control, experts said at a conference held by the Investment and Trade Promotion Centre of Ho Chi Minh City (ITPC) and the American Chamber of Commerce in Vietnam (AmCham Vietnam) on April 28.
According to ITPC Director Nguyen Huu Tin, Vietnam and the US have enjoyed impressive strides forward in economic cooperative ties, with the US being Vietnam's largest export market and Vietnam being the US's 6th-largest importer.
The US has shifted to purchasing products from emerging countries, including Vietnam.
Vietnam has affirmed its position as an important trade partner of the world's largest economy, Tin said.
For the first time in 26 years of relations, the US is Vietnam's largest export market, he said, adding that two-way trade in the first quarter topped 25.9 billion USD, up 33.5 percent year-on-year, with Vietnam's exports estimated at 22.2 billion USD.
The two governments and business communities have made efforts in the past to bolster cooperation in a practical fashion and based on the complementary nature of the two economies.
Vietnam is stepping up its economic reform and international integration while enhancing win-win cooperation with the US. Meanwhile, the US has attached much importance to ties with Vietnam and encouraged its companies to set up value chains with the country and expand investment.
Thanks to the good control of COVID-19 in Vietnam, Vietnamese firms have a huge advantage over foreign rivals struggling to fight the pandemic, Tin stressed, while suggesting that improving business and production capacity and capitalising on the US market will provide opportunities for Vietnam's economy to develop further in the time to come.
Evaluating the cooperative potential between Vietnam and the US, Alexander Tatsis, Economic Officer at the US Consulate General in HCM City, said they have witnessed advancements in their trade and foreign relations over more than two decades.
He highlighted that the US's demand for high-quality Vietnamese products has been increasing due to changes in the global supply chain, and US firms sees Vietnam as a potential, safe investment destination post-pandemic.
Meanwhile, AmCham Vietnam Executive Director Mary Tarnowka said that Vietnamese staples like tropical fruit, rice, and fish sauce are now popular in the US.
Pointing to the complementary nature of the two economies, she underscored that Vietnam has good production capacity in the fields of agriculture, seafood, and wood processing, among others, while the US is the world's leading materials supplier and has the strongest purchasing power.
Vietnam is an important link in the global supply chain, and the country's development has positive impacts on the US market, she said.
Ken D. Duong, Director of the TDL International Law Firm, suggested Vietnamese firms select suitable measures to effectively access the US market, adding that small businesses should export products via popular e-commerce platforms in the US, as this helps them cut costs at a time when the number of online shoppers is increasing amid COVID-19.
Medium and large-scale firms should establish representative offices or find distributors in the US, he said.
It is also necessary for enterprises to protect their trademarks by registering them not only in the US but also in target markets, he recommended./.
Vietnam's economic growth likely to expand 6.7 pct in 2021: ADB
Vietnam's economic growth is expected to rebound to 6.7 percent this year despite the recent resurgence of the COVID-19 pandemic in nearby countries, and rise to 7 percent in 2022, according to the Asian Development Bank (ADB).
In its Asian Development Outlook (ADO) 2021 released on April 28, the ADB said Vietnam's economic growth will be boosted by export-oriented manufacturing, increased investment, and expanding trade.
The growth momentum is expected to continue, thanks to ongoing reforms to improve the business environment and Vietnam's participation in multiple free trade agreements (FTAs) involving almost all advanced economies.
Rising international oil prices and increased domestic consumption is expected to push inflation up to 3.8 percent this year and 4.0 percent in 2022, the report said, adding that faster-than-expected recovery in China and the US would significantly expand Vietnam's trade and growth prospects.
The report said Vietnam can maintain inclusive growth by softening the pandemic's impact on poverty and incomes.
The ADB also raised its 2021 economic growth projection for developing countries in Asia amid ongoing COVID-19 vaccine campaigns and the sharply increasing export demand in the world market.
The developing region in Asia, comprising 45 countries in Asia Pacific, is forecast to grow 7.3 percent by 2021, and 5.3 percent in 2022.
Meanwhile, the growth rate forecasted for the Southeast Asian region is 4.4 percent, down from the earlier projection of 5.5 percent due to the instability in Myanmar. The Philippines, the slowest economy in Southeast Asia last year with a 9.6-percent contraction, is forecast to grow 4.1 percent this year./.
Bamboo Airways opens three new domestic routes to Quy Nhon
Bamboo Airways officially announced on April 28 its opening of new routes from the Mekong Delta city of Can Tho, Da Lat city in the Central Highlands' province of Lam Dong, and Thanh Hoa city in the north-central province of Thanh Hoa to Quy Nhon city in the south-central province of Binh Dinh.
There will be five flights weekly on the Can Tho - Quy Nhon route, four on Da Lat - Quy Nhon, and three on Thanh Hoa - Quy Nhon.
Quy Nhon's Phu Cat Airport now hosts a total of seven routes, catering to 60 flights on a daily basis.
Vice Chairman of the Binh Dinh Provincial People's Committee Lam Hai Giang said the opening of the new routes marks a new stage of development in provincial air passenger transport and tourism, toward its goal of welcoming 4 million arrivals by air in 2021 and 8 million by 2025.
Quy Nhon hosts more than 5 million tourists annually. Most local hotels are already fully booked for the upcoming National Reunification Day (April 30) and May Day (May 1) holiday./.
Vietnam racks up nearly 1.9 billion USD in trade surplus in four months
Vietnam posted a trade surplus of nearly 1.9 billion USD in the first four months of the year, according to the Ministry of Planning and Investment's Foreign Investment Agency.
The foreign-invested sector enjoyed 14.4 billion USD in trade surplus while domestic firms reported a trade deficit of 12.5 billion USD.
In the first four months to April 20, foreign investors pumped 12.25 billion USD in Vietnam, equal to 99.3 percent of the amount recorded in the same period last year.
Of the amount, nearly 8.5 billion USD was poured into 451 new projects, up 24.7 percent in value and down 54.2 percent in project numbers year-on-year.
Meanwhile, more than 2.7 billion USD was added to 263 existing projects, down 10.6 percent and 21.5 percent, respectively.
The remaining investment capital, over 1 billion USD, was used for capital contribution and share purchases in a total 1,151 transactions.
Foreign investors landed investment in 17 sectors, with processing and manufacturing absorbing the largest amount of capital (5.2 billion USD), followed by power generation and distribution (5.1 billion USD), real estate (778 million USD), and whole sale and retail sale (464 million USD).
Among 67 countries and territories having investment in Vietnam in the period, Singapore took lead with 4.8 billion USD, Japan came second with more than 2.5 billion USD, and the RoK was the third largest investor with 1.5 billion USD.
Localities that attracted the most FDI were Long An (3.3 billion USD), Can Tho (over 1.3 billion USD), and Ho Chi Minh City (1.1 billion USD).
Minister of Planning and Investment Nguyen Chi Dung said that the ministry will work to complete mechanisms with a view to improving business climate for foreign investors, and set up preferential mechanisms to attract investment into the fields of high technologies and source technologies./.
Quang Nam province develops sustainable marine tourism
The central province of Quang Nam has been paid due attention to the development of tourism infrastructure as the locality is looking to develop sustainable sea and island tourism products.
According to Director of the provincial Department of Culture, Sports and Tourism Nguyen Thanh Hong, Quang Nam is working to create strong "brand" names for its sea and island eco-tourism models.
Quang Nam is home to renowned Hoi An ancient city, a UNESCO cultural heritage site. Over the years, Hoi An has been a top global travel destination and considered as a living museum of history and architecture.
Besides, it houses Cu Lao Cham (Cham Island) which was recognised as a World Biosphere Reserve by UNESCO in May 2009 thanks to its diverse eco-system and ancient cultural and historical sites.
Secretary of the Party Committee of Hoi An city Tran Anh said sustainable sea and island tourism development has been an inevitable choice of the ancient city.
The city successfully restore local coral reefs to serve scuba diving of visitors, particularly foreigners, he said, adding with support of advanced technologies, locals in Tan Hiep commune assisted marine reserves to recover more than 6,000 coral reefs./.
Cat Linh – Ha Dong metro line to begin commercial operation from May 1
Hanoi's first metro service running from Cat Linh to Ha Dong will start commercial operation from May 1 as directed by the Prime Minister.
Safety problems in the project have been removed, according to a report from the Ministry of Transport, adding ACT – French safety consultants – which is hired to oversee the final stages of the metro project – is expected to complete safety certification for the railway on April 28.
Travel on the Cat Linh – Ha Dong Urban Railway will be free for the first 15 days of operation.
After that, a one-way ticket will cost 15,000 VND (0.65 USD). Then, the operation unit will notify passengers of the price of monthly and quarterly tickets soon.
The Cat Linh – Ha Dong Urban Railway project started in 2008 with a total investment of 18 trillion VND (782.6 million USD) and was initially expected to be completed in 2016. However, it has missed its completion deadline several times.
The Cat Linh – Ha Dong line runs 13.5km with 12 stations, encompassing Cat Linh, La Thanh, Thai Ha, Lang, Thuong Dinh, Ring Road 3, Phung Khoang, Van Quan, Ha Dong, La Khe, Van Khe and Yen Nghia.
Meanwhile, Management Authority for Urban Railways Ho Chi Minh City said that two three-car trains and four six-car trains for the first metro line (Metro Line 1) in the southern hub are expected to arrive in the city between May and July.
The two three-car trains will be shipped from Japan on May 1 and reach Ho Chi Minh City in nine days. The remainders will be delivered to the city in June and July.
The trains will be on trial run from Quarter 4 this year. Within the same time, other tasks like operations, training, technology transfer, and examination will be in progress.
Metro Line 1, which is 20 kilometres long with 3 sub-stations and 11 stations, is 83 percent complete and is expected to officially open for use in 2022. It is built at the total cost of more than 43.7 trillion VND./.
CPI in April records decline of 0.04%
The General Statistics Office (GSO) unveiled on April 29 that the consumer price index (CPI) in April slipped by 0.04% compared to the previous month but rose by 1.27% from the figure recorded last December.
This latest decline in the CPI can largely be attributed to a plentiful supply of goods coupled with a low consumption demand for electricity and water.
CPI in April climbed by 2.7% against the same period from last year, while the average CPI during the initial four months of the year saw an increase of 0.89%, the lowest rise since 2016, with core inflation increasing by 0.74%.
Among the 11 main groups of consumer goods and services throughout April, a CPI decline was recorded in four categories, including restaurant and food services (down 0.13%), housing and construction materials (down 0.43%), post and telecommunications (down 0.2%), and cultural, entertainment, and tourism services (down 0.11%).
Elsewhere, the surge in the CPI could be seen in six groups, including transportation (up 0.87%), beverage and tobacco (up 0.14%), and household appliances (up 0.11%), while prices remained stable in other groups, such as garment and footwear.
According to the GSO, there are a number of other factors behind the CPI increase during four-month period, including rising rice prices and the increasing consumption demand for sticky rice and other forms of delicious non-glutinous rice during the Lunar New Year festival, known locally as Tet.
These moves have served to make rice prices during the reviewed period climb by 7.76% against the same period from last year. Experts also attributed the CPI hike to rises in the prices of food, oil and gas, and educational services.
Along with reasons for the CPI increase, experts said the slight CPI decline was also affected by the Government's deployment of support packages for residents and businesses negatively impacted by the novel coronavirus (COVID-19) pandemic.
In addition, railways, airlines, and travel firms have also offered attractive discounts to stimulate tourism demand, causing travelling ticket prices to decline.
April witnessed local gold prices move in tandem with global gold prices, while the US dollar in the global market rose amid a tightening control of interest rates in the United States, along with improved prospects relating to the implementation of the COVID-19 vaccination programme in Europe.
Workshop examines export opportunities for farm produce post COVID-19
Localities and businesses must focus on developing large-scale production by applying advanced technology and organic farming practices in order to generate high-quality products for processing and export, experts have said.

The recommendations were made by experts during a workshop held on April 27 in Hanoi running with the theme "Opportunities and challenges for Vietnam's agricultural trade in the context of COVID-19 pandemic".
Do Lien Huong, deputy head of the Department of Market Research and Commodity Development, revealed that rice exports have significantly increased in recent times due to the rising global demand. In contrast, seafood and fruit exports have endured a downward trajectory due to disruption occurring in supply chains and high transportation costs. 
Huong noted that despite agricultural trade witnessing a decline, it should not be considered a concern as food items remain essential goods amid the ongoing impact caused by the novel coronavirus (COVID-19).
Nguyen Hoai Nam, vice secretary general of the Vietnam Association of Seafood Exporters and Producers (VASEP), said that seafood exports last year faced falls of 1.9% compared to 2019 as a result of the COVID-19 impact.
The most influential factors include the high input costs and a serious shortage of workforce caused by social distancing measures which have ultimately led to a sharp decrease in production capacity, Nam confided.
Despite these drops, local seafood exports during the first quarter of 2021 recorded signs of recovery, securing a growth rate of 6.9% compared to the same period from last year. This recovery can largely be attributed to a sharp increase in export turnover in most products and major markets.
Nam predicted that while Asian countries such as India and Thailand are struggling with the COVID-19 pandemic, the United States, Japan, and China are poised to increase imports in the coming months, offering Vietnam plenty of opportunities to boost production and exports. Yet, he also noted seafood exports would be affected by high transport and input costs.
For fruit and vegetables, Nguyen Thanh Binh, chairman of the Vietnam Fruit and Vegetables Association, revealed that the import-export turnover of the products has suffered a decline since 2019, due to the dual impact of both trade wars and COVID-19.
Vietnamese production and consumption of fruit and vegetables is expected to rebound and enjoy strong growth momentum moving forward, Binh stated.
He went on to underline the need to promote regional connectivity as it forms a sustainable and highly-effective production value chain, whilst also applying high technology and Good Agricultural Practice, such as VietGAP and Global GAP in farming.
The State should provide timely market information and launch economic stimulus measures to support enterprises in order to help them weather the COVID-19 crisis, Binh noted.
The workshop was co-hosted by the Institute of Policy and Strategy for Agriculture and Rural Development (IPSARD) in conjunction with the Australia supports Vietnam's economic reform program (Aus4Reform).
HCM City needs a push to become a global financial centre: conference
With a favourable business environment and rapid and steady economic growth, HCM City meets all essential conditions to become a global financial centre, a conference heard in the city on Tuesday.
The city contributes around 22.3 per cent to the country's GDP and 27 per cent to the national budget, and attracts 34 per cent of the country's FDI.
It has excellent financial infrastructure with numerous banks, financial intermediaries, investment funds, and financial firms that play a vital role in attracting and distributing capital.
Dr Tran Du Lich, member of the Government Advisory Group, said the city is a gateway to major financial centres and capitals in Southeast Asia, and the idea of turning it into a regional and international financial centre is not new.
However, the growth of the financial sector, especially HCM City's, has not been consistent and the dependence on the banking system for capital has been significantly distorting the financial markets, he explained.
Key characteristics of international financial centres include a deep, liquid and sophisticated capital market, and competitive tax and regulatory regimes designed to attract foreign investment in financial services.
HCM City must become a development locomotive for the country and the key economic regions in the south, and drive the development of the Mekong Delta and the Central Highlands.
It needs to strengthen its competitiveness in terms of institutions, human resources and infrastructure.
It should continue to aim for sustainable growth by improving its competitiveness and growth quality through healthy economic restructuring, and ensure a favourable business environment for enterprises and encourage start-ups, innovation and smart-city measures.
Lich said the plan to make HCM City a regional and international financial hub should be stated clearly in the national strategic economy to ensure the National Assembly and Government could develop policies and specific mechanisms.
To turn HCM City into a financial centre requires three phases, with the first phase from now until 2025 used to complete all the necessary infrastructure for the financial centre, he said.
In the second phase until 2035 the key mission would be to complete its institutional, human resources and urban infrastructure requirements, he said.
The third phase from 2035 should develop an international financial market, he added.
Experts said with strong support from the Government and local authorities, HCM City would graduate from being a national financial centre to a regional and then international centre in future years.
Viet Nam-US trade has new opportunities post-pandemic
Viet Nam plans to further enhance trade and investment cooperation with the US, especially after the COVID-19 pandemic ends, said a city official.
Speaking at a seminar on Wednesday Viet Nam - US Trade, Nguyen Huu Tin, director of the Investment and Trade Promotion Centre in HCM City (ITPC), said: "US-Viet Nam trade has made impressive progress in recent years, with the US currently being Viet Nam's largest export market."
Last year, Viet Nam ranked sixth in the world and third in Asia in exports to the US, after China and Japan, he said.
The US is shifting from imports of goods from traditional exporters to other emerging countries, including Viet Nam. "Viet Nam is gradually asserting its position as the leading partner of the world's largest economy," he said.
Tin attributed the achievement to "an open, dynamic and practical cooperation" of the two countries' governments and business communities.
The US has encouraged American enterprises to establish production and value chains between the two countries.
Viet Nam can benefit from its control of COVID-19 by enhancing trade with its partners, Tin said. Vietnamese businesses should grasp the "golden opportunity" to innovate and improve production and business capacity to exploit the US market, he added.
FDA registration
Nguyen Ba Thien Thu, chief representative of Registrar Corp, an FDA consulting firm, explained that the US Food and Drug Administration (FDA) regulates food, beverages, drugs, medical devices and cosmetic products available for commercial distribution in the US.
"Local businesses need to understand the FDA standards for exporting goods to the US market," she said.
The FDA regulations include safety and sanitary requirements for products exported to the US. To export food to the US, businesses are required to register wirh the FDA, while complying with the new labeling regulations and the Food Safety Modernisation Act (FSMA) by FDA.
Some local businesses are facing problems reaching required standards and quality, especially on completing procedures for FDA certification.
In the future, local enterprises must have FDA certificates for their products to be exported to the US.
To reach FDA standards, Vietnamese enterprises must have input materials that meet those standards. The US market has high technical and high product quality requirements.
Experts said Viet Nam should complete its system of standards and regulations to improve the quality of exports to the US. This will promote the competitiveness of Vietnamese products in the global market.
The event was organised by the Investment and Trade Promotion Centre in HCM City. 
Experts impressed by Vietnam's renewable energy adoption
The UK's Financial Times on April 26 ran an article highlighting that the expansion of Vietnam's wind and solar farms is proving crucial to powering its economic growth.
According to data from Irena, an inter-governmental renewable energy organisation, Vietnam's production from solar and wind increased 237 percent and 60 percent, respectively in 2020, raising the share of these sources to a quarter — almost a decade ahead of schedule, it wrote.
With an average speed of more than 10 metres a second, Vietnam's territorial waters rank in the top 10 percent of the windiest places on the planet.
The seas off the provinces of Binh Thuan and Soc Trang where developers plan to build multibillion-dollar offshore wind farms are also relatively shallow, with depths of 20 metres to 50 metres.
The author quoted Thu Vu, an energy finance analyst at the Ohio-based Institute for Energy Economics and Financial Analysis as saying that Vietnam's renewable energy adoption is impressive. The higher cost of offshore units relative to onshore or nearshore wind, the expert noted.
Ian Hatton, Chair of Enterprize Energy, a UK-renewable energy company, said in order to reduce cost, Vietnam must improve its infrastructure, build substations, and lay cables along the seabed for offshore production, or finding alternative solutions. Enterprize is experimenting with converting wind energy and seawater to hydrogen.
He also noted an example of the dilemma facing low- and middle-income nations such as Vietnam. Accordingly, if they produce enough energy to meet demand without improving transmission infrastructure, additional capacity could be squandered.
But William Gaillard, Vice President of wind turbine manufacturer Vestas, believed that Vietnam has "shown a path for others to follow, adding that the combination of an attractive feed-in-tariff with ambitious installation targets and a transparent permitting process has been a critical factor in unlocking this market./.
Source: VNA/VNS/VOV/VIR/SGT/Nhan Dan/Hanoitimes