A number of major moon cake brands such as Kido and ABC have unveiled their plans to halt production of the cakes that are favourites with Vietnamese people during the upcoming Mid-Autumn Festival.

This year's mooncake market slumps due to COVID-19.
A sharp fall in consumer demand, difficulties in distribution and high production costs have prompted the brands to suspend production. 
A representative of Kido Group told zingnews.vn that the firm will not be producing moon cakes this year due to the impact of the COVID-19 pandemic coupled with high production costs.
Similarly, ABC Bakery has also postponed its business plan for this year's Mid-Autumn Festival as a number of its employees are undergoing medical quarantine, causing their outlets to temporarily close.
A representative of Dai Phat Bakery also revealed that many supermarkets will not host locations to sell mooncakes like in previous years, adding that the firm has not received official orders from partners. 
Facing difficulties in seeking necessary ingredients and delivering goods during the social distancing period in Ho Chi Minh City, several establishments specialising in selling cakes online have been forced to cancel hundreds of orders.
However, some local enterprises have still maintained production, with their distribution plans now coming under scrutiny.
This year, Mondelez Kinh Do, a popular brand in Vietnam, also expanded its distribution channel by co-operating with e-commerce platforms and delivery applications.
Simultaneously, the company will also continue to export cakes to the United States, Singapore, and Thailand.
The Mid-Autumn Festival or Full-moon Festival is celebrated on the fifth day of the eighth lunar month. This year the festival falls on September 21.
Reference exchange rate down 14 VND on August 25
The State Bank of Vietnam set the daily reference exchange rate at 23,151 VND/USD on August 25, down 14 VND from the previous day.
With the current trading band of +/- 3 percent, the ceiling rate applied to commercial banks during the day is 23,845 VND/USD and the floor rate 22,456 VND/USD.
The rates saw decreases at commercial banks.
At 8:25am, Vietcombank listed the buying rate at 22,685 VND/USD and the selling rate at 22,915 VND/USD, down 10 VND from August 24.
BIDV cut the buying rate by 30 VND to 22,695 VND/USD and the selling rate by 20 VND to 22,915 VND/USD.
Vietinbank also reduced both rates by 10 VND, listing at 22,715 VND/USD (buying) and 22,915 VND/USD (selling)./.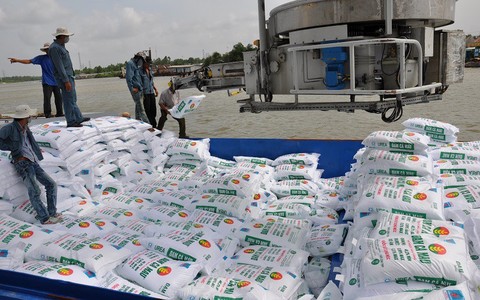 The Minister of Industry and Trade has asked the Viet Nam Energy Association, the Viet Nam Fertiliser Association and corporations mining, producing and exporting coal and fertiliser to prioritise domestic consumption and production.— Photo baodautu.vn
The Minister of Industry and Trade (MoIT) has requested its agencies and departments to strengthen export and import management for some strategic products on the domestic market.
This requirement was a part of MoIT's Directive 10 issued on August 23 on managing imports and exports of key products to support domestic production and consumption activities.
This is considered an urgent task as the COVID-19 pandemic is continuing to impact Ha Noi, HCM City and many large provinces and cities, affecting national socio-economic development.
Based on export and import activities of a number of strategic and important products for domestic production and consumption in the first seven months, the ministry has requested its agencies and departments to monitor and strengthen State management for those products.
Specifically, the import of some key products, such as petrol, coal and rice, increased sharply in the seven months, while the domestic production of those products has met local demand.
Meanwhile, some other products that the domestic market needs, had growth of exports, including iron, steel and fertiliser, according to the ministry.
Therefore, to stabilise prices and the domestic market, thereby supporting domestic production and consumption, the minister of industry and trade has requested the Viet Nam Steel Association, the Viet Nam Steel Corporation and other enterprises producing and exporting iron ore, iron and steel to review issues related to input materials for reducing production costs and selling prices.
They also need to limit the export of those products and increase productivity meeting the increasing steel demand in the domestic market.
The ministry has asked the Viet Nam Energy Association, the Viet Nam Fertiliser Association and corporations mining, producing and exporting coal and fertiliser to prioritise domestic consumption and production.
Meanwhile, the Viet Nam Petroleum Association, the Viet Nam Sugar Association, the Viet Nam National Petroleum Group, as well as corporations, and key traders in energy and sugar production industries need to prioritise trading of domestically-produced petrol and sugar products as a measure supporting domestic production.
The ministry has also requested its agencies and departments to propose measures to strengthen export and import management for goods that the domestic market needs for production and consumption. Those measures must be submitted to the Minister of Industry and Trade before August 30, 2021. Those products include rice, sugar, fertiliser, petrol, iron ore, iron and steel.
In addition, trade remedy measures need to be reviewed and updated according to existing regulations, ensuring a healthy competitive environment and supporting domestic production. The proposal on new remedy measures must also be submitted to the minister before August 30.
The General Department of Market Management directs the market management force nationwide to strengthen the inspection and control of the market, fight counterfeit goods, smuggled goods and goods violating intellectual property regulations, especially key products for domestic production and consumption, according to the directive. 
Importance of region for US to be promoted in Harris visit
Reconnecting supply chains and fostering political and trade ties are expected to be high on the agenda between Vietnam and the United States as the pair look to improve on already-strong relations.

An advance party from the US government last week came to Hanoi in preparation for Vice President Kamala Harris' visit on August 24-26.
Harris will be the first US vice president to ever visit Vietnam since both nations established diplomatic relations in 1995. It is expected that Harris will meet government officials, private sector representatives, and civil society leaders.
The White House's senior advisor and chief spokesperson Symone Sanders said that the visit, to take place after a visit to Singapore, is aimed "to strengthen relationships and expand economic cooperation with two critical Indo-Pacific partners of the United States."
"During the trip, the vice president will engage the leaders of both governments on issues of mutual interest, including regional security, the global response to the COVID-19 pandemic, climate change, and our joint efforts to promote a rules-based international order. The vice president will also affirm and celebrate the strong cultural and people-to-people ties between the United States and these countries," Sanders said.
"President Biden and Vice President Harris have made it a top priority to rebuild our global partnerships and keep our nation secure, and this upcoming visit continues that work – deepening our engagement in Southeast Asia," Sanders continued.
According to Carl Thayer, emeritus professor at the University of New South Wales, Vice President Harris will have two main priorities during this visit to Vietnam.
Firstly, she will raise global and regional issues, such as mitigating climate change, cybersecurity, and cooperation among Southeast Asian states and the US on a rules-based international order, including the free passage of trade in the East Sea, and regional security cooperation.
Secondly, Harris will also discuss how to strengthen the US-Vietnam comprehensive partnership by expanding cooperation in such areas as political-diplomatic relations, trade and economic ties, science and technology, educational exchanges, the environment and health, war legacy issues, promotion and protection of human rights, and people-to-people exchanges in culture, tourism, and sports.
"Harris' meeting with private sector representatives will likely focus on ramping up the delivery of COVID-19 vaccines to ensure that Vietnam's textile, apparel, footwear, and travel goods industry is able to maintain production during the current pandemic," Thayer said. "Discussions with the private sector will also focus on how to upgrade Vietnam's electronic industry to manufacture semiconductor chips for sale in the US market."
According to Bloomberg, the global semiconductor shortage and other supply chain troubles will be a focus of Vice President Harris's trip to Southeast Asia.
The news agency cited a senior administration official saying that supply chain security and resilience will be a major focus of the trip, and finding solutions to avoid shortages is a priority for Harris.
Vietnam in particular plays an increasingly important role in many supply chains, as companies in recent years moved operations there from China. The pandemic has forced factory shutdowns in Vietnam, where only around 1.5 per cent of its population is fully vaccinated, according to data compiled by Bloomberg.
Just over two weeks ago, 90 CEOs of world-famous brands such as Nike, Adidas, Gap, and Echo Lake inked a letter to President Joe Biden requesting more COVID-19 vaccine assistance for Vietnam, citing that the Southeast Asian nation is an important supplier and economic partner of the US. Currently, Vietnam is the third-biggest supplier of garments, textiles, and footwear for the US.
According to the General Department of Vietnam Customs, in the first half of this year, Vietnam's total export turnover from garments and textiles to the US was about $7.82 billion, up 24.4 per cent on-year and 9 per cent as compared to the same period of 2019.
Figures from the General Statistics Office showed that in the first seven months of this year, the US was Vietnam's largest export market, with a total turnover of $53.7 billion, up 37.7 per cent on-year, and the US was also Vietnam's sixth-largest import market, with importers using $8.97 billion to purchase goods from the US, up 10.6 per cent as compared to the corresponding period last year.
In fact, over the past 26 years since the US and Vietnam forged diplomatic relations, bilateral trade has skyrocketed from almost nothing in 1995 to $90.1 billion last year. Vietnam is now the US' 10th-largest trading partner in the globe, ahead of India and France, according to the US Embassy to Vietnam.
It is expected that there will be considerable continuity in the Biden administration's policy from that of the Trump Administration.
Specifically, President Biden's National Security Strategic Guidance issued in March sets out to engage Vietnam along with India. Under the guidance, the administration will set a priority on enhancing its comprehensive partnership with Vietnam in all nine areas of cooperation spelled out in the 2013 original joint statement during the Obama administration when Biden was vice president.
The partnership covers furthering bilateral economic, commercial, and investment ties as one of the key pillars of bilateral cooperation.
During US Defence Secretary Lloyd Austin's visit to Vietnam on July 28-29, he met with President Nguyen Xuan Phuc and Prime Minister Pham Minh Chinh.
PM Chinh suggested strengthening cooperation in trade and investment, climate change, science and technology, and education and training. He also noted that economic cooperation "still has a lot of room for development."
In his meeting with President Phuc, Secretary Austin suggested that "the two sides study and upgrade the relationship to a strategic partnership in the future".
Austin also told PM Chinh that he attached importance to the comprehensive partnership and suggested elevating the relationship between the two countries.
Airlines vow to assist COVID-19 fight in the south
The Civil Aviation Authority of Vietnam (CAAV) has devised plans aimed at transporting personnel and medical equipment to coronavirus hotspots of Ho Chi Minh City, Binh Duong, Dong Nai, and Long An provinces in the south.
Medical staff will be given priority. State employees dispatched to the south must present relevant papers by management agencies.
The CAAV will also arrange flights to repatriate passengers to their hometowns and localities which are required to have plans to receive them.
People living in localities which are implementing social distancing measures and wishing to travel abroad will be assisted to transfer from domestic to international flights conducted by Vietnamese airlines.
The CAAV will also support the transport of goods and medical equipment through Tan Son Nhat International Airport, saying the operation of the flights complies with the International Civil Aviation Organisation (ICAO)'s policies on COVID-19 control.
The CAAV will request that airport authorities co-ordinate with local centres for disease control in order to disinfect vehicles, equipment, and airport areas to curb the spread of the SARS-CoV-2 virus.
Tien Giang's exports surge 19.8 percent during January-July
The Mekong Delta province of Tien Giang pocketed 1.96 billion USD from exports in the first seven months of 2021, up 19.8 percent year-on-year and equal to 60.2 percent of the yearly plan, said Acting Director of the provincial Department of Industry and Trade Dang Van Tuan.
Foreign-invested enterprises accounted for nearly 85 percent of the province's total export turnover.
Notably, the province continued seeing growth in the shipments of its strong commodities. Accordingly, in the period, Tien Giang exported over 461 million USD worth of metal products, including copper pipes, up 34.4 percent over the same period last year, nearly 338 million USD worth of footwear, up 32.3 percent, over 8,300 tonnes of vegetables and fruits for 17.62 million USD, up 15.68 percent in volume and 15.6 percent in value.
Tuan said that the department has promoted its role in coordinating with the Agency of Foreign Trade under the Ministry of Industry and Trade to provide timely information about the export markets to businesses, connect markets and customers, and avoid the disruption of the supply chains for the export markets amidst complex developments of the COVID-19 pandemic.
The province has encouraged enterprises to step up online trade promotion activities to boost the export of local products such as processed seafood, agricultural products, vegetables and fruits to China, Japan, the US, the Republic of Korea and the European Union, especially those recovering soon after the COVID-19 pandemic.
Attention has also been paid to the sale of products on e-commerce platforms such as Sendo, Shopee, Tiki, Voso and Postmart, Tuan added./.
MoIT sustains anti-dumping duty on Malaysia's H-shaped steel
The Ministry of Industry and Trade (MoIT) has decided to maintain the anti-dumping measure imposed on some H-shaped steel products from Malaysia since April 2021.
The MoIT launched an anti-dumping probe into H-shaped steel products imported from Malaysia on August 24, 2020.
It noted that before 2017, Malaysia had not produced and exported H-shaped steel to Viet Nam.
However, after Viet Nam levied anti-dumping duties on H-shaped steel from China in 2017, Malaysia's exports of similar products to Viet Nam have risen strongly, to over VND213 billion (US$9.3 million at the current exchange rate) in 2019 and VND848 billion in 2020.
As there were signs of H-shaped steel manufactured in Malaysia and then exported to Viet Nam to circumvent the anti-dumping duties on similar products from China, the MoIT decided to impose an anti-dumping tax rate of 10.64 per cent on some products hailing from Malaysia.
This rate is lower than the current duty on H-shaped steel imported from China, about 22 per cent on average, and also lower than the rate proposed by domestic manufacturers, 16.3 per cent.
This anti-dumping duty could be reviewed and adjusted in line with legal regulations.
The MoIT said it would keep coordinating with relevant ministries and sectors to monitor the impact of trade remedies to take measures to stabilise the steel market in accordance with the law and to protect legitimate interests of producers and consumers. 
Support of global trade pays off with rising US activities
US companies are pinning high hopes on the Vietnamese market, with investments expected to be bolstered following the official trip of US Vice President Kamala Harris this week.

Chad Ovel, chairman of the American Chamber of Commerce (AmCham) in Vietnam explained to VIR, "Kamala Harris has chosen Vietnam as a priority country to visit on her first trip to Asia [expected to take place during August 24-26]. This is clear evidence that the US values both security cooperation and a strong economic partnership with Vietnam."
"The strong trade and investment ties between the United States and Vietnam, that both countries now enjoy, have been built on the foundation of over 25 years of deliberate effort and leadership from individuals on both sides," he said. "Over the past two decades the efforts to continuously nurture and build the relationship has been passed from one leader to the next, and from the first generation of private sector entrepreneurs in Vietnam to today's generation."
He also stressed that Vice President Harris' visit to Vietnam is a continuation of this well-proven practice both countries share, by boldly declaring new shared commitments and doing the hard work to build the regulatory and policy framework necessary to enable that shared future.
Several multinational US corporations, such as Pfizer, Abbott Laboratories, Intel, Qualcomm, UPS, and Mastercard are also seeing successes in Vietnam. Many of these companies are upbeat about the outlook of the market and committed to long-term investments in the country.
Russell Reed, managing director of UPS Thailand and Vietnam said, "As one of the fastest-growing economies in the region, Vietnam presents exciting opportunities, especially with the rise of the digital economy and cross-border e-commerce. The Vietnamese government has been supportive of international trade and foreign direct investment as seen by the major trade agreements inked in the last two years."
Together with the Regional Comprehensive Economic Partnership which is expected to come into force by the end of this year, these agreements are vital for Vietnam's growth and its access to global markets and would enable UPS to better connect Vietnamese businesses to key trading destinations around the world.
"UPS is proud to have served Vietnam for more than 25 years. We celebrated UPS Vietnam's 25th anniversary last year, which coincided nicely with the 25th year of the Vietnam-US normalisation of relations," he added. "Vietnam is a key hub in our smart global logistics network, and we are fully committed to the business here. It is a challenging time for all businesses, and our priority right now is to support our customers in ensuring business continuity while adhering to government mandates to curb the spread of infections."
Meanwhile, Winnie Wong, country manager for Vietnam, Cambodia, and Laos at Mastercard said, "All over the world, including in Vietnam, the pandemic has seen the adoption of cashless and digital payments at never before seen rates. As Vietnam prepares for a digital-first future, Mastercard is committed to bringing world class payments technologies, solutions, and resources, that can propel a cashless society here. We're continuously investing in efforts that support the government agendas in creating an inclusive and digital future for the people in Vietnam – a must for the post-COVID world."
She also added that despite the remarkable economic and digital progress Vietnam has made, more work needs to be done to ensure uninterrupted and equal access to financial servicesand products. Hence, Mastercard has been working closely with financial institutions, merchants, governments, startups, and non-governmental organizations to create opportunities to bring the unbanked population into the formal financial system and also benefit from the country's progress.
According to the latest data by Ministry of Planning and Investment, the US is now Vietnam's 11th-largest investor with the total investment capital of $9.68 billion across 1,150 valid projects.
Beside greenfield investment, US companies are also cementing their ties with Vietnamese counterparts. One of the remarkable partnerships between the US and Vietnamese businesses is in the vaccine field. The US-based Arcturus Therapeutics Holdings Inc. entered a partnership with Vingroup's Vinbiocare Biotechnology JSC to establish a manufacturing facility in Vietnam for COVID-19 vaccines. Arcturus will provide Vinbiocare with an exclusive licence to manufacture the vaccines in Vietnam at the facility solely for distribution in the country. Vinbiocare will make an upfront payment of $40 million and be responsible for costs associated with the technology transfer.
Commenting on this partnership, Joseph Payne, president and CEO of Arcturus, said, "We are very pleased to announce this relationship with Vingroup, and this contract with its subsidiary Vinbiocare, to help establish a manufacturing facility for our COVID-19 vaccine, targeting a capacity of up to 200 million doses per year. We are looking forward to a meaningful role in providing effective and safe vaccines to Vietnam as well as other countries around the world."
The global response to the pandemic is one of the issues Harris will discuss with the leaders of Vietnam and Singapore on her trip.
According to Stephen Olson, research fellow at the Hinrich Foundation, Vice President Harris' visit to Vietnam is likely primarily symbolic. Through its recent flurry of high-level visits to ASEAN, the Biden administration is trying to signal that it is committed to the region and willing to engage with its regional partners. This is part of its overall foreign policy strategy of demonstrating that America is back after four years of Trump's inward-looking, America-first policies.
However, Olson noted that it is not anticipated that there will be any substantive trade policy achievements. The practical impact for businesses will therefore be limited. The fact that the US vice president spent a short amount of time in Vietnam will not substantially affect the economic and commercial calculations that companies in Vietnam or the US are making.
Vietnam is now on the list of alternative investment destinations for US investors. A report by the Center For Strategic and International Studies revealed that the US trade war with China that started in 2017 lured some manufacturing out of China as US companies sought to diversify supply chains. Vietnam's proximity to China, alongside its improving business environment, young and highly educated workforce, and entrepreneurial mindset helped make it one of the few beneficiaries of the US-China trade tensions.
Vietnam plays an increasingly important role in the US' global supply chain. Most recently, the American Apparel and Footwear Association – representing over 1,000 world-famous brands, retailers, and manufacturers – also sent a letter to President Biden to increase vaccine distribution and support safety protocols in Vietnam.
In addition, AmCham in Vietnam has been very active to advocate the Biden administration to make the country a priority beneficiary of vaccine donations worldwide. As a result, the Biden administration chose to donate five million doses of COVID-19 vaccines to Vietnam.
"AmCham Vietnam will continue to seek additional support from the Biden administration in order to support Vietnam to overcome the ongoing challenges," Ovel said. "Over the long term, we have the expectation that the Biden administration will dedicate sufficient resources and attention to upgrading the existing trade agreements with Vietnam to ones that reflect 21st-century operating principles."
More Japanese consumers prefer Vietnamese cashew nuts
More Japanese consumers prefer Vietnamese cashew nuts, reflected through an expansion of the market share of the product in the country's total import value.
According to the International Trade Centre (ITC), in the first five months of 2021, Japan's cashew nut imports reached 33.17 million USD, down 11.2 percent year-on-year.
Specifically, Japan sharply reduced the import of cashew nuts from India – its biggest exporter of the product, which resulted in a decrease of 22.8 percent, reaching 19.14 million USD.
On the other hand, Japan increased its imports from Vietnam with an increase of 4.5 percent and a total value of 12.92 million USD. Vietnam's cashew nut market share in the total import value of Japan accounted for 38.97 percent during the January-May period, higher than the 33.09 percent of the first five months of 2020.
It can be seen that Japanese consumers tend to gradually switch from consuming Indian cashew nuts to the similar product of Vietnam.
In 2020, Vietnam shipped over 6,500 tonnes of cashew nuts worth 42.5 million USD to Japan, up 83 percent in volume and 64.55 percent in value year-on-year./.
MB cut interest rates by US$43.6 million to support customers
MB is expected to cut its interest rates worth VND1 trillion (US$43.6 million) to support customers in the last five months of the year, said Pham Nhu Anh, a member of the bank's Board of Directors.
As of the middle of August, MB reduced interest rates worth VND400 billion for customers. By the end of this month, it would continue to reduce an additional VND300 billion and another VND300 billion in the year-end months of 2021.
Accordingly, the bank has implemented policies of interest exemption and reduction, extending principal repayment in accordance with the State Bank of Viet Nam's guidelines to support customers affected by the COVID-19 pandemic.
MB has reduced 0.5 to 1.5 per cent depending on each customer group and their affected level from the pandemic. There is about VND70 trillion outstanding balance for individual customers and VND50 trillion for corporate customers enjoying the lower interest rate.
In addition to interest rate reductions, MB has also built new products and lending packages with lower interest rates of 0.5 to 1.5 per cent in comparison with its previous normal rate schedule. With new products and services, MB reduces interest rates for both individual and corporate customers.
In the context of the complicated development of the COVID-19 pandemic, in order to support customers and maintain credit flows amid social distancing, MB has made an agreement with customers, making the shift from face-to-face contact to receive documents through e-transaction channels.
MB has also upgraded two customer platforms, namely MBBank App (for individual customers) and Biz MBBank (for corporate customers) to help customers easily access credit flows from the bank on these two online platforms. 
US and Vietnam aligning on monetary philosophy
The United States and Vietnam are making joint efforts to ensure market fairness and macroeconomic stability, therefore enhancing bilateral economic links with monetary and exchange-rate perspectives.

American diplomat Melissa Brown, the current chargé d'affaires at the US Mission to ASEAN in Jakarta, believed that the positive outcomes in the trade balance between the US and Vietnam are illustrated in the figures of recent years.
"A vibrant dialogue is going on between the US and Vietnam, and that includes all of our agencies. The Treasury and the US Trade Representative's office have frequent discussions with Vietnamese officials about how to seize opportunities and overcome challenges, and they have had some good news recently overcoming some of these issues, and those conversations continue," Brown said.
Brown noted the recent emphasis on the trade balance, but believed there is more to it than that. "Of course, COVID-19 has impacted trade and supply chains and so we're just really grateful to see the vibrant communication continue between our two countries on all of these important issues," she added.
Vietnamese experts also believed the country is a potentially important partner to the US in achieving its regional geopolitical objectives. In the first seven months of 2021, Vietnam's exports to the US reached $53.7 billion, up 37.7 per cent over the same period in 2020 and accounting for about 28 per cent of the country's export turnover.
In mid-August, the State Bank of Vietnam (SBV) lowered the reference exchange rate and changed the method of purchasing foreign currencies from forwarding contracts to spot transactions.
"This move will add a significant amount of liquidity to the banking system," said Tran Minh Hoang, head of Research at Vietcombank Securities. "This is good news as a more abundant liquidity buffer is vital to ensure the stable operation of the banking system as well as financial markets. Along with that, ample liquidity and lower interbank rates are two criteria that commercial banks appreciate during their conducting package to lower the lending rates."
The US Treasury Department and the SBV reached an agreement in July to address the former's concerns about Vietnam's currency practices.
"It can be seen that this joint statement has allayed concerns surrounding the possibility of the US imposing tariffs on Vietnamese exports. This also confirms the effectiveness of the bilateral negotiation process of state management agencies," Hoang stated.
He also forecasts that the VND shall appreciate against the greenback this year. "The fluctuation band shall be less than 2 per cent," he told VIR.
According to Michael Kokalari, who is chief economist of VinaCapital, the fact that tariffs are off the table will encourage foreign direct investment inflows, but this agreement will also benefit Vietnam tremendously over the long term through encouraging inflows from foreign financial investors because they prioritise countries with stable or appreciating currencies.
"When a country artificially depresses its currency to support its exports, the quality of life of its citizens suffers and the crutch of an undervalued currency spawns inefficiencies and warped incentives that ultimately disadvantage most local companies," Kokalari noted. "In contrast, Vietnam's appreciating currency will help the country escape the middle-income trap by encouraging innovation because local companies will not be able to rely on a cheap foreign exchange rate to compete. That said, Vietnam's factory wages are two-thirds below those in China, so Vietnam will still retain its competitive advantage for years to come."
Kokalari noted that this engagement strategy was promoted in a recent report on the US-China strategy published by the influential Atlantic Council think tank. "The Biden administration's chief Asia strategist Kurt Campbell reiterated the strategy a few weeks ago when he said the US needs to step up its game in Southeast Asia," he explained.
This will open a huge opportunity for Vietnam to benefit from US economic assistance that takes the form of a receptive market for Vietnam's exports, according to Kokalari, which was the same strategy that the US used to support Japan and South Korea during the Cold War.
Ca Mau works to increase banana value, output
The Department of Agriculture and Rural Development of Ca Mau province will popularise Vietnamese good agricultural practices (VietGAP) and organic standards in order to increase the value and yield of its bananas.
The southernmost province will also combine the banana orchards with eco-tourism services to add to farmers' incomes.
It will encourage farmers to turn mixed orchards, areas around fields growing other crops and near forests and unproductive rice fields into banana plantations.
Banana farmers will use intensive farming to increase yields, tissue culture and high-quality varieties. In the plantations, farmers will be encouraged to breed fish and livestock.
Besides, the province will strive to strengthen linkages between farmers and processors to increase the output of various products made from the fruit and its by-products.
Ca Mau, one of the largest banana growing provinces in the Mekong Delta, has 5,400ha under various varieties of the fruit, including 4,800ha of xiem, with an annual output of 60,000 tonnes.
The banana growing areas are located mostly in U Minh and Tran Van Thoi districts.
Nguyen Tran Thuc, head of the department's Plant Protection and Cultivation Sub-department, said demand for xiem bananas remains steady despite the COVID-19 pandemic, and it fetches farmers a price of 3,500 VND a kilogramme, the same as before the outbreak.
The province's bananas are sold in the delta and Ho Chi Minh City and exported to Cambodia through local traders.
Most are sold for eating fresh, with a quantity meant for processing into products like dried banana and banana cake.
Ca Mau plans to expand its area under banana to 6,000ha and annual output to 120,000 tonnes by 2025./.
300 branches and transaction offices of banks in Ho Chi Minh City temporarily closed due to COVID-19
Around 300 banks branches and transaction offices in Ho Chi Minh City have to close as a result of ongoing pandemic and the city tightened restrictions to cope the number of infections and deaths.

In an effort to control the pandemic, Ho Chi Minh City continues to tighten prevention measures to the highest level. Accordingly, most citizens are not allowed to go out, except for essential activities.
As a result, many banks have announced their temporary closure, with others operate through the stay-at-work model, also applying strict prevention measures for all employees to ensure everyone's safety.
From August 23 to September 6, most of VPBank's branches in Ho Chi Minh City will be temporarily closed, only maintaining transactions of the five branches VPBank Ho Chi Minh, VPBank Ben Thanh, VPBank Sai Gon, VPBank Gia Dinh, and VPBank Cong Hoa.
Similarly, OCB announced the closure of 26 of its 30 branches and transaction offices to implement social distancing measures. The remaining four locations that are still operating are its main Business Center in District 1, as well as branches in Thu Duc, Tan Thuan, and Tan Binh.
ACB also published a list of 34 transaction offices in Ho Chi Minh City that are operating normally. Meanwhile, 103 offices are temporarily closed (mainly small transaction points) until September 6.Nguyen Hoang Minh, deputy director of the State Bank of Vietnam's Ho Chi Minh City Branch, said that more than 300 branches and transaction offices of commercial banks are temporarily closed. However, all banks will ensure smooth payment activities to address the customers' demands. Banks also urge customers to switch to online banking services.
Two foreign ETFs likely to add three more stocks in Q3 restructuring
 Two of the biggest foreign exchange-traded funds (ETFs) in Viet Nam, FTSE Vietnam Swap UCITS ETF (FTSE ETF) and VanEck Vectors Vietnam ETF (VNM ETF), will release their portfolios for the third quarter of this year in early September.
Bank for Investment & Development of Vietnam Securities Company (BSC) has revealed its expectations regarding this quarter's portfolio restructuring, based on data on August 8.
BSC predicted that FTSE Vietnam ETF would likely add Viet Capital Securities JSC (VCI) to the list and would not remove any stocks. However, it also noted that Vietjet Aviation (VJC) and An Phat Holdings (APH) might be eliminated if these stocks' liquidity continues to decline in the last trading sessions of August. Otherwise, no stocks would be excluded from the list.
With this assumption, BSC expected that FTSE ETF would buy nearly 2.3 million shares of VCI. Other stocks, including Vingroup (VIC) and Hoa Phat Group (HPG), might also see their proportions increasing by nearly 3 million and 2.3 million shares, respectively.
On the contrary, the fund was expected to sell 1.8 million shares of Vinhomes (VHM) and 1.9 million shares of Vinamilk (VNM).
Meanwhile, VNM ETF would likely add new shares of KINHDO (KDC) and Duc Giang Chemicals Group (DGC). No stocks would be taken out, BSC said.
In the previous quarter, the Vietnamese stocks accounted for 69.22 per cent of the fund's poright climb by 3.6 million shares, while the amount of newly added DGC shares would reach 1.3 million.
VNM ETF is also expected to divest in many stocks including Hoang Anh Gia Lai Agricultural (HNG) with 2.7 million shares being sold, PetroVietnam Power Corporation (POW) with 1.8 million shares, Vincom Retail (VRE) with 1.8 million shares, Masan Group (MSN) with 1 million shares and Vinamilk (VNM) with 1.6 million shares.
On Monday, the market tumbled on a strong sell-off, with the VN-Index losing 30.57 points after dropping more than 45.4 points in the last trading session a week ago. 
Vietnam promotes halal and processed food in Singapore
The Vietnam National Brands Week 2021 in Singapore – Hybrid Expo on Halal and Processed Food Products is taking place in Singapore from August 23-28 in both face-to-face and online forms by the Vietnam Trade Promotion Agency of the Ministry of Industry and Trade, the Vietnamese Embassy and the Vietnam Trade Office in Singapore.

The event is hoped to offer a good chance for Vietnamese businesses to promote Halal and processed food products in the island city-state, thus strengthening trade cooperation in food and agriculture to mitigate the economic impact of the COVID-19 pandemic.
This is the first event of this kind to be held in Singapore with the aim of increasing awareness among the Singaporean business community and consumers about Vietnam's national brands.
 Nearly 40 Vietnamese enterprises exhibit about 500 high-quality food brands at the event, including tea, coffee, nuts, spices, sauces, beverages, dairy and pastry products, fruits and fruit powders, dried sea food, canned food. 
The expo is a great effort of the MoIT to support Vietnamese businesses in strengthening their international promotion activities and seeking export orders amid the COVID-19 pandemic./.
SSC fines a list of individuals for violating disclosure norms in bank stock trading
 
     
Wednesday, Aug 25, 2021 06:36
 
 
 
Investors watching indices on laptops. — Photo baokiemtoannhanuoc.vn
 The State Securities Commission of Viet Nam (SSC) has recently successively issued decisions to sanction a number of individual investors relating to transactions of buying and selling shares of banks without disclosing information.
On August 18, SSC issued Decision No. 515/QD-XPVPHC on administrative violations in the field of securities and the securities market against Nguyen Quoc Nghi.
Nghi sold 250,000 shares of a bank but did not disclose information about the expected transaction.
He is subject to a fine of VND70 million (US$3,070) as prescribed in Decree No. 156/2020/ND-CP dated December 31, 2020 of the Government stipulating penalties for administrative violations in the field of securities and securities market.
Previously, on August 16, the Inspector of SSC also issued a decision on a fine of VND70 million for administrative violations in the field of securities and the stock market against Nguyen Thi Ngan. Accordingly Ngan bought 200,000 shares of a bank on January 6 but did not disclose information about the expected transaction.
On July 22, the Inspector of SSC issued a decision to impose a fine of VND940.35 million on Tran Ngoc Be in Ha Noi for not disclosing information about expected trading shares of a bank.
Be bought more than 1.48 million shares of a bank and sold 59,000 shares in January; then bought more than 1.88 million shares in February and 59,000 shares on March 3 but did not disclose information about these expected trades.
Besides the administrative fine, Be was also subject to an additional penalty of being suspended from securities trading for four months. The decision takes effect from July 23. 
Aviation business association seeks central bank's support for airlines
The Vietnam Aviation Business Association (VABA) has sent a document to the Governor of the State Bank of Vietnam (SBV) requesting support for domestic airlines.
Accordingly, VABA proposes the SBV amend Circular No.03/2021/TT-NHNN on rescheduling debt repayment, exemption and reduction of interest rates and fees, and maintaining debt groups in order to support customers affected by the COVID-19 pandemic.
The association asked for expanding the loans eligible for restructuring, rescheduling debt payment and exempting or reducing interest payment for debts that are due or borrowed during the time the pandemic is going on (for loans disbursed both before and after June 10, 2020).

It also proposed extending the duration for rescheduled payment of due debts or interests, and interest and fee exemption and reduction for 3 - 6 months after the Government announces the end of the COVID-19 pandemic (or the new normal state) instead of the current time limit of December 31, 2021.
The VABA said that after the pandemic is over, businesses still need 3-6 months to restore their activities again, while the pandemic, which has affected the economic since the beginning of 2020, is forecast to last at least until the end of 2021.
According to the association, since the fourth wave of the pandemic broke out in Vietnam in late April, airlines have been in jeopardy with their revenue down 80-90 percent.
Banks and IFC boost trade and supply chain finance to promote trade in Vietnam
Nearly 2,000 exporters and importers in Vietnam have benefitted from the trade financing of the International Finance Corporation (IFC) over the past fiscal year.

Given the business disruptions caused by the pandemic and the consequent liquidity constraints, the IFC has ramped up its trade and supply chain finance in the last 12 months to help local companies in Vietnam continue importing and exporting goods while protecting thousands of jobs, especially in the garment and agricultural business.
In 2020, Vietnam's resilience enabled the country to increase production and exports while businesses in most countries faced significant disruptions, helping to achieve a record-high trade surplus and maintain jobs. The IFC first expanded its trade limits for Vietnamese banks to pre-empt potential trade finance challenges triggered by the pandemic. In 2021, IFC continued expanding trade finance operations in Vietnam to further support increased trade flows and help accelerate economic recovery.
IFC's Global Trade Finance Program has boosted the capacity of six banks in Vietnam to cover payment risks in granting financing to local companies, mostly small- and medium-sized enterprises (SME). With IFC's support, the banks have issued 974 guarantees valued at $686 million to support importers and exporters.
"The pandemic has impacted the capacity of banks to deliver finance solutions while limiting their customers' access to them. However, IFC's support has allowed VPBank, for instance, to extend payment relief to more clients and provide new credits to SMEs that have been affected by the pandemic. This helped facilitate a smooth flow of goods across borders, easing the liquidity constraints," said Vo Hang Phuong, director of the Financial Institutions and Transaction Banking Center at VPBank.
The IFC also provided $418 million to local suppliers, helping them maintain the liquidity required by buyers. This support came under the IFC's Global Trade Supplier Finance (GTSF) programme, which provides short-term financing to exporters by discounting invoices once they are approved by the buyer.
"IFC's facility enables suppliers to convert sales receivables to immediate cash as soon as buyers approve these. This has helped us improve cash flow and ease the working capital pressure during the time of global trade disruptions," said Ha Van Tien, CFO at Son Ha Garment JSC., a participant in the IFC's GTSF.
Demand for supply chain finance surged during the pandemic due to the liquidity gap faced by suppliers as a result of disrupted supply chains. In response, the IFC increased its financing by 28 per cent in 2021 for Vietnamese businesses – particularly in textiles and garments and agriculture – allowing 31 companies to sustain operations and securing more than 100,000 jobs.
Viettel operates two innovation labs
The Viettel Military Industry and Telecoms Group (Viettel) on Monday opened two innovation laboratories equipped with the latest 4.0 technology in Southeast Asia, based in Ha Noi and HCM City.
Viettel Deputy General Director Tao Duc Thang said the Viettel Innovation Labs are a venue to nurture new technology and community connectivity ideas, towards stepping up digital transformation in Viet Nam. They are also a bridge for IT communities both at home and abroad to share expertise and cooperate in the field of 4.0 technology.
With 5G, Internet-of-Things (IoT), cloud, big data and artificial intelligence equipment, the labs also have a modern network infrastructure, including super-high-speed and super-low latency 5G connectivity, NB-IoT and LTE-M connectivity for IoT equipment, and the latest technologies from Qualcomm, Ericsson, Intel, and others.
According to the Global System for Mobile Communications Association, the Viettel Innovation Labs reach the highest standard of an international-standard lab, including connectivity infrastructure, development kit sets and app development environment with servers and platforms.
Viettel allows IT firms, scientists and students with good solutions to use all of their equipment there for free.
With the launch of the Viettel Innovation Labs, Viettel has become the 23rd telecom provider in the world to launch both 5G and IoT network and labs. 
Long An seeks investment in proposed logistics hub
The Long An Province Department of Planning and Investment is soliciting investment to develop a 50ha logistics hub to meet demand from local producers and transporters.
The hub is expected to become a central distribution network for goods, facilitating the province's socio-economic development.
It is also expected to foster domestic and international trade, and attract investment into the province.
It will come up in Ben Luc, a key district with a great deal of investment in transportation infrastructure and urban development.
The district is also an investor attraction since it is connected with many key roads such as National Highway No. 1 and the Ben Luc – Long Thanh Highway.
The project is part of the province's target of setting up a logistics hub for the Mekong Delta.
Long An plays a key logistics role in the delta, with its coastal location allowing it to transport goods from other provinces.
It is working on setting up six logistics hubs, three in Ben Luc alone.
Two of them are already in operation.
The province has worked to speed up implementation of major transport projects to complete a transport infrastructure system connecting industrial clusters and parks with Long An international port. 
Vinh Phuc supports industrial production facilities improve productivity, products' quality
The northern province of Vinh Phuc is working is carrying out activities to give support in finance and equipment to industrial production facilities across the province with an aim to promoting its industrial production amid COVID-19 pandemic, according to the provincial Department of Industry and Trade.
The department said that it has coordinated with localities across the province to give suitable assistance to particular firms to raise their productivity and products' quality.
Recently, the Vinh Phuc Centre for Industry and Trade Development has worked with Le Thi Ninh production facility in Tu Du commune, Lap Thanh district, to make pre-acceptance process for a project to give financial support to buy modern machineries and equipment for mechanical production activities, with total assistance of 380 million VND (16,702 USD), including 140 million VND from the province's fund for industrial encouragement.
The machineries and equipment are expected to help the facility increase productivity as well as its products' quality, while helping save materials and reduce environmental pollution.
Meanwhile, the Centre for Industry and Trade Development has also finished a project to assist Atlantic packaging company in Dong Doai village, Dao Duc township of Binh Xuyen district to buy equipment and machines to produce plastic packages.
The project has a total investment of 902 million VND (39,647 USD), which has helped enhance the quality and model of the firm's products, meeting the demands of customers and helping the facility expand its market.
In the 2014-2020 period, Vinh Phuc carried out various activities to expand industrial production with total cost of over 27.8 billion VND (1.22 million USD). The capital has helped local production facility deal with their financial difficulties, encouraging them to expand production.
The activities have brought about positive changes for the northern industrial hub, contributing to promoting growth of local firms and creating more jobs for local labourers.
In the first six months of 2021, Vinh Phuc recorded a decade-high economic growth rate despite difficulties caused by the impacts of the COVID-19 pandemic, according to the provincial Statistics Office.
The office reported that the first-half Gross Regional Domestic Product (GRDP) of Vinh Phuc rose 14.21 percent from the same period last year.
There were also many bright spots in the socio-economic development picture of the province, the office said, attributing them to the involvement of the entire political system and the support of the people and the business community.
As of June 28, budget collection in Vinh Phuc totaled 19.25 trillion VND (836 million USD), a surge of 35.18 percent on a yearly basis. Meanwhile, budget spending stood at over 10.47 trillion VND, up 6.26 percent year-on-year.
The flow of foreign direct investment (FDI) capital into the province also saw a strong increase in the six-month period, with 177.64 million USD poured into 29 projects. Meanwhile, 10 domestic investment projects were licensed, with over 7.5 trillion VND worth of total registered capital.
It is noteworthy that 245 enterprises resumed operation in the reviewed period, up 56.05 percent from the same period last year, while 560 new enterprises were set up.
Regarding employment, 6,880 labourers found job in the six months.
Despite being affected by the COVID-19 pandemic, the industrial production index of Vinh Phuc in the first six months of this year still reached over 145.91 trillion VND (6 billion USD), an increase of more than 26 percent over the same period last year.
Most production and business activities in urban areas in Vinh Phuc have gradually recovered and even expanded. The provincial administration has created favourable conditions for local enterprises, particularly those in industrial parks, to early stabilise production and continue to create jobs as well as income for local residents.
Vinh Phuc is now home to more than 400 FDI enterprises with total registered capital of over 5.7 billion USD. Those enterprises employ around 100,000 workers and unskilled labourers with average monthly income of 7 – 8 million VND.
The provincial administration has appealed to enterprises in industrial parks to join hand with the local authorities to overcome difficulties amid the COVID-19 pandemic, maintain stable production – business activities and pay attention to workers' life./.
Vietnam's farm produce exports to Australia surge
Vietnam earned 46.5 million USD and 13.2 million USD from exporting vegetables and fruits, and rice to Australia in the seven months of this year, up over 45 percent and 37 percent year-on-year, respectively.
Nguyen Phu Hoa, head of the Vietnam Trade Office in Australia, said that the agency has actively implemented digitisation of business support activities in the context of COVID-19 pandemic, including launching an application to connect Vietnamese businesses and localities with Australia partners, and organising large-scale online exhibitions.
It has also supported Vietnamese enterprises in promoting their products among the Vietnamese community in Australia, and called on overseas Vietnamese to use made-in-Vietnam goods.
These joint efforts of the office and domestic exporters have turned out positive results.
Notably, the export turnover of dragon fruit - one of four fresh fruits of Vietnam allowed to export to Australia, hit nearly 29 million USD, up over 84 percent year-on-year.
Meanwhile, the export value of fresh mango, logan and lychee reached 4.4 million USD, 150,000 USD and 508,000 USD, up over 8 percent, nearly 134 percent and over 93 percent, respectively, compared to the same period last year.
According to  the Vietnam Trade Office in Australia, it has coordinated with importers in Australia to hold a programme themed "Vietnam - the land of the best rice in the world" from August 8 to  September 27 in Melbournen, Perth and Sydney cities in order to further promote Vietnamese rice in the market.
In addition to traditional fresh farm produce,  a number of other frozen agricultural products and vegetables have also started to make inroads into Australia.
In the first six months, Vietnam's frozen ginger exports to the largest market in Oceania grew by 988 percent over the same period last year, reaching 642,000 USD.
Most recently, 22 tonnes of frozen dracontomelon worth over 6 billion VND (nearly 263,000 USD) were also shipped to the market./.
Kien Giang enjoys 8.6 percent rise in export revenue
Kien Giang enjoyed year-on-year rise of 8.6 percent in export revenue in the first eight months of 2021 to nearly 510 million USD despite a drop of 13.15 percent in August to about 64 million USD, according to the Mekong Delta province's Department of Industry and Trade.
The department reported that COVID-19 has posed adverse impacts to production and processing activities of Kien Giang, forcing 22 local firms to halt operations and 22 others to shrink their production.
At the same time, social distancing measures in many localities, especially those in the south, have interrupted transportation of goods for production and export, according to the department.
It said that 31 local firms have applied "three on-site" measure to maintain production, while two others have conducted "one route-two destinations" solution, which also led to a rise in production cost.
Meanwhile, the labour shortage has also seriously affected local firms, especially those in seafood processing, leather and garment sectors, making them unable to complete orders.
Between now and the year-end, Kien Giang will roll out a number of measures to strengthen production and processing for export in the context of COVID-19. Local authorities will keep a close watch on the pandemic developments and market fluctuations to give timely support to local firms.
The province will work to foster the demand-supply connection, while supporting local firms to resume their operations.
The locality will also speed up COVID-19 vaccinations to labourers in factories, while creating favourable conditions for the transport of farm produce for processing activities amid social distancing period, added the department./.
Vinh Phuc province gives priority to supporting industry development
The northern province of Vinh Phuc is adopting a number of mechanisms and policies to attract investment in the development of supporting industries, considering it as an important step to build a sustainable industry.
Hoang Thi Thuy Lan, Secretary of the provincial Party Committee, said the province has set a target that its supporting industries will become a part of the supply chains with high value products in the production lines of large domestic and international corporations by 2025.
Besides incentives policies from the Government, the province has also been focusing on many solutions to promote the growth of supporting industries.
The provincial authorities have proactively created favourable conditions for businesses such as investing in modern and synchronous infrastructure in industrial parks and paying attention to administrative reforms.
Enterprises are facilitated to access capital and assisted in technology innovation and transfer as well as enhancing productivity and quality.
The province will cover costs of organising the assessment and certification of the capacity for enterprises engaged in supporting industries and support 70 percent of fees for holding seminars to promote domestic and foreign investment in the field as well as payment for organising trade fairs which aims to connect supporting industries.
It will subsidise 70 percent of training costs to improve the quality of human resources to meet the requirements of the industry.
According to the provincial Department of Industry and Trade, the province currently has nearly 240 enterprises operating in the field of supporting industries or related to the industry. Most of them belong to the mechanical industry, automobiles, motorcycles, garment and textiles, informatics, and building materials. This is considered as a foundation for industries to develop towards using advanced and highly competitive technologies and increasing the localisation rate of key industrial products.
Despite being affected by the COVID-19 pandemic, the industrial production index of Vinh Phuc in the first six months of this year still reached over 145.91 trillion VND (6 billion USD), an increase of more than 26 percent over the same period last year.
Most of the main products of the supporting industries have obtained high growth, in which, the production of automobiles rose by 49 percent and electronic components rose by 34 percent.
Supporting industries in Vinh Phuc have created jobs for tens of thousands of workers with stable incomes. The average salary  for manual labourers in the industries is between 6 to 8 million VND per person per month while a technical or skilled worker earns up to 15 million VND per month.
Vietnam Precision Industry 1 Co. Ltd. in Khai Quang Industrial Park, Vinh Yen city, is an example. It is an enterprise with 100 percent investment capital from Taiwan (China), specialising in the production of components and spare parts for automobiles and motorcycles, medical equipment for domestic and export markets.
The company's revenue has increased steadily from 2.7 trillion VND in 2015 to nearly 4 trillion VND last year. It  has generated stable jobs for 4,100 employees with an income of around 10 million VND per person per month.
Jahwa Vina Co., Ltd., a FDI enterprise in the Khai Quang Industrial Park, is reported to obtain revenue of over 1 trillion VND in the first months of this year despite the impact of the COVID-19 pandemic.
It creates jobs for more than 4,000 labourers with income between 6-8 million VND per person per month. The company is striving to complete the goal of producing about 300 tonnes of electronic components and 150 tonnes of information technology components a year.
Vinh Phuc province has set the goal of having more than 50 enterprises engaged in supporting industries that are eligible to become first-tier and second-tier suppliers for large economic groups and at least 10 enterprises in the industry that meet international standards and participating in the global supply chains by 2025./.
Quang Ninh views OCOP as important development programme
The northern province of Quang Ninh is working to turn the "One Commune, One Product" (OCOP) into an important economic development programme carried out in tandem with new-style countryside building and agricultural restructuring during the 2021 - 2025 period.
During the period, it is set to develop 300 new OCOP products, at least 250 of which will be rated three to five stars, with the participation of at least 50 economic organisations.
Between 2017 and 2020, the local OCOP programme had its focus switched from quantity to quality as more than 200 products were rated three to five stars, which is said to have helped improve rural residents' living conditions and contributed to the building of new-style rural areas, the Nong nghiep Vietnam (Agriculture of Vietnam) newspaper reported.

Quang Ninh, one of the three nuclei of the northern key economic region, has implemented the OCOP programme since 2013, and it is now taking the lead nationwide in this regard.
The local programme entered a new phase in 2017 with the aim of developing large-scale concentrated production, which focuses on diversifying and intensively processing products under value chains in order to increase benefits for the local community.
The collective and private economic sectors were identified as important driving forces for this programme.
At present, Quang Ninh has 456 items in the OCOP programme, 236 of which have been granted ratings of three to five stars. To be given star ratings, those products have met basic, even advanced, standards, been made in modern and professional manufacturing processes, and had their packages and labels perfected.
OCOP products have generated an average of 500 billion - 700 billion VND (22 -million - 31 million USD) in annual revenue for the province.
Achievements in the OCOP programme have substantially contributed to the building of new-style countryside, which is a national target programme, in Quang Ninh.
As a result, per capita income in local rural areas rose to 47 million VND in 2020 from 10.5 million VND in 2010.
Quang Ninh has set a goal to have modern industry and service sectors and become one of the region's comprehensive and dynamic development hubs by 2025. The province looks to raise its gross regional domestic product (GRDP) by 10 percent on an annual average during 2020 - 2025, and the per capita GRDP to over 10,000 USD by 2025. The urbanisation rate is expected to surpass 75 percent, while the rate of poor households to go down to below 1 percent.
The province plans to complete the new-style rural area building by the end of 2030.
The OCOP was initiated by the Ministry of Agriculture and Rural Development in 2008, based on Japan's "One Village, One Product" and Thailand's "One Tampon, One Product" programmes. It is an economic development programme for rural areas and focuses on increasing internal power and values, and is also to help with the national target programme on new-style rural area building.
Vietnam verified, rated, and recognised a total of 3,200 products as OCOP goods last year, 800 higher than planned, according to the Ministry of Agriculture and Rural Development.
OCOP products are produced basing on the combination of local resources, traditional culture, and advanced technology, thus promoting product diversification, quality, packaging, and origin traceability.
The programme has provided farmers with the chance to come together to form cooperatives, which now account for 38 percent of 1,400 OCOP producers nationwide. The establishment of these cooperatives has in turn enabled farmers to create goods with better quality, design, and packaging that meet higher standards and match market demand./.
Source: VNA/VNS/VOV/VIR/SGT/SGGP/Nhan Dan/Hanoitimes 

MoIT proposes solutions to avoid disruption in goods supply