VIETNAM BUSINESS NEWS AUGUST 28
Shares end week higher on large-caps
The market finished higher in the last trading session of the week as large-cap stocks gained points, while foreign investors net sold large values on both exchanges.
On the Ho Chi Minh Stock Exchange (HoSE), the VN-Index climbed 0.93 per cent to 1,313.20 points.
It had slipped 0.64 per cent to close Thursday at 1,301.13 points.
The market breadth was positive as 260 stocks rose while 115 stocks fell.
During the session, local investors poured over VND21.4 trillion into the southern bourse, equivalent to a trading volume of more than 685 million shares.
The gains in pillar stocks were the main driving force for the market. The VN30-Index rose 0.43 per cent to close Friday's trade at 1,418.57 points.
Twenty-one of the 30 biggest stocks in the VN30 basket inched higher on Friday while eight stocks declined.
In the VN-30 basket, Viet Nam Rubber Group - Joint Stock Company (GVR) soared by more than 5 per cent and was the leader in this group. PVPower (POW) followed with a rise of 4 per cent, Khang Dien House (KDH) gained more than 2 per cent, Phat Dat Real Estate (PDR), Vingroup (VIC), Viet Nam National Petroleum Group (PLX), Bao Viet Holdings (BVH), Mobile World Group (MWG), Masan Group (MSN), Vincom Retail (VRE) and Vietcombank (VCB) were the gainers with 1 per cent rises.
On the other side, HDBank (HDB) was the biggest loser with more than 1 per cent decrease.
On a sector basis, most of the industries maintained their growth momentum in the last session of the week. Plastic - chemical production, healthcare, rubber products and agriculture - forestry - fishery all increased by more than 3 per cent.
In the plastic and chemical sectors, Vietnam Pesticide Joint Stock Company (VPS) showed a dramatic increase of 7 per cent, Hanoi Plastics Joint Stock Company (NHH) surpassed 5 per cent, Pha Le Plastics Manufacturing and Technology Joint Stock Company (PLP), The Southern Fertiliser JSC (SFG), An Phat Bioplastics JSC (AAA) and South Basic Chemicals JSC (CSV) all increased by more than 4 per cent.
Foreign investors net sold nearly VND370 billion on HOSE and sold over VND15 billion on HNX.
On the Ha Noi Stock Exchange (HNX), the HNX-Index edged 0.58 per cent higher to 338.79 points.
During the session, nearly 133.8 million shares were traded on the northern bourse, worth nearly VND3 trillion. 
Ha Noi supports consumption of OCOP products
The capital city of Ha Noi has been implementing solutions to open up sales channels as the COVID-19 pandemic has had a negative impact on the production and circulation of goods, in particular 'One Commune, One Product' (OCOP) goods.
OCOP goods are highly localised products, often food, that come from one small specific area.
During social distancing, e-commerce platforms have become shopping destinations for a large number of Ha Noi consumers. This is an opportunity for OCOP businesses to switch to online trading.
Director of Ubofood Viet Nam Do Hoang Thach said that the company was distributing more than 1,500 products from 200 suppliers in 30 provinces and cities, of which there are nearly 100 OCOP products of Ha Noi.
Due to the convenience and safety of e-commerce, the number of customers buying products grew during this time, and the revenue of the company in one month of social distancing increased 10 times compared to previously, he said.
To sell on social networks, OCOP businesses need to be proficient in technology, sales skills, photography, writing and online communication. To sell products on e-commerce platforms, products need to meet many quality standards set by the platforms.
The coordination office of the Ha Noi new rural development programme said that the city had 1,054 OCOP products by the end of last year, mainly agricultural produce, food, beverages, and handicrafts.
The promotion of these products was particularly important: Participating in e-commerce, online sales and livestreams to promote the products is an effective solution to help maintain the supply chain of agricultural produce during the pandemic, said the office.
It has organised the "OCOP product livestream festival" from June, to support the consumption of OCOP products.
It also organised free online training programmes to improve the knowledge and sales skills of participants.
Thereby, businesses, co-operatives and producers can connect with each other to form e-commerce agricultural produce supply chains.
General Director of MD Queens JSC Trinh Kim Thu said that through participating in the training, they had grasped skills in branding and livestream sales to bring OCOP products to the market, and at the same time, participants had also exchanged and shared difficulties and experiences in selling on e-commerce systems and social networks.
Online business models had brought positive effects in social life, not only ensuring disease prevention and control but also in line with the future development trend of e-commerce, she added.
US postpones preliminary anti-dumping determination on imported raw honey
The US Department of Commerce (DOC) has postponed the preliminary determination of the anti-dumping investigations of raw honey originated from Argentina, Brazil, Ukraine, India and Vietnam.
The preliminary determination is initially due to be released no later than September 28, but now delayed by 50 days to no later than November 17 upon the request of US producers of raw honey, according to the Ministry of Industry and Trade's Trade Remedies Authority of Vietnam (TRAV).
On May 11, the DOC initiated the anti-dumping duty investigations after receiving petitions concerning imports of raw honey from the five exporters filed on behalf of the American Honey Producers Association and the Sioux Honey Association, which are trade associations representing US producers of raw honey.
The petitioners, however, submitted a request for the postponement earlier this month, stating that they concern that the DOC may need more time to issue supplemental questionnaires to address deficiencies in the respondents' initial questionnaire responses, and to determine the cost of production methodology that it will rely on for these investigations.
It is the first time Vietnam's raw honey has faced an anti-dumping probe.
The TRAV has recommended concerned Vietnamese producers and exporters to keep a close watch on the case, cooperate with the DOC, and actively contact the TRAV for timely support./.
EU-ASEAN Business Council calls for faster action on energy transition in Southeast Asia
There is a clear need now for ASEAN to address its over-reliance on fossil fuels, particularly coal, for its energy needs, the EU-ASEAN Business Council has said.
In a recent report on Powering ASEAN's Energy Transition, it calls on ASEAN governments to accelerate energy transition as a means of helping the region deal with climate change challenges and ensure the greening of supply chains while meeting rising energy demands.
The EU-ABC, which represents the interests of European businesses in Southeast Asia, has said in the report that ASEAN's energy demands continue to increase but it remains heavily dependent on highly polluting fossil fuels, with around 80 per cent of its current energy mix coming from such sources.
Donald Kanak, chairman of the EU-ABC and chairman of Prudential Insurance Growth Markets, said: "This month the IPCC [Intergovernmental Panel on Climate Change] released its sixth assessment report dubbed code red for humanity because of the urgent and decisive action needed to decarbonise to avoid climate catastrophe.
"The EU-ABC believes that progress requires a mix of policies, finance and technology, with special assistance for developing countries. That means coming up with new practical, scalable solutions that can accelerate the energy transition, phasing out fossil fuel subsidies, and providing a just transition for affected workers and communities."
One such solution that could potentially support ASEAN is an energy transition mechanism (ETM), a way to combine public and private finances to accelerate retirement of coal-fired power plants and significantly increase investment in renewables.
"The EU-ABC, with its members and other key stakeholders are supportive of the work being led by the Asian Development Bank to explore the feasibility of the ETM in several countries in ASEAN."
Chris Humphrey, executive director of the EU- ABC said: "Tackling climate change in a just and affordable way should be the absolute number one priority for all of us.
"And driving energy transition forward should be at the top of the agenda for all governments in the region. As ASEAN continues to develop economically demand for power will increase, but we need to make sure that that increased demand is being met from less polluting sources, and that producers and manufacturers can continue to grow but do so using greener sources for their power needs.
"This will require shifts in policy thinking to adopt policies and processes that promote the transition away from high carbon-emitting solutions to lower carbon ones, and ultimately renewable energy solutions."
Among other things the EU-ABC calls for is the development of a region-wide green finance taxonomy and enhanced de-risking instruments to aid the development of sustainable finance mechanisms in the region which could be used to help finance energy transition solutions.
It also calls for the phasing out of fossil fuel subsidies across the region with those monies being redirected to support energy transition. 
SBV issues new decision on interest rates of required reserve deposits
The State Bank of Vietnam (SBV) has issued a Decision 1349/QD-NHNN on interest rates applicable to reserve requirement deposits and excess reserves of credit institutions and foreign banks' branches in the SBV.
It will take effect on September 1 to replace the central bank's Decision 1349/QD-NHNN dated August 6, 2020.
Under the new decision, the interest rates of reserve requirement deposits in Vietnam Dong and in foreign currencies will be kept unchanged at 0.5 percent and zero percent per annum, respectively.
The interest rate for excess reserves in Vietnam Dong will also remain at zero percent per annum, while that in foreign currencies will be slashed to zero percent per annum, from 0.05 percent per annum as prescribed in the previous decision./.
 HCM City helps businesses shop for food, groceries to feed staff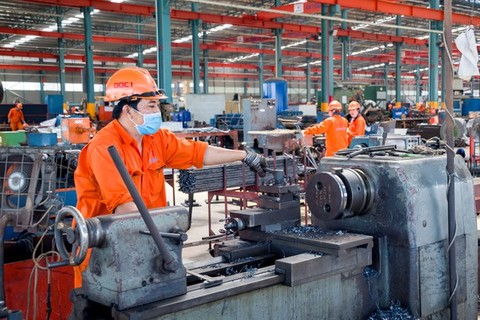 A factory in HCM City with staff living onsite. Businesses in industrial parks with workers staying on-site have their shopping needs met by the HCM City Export Processing and Industrial Zones Authority and city Department of Industry and Trade. — Photo sggp.org.vn
The HCM City Export Processing and Industrial Zones Authority is helping businesses at industrial parks that house their staff buy food and other essential goods amid the stricter social distancing mandate currently in place to curb the spread of COVID-19.
Pham Thanh Truc, deputy head of the HCM City Export Processing and Industrial Zones Authority (HEPZA), said retailers have sent lists of items such as rice, milk, egg, and meats at discounted prices.
Businesses wanting to buy food for their staff can register twice a week with HEPZA, which will pool the orders and send to the Department of Industry and Trade.
The department will organise delivery to each business.
On the first day over 40 companies registered to buy.
Some stocked up on food before the social distancing orders became stricter on Monday.
Dai Dung Metallic Manufacture JSC in Binh Chanh District's An Ha Industrial Park has for instance stocked tonnes of rice, meats, vegetables, and instant noodles for the nearly 1,000 workers it houses.
Trinh Thi Thu Hien, who is in charge of logistics, said Pham Van Hai Commune, where the factory is located, has also offered to help buy food.
The department is also allowing businesses supplying essential items to transport their goods despite the strict preventive measures to ensure businesses do not run out of food.
More than 720 factories in industrial parks and processing zones have accommodated over 60,000 workers in their premises and elsewhere.
The city, Viet Nam's current COVID epicentre with over 190,000 cases, has instructed the public to "stay where they are" at all times, and strictly follow safe distancing between individuals, families, residential quarters, and wards.
It is helping people get food and groceries without leaving home by having organisations such as the Women's Union, community-based COVID-19 prevention teams and other voluntary groups work with the police and military to deliver them.
The Vietnam General Confederation of Labour is also helping provide free meals to its members staying in factories.
SSI issues 170 million covered warrants for 16 stocks
SSI Securities Corporation has issued 170 million covered warrants for 16 underlying stocks of companies in the manufacturing and services sectors and banks.
They are HPG, VIC, VRE, MSN, FPT, MWG, PNJ, VHM, VJC, VNM, NVL, KDH, VPB, MBB, TCB, and STB, the last four being bank stocks.
All have a term of five months.
During the initial public offering, investors can buy the CWs issued at all of SSI's transaction offices and online.
After they are listed, investors can buy and sell them on the secondary market with settlements just like stocks and mutual funds.
If an investor holds the warrant to maturity, the difference will be paid in cash.
An SSI spokesperson said macro factors still supported economic growth, but the biggest risk had been the COVID-19 pandemic, and investors should use additional investment tools besides the underlying securities to hedge risks and allocate assets.
After the correction in July, the stock market had not yet indicated a clear trend, and so investors could use call warrants as a speculative tool with low fees but high profit potential, he said.
He also claimed holding the CWs to maturity might not be optimal at this stage for investors, who should prioritize short-term trading based on indicators. 
Future outlined for BOT projects on back of PPP Law
Over the past few years, investors have not been much inclined towards build-operate-transfer (BOT) transport projects in Vietnam, while the number of schemes with financial constraints has increased. According to the Ministry of Transport, in 2011-2015 around 88 BOT transport projects were implemented, but the number in 2015-2020 was far lower. It is challenging to raise capital for such large-scale projects.

Furthermore, according to the recent statistics of the Directorate for Roads of Vietnam, the revenues of such BOT ventures have decreased compared to financial plans such as in the case the Thai Nguyen-Cho Moi project, which fell by 88 per cent.
The Law on Public-Private Partnership (PPP) Investment has created a legal basis allowing investors to set up project companies which are allowed to issue bonds – a good channel to raise capital and one which regulates that only capable companies can carry out BOT projects for infrastructure, such as for the Dien Chau-Bai Vot, Nha Trang-Cam Lam, and Cam Lam-Vinh Hao sections of the North-South Expressway.
However, few policy issues exist in BOT projects and investment. There is an issue on maintenance mechanisms for these due to the disallowance of the use of state budget for maintenance if the property has not been converted into public ownership. However, the procedures for establishing this are complicated and time-consuming.
Although the regulations under the law on PPP put the relationship between the state and investors on an equal footing, in reality, investors are required to fulfil many commitments. If they fail to comply, they can be handled as violators. On the other hand, in case of failure to comply with commitments, state agencies may cause implications to investors and banks.
For instance, for the Deo Ca tunnel project, the state budget participation is approximately $219 million, but so far only $168 million has been disbursed and around $51 million is yet to be allocated as committed, causing serious impacts and generating interest on credit loans.
Furthermore, there are inadequacies in policies on the allocation and accounting of loan interests. The Vietnamese Association of Road Systems Investors received a request from the Deo Ca Group to solve problems on the interests expenses when the new project was put into operation. Due to the large balance of interest calculation, early revenues were low but gradually increased due to the growth in vehicle traffic and increased ticket prices.
This recognition of interests expense leads to a large loss in business outcome especially in the first years, and very high profits in the last years of the project. This may be seen as inconsistent to an extent.
Moreover, there are problems arising from non-refundable VAT in projects like the road tunnel through Deo Ca, as well as the Co Ma, Cu Mong, and Hai Van tunnels. Input invoices for construction and investment that incurred after the project was put into operation seem not eligible for refunds. However, due to the characteristics of the long-term acceptance of settlements, after a project is put into operation, the total value of VAT remains high.
If this tax is not refundable and required to be offset against the output VAT of toll collection, the company will have to offset this within several years, causing a shortage of cash flow and generating more loan interest.
Another shortcoming is the risk-sharing mechanism between the state and investors. The fact that the Law on PPP stipulates that when there is a change in revenues determined by the state agency, and the cause is not from the investor's side, the state and investors share this risk.
However, the risk-sharing mechanism is only stipulated for new projects with limited clarification on the scope as well as guidance on how to share and remove difficulties.
The government's commitment to support companies is a key factor. Since the 1990s, India has widely applied PPP for infrastructure. The participation of private capital and effective management have made it possible to better assess market risks, estimate changes in demand and propose appropriate solutions. Transparency is also important when designing PPP contracts, and government policies have to be consistent to be effective and flexible. Moreover, the contracts must be carefully designed, with attention paid to risk allocation and cost recovery.
In India, the financing policy of the government subsidises some projects based on risks and benefits in different stages to encourage participation of the private sector.
Likewise, the UK has had a lot of experience in successfully implementing PPP projects. Problems in risk allocation include those related to inflation and interest rates, as well as technical and management risks, especially when a project is transferred to the private sector. Risks under the control of parties, such as supply and demand, are shared between the private sector and the government.
Nevertheless, corruption is the biggest obstacle to the success of any PPP. On the contrary, factors contributing to the success of PPP projects are stable economic and political conditions, appropriate tax rates, reasonable risk allocation, and appropriate selection of contractors.
In South Korea, the government started the PPP model in 1994 with around 100 proposed projects. However, during the first four years, only 42 projects were implemented successfully. The reasons for this failure were insufficient incentives, unclear bidding procedures, lack of transparency, inconsistent standards, and inadequate risk allocation mechanisms.
To overcome the limitations, South Korea enacted its PPP law to improve contracts, require feasibility studies, and establish a private investment centre. This law, along with simplified procedures, significantly improved and attracted foreign investment for many projects and, as a result, the number of PPP projects has increased rapidly.
Hanoi flexibly maintains production amid COVID-19
To maintain business operations amid social distancing order caused by the fourth wave of COVID-19 pandemic, it is necessary to pool the drastic involvement of local authorities, especially flexibly adopting plans to both fight the pandemic and prevent production disruption.
Difficulties faced by enterprises
Chairman of the Board of Directors of Son Ha Garment JSC in Son Tay town Pham Huy Ve said since August, the company has suspended operation to fight the pandemic. Though the "three on the spot" option was arranged, most of workers wished to come home because they are women residing in the town.
The company suggested cutting the number of local workers from 2,000 to about 500-800 who have been vaccinated, and arranging production in five independent workshops. It also seriously followed "One route, two destinations" strategy to complete remaining orders. However, the plan has yet to be approved by the local authorities, Ve said, adding that if delivery of orders is delayed, the company could lose hundreds of billions of VND or even the market if partners seek other suppliers.
Similarly, the TOMECO Mechanic – Electrical JSC based in Ngoc Liep industrial cluster in the outlying district of Quoc Oai also faced the shortage of workers as most of them do not stay on-site in line with "three on the spot" plan.
Head of the TOMECO's personnel office Tran Thu Trang said as the cost of "three on the spot" plan is high while the prolonged pandemic could cause heavy burden on the company, she proposed allowing workers in unaffected areas to return home.
Chairman of the Board of Directors of the Vietnam National Textile and Garment Group (Vinatex) Le Tien Truong said the "three on the spot" model could only work for a short term and applicable for enterprises with wide factories and few workers. For apparel sector, it will be harder due to a large number of workers. Therefore, anti-pandemic plans need to be flexible based on common standards.
Statistics by the municipal Department of Industry and Trade showed that since the social distancing order is imposed, only 1,077 out of 3,600 manufacturing facilities in industrial clusters and 546 out of 661 enterprises in industrial parks are working.
Deputy Minister of Industry and Trade Do Thang Hai said the "three on the spot" strategy previously proved successful in Bac Ninh and Bac Giang provinces, but it has shown shortcomings in other localities.
The Ministry of Industry and Trade sent a document to the Health Ministry suggesting the addition of other production methods to make it easier for firms to choose, such as allowing workers to return home and pledge to follow "One route, two destinations" arrangement with local authorities and their companies, ensure similar measures for F1 cases at home and amending several regulations regarding production in industrial hubs.
Enterprises also proposed allowing them to resume operations, from 30-100 percent as before the pandemic, depending on their safety conditions and the results of the pandemic prevention and control.
In a recent meeting with ministries and agencies, Prime Minister Pham Minh Chinh said the "three on the spot" strategy requires the drastic involvement of departments and agencies and initiatives of enterprises to tackle difficulties in implementation.
The Government, departments and agencies directed changing priority groups for vaccination, ensuring smooth goods transportation in combination with fighting the pandemic safely and effectively, as part of efforts to assist firms, he said.
He affirmed the Government's consistent policy of achieving "dual goals" via harmoniously, reasonably and effectively combining the goals of fighting the pandemic and maintaining production and trade, and socio-economic development.
To prevent production chain disruption, authorities, especially in localities, need to take more flexible approaches to helping firms amid the pandemic, he said./.
Red card for EU market has grave consequences
After nearly four years of struggling to remove the yellow card issued by the European Council (EC), many remain worried that the red card may soon be issued, and access to the lucrative European Union (EU) markets denied altogether. 
The Ministry of Agriculture and Rural Development as well as the Vietnam Association of Seafood Exporters and Producers (VASEP) said that with more efforts made by Vietnam, the red card can be avoided. Vietnam must set a goal for 2022 to be able to get the green card. In fact, the goal of removing the yellow card dates back to May 2018 when the EC held the first assessment in Vietnam. The effort continues to find solutions to avoid another crucial assessment.  
For the yellow card to be removed, the EC made four groups of recommendations that Vietnam needs to implement in the near future which include, improved legal framework; monitoring, inspecting and controlling fishing vessel activities and fleet management; certification of production and traceability of fishery products from catch; and efficient law enforcement.
According to information from the Ministry of Agriculture and Rural Development, due to the Covid-19 pandemic since early 2020, the EC cannot directly assess Vietnam, but the Ministry regularly updates the implementation results as per the previous four groups of recommendations. However, the results so far are still receiving yellow cards and when this will switch to a green card or even red, no one can say in advance. We need to review all of our regulations and law enforcement methods, especially at the local level where fishing activities take place. What can be done, what can't be done, needs to be made transparent when working with authorities. The EC has actual check procedures, and does not decide just by looking at a written report on whether to withdraw the yellow card or not.
In the current context, when the Covid-19 pandemic situation is becoming very complicated in so many localities, neglect in enforcement and control may occur. It forces localities to have clearer solutions on how to fight the pandemic and also ensure the best implementation of EC recommendations. We are entering a new goal of removing the yellow card by 2022. If we don't do this well, we lose the opportunity, and even the yellow card may be changed to a red card.
A red card is something no country wants because the consequences are grave. We stand to lose the EU market, and it is estimated that Vietnam's seafood industry will lose about US$480 mn per year if it loses the EU market. In particular, the estimated loss from caught seafood, which includes tuna, swordfish, molluscs, squid, octopus and many other seafood species, is about USD 387 mn per year. Indirect impact on farmed seafood caused by the loss of reputation, the increasing burden of customs control, and the failure to take advantage of preferential tariffs of the Vietnam Free Trade Agreement-European Union (EVFTA) will prove disastrous. The aquaculture industry could lose about US$93 mn due to such indirect impact.
Measures taken to reduce damage to Hano's tourism 
Hà Nội's tourism sector has been implementing various strict measures both to curb the spread of the coronavirus in the community and to minimise the effects caused by the pandemic.
Specifically, the Hà Nội Department of Tourism has called on tourism-related businesses, organisations and individuals to strictly comply with regulations on COVID-19 prevention and control under the government and local authority, especially those on social distancing.
The department has cooperated with relevant agencies to ensure that these regulations have been properly implemented at 20 hotels that are serving as paid quarantine facilities in the city.
The Department of Health, the Capital Army Command, the Vietnam Airlines Corporation and related organisations have been requested to coordinate in receiving and transporting people from pandemic-hit localities to authorised quarantine facilities.
Immigrants, Vietnamese returning from pandemic-struck spots and other related individuals who are quarantined at authorised hotels are required to comply with regulations on COVID-19 prevention and control by consulting the information and support services that are jointly provided by the Hà Nội Department of Tourism and the Vietnam Tourism Joint Stock Company VNTravel.
At the same time, the tourism sector of the city authorities plans to promote awareness about pandemic prevention and control rules at tourist accommodation in general and quarantined hotels in particular via inspection and guidance, while maintaining inter-departmental briefings with quarantined facilities and the authorities of relevant districts.
The Hà Nội Department of Tourism continues to closely control and monitor the effects caused by the pandemic on the tourism sector, ensuring service quality and tourists' benefits; developing solutions to handle losses and risks in tourism business during and post-pandemic.
Meanwhile, tourism businesses will be guided to register for COVID-19 safety assessments at the request of the Ministry of Culture, Sports and Tourism. The city's tourism authority will monitor and forecast the ongoing situation to proactively offer consultation to the city's People's Committee to effectively control the pandemic.
In the first seven months of 2021, the number of tourists to Hà Nội, all of whom are domestic ones, reaches 2.92 million, reducing by 43,1 per cent compared to the same period last year.
The total revenue earned from tourism is estimated at VNĐ8.17 trillion, reducing 63.6 per cent. Particularly, Hà Nội had no domestic tourists in August due to social distancing measures taken since late July to prevent the spread of the pandemic.
Thai Binh keeps yearly economic targets unchanged
The northern province of Thai Binh has targets its gross regional domestic product (GRDP) growth of 13 percent in the second half of 2021 to fulfil its goal of at least 9.1 percent of expansion for the whole year.
Amid the COVID-19 pandemic, completing all goals set for the year is a tough task for the province in the rest of the year, requiring the locality's high determination and efforts as well as the engagement of all departments, sectors and localities.
To realise the goal, in the remaining months of the year, the agro-forestry-fishery sector need to ensure the growth of 4 percent to fulfil the yearly target, while the industry and construction sectors expand 23 percent, and service 7.7 percent.
While COVID-19 is developing complicatedly, especially in southern localities and Ho Chi Minh City, Thai Binh defines pandemic prevention and control as its core mission in the rest of the year.
In reality, over the past more than one and a half years, Thai Binh has shown strong performance in COVID-19 prevention and control, helping local businesses and resident stabilise their production and business, thereby maintaining and boosting economic development.
In the first six months of this year, the industrial sector still enjoyed the largest growth with an estimated production value of 36.1 trillion VND, up 10.8 percent year-on-year and equal to 45.3 percent of the yearly plan, in which the mining industry grew by 10.6 percent, and processing industry expanded by 11.4 percent. The number of newly-established enterprises and branches and representative offices rose by 14 percent over the same period last year with a total of more than 420 enterprises, branches and representative offices and a total registered capital of 3.8 trillion VND, up 13.8 percent year-on-year.
In the total local budget revenue in the period, domestic revenue reached 67 percent of the estimate with an amount of more than 4.56 trillion VND, a year-on-year jump of 50.1 percent. Disbursement of construction investment during January-June reached 77 percent of the yearly estimate, making Thai Binh rank second in the country, after Hai Phong city, in terms of construction investment disbursement in 2021.
The agro-forestry-fisheries and services sectors also posted growth with 1.71 percent and 4.35 percent, respectively. Total retail sales of goods and revenue from consumer services were estimated at 24.4 trillion VND, up 7.6 percent over the same period in 2020.
Along with efforts to control the pandemic, departments, sectors and localities across the province have built their own plans for the rest of the year in a bid to complete the targets set for the whole year.
Dinh Vinh Thuy, Director of the provincial Department of Agriculture and Rural Development, said that although the agro-forestry-fishery sector only recorded 1.71 percent rise year on year in production to over 6.57 trillion VND in the first half of this year, the sector considers it as a positive result.
As a "leverage" of the economy, in the rest of the year, the agricultural sector will concentrate on implement restructuring measures in a strong, comprehensive and effective manner to enhance the added value and promote its sustainable development.
Meanwhile, it will strengthen the application of high technology into production towards value chain development, while increasing trade promotion activities to expand market and build trademark for local farm produce, thus boosting production value growth of the whole sector and complete set targets, he said.
With is high determination and efforts as well as comprehensive solutions, Thai Binh pins a high hope to not only control COVID-19 effectively but successfully implement all socio-economic development targets for the year, paving the way for the successful completion of goals set in the resolution of the 20th provincial Party Congress./.
Proposed registration fee cut for domestic cars sparks controversy
A recent Vietnam Automobile Manufacturers Association (VAMA) proposal to halve registration fees for domestically-manufactured automobiles has stirred debate between local manufacturers and importers.
If approved, the move will give domestic vehicles a price advantage over imports. So, while it has found support among domestic manufacturers and assembly companies, who see it as an opportunity to increase sales amid the pandemic, importers believe it is unfair.
The fee cut is part of a decree drafted by the Ministry of Planning and Investment (MPI) to support the industry amid the pandemic.
Last year, the MPI developed a draft to submit to the Government, proposing a 50 per cent reduction in registration fees for Vietnamese people to buy cars. This year, the Ministry on August 16 also made a similar move with a draft resolution to support local car manufacturers.
The reduction was one of many VAMA proposals to the Government aimed at removing difficulties for the local automobile market which has been hit hard by the prolonged pandemic. They fear the global effects of the virus will have a long-term impact on people's incomes and auto demand.
The Finance Ministry has been told to complete the task soon. The draft is now in consultation with ministries and agencies before being submitted to the Government.
The draft also proposes the Ministry of Finance assess the impact so that it can consider and propose to continue reducing the registration fee for CKD (completely knocked down) automobiles for an additional period of time in line with the developments of the pandemic.
In addition to the above draft, on August 16, Deputy Prime Minister Le Minh Khai also assigned the Ministry of Finance to evaluate and calculate the impact of the 50 per cent reduction.
The decision was based on a petition to the Prime Minister by Thanh Cong Motor Vietnam, the company that currently holds the right to assemble and distribute Hyundai automobiles in the country.
In a letter sent to the Government and the Ministry of Planning and Investment, Laurent Genet, general director of Audi Vietnam, said that the 50 per cent reduction in registration fees for domestically assembled cars last year had shown effectiveness, but was discriminatory.
Laurent noted that reduction of registration fees should apply to both locally-assembled and imported vehicles.
He cited that car sales figures in Viet Nam last year rose by 3 per cent in comparison with 2019. In the second half of 2020, the Government issued Decree No. 70/2020/ND-CP, regulating registration fees for automobiles manufactured and assembled locally through December 31, 2020. The fee reduction helped increase domestic car sales volume by 19 per cent while sales volume of imported Completely Built Up (CBU) vehicles was down by 33 per cent in 2020.
In 2021, as the pandemic became more complicated and tougher social distancing measures were taken in many cities and provinces, business activities were disrupted and heavily affected.
Car importers such as Audi, Jaguar Land Rover, BMW, Porsche, Volvo, Subaru and Volkswagen are suffering from great financial losses in terms of showrooms, taxes, storage charges, human resources and tax contribution to the State budget.
Le Thanh Hai, general director of Motor Image Viet Nam (MIV) - the exclusive distributor of the Japanese Subaru brand - said amid the pandemic, her company was temporarily closed and there was no revenue, but the company and its dealers still had to pay employee's salary and cover the cost of renting the premises, bank loan interest and car storage.
Therefore, MIV wants the Government to consider and offer a support policy to reduce registration fees for all types of automobiles, so that businesses can survive the pandemic.
Other importers of major brands such as Volvo and Volkswagen have also called for a level playing field, noting that incentives will be better if they are for both assembled and imported cars. This will give customers more options to buy cars and creates fairness for businesses in Viet Nam.
Meanwhile, representatives of a Japanese automobile company, and member of VAMA, said that it was very difficult for both CKD and CBU cars to receive incentives.
Economist Ngo Tri Long said a 50 per cent cut in registration fees would stimulate consumer demand, while boosting production and circulation of goods, while recovering economic growth.
He noted that the reduction of registration fees for domestically assembled cars should be carefully considered to create a fair business climate and avoid discrimination between domestic and foreign businesses.
Automobile imports and sales
In the first seven months, Viet Nam's imports of CBU vehicles posted a year-on-year surge of 111.2 per cent in volume despite the pandemic.
Statistics from the General Department of Vietnam Customs showed that in this period, Viet Nam purchased 95,525 CBU vehicles worth US$2.1 billion, surging 107.1 per cent compared to the same period last year.
Thailand and Indonesia were the main providers to Viet Nam, holding the lion's share of 80 per cent. Some 47,493 vehicles were imported from Thailand and 28,362 units from Indonesia, growing 134.8 per cent and 60 per cent respectively, compared to the same period last year.
In July alone, 14,407 units worth US$290.8 million were imported, down 5.9 per cent in volume and 13.3 per cent in value compared to June.
Meanwhile, members of VAMA sold 166,516 vehicles of all types in January-July, up 27 per cent compared to the same period last year. Of this figure, domestically-assembled cars made up 15 per cent, or 94,109 units.
In the first seven months, TC Motor of Hyundai Thanh Cong revealed that it sold 38,066 vehicles, while VinFast sold 19,720 cars in the same period.
Combining the sales volume published by VAMA, TC Motor and VinFast in the first seven months of 2021, a total of 224,302 vehicles were sold domestically.
These numbers do not fully reflect the car market in the country. In addition to VAMA members, the local market attracted foreign brands including Mercedes-Benz, Nissan, Audi, Jaguar, Land Rover, Subaru, Volkswagen and Volvo, whose business results were not revealed.
According to industry insiders, the strong surge in CBU vehicles imported to Viet Nam in the first seven months came as a surprise, as purchasing power in the car market plummeted in recent months. This can be attributed to automobile business anticipation of possible improvement in purchasing power once the pandemic is under control, particularly during peak season at the end of the year when Tet nears.
Representatives of big brands such as Audi, Subaru and Volkswagen said car imports had not been disrupted despite the impact of the virus at a global and regional level.
However, the pandemic has caused car assembly and sales to slow. Due to the Government's strict social distancing and lockdown orders, many car dealerships are temporarily closed.
Sales specialists also believe that cultural factors might play a role in the reduction of purchasing power in August. In addition to the continued impact of the pandemic, August in the Gregorian calendar coincides with the seventh month in the Lunar calendar; the latter is considered an unlucky time for business and trade, and many delay major purchases at this time.
The domestic car market is likely to return to normal after the seventh Lunar calendar month, as the pandemic is expected to be controlled across the country and the vaccination rate increases. 
Hà Giang focuses on forestry economic development
The northernmost mountainous province of Hà Giang has identified the development of afforestation as a strategy in the long-term socio-economic development process, which was also the basis for effective and sustainable economic development.
Accelerating the afforestation progress not only helps to increase the rate of forest cover, but also contributed to raising people's income from forest economic development in Hà Giang, said Nguyễn Trung Hiếu, Deputy Director of the provincial Agriculture and Rural Development Department.
As of August 16, 2021, the province had about 5,200 hectares of forest, reaching a forest coverage rate of 58 per cent, compared to 51 per cent in 2018.
The development of the forestry economy is seen as a breakthrough for Hà Giang to become a developed province.
"The stable income from the forest plantation has helped local families escape poverty. Thanks to afforestation, local people have developed economically," Hiếu said.
In order to effectively implement afforestation and forest economic development, local authorities have implemented the State's policies in forest planning and protection. Additionally, the province supported forest growers with rates from VNĐ5 million/ha to VNĐ7 million/ha.
Quang Bình District, located in the west of Hà Giang Province, has the advantage of developing economic forests. The district has planted 1,913 hectares of forest compared to the target of 2,330 hectares.
According to Deputy Director, Nguyễn Trung Hiếu, in recent years, afforestation and forest protection is not only a goal to increase forest cover rate but also a sustainable development criterion in hunger eradication and poverty alleviation in Quang Bình District because forests are a source of livelihood to create stable incomes for local people.
In 2012, Lê Thành Nam's family in Thượng Bằng Village, Bằng Lang Commune of Quảng Bình District started growing acacia trees on 12 hectares of their entire farm, which brought his family a stable income of VNĐ100 million (US4,300) per ha per growing cycle of eight years.
"Growing acacia trees is not effective immediately, but after eight years, it brings higher economic efficiency than other crops," Nam, 50, said.
"Local people see the effectiveness of forest economic development, so they have planted more acacia trees. We want to have access to Government's funding for afforestation to develop economically."
Because the topography is divided by hills, mountains, and small and fragmented fields, for years, Quang Bình District has focused on forestry trees.
Thanks to afforestation, many families in the province have escaped poverty, contributing to helping the district fulfil the criteria for building a new countryside.
In order to implement forest plantation development in the coming years, the agricultural department has advised the Provincial Party Committee to issue solutions on sustainable forest development.
"Solutions focus on synchronous and comprehensive development, from afforestation to the management, protection, and development, linking forest economy with ecotourism development," said Hiếu.
"For effective implementation, it requires the participation of local authorities from communes, districts, State agencies, social organisations, and at the same time, through policies, it calls on people to participate in afforestation, gradually changing people's awareness of forest management and protection."
The province strives for the forest cover rate to reach over 60 per cent in the next year.
Anti-COVID-19 tech platforms to be put through security test
Some 20 digital platforms developed by the National Technology Centre for COVID-19 Prevention and Control will be submitted to BugRank, a joint cooperation between the National Cyber Security Centre and VNSecurity that employs security researchers to help identify security vulnerabilities, according to the Ministry of Information and Communication (MIC) and the NCSC.
The platforms, including the widely-used COVID-19 tracking app BlueZone, have played a key role in the country's effort to fight the virus. They have helped inform citizens of newly discovered virus clusters, track infections, fill in health declaration forms and produce QR codes.
The centre has also introduced additional programmes to assist health experts to sort and manage COVID-19 test results, operate quarantine zones and connect citizens with health workers on the front line.
According to a representative from the centre, protection of private and personal data is among the highest priorities, especially since the platforms have been often used to collect confidential health information of citizens.
In order to better safeguard user information, the platforms, prior to their official releases, must have been put through rigorous tests designed by cyber security experts from the Ministry of Public Security, the Minister of Defense, the MIC and the Vietnam Information Security Association. Even after release, the platforms must be regularly checked for security risks by said agencies.
However, due to the dynamic and fast-changing nature of cybercrimes, it has become a matter of great importance for software developers and system managers to anticipate and carry out quick responses in the event of cyberattacks. This challenge is especially daunting as all it takes is often just one security hole for hackers to compromise a whole system.
"We fully understand the importance of and the cyber threats to Viet Nam's anti-COVID-19 platforms. That's why we have started an initiative to seek out their security vulnerabilities and hopefully to address them before they could be exploited," said an NCSC's representative.
BugRank is a bug bounty programme, which employs a competitive model that leverages the use of ethical hackers (or security researchers) to detect and submit bugs or vulnerabilities within an organisation's digital assets with the potential for rewards if found and validated within a predefined scope. 
Grid management recommendations for optimal operation of renewable energy
Vietnam should consider adopting major solutions for its grid management if the country wants to optimise the operation of renewable energy sources and make the best of these clean sources in its power system
The proposed measures took the centre stage in the virtual workshop 'Grid management solutions to the optimal operation of renewable energy sources in the power system' which took place on August 26. The event was jointly organised by the Electricity Regulatory Authority of Vietnam (ERAV) under the Ministry of Industry and Trade (MoIT) and the Deutsche Gesellschaft für Internationale Zusammenarbeit GmbH (GIZ).
Participants were representatives from affiliated entities under the MoIT, the Commission for the Management of State Capital at Enterprises, Electricity of Vietnam, as well as experts from the Vietnam Electrical Engineering Association, the Vietnam Energy Association, and universities and non-profit organisations.
"All measures that we proposed in today's workshop will support Vietnam to make the best use of its enormous potential for renewable energies, as well as the efficient and optimal use of its grid systems. As a result, the country can achieve its dual goals on promoting renewable energies and maintaining stable electricity supplies to move towards a sustainable future," said Markus Bissel, director of GIZ' Smart Grids for Renewable Energy and Energy Efficiency (SGREEE) project.
At the workshop, the participants were updated with analyses of the country's current electricity system and grid management situation. An overview of international best practices was presented, so that local experts could learn from these lessons in dealing with relevant issues. A GIZ-coordinated consultation group put forward the following key measures for Vietnam:
Planning measures: The most essential proposal is the issuance of a reasonable feed-in tariff (FiT) which may vary according to region, time, and demand. Other promising solutions are energy storage systems, grid digitalisations, automations, and expansions.
Grid-related measures: High voltage direct current transmission is recommended as a long-term solution. Other short- and medium-term measures are the application of advanced software to optimise the grid topology, equipping phase shifting transformers, and on-load tap changers.
Market-related measures: Major solutions should be considered to enable participation of new business models and players in the power market, for example, energy storage systems and virtual power plant models, as well as the implementation of demand side management, response programme, the application of re-dispatch measures with involvement of decentralised small-scale renewable energy-based power plants, and the ability to conclude an opposite electricity trade transaction (countertrading) to optimise the operation of renewable power plants.
Renewable energy feed-in management: Limiting the generation capacity of renewable energy sources should be conducted as a last resort after the above-mentioned measures are applied and exhausted. The compensation for the lost revenues will be paid later to developers at certain levels.
In recent years, Vietnam has witnessed a boom of renewable energy projects as a result of attractive incentives for solar power and wind power.
However, most projects are located in hotspots with high renewable energy potential while the grid infrastructure is not sufficient to release the capacity. Along with this, the instability of grid systems caused by a large gap between peak load and off-peak load has also led to serious grid congestion. The limiting of renewable energy-based generation is unavoidable as a result, affecting the projects' revenue and investment efficiency. The measures proposed at the workshop, therefore, are expected to support Vietnam in addressing the problems.
The event was part of the SGREEE project, which is implemented by the ERAV/MOIT and GIZ. The project is financed by the German Federal Ministry for Economic Cooperation and Development (BMZ).
Under the SGREEE project, the first group of experts on smart grid has been established in Vietnam and can be visited following this link (facebook.com/groups/smartgridvn/). Information about the project is available on the Smart Grid Vietnam Knowledge Hub at smart-grid.vn and the ESP's website bit.ly/3mS1lIM.
Room remains for Viet Nam's exports to Italy
There remains room for Vietnamese enterprises to promote their exports of farm produce such as rice and seafood to Italy besides other export items, according to the Vietnamese Trade Office in Italy.
Italy is currently Việt Nam's fourth-largest trading partner in the EU behind only the Netherlands, Germany and France while Việt Nam is Italy's largest trading partner in ASEAN with bilateral trade turnover continuously increasing over the years, the office said.
Over the 11 months since the EU-Việt Nam Free Trade Agreement (EVFTA) officially took effect (from August 2020 to the end of June 2021), Việt Nam's export turnover to Italy reached US$7.8 billion, up 22.8 per cent over the same period before the effectiveness of the EVFTA (from August 2019 to the end of June 2020).
In the first half of 2021 alone, two-way trade saw a yearly rise of 29.3 per cent to hit $2.29 billion. Of which, Việt Nam exported $1.5 billion worth of goods to Italy, up 32 per cent over the same period last year while its imports from the market topped $759 million, up 25 per cent year-on-year.
Vietnamese major export staples to the Italian market included computers, electronics and parts, phones and components, machinery, spare parts, seafood, coffee, textiles and garments and footwear.
Notably, Việt Nam is the leading provider of peeled cashew nuts for Italy, accounting for about 60-70 per cent of the country's total cashew imports.
However, the volume of rice Italy imported from Việt Nam is still lower than that of other countries, the office noted.
For example, Italy imported only 7,000 tonnes of Vietnamese rice for a turnover of $5 million in 2019, accounting for 3.1 per cent of Italy's rice import market share. Meanwhile, the European country imported 70,000 tonnes of rice from Pakistan for a value of $64 million, 19,000 tonnes of rice from Thailand for $21 million and 16,000 tonnes of rice from India for $18 million.
Despite huge potential available in the market, Vietnamese businesses needed to comply with strict technical standards, regulations on certification and packaging as Italy is a member of the EU bloc, the office warned.
A complicated legal environment and high technical regulations and standards for products related to health or the environment could cause trouble for Vietnamese exporters, it said, adding that harsh competition from foreign rivals in terms of the prices and model of export products was also problematic. 
It suggested the firms study the tastes of Italian consumers and survey their demands for the products they intended to export and learn about the market share of competitors if they wanted to effectively tap into this lucrative market.
Measures sought to remove obstacles in agricultural trade
The Ministry of Agriculture Rural Development (MARD) and Ministry of Foreign Affairs have collaborated closely to seek ways to remove obstacles facing Vietnam in bolstering agricultural trade with China.
At a working session on August 25 to prepare for the upcoming meeting of the Vietnam-China Steering Committee on bilateral cooperation, MARD Deputy Minister Le Quoc Doanh and Deputy Foreign Minister Nguyen Minh Vu agreed that Vietnam has great advantages in exporting farm produce to China.
However, Doanh said that the current biggest barrier in the work is the changing border trade regulations of China.
Deputy Minister Vu affirmed that the Foreign Ministry will work closely with the MARD to deal with difficulties in promoting farm produce exports to China, and suggested that the two ministries increase the exchange of information and specific ideas.
The ministry will also work with the Chinese side to ask for collaboration in creating mechanisms for smooth border trade between the two countries.
Vietnam currently exports nine types of fresh fruit to China via official channels, which are dragon fruit, watermelon, lychee, longan, banana, mango, jackfruit, rambutan and mangosteen. The Ministry of Agriculture and Rural Development (MARD) is seeking authorisation for eight more agricultural products to be shipped to China via official channels.
Data from the MARD shows that the total value of import and export of agricultural, forestry and fisheries products reached 53.2 billion USD in the first seven months of 2021, of which exports stood at 28.6 billion USD, up 26.7 percent from the same period last year.
The country's trade of agri-forestry-fisheries products with China rose by 38.8 percent year on year to 8.67 billion USD in the first half of the year, with exports hitting over 6.17 billion USD, up 35.8 percent./.
ICT plays crucial role in fight against COVID-19
Information and communication technology (ICT) has played an important role in the fight against the COVID-19 pandemic, Nguyen Huy Dung, deputy minister of Information and Communications, said during the video talk "Ket Noi Trong Dai Dich" (Connections during the Pandemic) on Tuesday.
"Technology is helping to connect hospitals and doctors with patients, and needy people with donors, so we can together repel the pandemic," he said.
Telehealth services were launched at the beginning of the pandemic for remote consultations in Viet Nam. About 2,000 central hospitals are now connected to all district-level hospitals across the country.
Since the fourth wave of the pandemic, the telehealth system has opened new connections with COVID-19 treatment hospitals in HCM City, and with Binh Duong and Long An provinces for transfer of emergency cases among hospitals.
As for other IT uses, HCM City has piloted a search engine at website http://tracuuf0.medinet.org.vn/ to help families of COVID-19 patients look up information about their health status.
COVID-19 patients can also connect with medical staff on apps such as VOV Bacsi24, Giup toi! and Zalo Connect.
Vong Thanh Cuong, a representative of Giup toi!'s development staff, said it took only 30 seconds to connect doctors with people through the app. "That's what people expect. When they need help, they need support from experts immediately to feel at ease."
Nguyen Truong Nam, deputy head of the Information and Technology Department at the Ministry of Health, said the application of ICT in COVID-19 prevention and control has earned achievements in telemedicine, tracing, testing and vaccination.
It has also helped connect charity organisations with the needy and people affected by COVID-19.
The Vietnamese messaging application Zalo recently introduced a new feature Zalo Connect, which received more than 320,000 messages in 15 days.
Nam said that although the application of technology solutions had brought results, local authorities should send accurate instructions to people so that technology solutions are used more effectively. 
Webinar reviews one-year implementation of EVFTA
A webinar reviewing the one-year implementation of the EU-Vietnam Free Trade Agreement (EVFTA) was jointly held by the Vietnam Chamber of Commerce and Industry (VCCI) and the European Chamber of Commerce in Vietnam (EuroCham) on August 27.
Participants to the event looked at difficulties in carrying out the deal and proposed solutions to maximise the benefits brought by it.
VCCI Chairman Vu Tien Loc said that taking effect in August 2020, when the economies of the two sides and the whole world are struggling to overcome difficulties from the COVID-19 pandemic, the agreement has other expectations, becoming one of the drivers for businesses and economies of both sides.
He underlined the need to have solutions from both State policies and strategies from businesses to handle all the risks at present and in the future.
Besides Vietnam, the EU has FTAs with three economies in Asia, including Japan, the Republic of Korea and Singapore. Vietnam has no direct competitors among these, Loc said.
The EVFTA has contributed significantly to Vietnam's aquatic export achievements in recent times. Up to 50 percent of tariff lines were reduced to zero percent before 2020, including tax rates for key exports.
However, the COVID-19 pandemic is strongly affecting raw material production, reducing the opportunity of Vietnam to take advantage of preferential tax lines, he noted.
In the remaining months of 2021, Vietnam's aquatic exports to the EU is forecast to be severely affected by the pandemic, possibly down at least 9 percent over the same period last year, reaching 3.66 billion USD.
Vietnam is predicted to earn 8.6 billion USD from exporting aquatic products this year, up 2.7 percent compared to the figure of 2020./.
Vietnam looks to expand cooperation with Hong Kong
The Vietnamese Consulate General in Hong Kong (China) will give priority to promoting investment and tourism ties between Vietnam and the region after the COVID-19 pandemic is put under control, with the aim of fully tapping cooperation potential between the two sides in the time to come, a Vietnamese diplomat has said.
Vietnamese Consul General to Hong Kong Pham Binh Dam mentioned the work in an interview granted to the Vietnam News Agency's correspondent in Hong Kong on the occasion of the 76th founding anniversary of the diplomatic sector.
The diplomat stressed that there is great potential for localities and enterprises of Vietnam and Kong Kong to expand cooperation and exchange after the COVID-19 is under control, saying that the cooperative ties between the two sides is still not commensurate with potential.
Hong Kong is the fifth largest foreign investor in Vietnam, after the Republic of Korea, Japan, Singapore, and Taiwan (China) with over 2,000 projects worth nearly 26.9 billion USD, but the figures are modest considering the fact that Hong Kong is a leading international financial centre, according to Dam.
He said many Hong Kong businesses have plans to move their factories in China to Vietnam in the future, hence the priority given to investment promotion.
The second priority is tourism promotion as Hong Kong is also an important tourist market with high spending capacity, Dam said, noting that Vietnam is a favourite destination for Hong Kong people.
Hong Kong is also an international trade hub. In the first six months of 2021, the total import-export turnover between Vietnam and Hong Kong reached 13.3 billion USD, up 25.2 percent year-on-year. Vietnam is the 7th largest trading partner of Hong Kong.
Statistics of Hong Kong show that Vietnam is enjoying a trade surplus with the region in the period.
Vietnamese startups enterprises also have huge opportunities to develop in the Hong Kong market, he said.
According to the diplomat, the Consulate General will also pay attention to increase education cooperation between the two sides./. 
Soc Trang's export up 19 percent in eight months
The Mekong Delta province of Soc Trang exported close to 850 million USD worth of goods in the first eight months, meeting 85 percent of its yearly plan and increasing 19 percent year-on-year.
According to the provincial Department of Industry and Trade, key export earners with good growth during the period included processed seafood - frozen shrimp and rice products that reeled in 660 million USD and 157 million USD, up 27 percent and over 43.5 percent annually, respectively.
From the beginning of the year, the COVID-19 epidemic has greatly affected the production and business of large enterprises in Soc Trang, particularly those working in seafood farming, processing and export.
Since mid July, the province has applied restriction measures under the Prime Minister's Decree 16/CT-TTg, resulting in difficulties in travel and harvest. Firms have been facing human resources and materials shortage. Most large companies operate at just 50 percent of their capacity.
Local authorities have so far worked to ease such difficulties via such activities as giving priority in vaccination for workers at industrial parks and assisting enterprises to re-organise production in accordance with pandemic prevention measures.
In 2021, Soc Trang strives to push its export turnover to over 1 billion USD./.
Measures sought to remove obstacles in agricultural trade
The Ministry of Agriculture Rural Development (MARD) and Ministry of Foreign Affairs have collaborated closely to seek ways to remove obstacles facing Vietnam in bolstering agricultural trade with China.
At a working session on August 25 to prepare for the upcoming meeting of the Vietnam-China Steering Committee on bilateral cooperation, MARD Deputy Minister Le Quoc Doanh and Deputy Foreign Minister Nguyen Minh Vu agreed that Vietnam has great advantages in exporting farm produce to China.
However, Doanh said that the current biggest barrier in the work is the changing border trade regulations of China.
Deputy Minister Vu affirmed that the Foreign Ministry will work closely with the MARD to deal with difficulties in promoting farm produce exports to China, and suggested that the two ministries increase the exchange of information and specific ideas.
The ministry will also work with the Chinese side to ask for collaboration in creating mechanisms for smooth border trade between the two countries.
Vietnam currently exports nine types of fresh fruit to China via official channels, which are dragon fruit, watermelon, lychee, longan, banana, mango, jackfruit, rambutan and mangosteen. The Ministry of Agriculture and Rural Development (MARD) is seeking authorisation for eight more agricultural products to be shipped to China via official channels.
Data from the MARD shows that the total value of import and export of agricultural, forestry and fisheries products reached 53.2 billion USD in the first seven months of 2021, of which exports stood at 28.6 billion USD, up 26.7 percent from the same period last year.
The country's trade of agri-forestry-fisheries products with China rose by 38.8 percent year on year to 8.67 billion USD in the first half of the year, with exports hitting over 6.17 billion USD, up 35.8 percent./.
Source: VNA/VNS/VOV/VIR/SGT/SGGP/Nhan Dan/Hanoitimes 

VN-Index drops 0.64% as heavyweights dive