VIETNAM BUSINESS NEWS DECEMBER 4
Vietnamese innovative startups should strive to become regional, international "unicorns": PM
Prime Minister Pham Minh Chinh urged domestic innovative startups to work harder to become "unicorns" of the region and the world while addressing the key ceremony of the National Innovative Entrepreneurship Day 2022 (Techfest Vietnam 2022) in the southern province of Binh Duong on December 3.
The Party and the State always advocate stepping up the growth model based on scientific-technological applications and innovations in order to raise productivity, quality and competitiveness of the national economy, he stressed, referring to a range of relevant policies and guidelines adopted by the Party and the State as well as projects launched by the Government, ministries, agencies and localities in support of startups.
Highlighting Vietnam's increasing position in international rankings in this regard, the PM, however, pointed to the gap between Vietnam and countries in the region and the world in the innovative startup ecosystem.
To narrow the gap, ministries, agencies and localities should take solutions associated with innovative startups, combine internal and external resources, and carry forward traditions, culture and the spirit of solidarity and self-reliance of Vietnamese people in these efforts, the PM noted.
The State has directed, coordinated and devised institutions and policies, and created a favourable environment for innovative startups, he affirmed.
Chinh expressed his hope that through Techfest, managers, investors, scientists, innovative startups, and localities will get valuable experience to further support the domestic ecosystem, and called for more contributions to it.
Held annually since 2015, Techfest Vietnam aims to promote innovative solutions from startups in the age of rapidly developing technology, and attract experts, intellectuals, domestic entrepreneurs and overseas Vietnamese to develop the economy. Themed "Open Innovation Ecosystem - The Next Big Think", this year's edition takes place from December 2-4.
Decline in orders kicking in for footwear, garment, textile industries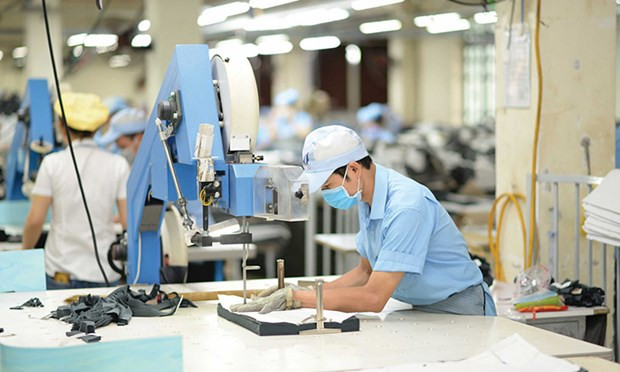 Enterprises in the textile, garment and footwear industries are facing difficulties on a variety of fronts, including a reduction in export orders, and the plight is likely to continue until the first half of next year.
Pham Van Viet, Chairman of Viet Thang Jean Co., Ltd., reported that orders at his firm have decreased since June. He said that orders are waning in key markets, adding they are down some 60% in Europe and 30-40% in the US market.
Other businesses in the footwear industry are also facing similar problems.
Nguyen Chi Trung, Chairman of the Board of Directors of Gia Dinh Group Joint Stock Company, said most markets have reduced orders by 30-40% compared to the same period in 2021. This trend is likely to continue, with orders likely to decline further in the coming months.
Enterprises in most sectors said that import and export activities in the second half of the fourth quarter of 2022 and the beginning of 2023 will face many difficulties compared to the third quarter of this year. Key export industries are forecast to witness a large decrease in orders, especially textiles, footwear, furniture, iron and steel and cement. Currently, many businesses have to reduce the number of workers and production scale to wind down in the last months of 2022.
Phan Thi Thanh Xuan, Vice President and Secretary General of the Vietnam Leather-Footwear and Handbag Association (Lefaso), said that it is necessary for manufacturing enterprises to diversify the markets in the context that export markets are shrinking and demand is on the decline.
Lefaso is coordinating with the Ministry of Industry and Trade to deploy trade promotion programmes to support businesses to access more markets.
US considers probe into staples imported from Vietnam
The US Department of Commerce (DOC) is considering initiating an investigation against the circumvention of trade remedy measures for collated steel staples originating from Vietnam.
The DOC said on November 15 it had received a request for an investigation from local manufacturers, and it now has 30 days to launch an investigation into the case, according to US law.
The deadlines may be extended for another 15 days.
In order to ensure their legitimate interests, Vietnamese staples manufacturers have been encouraged to contact the Trade Remedies Authority of Vietnam, prepare related documents and respond to the DOC's requests.
According to the US International Trade Commission (USITC), Vietnam exported about US$18 million worth of staples to the US in 2021, making up about 12% of the total export turnover of countries to the market. It was the third largest staples exporter to the US only behind China and the Republic of Korea.
The export turnover of staples from Vietnam to the US has increased dramatically over recent years, from just US$2 million in 2019 to US$16 million in 2020 and US$18 million in 2021.
Trade forum supports firms to boost trade, investment with Eurasia region
The Trade Forum on Cooperation with Partners from Eurasia Region 2022 took place in Hanoi on December 2, providing the Vietnamese business community with up-to-date information on market conditions, foreign trade policies, and investment opportunities in the region.
Addressing the Ministry of Industry and Trade (MoIT)'s annual event, Ta Hoang Linh, director of the MoIT's Europe-American Market Department, said the 28-nation Eurasian region, whose accumulated GDP nears US$3.4 trillion, is a traditional and potential market for Vietnamese firms.
Bilateral trade between Vietnam and Eurasia region reached US$14.7 billion in 2021, up 17.6% from the previous year. The figure dropped 5.6% to nearly US$11 billion in the first 10 months of 2022.
According to data from the Ministry of Planning and Investment, by the end of October 2022, Eurasian countries had 339 investment projects in Vietnam valued at nearly US$1.8 billion in total, equivalent to 0.4% of the total registered foreign capital from 140 countries and territories investing in the country.
Vietnam, meanwhile, invested in 24 projects in the region, mainly in Russia, which were worth US$1.65 billion, or 8% of Vietnam's total registered investment abroad.
The MoIT will continue to coordinate with the business community, embassies, and commercial agencies of countries in the region to organise more frequent activities to enhance connectivity and trade between Vietnam and the Eurasian region, Linh said.
Top 100 sustainable businesses honoured
The Vietnam Chamber of Commerce and Industry (VCCI) has announced a list of the country's top 100 sustainable enterprises in 2022.
The award ceremony for the nation's 100 most sustainable companies was organised by the Vietnam Business Council for Sustainable Development (VBCSD) under the Vietnam Chamber of Commerce and Industry (VCCI) in Hanoi on December 1.
A range of outstanding names feature among the top 100 sustainable businesses, including Nestlé Vietnam, Vietnam Dairy Products JSC, Coca-Cola Vietnam, BG Group, and Phu Nhuan Jewelry Joint Stock Company.
This year has seen the modified Corporate Sustainability Index (CSI) used as criteria to assess the overall sustainable development of businesses.
Smart city development should be considered from the planning stage

Smart cities should be put into consideration from the urban planning stage to ensure synchronous development, Deputy Minister of Information and Communications Nguyen Huy Dung said.
Dung spoke at the two-day Viet Nam Smart City Summit 2022, which opened on Thursday in Ha Noi. The event was held by the Vietnam Software and IT Services Association (VINASA). The deputy minister said smart city development was the implementation of digital transformation in the city scope with people being the centre.
The Government has raised policies to promote the development of smart cities to optimise resources, ensure sustainable development, protect the environment, ensure security and convenience for residents as well as accelerate socio-economic development.
The Prime Minister in August 2018 approved a project on sustainable smart city development in Viet Nam.
On November 11, the Government issued Resolution No 148 on an action plan to implement the Politburo's Resolution 06 on planning, construction, management and sustainable urban development to 2030 with a vision to 2045.
The focus would be placed on restructuring the information technology infrastructure, forming shared platforms for urban areas, speeding up digital transformation in urban management and building e-Government toward digital Government.
As smart city development was a long-term process and required significant resources for implementation, it was important to include it in the overall urban planning to ensure synchronous development, Dung said.
He pointed out that currently, localities mainly focused on developing and providing smart city services and utilities associated with e-Government and digital Government but did not pay adequate attention to planning and smart city management to solve fundamental problems of urban development including traffic, energy, and environment.
Thus, the efficiency in smart city development was not as high as expected in terms of improving the quality of life and the satisfaction of the people, he said.
Enterprises promote digital transformation for sustainable development

Tan Cong, President of the Vietnam Chamber of Commerce and Industry (VCCI), emphasised that innovation, creativity and digital transformation will help businesses accelerate sustainable development.
He was speaking at the Vietnam Sustainable Development Business Forum (VCSF) 2022, themed "Transform, Speed up, Breakthrough: Sustainable Business – Prosperous Nation", held by VCCI in Ha Noi on December 1.
Sustainable business has become an inevitable trend, and corporate sustainable development strategies must be built on the Economic, Environmental, Social and Governance (EESG) factors, Cong said.
A survey conducted by VCCI with more than 10,000 businesses nationwide shows that 56 per cent see opportunities from climate change. Of which, about 30 per cent said it is time to restructure and rearrange production, while 17 per cent said it is an opportunity to create new technology products and services and develop more markets.
SBV works to streamline legal framework for cooperative credit institutions

The State Bank of Viet Nam (SBV) is collecting comments on its draft circular to deal with risks in the operation of cooperative credit institutions, including cooperative banks and people's credit funds (PCF).
Under the draft, the SBV mentioned many regulations on internal credit rating, credit granting and debt group management. At the same time, there are higher requirements in the application of digital technology to control risks.
Dr Le Ha Diem Chi, lecturer at the Banking University of HCM City, said the new regulations will help the group of cooperative credit institutions avoid the risk of bad debt arising.
According to Chi, the PCF group, which includes nearly 1,200 units and is a part of microfinance, has made an important contribution to poverty reduction and income improvement in rural areas. However, the risk management activities in many PCFs have not been paid due attention.
Statistics in the 2018-21 period showed the number of PCFs, which were put under special control due to poor governance, increased yearly from 2.0 per cent to 2.5 per cent. The rise proved there was a need for additional legislation to enhance risk management at PCFs.
According to the SBV's Banking Supervision and Inspection Agency, as for credit institutions that are not cooperatives, the SBV last year promulgated Circular No. 11/2021/TT-NHNN on the classification of assets, risk provisioning, and use of provisions to handle risks in the operations of credit institutions and foreign bank branches. However, the PCF group currently still applies the old legal documents, such as Circular No. 21/2019/TT-NHNN dated November 14, 2019.
Therefore, in order to be consistent in the implementation process, the concepts of debt, bad debt, overdue debt, provisioning level and the use of risk provisions, the draft circular references in Circular No. 11/2021/TT-NHNN to adjust accordingly.
Besides, in order to ensure better management of credit quality, the draft circular stipulates PCFs, whose total assets are above VND500 billion, must develop an internal credit rating system to rank customers.
At the same time, PCFs also need to issue internal regulations on credit granting and debt management, especially those on credit criteria and caps as well as credit granting applications, procedures, appraisal and approval.
HDBank to issue $500m worth of convertible bonds and lift its FOL to 20%

The HCM City Development Joint Stock Commercial Bank, or HDBank, is seeking shareholders' approval to issue convertible bonds worth US$500 million to international investors.
HDBank is also seeking approval to increase the foreign ownership limit from 18 per cent to 20 per cent.
In 2020 and 2021 the lender has issued convertible bonds worth $325 million to well-known financial institutions including Affinity Equity Partners, IFC, DEG and Leapfrog Investments, according to announcement on the bank's website.
Bondholders may choose to convert their bonds into common shares of the bank.
Proceeds from the issuance will help the bank supplement its medium- and long-term capital, and get ready for high growth plans in line with its strategy.
At the same time the proceeds will help enhance the lender's asset quality indicators, capital adequacy ratio, and get it ready to soon adopt Basel III standards.
HDBank currently has charter capital of VND25.3 trillion (US$1.02 billion).
How to regain investors' confidence in corporate bond market: experts

Investor confidence has decreased significantly as a result of the stock market's fluctuations and some scandals involving corporate bonds that have occurred since the beginning of the year.
According to Pham Ngoc Hung, head of Pham Hung Law Office, an important part of what causes investors to lose confidence in corporate bonds is that issuers publish false information, while there is a limited quality of collateral or no collateral.
Many units operate as bond brokers without being licensed by the competent authority, while some enterprises do not have approved bond issuance plans according to regulations and do not have financial statements for the year preceding the year of issuance audited by an auditing organisation.
Hung said that the bond market in general still has many healthy businesses. Bonds with collateral still have a high level of safety. Therefore, investors need to learn information from reliable and transparent sources. And before making an investment, investors should observe the current state of the business and record information from official and trustworthy sources.
In fact, many investors listen to and believe rumours when making investments, putting themselves in jeopardy. Meanwhile, brokerage units such as commercial banks and securities companies need to be more transparent in the process of advising on bond issuance.
Financial expert Dinh The Hien said that one of the signs that corporate bonds are safe is that the high interest rate is not 30 per cent higher than bank lending rates; the issuers are public joint stock companies listed or rated AAA by a reputable rating agency.
Investors should learn about well-known companies that are among the top 500 large enterprises on the stock exchange, Hien suggested. These companies often issue bonds with interest rates in the middle of the lending rates of commercial banks or higher, up to 4 per cent, until now, the interest rates can be at 14 per cent or less. Thereby, this interest rate shows stability and is relatively safe, reducing the risk ratio for investors.
Concerning bond maturity pressures in the near future, Ma Thanh Danh, Chairman of International Consulting JSC (CIB), stated that enterprises must first calculate the possibility of their own inner strength. Businesses that are doing well but have bondholders who request a bond buyback can use cash to help relieve pressure.
If companies do not have enough money, they can borrow more or mortgage a part of the bond at a higher interest rate to borrow money to buy the rest. Besides, with a stable business situation, enterprises can negotiate directly with bondholders so that they can wait for maturity.
If the bondholder insists on a repurchase, the enterprise can negotiate a conversion of the bond into shares. For example, Citi Bank has recently agreed to convert Novaland (HoSE: NVL) bonds into NVL shares at the price of VND85,000 a share (US$3.47 a share), while the NVL market price is just over VND20,000 a share.
Particularly for businesses with insufficient finance or poor business performance, the requirement to buy back bonds is really a burden.
Therefore, "enterprises need to prepare a clear corporate restructuring plan to negotiate with bondholders. If not, the business is forced to sell its assets to pay the bondholders. It can be land, brand, distribution system... In addition, businesses can also find solutions outside the market," said Danh.
Viet Nam a focus for Korean technology enterprises

Viet Nam is a potential young market and we will certainly promote development here in the near future, said Jun Kwon, Director of Meta Planet Company.
As one of the businesses of the Korea NFT Content Association coming to Viet Nam to seek cooperation and investment opportunities, he has seen many attractive opportunities in this market. With the advantage of developing NFT and metaverse-related projects, Meta Planet is ready to conquer and expand investment to Viet Nam.
Choi Kang-Yong, currently chairman of NBN, the No 1 Blockchain news channel in South Korea, said that not only in Korea or Viet Nam but there was a global event going on, which was the transition towards Digital Assets. "With the 4th industrial revolution, blockchain technology is now under heavy focus and is the centre of the business revolution."
The cryptocurrency market in South Korea is valued at US$23 billion with more than 7 million users trading every day. The global market is now at the level of $900 billion.
Mark Hwang, Director of Korea NFT Content Association (KONCA) Viet Nam, said: "I personally believe NFTs have big potential and very big possibility, not only in South Korea."
Phan Duc Trung, Standing Vice chairman of Viet Nam Blockchain Association (VBA), said: "Blockchain is becoming a pioneering technology that is widely applied in many fields to create new business models. Blockchain technology is developing strongly and is considered a step forward. Blockchain started in the financial market and is being moved to many other areas. Currently, many large corporations and companies in the fields of banking, healthcare, energy, insurance, tourism, real estate, science and education have all applied blockchain."
Hoang Van Huay, VBA's chairman, said: "Since its official public launch, the association has carried out a series of activities towards the widespread and effective application of blockchain technology into Viet Nam's socio-economic development. This includes supporting and encouraging businesses to apply this technology. However, blockchain is still a new technology in Viet Nam, so the association also set a plan to disseminate this knowledge to businesses and people."
Conference promotes Vietnam-Japan trade, partnership
A Vietnam-Japan trade promotion conference took place in Maebashi city, capital of Japan's Gunma prefecture, on December 3, gathering nearly 60 firms from both nations.
Addressing the event, Ryu Yamamoto, mayor of the city, pledged favourable conditions for Vietnamese firms investing and doing business in Maebashi.
Ta Duc Minh, Vietnamese Trade Counsellor in Japan Ta Duc Minh affirmed Japan is one of the most important economic partners of Vietnam, and hoped that through this conference, Vietnamese and Japanese businesses will find suitable partners.
Ken Ishida, director of Gunma-based Ribeto Shoji Co. Ltd, emphasised that this is a golden time for enterprises of Vietnam and Japan to exchange and connect because the countries' relationship is developing very well.
Spanning nearly 312 km2 and having a population of about 340,000, Maebashi houses some 1,200 Vietnamese, also its largest expat community.
On the same day in the prefecture, the Vietnam Business Association in Japan (VJBA) held a conference to review its activities in 2022 and discuss new orientations for 2023.
Vietnam, Venezuela boast potential for fishery cooperation: Ambassador
Vietnam and Venezuela have favourble conditions to bolster cooperation in fisheries, Vietnamese Ambassador Le Viet Duyen said while addressing a recent forum.
The ambassador's attendance at the fishery forum and his recent working visit to Maracaibo city in Zulia state were intended to promote trade ties between Vietnam and Venezuela.
The diplomat noted that Vietnam's fishery export ranks third in the world, only after China and Norway, with annual revenue of nearly 1 billion USD.
Regarding the trade ties between Vietnam and Venezuela, he said in the first 10 months of 2022, the two-way trade increased 700% year-on-year, stressing that after 15 years of establishing the comprehensive partnership, the two countries have signed more than 50 bilateral cooperation agreements, including those on fisheries.
Pointing out that the bilateral fishery cooperation has yet to match potential of both sides, Duyen suggested parliamentarians, leaders of ministries and agencies, and scholars of Venezuela coordinate with the Vietnamese side to set up cooperation mechanisms and sign technical deals to facilitate fishery and food trading, covering food safety and hygiene.
Venezuelan Minister for Fisheries and Aquaculture Juan Carlos Loyo spoke highly of Vietnam's economic achievements, particularly those in fisheries, and expressed his hope that the Southeast Asian nation will share its experience in this field.
The participating Venezuelan parliamentarians, officials, scholars and businesses said they will work to seek cooperation mechanisms with Vietnam in economy, trade and investment in general and fisheries in particular.
Fishery exports exceed 10 billion USD in 11 months
Fishery exports reeled in 10.14 billion USD as of November this year, up 27% annually, according to the Ministry of Agriculture and Rural Development.

Of the above sum, Tra fish and shrimps contributed 2.2 billion USD and 4.1 USD, up nearly 62% and 15% year-on-year, respectively.
Tra fish's sharp increase was thanks to the strongest annual surge in the product's average price, at 50%. Exporters have also seized an opportunity to increase their market share created by the Russia-Ukraine conflict, which limits the supply of white fish.
Overall, shrimp export turnover has retained good growth so far thanks to strong rises recorded in the first half of the year. However, the product's average export price did not increase as strongly as Tra fish, as it faced significant competitive pressure from those of Ecuador and India.
Tuna exports, notably, were said to certainly rake in 1 billion USD this year, marking a new record.
According to the Vietnam Association of Seafood Exporters and Producers, Vietnam's fishery export has completely recovered after the COVID-19 pandemic, and the export value is projected to hit 11 billion USD in 2022.
Top legislator receives New Zealand business leaders
National Assembly Chairman Vuong Dinh Hue is in New Zealand for an official visit. On December 4, the Chairman received leaders of New Zealand companies in Auckland.
Hosting Mike Cronin, Managing Director of Co-operative Affairs at Fonterra, Chairman Hue suggested the group study to expand cooperation and investment in Vietnam.
Appreciating Vietnam's investment attraction policies, Cronin said he would work with the group's leaders to study Hue's suggestions on expanding cooperation and investment.
At his meeting with Fiso Investment Group CEO John Fiso and Director of Viet River Holdings Limited Nguyen Truong Khoa, the top legislator welcomed businesses that have joined many networking activities between Vietnamese and New Zealand firms, and directly invested in Vietnam.
Hue recommended the businesses to propose to the New Zealand Government, so that the two governments will soon sign an agreement on labor cooperation, creating a solid legal framework for this field.
On the day, NA Chairman Hue also hosted Don Ha, CEO of RE/MAX, which is one of the major US real estate companies operating through the franchise system and is currently present in more than 110 countries and territories.
At the meeting, Hue expressed his support for the company's plan to import products of Vietnamese origin serving the opening of a sales centre and supermarket of household appliances in New Zealand.
Meanwhile, received by the NA leader, VietTechNZ's representative made proposals on connecting Vietnamese and New Zealand companies and their IT personnel.
Taking into account these proposals, Hue affirmed that the Vietnamese Party, State and NA always support and create favorable conditions for the overseas Vietnamese community.
Trade forum urges consolidation of Vietnam-US trade supply chain
The Vietnam-US supply chain needs to be consolidated to improve its resilience and to maximise profitability for "links" in the chain, said experts at the Vietnam-US Trade Forum themed "Changes – Challenges – Adaptation".
A huge volume of made-in-Vietnam goods worth roughly 94 billion USD were exported to the US in the first ten months of this year, up 21.7% annually. The figure for all of the last year reached 111 billion USD despite the COVID-19 pandemic.
Deputy Assistant Secretary for Asia from the US Department of Commerce Pamela Phan said two-way trade between Vietnam and the US has grown beyond expectations over the past two years despite disrupted supply chains caused by the pandemic. The results clearly demonstrate that the US has huge demand for trade with Vietnam.
In the new era, she urged stakeholders to take action to improve the capacity of each entity in the supply chain to ensure its strength, sustainability and transparency for common goals.
Visiting Vietnam for the second time during her tenure as Governor of the state of Oregon, Kate Brown said major US groups like Apple, Nike, Dell and Intel have chosen Vietnam as an investment destination to develop their supply chains. This makes it easier for Vietnam to become a major production hub and attract new capital flows from other markets.
She added people from the state of Oregon are importing more Vietnamese cashew nut, coffee, and aquatic products. This trend will continue if Vietnam's agriculture sector reaches new levels with green, clean, safe and quality products.
Deputy Director of the Vietnamese Ministry of Industry and Trade's Department of European Market Department Nguyen Hong Duong said Vietnam has come up with a clear and widespread integration roadmap with major markets, including the US.
US Consul General in Ho Chi Minh City Susan Burns noted that Vietnam has become a key link in the supply chain that plays an important role in the US economy. Products in the supply chain include semiconductors for mobile phones to automobiles, solar panels, apparel and footwear.
In its roadmap to net zero emissions by 2050, Vietnam could import more goods and services from the US energy sector, she said. Vietnam is expected to take advantage of the US technology to accelerate the transition to clean energy, thus creating new trade opportunities in the coming years.
In addition to cotton and fiber, animal feed, fruit, wood products, plastics, computer and electronic spare parts, machinery and equipment may help Vietnam achieve balanced trade with the US, she said.
Hanoi aims to achieve growth rate of 7% next year
The capital city of Hanoi has set a target of recording its gross regional domestic product (GRDP) of at least 7% in 2023.
The target was unveiled at the 10th conference of the executive board of the Hanoi Party Committee held in the city recently.
Among other major set indicators, disbursed investment capital is expected to rise by 10.5%, and its export turnover up by 7.5-8%. The city also aims to control inflation at 4.5%, and reduce the number of poor households by 30% compared to the end of 2022.
The city will continue to drastically improve its investment-business climate, focusing on areas of planning, investment, land and construction. It will step up trade-investment-tourism promotion, accelerate digital transformation in all fields, and speed up the progress of infrastructure projects, economic recovery and development programmes.
Despite difficulties and challenges in 2022, Hanoi is set to meet or surpass major socio-economic development targets set for the year, with its economic growth estimated at 8.8% which is higher than the national average.
The city's GRDP is anticipated to total VND774 trillion, or VND142 million per capita.
However, disbursed investment capital remains low due to difficulties in land acquisition and investment procedures. The past 11 months saw about 19,000 businesses withdraw the market.
Source: VNA/SGT/VNS/VOV/Dtinews/SGGP/VGP/Hanoitimes