VIETNAM BUSINESS NEWS FEBRUARY 1/2023
Domestic market to drive tourism recovery in 2023: insider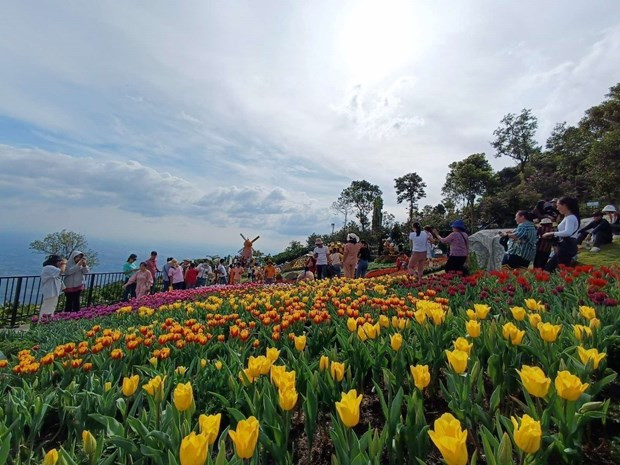 Visitors to Ba Den Mountain in Tay Ninh province (Photo: VNA)
With stronger tourism growth forecast for this year, the domestic market is expected to give the strongest boost to the recovery of this sector.
Not Chinese travellers or any other sources of international tourists, it is the domestic sector that will remain the "brightest" factor helping Vietnam's tourism continue recovering strongly in 2023, Nguyen Huu Y Yen, General Director of the Saigontourist Travel Service Co. Ltd, said as cited by Thanh nien (Young people) newspaper.
He said before the COVID-19 pandemic broke out, the three biggest sources of foreign visitors to Vietnam were China, Russia, and the Republic of Korea (RoK).
Charter flights from the RoK have been resumed just recently while there haven't been many Chinese tourists, and Russian tourists haven't returned. The European and US markets have begun to bounce back but are unlikely to record a breakthrough in 2023, he pointed out.
Yen expected the number of international tourists in 2023 will return to about 50% of the 2019 level. Meanwhile, in just over six months of 2022, the number of domestic travellers rebounded to over 50% of the pre-pandemic level, and this year's figure will definitely reach 70 - 75%. Outbound tourism will also share the same trend.
The domestic market can regain the 2019 growth in 2024, the Saigontourist CEO predicted.
About 9 million Vietnamese travelled during the recent Lunar New Year holiday, surging 47.5% year on year, statistics show.
Nguyen Trung Khanh, General Director of the Vietnam National Administration of Tourism, expressed his belief that 2023 will be a vibrant year for Vietnamese tourism in terms of both domestic and international markets.
He cited some experts as saying that the world will witness vigorous growth in travel demand this year. As a bright spot in the global tourism map, Vietnam will definitely not be out of this trend.
Trade ministry to support enterprises in boosting exports
The Trade Promotion Agency under the Ministry of Industry and Trade (MoIT) will collaborate with relevant agencies in carrying out measures to help enterprises expand their shares in foreign markets, said Vu Ba Phu, head of the agency.
He made the statement at a conference on export promotion which was organised by the MoIT on January 31. The event drew the participation of 500 representatives of enterprises, localities and Vietnamese trade offices from 50 countries.
Localities will get support relating to trade promotion activities at key markets, the official told Sai Gon Giai Phong (Liberated Saigon) newspaper.
Support programmes will be devised, aiming to improve the capacity for enterprises to meet the trend of green trade, he said, adding the MoIT will also facilitate the connection between businesses and localities.
Attention will be paid to enhancing the effectiveness of the National Brand Programme, thus helping enterprises' products go deeper into global supply chains.
According to the MoIT, the total import-export turnover of Vietnam reached 732 billion USD last year, up 10% year-on-year.
Minister Tran Hong Dien said rising inflation, energy shortages and disruptions of raw material supply chains in many countries will result in a decline in orders. This will have a negative impact on Vietnam's economy, he noted.
To maintain traditional export markets as well as expand new ones, it is necessary for enterprises to grasp market signals, the minister said, noting that Vietnamese trade offices abroad play a vital role in collecting market information and providing it for enterprises, associations and localities.
Tran Cong Quynh, Vietnamese Trade Counsellor in Canada, said her trade office is working with the textile, garment, footwear and food processing associations in the host country to capture demand for importing goods from Vietnam. A delegation of Canadian businesses is expected to arrive in Vietnam to explore opportunities in this regard, she revealed.
A representative of a Vietnamese trade office in Europe said preparations are underway to bring domestic trade promotion delegations to international trade fairs in this continent, including Global Seafood Expo 2023 from April 25-27 in Barcelona, Spain and Fruit Attraction 2023 from October 3-5 in Madrid.
Hai Phong pledges optimal conditions for investors
Hai Phong will always accompany with and create optimal conditions for investors, vowed Nguyen Trung Kien, head of the Economic Zone Management Board of the northern port city, during a meeting with foreign-invested businesses in the city on January 31.
Kien thanked the firms for choosing Hai Phong as their long-term investment destination, expressing his hope that the partnership between the two sides will continue to be strengthened, benefiting both sides.
He said that 2023 is predicted to be a tough year, but local authorities will support and give best conditions for businesses to overcome common difficulties of the world economy.
In following years, Hai Phong will continue to expand industrial parks and clusters, while improving administrative procedures and completing transport infrastructure to attract more investors, he said.
Last year, Hai Phong ranked fourth among the localities nationwide in FDI attraction with nearly 2.5 billion USD injected into 48 new and 37 underway projects. To date, local industrial parks and clusters have lured 458 FDI projects worth over 23 billion USD, along with 202 domestically-invested projects with a total capital of nearly 300 trillion VND (12.8 billion USD).
In 2022, Hai Phong led localities nationwide in terms of administrative reform, while showing strong performance in enhancing its provincial competitiveness index (PCI).
Kien said that this year, Hai Phong will speed up the infrastructure construction of a number of industrial parks and ports, while finalising procedures to set up four new industrial parks.
At the same time, the city will focus on investing in its transport infrastructure system to connect industrial parks and clusters, thus expanding the development space of the city.
Businesses, farmers team up for sustainable growth
The link between enterprises and farmers has helped form large raw material areas of stable and long-term development, according to Deputy Minister of Agriculture and Rural Development Nguyen Quoc Tri.
Tri said businesses' thinking towards sustainable and responsible growth has resulted in such a link.
In 2022, the agricultural sector reeled in over 54 billion USD from the export of agro-forestry-fishery products, affirming its supporting role and contribution to the country's economic growth and food security.
Notably, many regions across the country have developed small-scale agricultural production models that promote indigenous cultural values and bring high economic gains. Firms in the sector, meanwhile, have focused on the quality of their products meeting requirements of such foreign markets as the US, EU, Republic of Korea, and Japan.
This year, experts anticipated prolonged difficulties facing the sector due to global inflation and stricter market standards. Vietnamese enterprises have been recommended to pay attention to standards, regulations, and intellectual property related to traceability of their goods serving shipments overseas.
In the past, Vietnam mainly exported raw agricultural products, therefore, tremendous room is available for it to work on deep processing and product diversification.
Vietnam's trade with India hits record in 2022
Two-way trade between Vietnam and India saw a yearly increase of 13.6% to 15.05 billion USD in 2022, statistics from the General Department of Customs showed.
During the year, Vietnam's exports to India topped 7.96 billion USD, up 26.8% year-on-year. Among its export items, mobile phones and accessories posted the highest turnover with 1.52 billion USD, up 18.4%, making up nearly 20% of the total export value. Computers, electronics and parts came next with 1.03 billion USD, up 25%, or 13%, while machinery and equipment ranked third with 804 million USD or over 10%.
Other staples with the highest value increase were coffee with 165%; iron and steel (97%) and footwear (96%).
Some items, however, posted large decreases in export value, such as animal feed and raw materials with 23.04 million USD, down 76.5%, and coal with 7.68 million USD, down 46%.
As per the data, Vietnam imported $7.09 billion worth of goods from India last year, a yearly hike of 2%. Its major import commodities from the market were iron and steel with nearly 775 million USD, down 44.6%; machinery and equipment (549.3 million USD, up 28%) and ordinary metals (515 million USD, up 26%).
According to the Vietnamese Trade Counsellor in India, Bui Trung Thuong, Vietnam and India could supplement each other in economic production. India is an important supplier of materials, while Vietnam has a high demand for materials in service of production and export.
India is Vietnam's leading provider of aquatic, garment and textile, leather and pharmaceutical materials. The 1.4-billion-strong Indian market has diverse demands with various market segments - a good condition for Vietnamese exporters.
Besides trade, bilateral cooperation in tourism and investment also grew with the resumption and launch of direct air routes. Adani Group, for example, has committed to pouring 10 billion USD in Vietnam.
However, Thuong said, the presence of Vietnamese businesses in the market remained modest. In contrast, India's administrative and legal system had been complicated by the toughest trade defence measures, which had caused great difficulties for Vietnam in approaching the market.
As part of the efforts to support Vietnamese firms to penetrate the market more deeply, the Vietnam Trade Office in India organised online trade promotion activities, especially during the COVID-19 pandemic, the official said.
His office had also connected many Vietnamese firms with their Indian peers and helped deal with trade conflicts while providing domestic businesses with trade defence cases initiated by the Indian side, he said.
Quang Ninh province welcomes 1.6 million tourists in January
The northern province of Quang Ninh received 1.6 million visitors in January, a 12.3-fold increase compared to the same period last year.
The month's tourism revenue topped 3.5 trillion VND (149 million USD), a 15.4-fold rise from the previous year.
During the seven-day Lunar New Year (Tet) holiday that lasted from January 20-26, the province welcomed nearly 700,000 visitors, almost doubling the figure of the corresponding period last year. Of the figures, international arrivals accounted for over 17,000.
The number of visitors to the local spiritual tourism sites increased by 6-8 times during the Tet holiday, compared to normal days. Yen Tu Special National Complex and Ba Vang Pagoda received 200,000 visitors while Loi Am, Duc Ong and Long Tien pagodas welcomed about 10,000.
The province expects to draw over 2 million pilgrims during the festive season in spring.
Quang Ninh has more than 600 cultural heritages, including communal houses, pagodas, temples, shrines, scenic spots, heritage sites, and natural wonders of the world.
This year, the province targets to receive 14 million visitors, including 2 million foreign travelers. The province was anticipated to earn 27 trillion VND from tourism activities.
Tax revenue up 4.4% year-on-year in January
Tax revenue in January was estimated at 165.7 trillion VND (7.06 billion USD), or 12.1% of the ordinance estimate, up 4.4% year-on-year, the General Department of Taxation reported on January 31.
Accordingly, revenue from crude oil hit 5.3 trillion VND, equal to 12.6% of the estimate and 167.7% of the figure in the same period last year. Domestic revenue was estimated at 160.4 trillion VND, equivalent to 12% of the ordinance estimate and 103.1% of the figure a year ago.
Revenue from State-owned enterprises accounted for 13.2% while that from foreign-invested sector 14.1%, individual income tax 8.1%, fees and bills 10.2%, land use tax 6%, and environment protection tax 3.1%.
The State, non-State and foreign-invested sectors recorded respective growth of 15.3%, 21.1% and 18.3% in revenues to the State budget.
This year, the tax sector was assigned to collect over 1.37 quadrillion VND in taxes, 42 trillion VND of which will be from crude oil and the remainder from domestic collection.
Improved transport seen in travel stats over holiday season
During seven days of the Lunar New Year Festival (Tet), the transport capacity and quality of road transport services improved drastically, said an official at a January 31 meeting of the Ministry of Transport.
Tran Bao Ngoc, Director of the ministry's Transportation Department, informed the results in a series of statistics recorded during the holiday.
Accordingly, 104 trains moved on the tracks with 188,487 passengers served, up nearly 137% and 196% from the same period last year, respectively.
Meanwhile, Vietnamese airlines transported 967,000 passengers and 1,550 tonnes of goods, annual increases of 60.7% and 28.4%. Domestic port passenger and goods throughputs were recorded at 177,755 and 441,504 tonnes respectively.
As heard at the meeting, in January, the numbers of commodities and people transported by road, rail, and waterway amounted to some 203 million tonnes and 341.7 million, up by 16.2% and 34.7% against 2022.
Although transportation activities were vibrant, traffic order and safety were still guaranteed, with the number of accidents decreasing sharply with the drop in traffic over Vietnam's largest holiday festival at Tet.
Vietnam attracts 1.69 billion USD in foreign investment in January
Vietnam lured 1.69 billion USD worth of foreign investment in the first month of 2023, down 19.8% year-on-year, according to the Foreign Investment Agency (FIA) under the Ministry of Planning and Investment.
One bright spot in January was that 153 new foreign-invested projects, valued at 1.2 billion USD, were granted licenses, up 48.5% in number and 3.1 times in value, which was a signal to confirm the confidence of foreign investors in the investment environment of Vietnam, the FIA said.
During the month, capital added in operating projects by foreign investors saw a yearly decline of 76% to 306.3 million USD while their capital contributions and share purchases also declined 61% year-on-year to over 174 million USD.
At the same time, disbursed capital also witnessed a decline of 16.3% to an estimated 1.35 billion USD in the first month, the FIA said, adding that the processing and manufacturing industry saw 1.05 billion USD worth of foreign investment disbursed, making up 77.6% of the total.
Since January saw two long holidays - New Year and Lunar New Year, the decrease recorded in registered foreign investment capital, or even disbursement, had not yet reflected the general trend of foreign investment capital flows to Vietnam in 2023, according to the agency.
Projects related to wholesale, retail, and repair of automobiles and motorised vehicles accounted for the lion's share of the total registered sum, at 54.1% or 651.9 million USD. They were followed by those in the processing and manufacturing industry, which together registered 351.2 million USD in capital or equivalent to 29.1% and those in other sectors at 202 million USD or 16.8%.
Also in January, 28 foreign countries and territories invested in Vietnam. Singapore was the largest with 767.6 million USD, followed by China with 198.2 million USD.
Meanwhile, Vietnamese investors poured 126.7 million USD into their projects overseas, increasing by 3.4 times against the same month in 2022.
Among three countries and territories receiving investment from Vietnam, the Republic of Korea was the leading country with 125.1 million USD, accounting for 98.7% of total investment capital; followed by Thailand (1.5 million USD or 1.2%); and Laos (140,000 USD or 0.1%).
Foreign investment bonanza
Vietnam is expected to attract a lot of FDI this year due to its impressive economic performance in 2022, improved business climate and the advantages brought by the free trade agreements it has signed, experts said.
Do Van Su, Deputy Director of the Department of Foreign Investment, said Vietnam is likely to attract 36-38 billion USD worth of FDI in 2023.
The Republic of Korea, Japan and Taiwan (China) are expected to be among the main sources of investment as they continue to pump money into Southeast Asia.
Economist Le Dang Doanh said the country needs to further speed up administrative reforms, improve its investment environment and ensure policy stability.
Minister of Planning and Investment Nguyen Chi Dung said priority would be given to projects that use new and green technologies and have high added value.
Though there are admittedly still problems related to human resource quality, Vietnam remains an appealing destination for foreign investors due to its supportive policies, he added.
A recent survey done by the Ministry of Planning and Investment found 76% of enterprises saying they were satisfied with the Government's support policies.
They were most satisfied with the VAT waiver and reduction policies, and those to stabilise gasoline prices, improve the work permit issuance process and customs clearance procedures, and support import- export and workers' livelihoods.
To continue to attract foreign investment, Dung said it is vital for Vietnam to develop innovation and financial centres at the regional and international levels.
It is also important to stabilise the economy and improve infrastructure and the quality of human resources, he added.
Last year, FDI was worth nearly 22.4 billion USD, according to the General Statistics Office.
Of the more than 100 nations and territories investing last year, Singapore topped with 6.46 billion USD, followed by the RoK (4.88 billion USD) and Japan (4.78 billion USD).
They invested in 54 provinces and cities of which Ho Chi Minh City attracted the most, 3.94 billion USD.
Binh Duong was second with 3.14 billion USD and Quang Ninh was third with 2.37 billion USD.
Border trade up in Lao Cai province
The northern province of Lao Cai has recorded vibrant import and export activities via border gates with China in January, posting 49.5 million USD in turnover from January 1 - 29.
The figure comprises 25.7 million USD in imports and 23.8 million USD in exports, statistics show.
Local authorities said since the beginning of 2023, over 45,000 tonnes of farm produce have been exported via the Kim Thanh International Land Border Gate No. 2, which is part of the Lao Cai (Vietnam) - Hekou (China) international border gate pair, generating more than 21 million USD in revenue, up 27% from a year earlier.
The main exports are fresh fruits from Vietnam such as green banana, watermelon, dragon fruit, peanut, and bamboo and rattan items. Meanwhile, imports include mainly farm produce, confectionery, chemicals, and machinery.
Nguyen The Hung, Deputy Director of the Lao Cai border gate customs sub-department under the provincial Customs Department, said the Kim Thanh International Land Border Gate No. 2 has seen busy export and import activities since the start of 2023.
Goods have been cleared quickly, even during the Lunar New Year holiday, he noted.
Lao Cai province targets 5 billion USD in total foreign trade in 2023, doubling the figure last year.
Tourism sector serves 13 million domestic ​tourists in January
The Vietnamese tourism industry served 13 million domestic tourists in January, according to the Vietnam National Administration of Tourism under the Ministry of Culture, Sports and Tourism.
Total revenue from tourists during the month was estimated at 46 trillion VND (1.96 billion USD).
During the seven-day Lunar New Year (Tet) holiday that lasted from January 20-26, the country was estimated to serve 9 million domestic visitors, an increase of about 47.5% compared to the 2022 Tet, with an estimated revenue of 17.5 trillion VND.
The local tourism sector targets 110 million tourists this year, including 8 million foreign visitors and 102 million domestic holiday-makers; and earn some 650 trillion VND from the non-smoke industry.
In 2022, Vietnam recorded around 101.3 million domestic tourists, exceeding the yearly plan by 68.3% . The tourism sector booked some 495 trillion VND (21.1 billion USD) in revenue, 23% higher than the target, thanks to the whopping number of domestic tourists.
Newly-established businesses drop nearly 17% in January
There were 10,800 newly-registered enterprises with total registered capital of 99.1 trillion VND (4.22 million USD) in January 2023, representing respective decreases of 16.6% and 48.5% over the same period last year.
Data from the Business Registration Management Agency under the Ministry of Planning and Investment showed that the average registered capital of a newly established enterprise in the month was only 9.1 billion VND, down 8.2% month-on-month and 38.2% year-on-year.
The agency attributed to the declines to the long New Year and Lunar News Year (Tet) holidays that resulted in less working time.
As many as 4,500 businesses increased their capital by 279 trillion VND, while 15,100 enterprises resumed operations, up 146.8% compared to the previous month and down 21.2% from the same period last year.
Enterprises withdrawing from the market numbered 43.900, a year on year increase of 14.4% .
To support businesses, General Director of the General Statistics Office Nguyen Thi Huong suggested that ministries and branches continue to ensure adequate supply of raw materials and energy to meet requirements of production and business recovery and socio-economic development; remove difficulties and obstacles for important industrial projects; provide maximum support for factories to maintain and restore production to keep orders and supply chain.
Many manufacturing enterprises also proposed the government continue to strengthen the simplification and transparency of customs procedures to reduce costs them.
First trading session of HCM Stock Exchange opens following Tet holiday
The Ho Chi Minh Stock Exchange (HOSE) began its first trading session following the Tet (Lunar New Year) holiday with a gong-beating ceremony on January 31.
In her remarks, Chairwoman of the State Securities Commission Vu Thi Chan Phuong noted that the domestic stock market maintained its stability and smooth sailing last year amid obstacles to the national economy.
As the international economic and political situation is expected to continue developing complicatedly and unexpectedly this year, the sector will further consolidate the legal framework and policies on market development, and review and study relevant legal documents, mechanisms and policies, making them match with the reality, she said.
It will also step up the restructuring and perfection of systems in service of the market, offer new products and services, and intensify supervisions, inspections and the handling of wrongdoings, Phuong stressed, adding that solutions will be taken to consolidate investors' confidence in the market.
At the end of the last trading session of 2022, the VN-Index, which tracks the performance of the HOSE, closed at 1,007 points, down 32.78% as compared with the end of 2021.
Despite a sharp decline, the domestic stock market remained stable last year, and most listed companies have recovered after the COVID-19 pandemic.
Mong Cai international border gate busy after Tet holiday
Import-export activities at the Mong Cai International Border Gate have turned busy as the border gate reopened on January 28 after 7-day closure for Lunar New Year (Tet) celebration.
Only on the morning of January 28, 120 vehicles carrying more than 600 tonnes of products and container trucks carrying electronic items traversed the border gate.
Head of the Mong Cai International Border Gate Management Board Tran Bich Ngoc said that in the first 30 days of 2023, nearly 73,500 tonnes of products were traded via the border gate, a year-on-year increase of 13.5%.
At the Bac Luan Bridge II border gate in the Mong Cai International Border Gate, on average 94 vehicles with about 1,500 tonnes of import and export goods traversed daily.
At the opening of Km3 4 Hai Yen, an average of 147 vehicles with nearly 1,900 tons of goods are cleared daily.
Exports from Vietnam to China are mainly fruits, tapioca, aquacultural products, and dry goods.
Imports from China to Vietnam are mainly fabrics and electronic components.
From January 8 when China reopened its borders, the number of people entering and leaving Vietnam through the Mong Cai border gate has reached 5,361. Of the total, 889 people, most of them Vietnamese, entered while 4,472 people, mostly Chinese, left the country.
Dak Lak exports 10 containers of bananas to China
Banana Brothers Farm Joint Stock Company (BBF Company) hosted a ceremony on January 31 in Dak Lak province to mark the shipment of 10 containers of bananas to the Chinese market in the early days of the year.
The export shipment is worth over VND5 billion, with each container consisting of 21 tonnes of bananas. Le Thi My Hanh, general director of BBF, revealed that the firm has been operating at full capacity in order to fulfill the first order made by foreign partners on schedule in the early days of the New Year.
The representative of BBF Company said the firm initially began to plant nearly 150 hectares of South American bananas back in 2020 by using high-tech tissue transplantation, adding that the selection of varieties, cultivation, and harvest are required to strictly adhere to the technical process to ensure the banana products meet export standards.
Currently, BBF Company has launched banana products in a stable manner with an average output of 65 tonnes per hectare each year.
Last year saw the company export bananas to the Republic of Korea, China, and Japan with an output of over 6,500 tonnes.
With these positive signs, the firm plans to expand approximately 300 hectares of banana cultivation, with the new raw material area expected to generate jobs to many local workers and contribute to ensuring social security.
At the launching ceremony, Nguyen Hoai Duong, director of the Dak Lak Department of Agriculture and Rural Development, pointed out that the export of fruit products to some key foreign markets in recent times has opened up bright prospects for export growth, bringing economic benefits to both investors and farmers based in the province.
He noted that the locality will continue to create the optimal conditions possible for businesses to strengthen connectivity between supply and demand, promote export and domestic consumption, thereby helping to elevate the position of Vietnamese agricultural products in foreign markets.
Second ginseng fair to make its debut in Vietnam this month
A trade fair displaying Ngoc Linh ginseng, the second of its kind to be held in the nation, is set to open both in-person and via online forms in order to honour the ginseng as a Vietnamese treasure.
The fair is scheduled to get underway in Tu Mo Rong district in the Central Highland province of Kon Tum from February 6 to February 9. A virtual event will therefore take place on the e-commerce site of Kon Tum province at kontumtrade.gov.vn.
According to Vo Trung Manh, chairman of the People's Committee of Tu Mo Rong district, the fair will see a total of 50 booths showcase Ngoc Linh ginseng products, medicinal herbs, agricultural produce, and regional specialties.
A wide range of activities will also be planned during the course of the fair, including a seminar on potential and solutions for tourism development in Tu Mo Rong district. This is along with efforts to promote the brand of Ngoc Linh ginseng as a national treasure, cultural and sporting activities, as well as a career day, he said.
The Ngoc Linh ginseng is a rare medical root containing 52 saponin compounds which are helpful to health. It was initially discovered on Ngoc Linh Mountain on the boundary between Kon Tum and the central province of Quang Nam back in the late 1960s.
In June, 2017, Ngoc Linh ginseng was included in the list of national products by the Prime Minister.
Kon Tum then built a conservation centre for the Ngoc Linh ginseng in 2004. At present, the province has more than 400 hectares of ginseng, of which over 320 ha are managed by the Kon Tum Ngoc Linh ginseng joint stock company. The plantation is specifically for preservation and expansion, with products from local Ngoc Linh ginseng yet to be available in the market.
Vietnamese exports face array of challenges ahead in 2023
Vietnamese exporters are required to swiftly grasp information in order to adjust production activities in line with market conditions amid global high inflation, along with rising domestic exchange rates and interest rates, according to insiders.
During a recent trade promotion conference held with Vietnamese Trade Offices abroad in January, Minister of Industry and Trade Nguyen Hong Dien assigned overseas Vietnamese trade offices to intensify trade promotion activities to boost exports amid a decline in orders, thereby fulfilling this year's export growth target of 6%.
Statistics compiled by the General Department of Vietnam Customs indicate that the country's total import-export value in January stood at an estimated US$46.56 billion, representing a fall of 17.3% compared to the previous month and a decline of 25% compared to the same period from last year.
In terms of the figure, exports stood at an estimated US$25.08 billion, a decline of 13.6% from the previous month and a drop of 21.3% against last year's corresponding period.
This fall in exports has been reflected in all key export groups, including phones, down by 18.6%, computers, down by 11.5%, machinery and equipment, down by 25.2%, agricultural and aquatic products, down by 30%, coffee down, by 29.2%, and rice, down by 17.4%.
The current situation can largely be attributed to the traditional Lunar New Year, known locally as Tet, as well as global economic uncertainties, both of which have caused a decrease in consumer demand and new export orders.
Vu Ba Phu, director of the Vietnam Trade Promotion Agency under Ministry of Industry and Trade (MoIT), pointed out that amid difficulties facing the global and national economy, the country has approved 76 trade promotion projects by sending businesses to join prestigious exhibitions abroad. This is along with efforts to organise trips for trade delegations to conduct market surveys in Vietnam.
Aside from a decline in export orders, there are set to be further trade barriers in the near future as many major importers of Vietnamese goods in the EU, or market areas under the Comprehensive and Progressive Agreement for Trans-Pacific Partnership (CPTPP) and European Union-Vietnam Free Trade Agreement (EVFTA), continue to introduce key changes relating to regulations on imported goods.
For example, the EU has also issued official and emergency control measures for imported goods, thereby forcing Vietnamese exporters to enhance their competitiveness as a means of meeting stringent regulations.
Tran Thu Quynh, Vietnamese Trade Counselor in Canada, has requested that local firms specialise in exporting copper pipe fittings to the Canadian market to gain more insights into new decisions made by the Canada Border Services Agency (CBSA) regarding whether or not to continue to impose anti-dumping or subsidy duties on Vietnamese products moving forward.
Businesses told to improve competiveness to boost exports to US market
Vietnamese enterprises are required to strive to enhance their competitiveness in a bid to overcome the various trade barriers that exist and meet the relevant food hygiene and safety standards set by the United States, heard a conference on January 31.
Industry insiders pointed out that the US currently is the country's largest export market, while Vietnam is also the US' seventh largest trade partner.
However, Vietnamese exports to this market are subject to tough competition from other countries, they said, adding the US has also initiated a number of trade remedy investigations into Vietnamese exports. As of December 2022, the US had launched a total of 52 trade remedy probes into Vietnamese products.
The investigated products are quite diverse, ranging from agricultural, forestry, and fishery items, to industrial products such as trailers, steel, and lawn mowers, they said.
Vietnamese firms are therefore advised to be fully prepared for legal issues and stay updated with the US' latest regulations if they are seeking opportunities to export goods to the US market.
According to details given by the Vietnamese Trade Office in the US, economic and trade relations between the two countries last year witnessed positive results, with the Vietnamese export turnover to this huge market reaching US$109.38 billion,
Meanwhile, the import of goods from the US to Vietnam dropped by 5.2% to US$14.47 billion, duly bringing the total two-way trade turnover last year to US$123.86 billion, up 11%.
Among Vietnamese goods exported to the US are 13 groups of commodities which gross over US$1 billion each, mainly in the fields of garments and textiles, machinery, equipment, along with tools and other spare parts.
Source: VNA/SGT/VNS/VOV/Dtinews/SGGP/VGP/Hanoitimes