VIETNAM BUSINESS NEWS JANUARY 24
Over 1,000 projects in HCMC need construction safety review
As many as 1,187 construction projects in HCMC, with many of them hospitals, schools, and high-rise apartment buildings, are in need of construction safety review, according to the HCMC Department of Construction.
The Construction Department had sent a dispatch to Thu Duc City and districts in HCMC, urging them to review the projects that have to undergo construction safety review.
Until now, however, only 18 out of 22 units have sent their lists of the projects under their management to the Construction Department.
After reviewing the lists sent by the 18 units, the Construction Department removed some projects that are not subject to the review and asked for more detailed information of some others to decide whether they need a safety review.
According to data from the department, Thu Duc City has 193 projects in need of safety review, District 1 has 236 projects, Binh Thanh District has 97 projects, followed by District 12 with 91 projects, Go Vap District with 78 ones.
Among these projects, many are hospitals, schools, commercial apartment buildings such as the Kim Cuong (Diamond) Island and Jamila projects in Thu Duc City, the Saigonres Plaza in Binh Thanh District.
Developing mechanical industry top priority for VN
Developing the country's mechanical industry sector is a top priority for Viet Nam in the coming decades, said industry insiders and experts.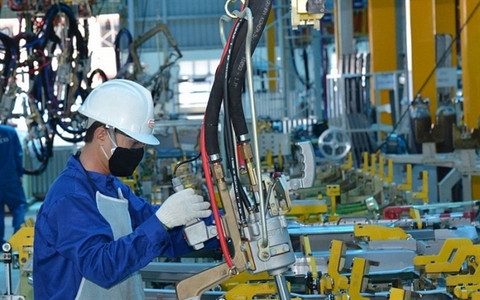 Developing the country's mechanical industry sector is a top priority for Viet Nam in the coming decades, said industry insiders and experts.
While the sector's technical capacity has made leaps and bounds in recent years, gradually becoming a major supplier for highly advanced domestic industries, a key issue remained as it has not been able to utilise economies of scale to bring down costs and further integrate into the global supply chain.
Do Quang Hoa, leader of a mechanic team in one of many factories located in the northern industrial hub of Bac Ninh Province said his company's biggest fear is not having enough work.
It usually takes a huge amount of investment to build a factory, set up machines, and train skilled mechanics, he said. Not having enough work makes everything expensive for the company and hurts its ability to compete in the market.
In addition, small and medium-sized companies such as Hoa's were almost entirely dependent on larger companies. It has resulted, according to him, in mechanical firms willing to sell at lower-than-cost prices just to maintain production.
He said it's likely the single most important hurdle to overcome for hundreds of mechanical companies in Viet Nam, holding them back from reaching their full potential.
Hoa's opinions echoed a report on the sector by the Ministry of Industry and Trade last year, in which the ministry highlighted major barriers to overcome for mechanical firms including higher set-up costs, longer cashflow cycles, advanced technologies, and very high cost of training.
In addition, the sector's products were typically difficult to sell compared to consumer products. The difficult environment resulted in just a handful of Vietnamese brands, which were mostly small-to-medium in size, unable to compete with larger international brands even with home-ground advantages.
The ministry said the sector's major weaknesses were subpar product quality and a lack of core technologies. In the absence of large mechanical firms, capable of leading and improving the industry's standards, Vietnamese firms have been falling behind in the research and development game, leaving them entirely dependent on foreign inventions and technologies.
According to the ministry, the country's domestic mechanical firms only accounted for 32 per cent of Viet Nam's market share. In addition, they accounted for even less share in the sector's output value at just 18 per cent and declining by the year, showing major shortcomings and limitations in their operations.
To add insult to injury, the government has been slow, or inefficient, in implementing support policies to speed up the industry's growth, according to the Vietnam Association of Mechanical Industry (VAMI).
VAMI urged the government to play a more active role in supporting Vietnamese firms including lowering the barrier of entry to participate in domestic projects and setting a quota for made-in-Vietnam products, to be used in such projects.
The association said while many State-owned companies enjoy key advantages such as infrastructure, financial capital and skilled workers, management has often been found inadequate, causing waste and inefficiencies.
Meanwhile, private-sector companies lacked a clear development path and often failed to communicate or collaborate with their peers, leading to several firms investing in producing the same products, with little added value to compete with imported rivals.
Huynh Quang Nhung, deputy director-general of THACO Industries, one of the country's leading mechanical companies, said most Vietnamese firms have not met the standards to supply parts to major manufacturers operating in Viet Nam.
Quang Ninh ships first tonne of coal on first day of Lunar New Year
The northern coastal province of Quang Ninh shipped the first tonnes of coal on January 21, the first day of the Lunar New Year, from the Cam Pha port.
Accordingly, 21,300 tonnes of coal were loaded onto the ship Viet Thuan Star, to deliver to Vinh Tan 1 Power Company for domestic consumption.
Speaking at the event, Secretary of the Quang Ninh Provincial Party Committee Nguyen Xuan Ky hailed the coal industry's efforts in 2022 and its contributions to realising the province's green growth target, while retaining its pivotal role in ensuring national energy security and the socio-economic development of Quang Ninh province.
He pledged that the provincial authorities will continue to create the most favourable conditions for the coal industry to integrate sustainable development with environmental protection, increase its coal production and consumption, and foster export and import activities.
General Director Dang Thanh Hai of the National Coal and Mineral Industries Group (Vinacomin) said that in 2023, the group set a target, that the production of raw coal and coal consumption will reach more than 39 million tonnes and 46.5 million tonnes, respectively.
First 150 tonnes of dragon fruit exported through Kim Thanh Border Gate in Lao Cai
On January 21, more than 150 tonnes of dragon fruit were shipped through the Kim Thanh Border Gate in the northern province of Lao Cai on the first day of the Lunar New Year.
The batch, worth 4.5 billion VND, was exported to the Chinese market on five trucks.
Head of the Management Board of Lao Cai Economic Zone, Vuong Trinh Quoc, was present at the border gate and presented flowers to the drivers of the trucks.
Functional forces at Kim Thanh Border Gate, including customs, border guards, and plant quarantine, implemented customs clearance procedures for the trucks in a quick and safe manner, in line with regulations on COVID-19 prevention and control in Vietnam and China.
Deputy Director of Lao Cai Border Gate Customs Nguyen The Hung reported that more than 350 tonnes of fresh fruits worth 6.8 billion VND were exported to China via the Kim Thanh Border Gate, on the first day of the Lunar New Year.
The total import-export turnover of the province has reached 64.6 million USD since the beginning of this year, including over 40 million USD in export revenue and over 24.6 million USD in import revenue.
Vietnam's trade surplus with Americas exceeds $100 billion
For the first time ever, the trade surplus with the Americas has surpassed $100 billion, according to the figures.
The year 2023 will continue to see challenges such as geopolitical conflicts, trade tensions, high inflation, and the risk of anti-dumping duties on Vietnam's export products, according to deputy Minister Do Thang Hai.
At the conference to deploy tasks for the year ahead at the European-American Market Department this week, deputy minister of Industry and Trade Do Thang Hai said that the trade surplus between Vietnam and the markets in the Americas region had reached a record of more than $102 billion last year.
The import-export turnover between Vietnam and the markets of the Americas in 2022 saw positive growth to reach $153.9 billion, up 10.7 per cent compared to 2021. In which, Vietnam's exports to America's partners reached $128.2 billion, up 12.4 per cent. Meanwhile, Vietnam's imports from America's partners reached $25.7 billion, up 3 per cent on-year.
Trade turnover between Vietnam and many major markets in the Americas region saw stable growth such as the United States up 11 per cent, Brazil up 6.6 per cent, Canada up 16.5 per cent, Mexico up 7.1 per cent, Chile up 9 per cent, and Argentina up 8.3 per cent.
For the US market, the total bilateral trade turnover reached approximately $123.86 billion, up 11 per cent compared to 2021. Vietnam's exports to the US hit $109.4 billion, up 13.6 per cent compared to 2021.
Thanks to the positive effects of the Comprehensive and Progressive Agreement for Trans-Pacific Partnership and the Vietnam - Chile Free Trade Agreement, trade turnover between Vietnam and Canada, Mexico, Chile and Peru in 2022 reached $15.2 billion, up 10.9 per cent compared to 2021. In which, Vietnam's exports to the group reached $13.1 billion, up 8.7 per cent, and imports reached $2.1 billion, up 26.9 per cent.
Additionally, trade turnover between Vietnam and another important market area, the bloc ​​comprising Argentina, Brazil, Paraguay, and Uruguay, grew by 9.2 per cent, reaching more than $12 billion. In which, Vietnam's exports reached more than $3.3 billion, up 3.4 per cent, and imports reached $8.7 billion, up 11.6 per cent.
Deputy Minister Do Thang Hai said that 2023 would continue to see challenges such as geopolitical conflicts, trade tensions, the risk of inflation, and the risk of imposing anti-dumping duties on Vietnam's export products.
Therefore, it is necessary to closely monitor the market situation, and propose solutions to maintain and develop the market, he said. The European-American Market Department also needs to focus on researching, analysing, and updating policy changes in countries that are likely to affect our economy, to develop appropriate economic and trade cooperation policies.
"The European-American Market Department needs to promote the implementation of FTAs and economic-trade cooperation frameworks with countries, as well as research, consult, and negotiate new bilateral and multilateral cooperation," said Hai.
He also emphasised that the department needed to coordinate well with Vietnam's trade offices abroad to support connecting businesses, maintain a stable supply of raw materials for domestic manufacturing industries, and attract investment, especially in the fields of high-tech, and core technology.
Vietnamese goods have opportunities to penetrate deeper into the markets of countries in the European-American region, improving business competitiveness in the global production and supply chain.
Luxury cruise arrives in Danang
The luxury Silver Spirit cruise ship docked at Tien Sa Port in the central city of Danang, bringing around 400 European tourists.
This is the first international cruise to Danang during Tet Lunar New Year.
During their stay in Danang, the guests will visit different tourist destinations in Danang, including Ngu Hanh Son Mountain and Linh Ung Pagoda.
According to the travellers, they were very happy to come to Danang on Tet, offering them a chance to understand more about Vietnam's culture and traditions.
Silver Spirit can transport up to 600 people. It arrived in Danang in February 2020, carrying 200 visitors.
The Danang Department of Tourism said that before the Covid-19 pandemic, the city's Tien Sa Port received around 100 cruises in 2019.
The city will focus on local tourism promotion to attract more cruise passengers.
Supermarkets, wet markets open again after one-day closure
Many supermarkets and wet markets began to receive customers and visitors on January 23 morning, one day after they closed their door to celebrate Vietnam's biggest festival – the lunar New Year (Tet).
Co.opmart, one of the supermarket chains in Hanoi capital, welcomed its first customers in the morning to buy fresh items such as meat, fish, and vegetables. As Vietnamese people are celebrating the week-long Tet festival, the Co.opmarts are designed to serve customers in the morning only.
Tran Thi Phuong Lan, acting director of the Hanoi Department of Industry and Trade, said that the distribution units have prepared abundant sources of goods to meet the people's shopping needs during and after Tet.
"Some businesses have even registered to open on January 22 to meet the people's needs on the first days of the lunar New Year," said Lan.
Some traders in Hanoi's wet markets also went to work again on January 23, mainly selling green vegetables, pork, beef, and vermicelli.
Tran Thuc, a resident of Hanoi, said that most families no longer hoard food during the Tet holiday because many stores open on the second day of the first lunar month.
"I think people's habit of hoarding food during Tet has changed, there is no need to stockpile as much food as before, because there is a lot provided on the second day of the lunar New Year," explained Thuc.
Thanks to adequate preparations, the supply of essential goods is guaranteed, and there is no sudden price increase. More supermarkets will open on January 24 and the price of vegetables may rise slightly.
Seaports nationwide busy through Tet break
Seaports nationwide are still working through Lunar New Year (Tet) break to ensure that import-export activities are not disrupted, according to the Vietnam Maritime Administration (VMA).
In the south, a leader of the SP-SSA International Terminal (SSIT) said on the first day of the Lunar New Year, it welcomed container ship MSC FELIXSTOWE, the first-footer there.
The 5,048 TEU ship handles cargo imported and exported from Japan, the Republic of Korea, Vietnam's Vung Tau province, Malaysia, Singapore and the Philippines.
Later, the SSIT also welcomed container ship MSC CLORINDA that connects cargo from Singapore, Malaysia, Thailand, Vung Tau and China to seaports of the west US, the biggest importer of Vietnam in recent years.
Seaports in the north and central region are also expected to serve about 10 vessels during the festival.
VMA Deputy Director Hoang Hong Giang said last year, cargo throughput via Vietnam's seaports hit about 733.18 million tonnes, up 4% annually. Of the total, 179.07 million tonnes were exports, down 3%, 209.26 million tonnes imports, down 2%, and the remainder domestic goods, up 12%.
The volume of container goods via seaports was estimated at 25.09 million TEUs, marking a 5% increase from the previous year, he added.
Tan Son Nhat airport sees passenger surges on Tet
Tan Son Nhat International Airport served 200,000 passengers on the first two days of the Tet Lunar New Year.
On the first day of Tet, the airport served 748 flights with a total of 98,000 passengers. Passenger numbers on the second day of Tet reached 120,000, including 16,800 domestic passengers and 15,000 foreigners.
A representative from the Southern Airports Authority said that travel demand had sharply increased after the pandemic.
It is common to see congestion at Tan Son Nhat International Airport ahead of Tet as thousands of people flocked to the airport to welcome relatives returning from abroad.
Construction on Tan Son Nhat International Airport Terminal 3 project is underway. Once put into operation in 2024, the new terminal is expected to help ease the overload for the airport at peak times.
HCMC looks to complete multiple key infrastructure projects this year
HCMC looks set to either break ground on or complete multiple major traffic infrastructure projects this year, according to the municipal Department of Transport.
The city's first metro line, which connects Ben Thanh Market in District 1 and Suoi Tien Theme Park in Thu Duc City, will be put on a trial run in late December.
The city will complete four key roads in the Thu Thiem New Area, Luong Dinh Cua Street, Provincial Road 8 and the underpass at the intersection of Nguyen Van Linh and Nguyen Huu Tho streets.
HCMC is determined to expedite work on the An Phu Intersection in Thu Duc City, a road connecting Tran Quoc Hoan and Cong Hoa streets in Tan Binh District, and the expansion of a National Highway 50 section in Binh Chanh District this year.
The Vam Sat bridge project in the city's outlying district of Can Gio and the Long Kieng bridge project in Nha Be District will be completed this year, the local media reported.
The city will speed up site clearance to resume the construction of Nam Ly, Tang Long and Long Dai bridges in Thu Duc City. These bridge projects have been put on halt for years due to land clearance delays.
The Beltway No. 3 project will get off the ground in June, while the city will start work on the relocation of technical infrastructure for the Ben Thanh-Tham Luong metro line.
Among other key projects to get off the ground this year are HCMC-Moc Bai and HCMC-Chon Thanh expressways.
Central bank caps 2023 credit growth at 15%
The State Bank of Vietnam (SBV) will cap credit growth at 14-15% this year to maintain macroeconomic stability and boost economic growth.
Monetary policy is subject to change depending on specific market conditions, according to a recent directive of the SBV, the country's central bank.
The central bank will prioritize harmonizing monetary and fiscal policies, with inflation to be harnessed at around 4.5%.
The SBV intends to funnel more money into the industrial and service sectors seen as key economic drivers, and restrict lending to high-risk areas.
In December last year, the central bank upped its 14% credit growth limit by 1.5-2.0 percentage points in response to a severe credit crunch in the local real estate and banking sectors.
Conundrum ahead with robotics rise
While Vietnam is on pace to exceed $50 billion in gross merchandise volume by 2025, the switch from human jobs to automation could dish up a rocky path to progress.
According to an estimate by the National Innovation Centre under the Ministry of Planning and Investment, digital technology may bring Vietnam more than $74 billion by 2030, which is comparable to 27 per cent of Vietnam's GDP in 2020. In Vietnam, the passage of this development might paradoxically result in the loss of a substantial number of current jobs.
Hoang Nam Tien, chairman of FPT Telecom, predicted that approximately 70 per cent of the total 5.4 million Vietnamese workers will lose their jobs within the next decade. This includes 2.7 million textile workers, 1.7 million leather and footwear labourers, and nearly one million electronic assembly staff.
Tien said, "Humans cannot compete with robots in terms of labour output and work hours. A series of robots have been imported into Vietnam in recent times. Before 2020, many manufacturers were still unsure about deploying them."
The recent pandemic has expedited the digital revolution in Vietnam. In the Southeast Asia Digital Economy Report published in October 2022 by Google, Temasek, and Bain & Company, it stated that Vietnam's digital economy has the fastest growth rate in Southeast Asia, with the gross merchandise volume expected to increase by 28 per cent, from $18 billion in 2021 to $23 billion last year, driven by a 26 per cent increase in e-commerce compared to the same period in 2022.
Vietnam was one of the nations that swiftly resumed regular operations last year. Around 90 per cent of digital customers aim to retain or expand their usage of e-commerce platforms during 2023, with consumers mostly interested in food delivery (60 per cent) and online grocery shopping (54 per cent).
Vietnam's urban internet consumers had the greatest adoption of digital services, with e-commerce, food, and groceries leading the way at 96, 85, and 85 per cent, respectively. Nearly a quarter of survey respondents claimed they watch streaming video at least once per week, followed by 19 per cent for online gaming and 16 per cent for on-demand music. However, this consumption rate is lower than the regional average.
The report concurred that digital financial services in Vietnam continue to expand rapidly. The industry of digital lending saw the highest compound annual growth rate (CAGR) at 114 per cent, while the investment channel is anticipated to see the biggest increase in 2025, at over 106 per cent CAGR. Moreover, Vietnam dominates Southeast Asia in terms of long-term venture capital (VC) growth, with 83 per cent of VC funds anticipating long-term development in transactions in Vietnam.
According to Stephanie Davis, Google's vice president for Southeast Asia, technology funding is robust, and the region appears to be a hotbed for technology investments, despite investors' growing scepticism in light of the present macroeconomic climate.
In private markets, VCs continue to set aside $15 billion to support transactions in the region. However, early-stage and late-stage investments are moving in opposite directions; early-stage investments are prospering while late-stage investments tend to decline owing to poor initial public offering prospects.
In spite of this, Singapore and Indonesia continued to be the most popular investment locations in 2022, while Vietnam and the Philippines are attracting a growing number of investors over the longer term. In the first half of 2022, digital financial services surpassed e-commerce as the leading investment channel and attracted a record $4 billion in capital.
If digitalisation is feasible, Vietnam's economic environment might shift. According to research on unlocking Vietnam's digital potential by AlphaBeta, if completely leveraged, digital transformation might deliver Vietnam up to $74 billion in annual economic value by 2030. Under the analysis, strengthening the local tech ecosystem and educating employees and students in digital skills are the main pillars that will enable the potential.
Vietnam has the chance to generate more employment, improve the working environment, increase productivity, and enhance labour skills in the value chain, according to Davis of Google.
Restart sought for stalled Phuoc Khanh Bridge project
The stalled Phuoc Khanh Bridge project over the Long Tau River, part of the Ben Luc-Long Thanh expressway, may resume construction after a two-year hiatus.
The Vietnam Expressway Corporation (VEC), the investor of the project, has suggested that the Ministry of Transport work with the Japan International Cooperation Agency (JICA) to find a new contractor for the project.
The VEC's effort came after its contract with the previous builder expired recently.
The Phuoc Khanh Bridge construction is funded by Japanese official development assistance and supervised by JICA.
The remaining workload of the bridge is estimated to cost VND750 billion.
The search for the contractor will begin in the first quarter of this year, and the project can restart construction in June. The construction is expected to be complete in January 2025, according to VEC.
However, JICA has yet to approve the plan.
Work on the project started in 2016, with the contractor being a consortium of Japan's Sumitomo Mitsui and Vietnam's Cienco 4.
Construction work was halted in 2020 with capital disbursement reaching 87.4% of the total.
With a total length of three kilometers and a width of 22 meters, the four-lane Phuoc Khanh Bridge will connect HCMC's outlying district of Can Gio and Dong Nai Province's Nhon Trach District.
ACV told to set new bidding criteria for Long Thanh airport terminal
The Ministry of Transport has told the Airports Corporation of Vietnam (ACV) to set new criteria on costs and completion schedule to select qualified and experienced contractors for the Long Thanh airport terminal project.
The ministry's move came after a proposal was made by the Vietnam Association of Construction Contractors (VACC), the local media reported. A recent tender for the construction and equipment installation package for the terminal was canceled.
ACV was told to study recommendations from the association to build the international airport in line with the prevailing regulations on construction and bidding.
In late December last year, VACC Chairman Nguyen Quoc Hiep said that the Long Thanh International Airport is a major project, so it requires high quality and fast pace of construction.
According to the association, the inappropriateness of the criteria of the bidding package, methods of contractor selection and estimated cost has deterred foreign investors from getting involved in the project.
The 33-month completion schedule for the package is far from achievable.
Local contractors are not qualified enough to implement such a huge project, so it is necessary to have a consortium of foreign and local construction contractors, said VACC.
In mid-December 2022, a tender for the construction package was canceled, two months after an announcement on the launch of the tender was released, as no contractors met the criteria.
The package worth over VND35.2 trillion has the highest value among the terminal packages. The airport project was originally planned to get off the ground in late 2022 but it did not materialize as no contractors were selected.
The first phase of the Long Thanh airport project will require over VND109 trillion and have an annual capacity of 25 million passengers. The airport is planned for opening on September 2, 2025.
Source: VNA/SGT/VNS/VOV/Dtinews/SGGP/VGP/Hanoitimes