VIETNAM BUSINESS NEWS JANUARY 27
Positive prospects for Vietnam's stock market this year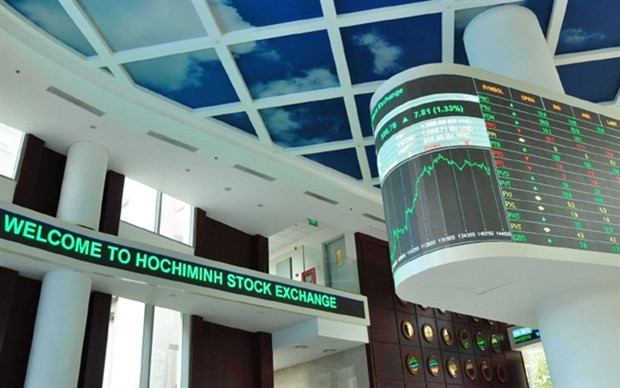 The HCM Stock Exchange (HoSE) in HCM City (Photo hsx.com)
The market's uptrend will continue to be consolidated in the first trading session of the Year of Cat.
The VN-Index, which tracks the performance of the Ho Chi Minh Stock Exchange (HoSE), closed above the resistance area of 1,100 points, equivalent to 1,120 points of the VN30-Index, in the last trading week. Although cash flow has not improved much, supply pressure has not put great pressure on the market.
The market is expected to continue to be supported and gain points in the next trading sessions. Therefore, investors can still expect the market to expand the uptrend and exploit some short-term opportunities in stocks with positive accumulation background, said Viet Dragon Securities Co.
2022 was an eventful year for the Vietnamese stock market with many records set.
After a prosperous 2021, the VN-Index continued to stay at its historic peak for the first three months of 2022. However, the market then declined, putting itself on the list of the worst performers in the world. As of December 27, the benchmark had dropped 34.2% to 1,004.57 points, from the 1,520-point peak gained in April.
In some months in 2022, half a million trading accounts were opened. Foreign investors' net purchases reached a record high. The liquidity of some shares at times reached hundreds of millions of units each trading session.
In November and December, the market witnessed the strongest recovery sessions in the world.
In 2023, economic growth will be somewhat slower than the previous year. Some pressure from tight monetary policy in the world will make money flow into the stock market more difficult, said La Giang Trung, CEO of Passion Investment Co.
There are two scenarios for the stock market in 2023. Firstly, the bottom of the VN-Index this year will not be lower than the level of 873 points set in 2022, and the market will go up gradually.
Secondly, the VN-Index will look for a new bottom before recovering at the end of the year. The market may fall to the old bottom of about 780-800 points. This possibility becomes real if the US economy falls into a sharp recession in 2023.
With the forecast that monetary policy will be eased soon in the second quarter of 2023, the market can increase by 50% from the bottom, equivalent to 1,200 points at the end of this year. In 2023, there may be quite big fluctuations, but the general trend towards the end of the year is still positive, Trung said.
1,600 more cooperatives to be formed this year
The Ministry of Agriculture and Rural Development is planning to establish 1,600 new cooperatives this year, bringing the total to 22,500.
Among a series of measures set to boost the growth of the group in 2023 is forming cooperative units and farms with links to enterprises for production, processing and sale. The ministry will offer assistance for such connections toward the formation of value chains applying high technologies and certificated production processes.
Attention will also be given to the promotion of the role of related associations in policy making, market management, and linking producers to firms; and to the development of concentrated production areas with improved processing and branding works serving exports.
The operation of agricultural cooperatives will be overhauled and policies to encourage their development will be completed in terms of human resources, land, finance, credit, science-technology, market, and infrastructure.
According to the ministry, Vietnam now counts 94 unions of agricultural cooperatives and nearly 21,000 cooperatives of this kind. There are close to 2,300 cooperatives establishing enterprises, 145 directly involved in import-export activities, and 1,200 participating in the production of goods under the One Commune One Product (OCOP) programme. The cooperatives own some 40% of OCOP products nationwide.
Hai Phong aims to become an international logistics centre
The northern city of Hai Phong aims to become a regional and international logistics centre due to its many advantages as a transportation hub for all five types of traffic, including sea, road, air, railway, and inland waterways.
This objective is highlighted in the northern city's service sector development project for 2030, with a long-term vision to 2045, including logistics services.
The city is also studying to develop a project to establish a free trade zone, considered a breakthrough solution to exploit the best advantages in the logistics sector of Hai Phong.
The Politburo's Resolution 45 on building and development of Hai Phong city by 2030, with a vision to 2045 also states that Hai Phong must be built into a national logistics service centre by 2025.
According to former Secretary of the Hai Phong city Party Committee Tran Luu Quang, who has been appointed to the Government's Deputy Prime Minister, to develop logistics services, Hai Phong will promote administrative reform and digital transformation in the field of seaports and logistics.
It will strengthen investment attraction and trade promotion, and form logistics service chains with high added value and regional linkages.
According to the Ministry of Industry and Trade, Hai Phong has great advantages in infrastructure of seaports, fishing ports, warehouses for industrial production, and import and export activities of goods.
At the same time, some of 14 industrial parks (IPs) are built on the basis of logistics services to increase connectivity among enterprises at the supply chains.
In the past, Hải Phòng has focused on investing and upgrading seaport infrastructure in line with the development trend of regional and international shipping. Its transport system is improved and more synchronous.
Many projects on developing logistics centres in industrial zones and economic zones (EZs) have also received licences of investment, such as a logistics centre invested by KM Cargo Services Hai Phong Co, Ltd with a capital of 34.8 billion VND; a logistics project with total investment capital of 35 million USD developed by ECPVN Hai Phòng 1; JD Property Logistics Park Hai Phong 1 project in the non-tariff zone and Nam Dinh Vu Industrial Park with a total investment of 32 million USD. Those have created new opportunities for the logistics service industry in Hai Phong.
Quang said that in 2022, traditional and advantageous service sectors such as seaport and logistics services have made strong developments. They have actively contributed to the socio-economic development of Hải Phòng and the northern key economic region.
Hai Phong's growth rate of logistics services is about 20-23% per year and this sector has accounted for 13-15% of the city's GRDP.
The volume of goods through the ports in the city has grown strongly, accounting for a large market share in the seaport system of the country.
Pointing to the service's shortcomings, Dan Duc Hiep, former Vice Chairman of the municipal People's Committee, said that Hanoi has about 1,000 enterprises registering to provide logistics services, but they have limited competitiveness and a low market share.
The majority of cargo volume via Hai Phong seaport continues to be transported by road, putting great pressure on the transport system.
Meanwhile, transporting goods by rail and inland waterway is still weak.
There is also the problem of labour shortage, especially high-quality labour. Logistics and production enterprises of Hai Phong are always in a serious shortage, especially logistics sales staff, logistics information technology staff, and staff coordinating transportation and warehouse operations.
At the same time, most employees of enterprises lack logistics knowledge and skills. This will be a big challenge for the development of the service in the future.
According to forecasts, Hai Phong needs about 369,000 logistics workers by 2025, including 252,600 trained workers. By 2030, this number will increase to 460,000 employees, including 368,000 trained workers.
Human resources for the logistics sector in Vietnam in general and Hai Phong in particular will still lack in both quality and quantity for many years in the future. The human resource at present meets only about 40-45% of the industry's needs.
Therefore, Hai Phong needs to have a strategy on sustainable development of human resources for the logistics sector, Hiep said.
Australia's Victoria state pins hope on Vietjet's launch of flights
Minister for Trade and Investment of Victoria state of Australia Tim Pallas has announced Vietnamese carrier Vietjet's decision to choose Melbourne city as the destination for its first flights to Australia and establish its office in the state.
Pallas said the presence of a carrier from Southeast Asia is a victory of Victoria state's economy and brings job opportunities to the locality, reflecting the state's tourism and export strengths.
VietJet will run three direct weekly flights from Ho Chi Minh City to Melbourne airport from April and will develop it into a daily service in December 2024. Its flights are expected to bring more than 136,000 passengers to Melbourne each year and add 97 million USD annually to the state's economy.
VietJet will be the second Vietnamese airline to operate flights to Melbourne since after the COVID-19 pandemic. Previously, Vietnam's new-generation Bamboo Airways also launched the service in April 2022.
Vietnam is now the ninth largest importer of Victoria state, with 113 million AUD (80.5 million USD) worth of Australian goods transported via airway during 2021-2022, up 77% compared to 2020-2021.
Victoria state is also a popular tourist and study destination for Vietnamese. About 9,500 Vietnamese students are currently studying at its educational institutions. Before the pandemic, about 53,500 Vietnamese visitors arrived in Victoria, or nearly half of all Vietnamese arrivals in Australia in 2019.
Vietnamese furniture products introduced at UK exhibition
Furniture products of six Vietnamese businesses were displayed at the January Furniture Show (JFS) 2023, the largest annual furniture show in the UK, at the National Exhibition Centre (NEC) in Birmingham from January 22-25.
The Vietnamese booths, featuring interior and exterior wooden and home décor products, handicrafts, hotel furniture, and lighting equipment, attracted many UK wholesalers and retailers, as well as visitors.
Vietnamese Trade Counselor in the UK Nguyen Canh Cuong said the exhibition has offered a good opportunity for Vietnamese firms to introduce high quality products and meet potential importers and distributors.
As the third largest furniture producer and exporter in the world, and the largest in Southeast Asia, Vietnam boasts products meeting requirements of the UK market, he said, stressing that Vietnam needs to actively attend fairs like JFS in order to seek and set up partnerships with British businesses.
Zoe Bonser, Retail Manager of NEC, said that with more than 15,000 visitors, JFS gives a great chance to businesses, and those from Vietnam in particular, to gain easier access to the UK market.
In 2022, Vietnam earned 239.66 million USD from exporting wood and wood products to the UK, accounting for nearly 4% of its total export value to the European country.
According to the Vietnam Trade Office in the UK, the export of wood products and handicrafts to the UK sees a good prospect because this is the world's fifth largest furniture market, and the second largest in Europe with a forecast annual growth of 3.2% for the 2021-2026 period. In particular, many wood products will enjoy a tax rate of 0% within the next five years in line with the UK – Vietnam Free Trade Agreement (UKVFTA).
The Vietnam Timber & Forest Products Association (VIFORES) reported that the country's furniture exports hit an estimated 16 billion USD in 2022. The wood industry has set a target of earning 25 billion USD in export value by 2030.
Held annually since 1990, JFS has introduced about 50,000 products of over 500 national and international brands. This year's event attracted more than 22,000 businesses.
Seafood exporters' profit projected to fall in 2023
'The seafood industry grew rapidly in the third quarter of last year, but there are signs of a slowdown in the fourth quarter and it is expected to continue this year, particularly in large markets.
According to experts, even though rising inflation has a negative impact on import markets and high material costs result in declining profit, seafood businesses are still supported by some positive factors.
KB Vietnam Securities Company (KBSV) said that the seafood industry has already hit its peak. The securities firm expected that seafood exports are not optimistic as higher inflation caused stagnation in purchasing demand.
Moreover, some enterprises' profits hit peaks in 2022, which is a sign that the industry is entering the declining cycle.
KBSV also sees the prices of raw shrimp and pangasius remaining high despite recent declines. Although material prices are expected to fall in 2023, high feeding costs and the faster decrease in selling prices will directly affect enterprises' gross profits.
But there are still some positive factors that can support the seafood industry in 2023, including the reopening of Vietnam's largest seafood export market, China, after lifting the "zero-COVID" policy, as it can boost demand at restaurants and hotels, KBSV said.
While export volumes to China are expected to increase, rising inventories at the factories' warehouses, high output, and a bearish trend in raw fish prices make it difficult for Vietnam's pangasius exports to post a breakthrough.
Vietnamese pangasius also has to compete fiercely with China's tilapia. Therefore, KBSV believes that the reopening of China just lessens the strain on growth rather than causing a boom in this sector.
In contrary, the lower freight charges help businesses reduce the burden of logistics costs and offset profit margins when they have to discount selling prices, while seafood exporters to the US market such as Vinh Hoan and Sao Ta Foods (HoSE: FMC), may benefit if the USD advances.
Meanwhile, an expert from SSI Securities Corporation (SSI) said that in 2023, inflation will continue to be a challenge amid slow inventory turnover.
The securities firm forecasts the inventory will be fully cleared sometime in the third quarter of 2023, with orders beginning to be signed by that time.
It also warns that China is a price-sensitive market, and the average selling price to this market is always about 40% lower than the average selling price to the US market.
Therefore, SSI believes that revenue from the Chinese market will partially offset the decline in revenue from the US and EU markets, but not enough to help companies recover profits in the first half of 2023. This may be due to the high level of comparative profitability in 2022.
SSI also forecasts that the profits of pangasius companies will decrease in 2023.
The securities firm expects that the average selling price will decrease by 20-30% year-on-year in 2023 and that the cost of aquafeed will also go down.
With a slow increase in orders, there will be no shortage of supply for both raw shrimp and fish; thereby, it is expected that the price of raw shrimp and fish will fall slightly due to weak demand until the end of the first half of 2023.
SSI believes that the gross margin of seafood businesses will decrease in 2023.
With interest rates expected to remain high for the whole year, rising financial costs will continue to affect net profit margins, especially for companies with high leverage, such as I.D.I International Development & Investment Corporation (HoSE: IDI). Overall, SSI forecasts companies to post negative earnings growth in 2023.
In fact, in 2022, the seafood industry had a very positive growth. Therefore, the decline in profit this year is due to a high comparative base.
Due to a negative business outlook and the downtrend in the stock market, the seafood industry's share prices fell 13% last year. The industry's shares quickly fell when quarterly profit growth slowed. Shares of key companies fell during the period, such as FMC was down 36%, and IDI was down 27%.
Seafood stock valuations could fall to the industry's historically low level of 4x through the third quarter of 2023 as earnings are expected to edge down from the high base level for 2022, said SSI.
Vietnam imports over 6,300 cars during first half of January
Vietnam spent more than US$161 million on importing 6,306 completely built-up (CBU) cars of all kinds throughout the first 15 days of January, according to the General Department of Vietnam Customs.
The volume of imported cars is anticipated to meet the rising demand of customers after the Lunar New Year known locally as Tet.
Out of the total, 5,776 were nine-seater cars, making up 91.6% of the total and equivalent to 85.1% in turnover.
Last year saw Indonesia continue to represent the largest car supplier to Vietnam with 72,671 units, followed by Thailand with 72,032 vehicles.
In the reviewed period, Vietnam purchased more than US$174 million worth of auto components, however, it also enjoyed a trade surplus of over US$146 million in this group, with export turnover reaching over US$320 million.
Although the volume of imported cars has shown an upward trend in recent years, the number of imported CBU is anticipated to level off this year.
This can be attributed to the fact that several popular automakers such as Hyundai, Toyota, and BMW have injected money into domestic production and assembly lines.
Toyota Vietnam recently launched made-in-Vietnam units of its Veloz Cross and Avanza Premio car models in the Vietnamese market. Furthermore, cars branded Hyundai Creta, which have been imported from Indonesia, are likely to be assembled domestically in the near future.
Vietnam records sharp influx of foreign arrivals during Tet
The number of foreign tourists visiting Vietnam during the Lunar New Year (Tet) has increased remarkably, with bookings from foreign citizens making up between 30% and 40% of the country's total room occupancy rate, according to the Vietnam National Administration of Tourism (VNAT).
Hanoi received roughly 32,000 international travelers, while Ninh Binh was estimated to have welcomed more than 29,000 guests from abroad, said VNAT.
The increasing number of foreign visitors was largely attributed to China's recent decision to reopen its borders from January 8, making the international tourism market more hectic.
Domestically, localities across the country served nine million local visitors during Tet, representing a rise of 47.5% compared to the same period from last year, and earned VND17.5 trillion from tourism services.
Ho Chi Minh City took the lead with 1.7 million visitors, followed by Ba Ria - Vung Tau, Khanh Hoa, Thanh Hoa, Can Tho, Kien Giang, and Hanoi.
Along with positive signs for tourism recovery, VNAT leaders pointed out that due to the impact of the global economic recession and the country's socio-economic fluctuations, the purchasing power of tourists has dropped significantly due to visitors spending money on medium and high-class travel services.
The national tourism industry has set a target of receiving 110 million holidaymakers, including eight million foreign arrivals in 2023.
Hanoi's tourism sector rakes in over VND1 trillion during Tet holiday
Hanoi capital has welcomed roughly 332,000 visitors, including 32,000 international guests, during the Lunar New Year holiday from January 21 to January 26, with total tourism revenue anticipated to reach more than VND1 trillion.
According to a report compiled by the Hanoi Department of Tourism, throughout the reviewed period the average room occupancy at one to five star hotels in Hanoi stood at an estimated 40%.
The majority of foreign arrivals mainly came from the Republic of Korea, Japan, Singapore, Canada, Thailand, and France. Among the 300,000 domestic visitors, most of them were residents of the capital who went on holiday during the early days of the year.
Popular destinations around Hanoi attracting the largest number of visitors include Quoc Tu Giam (Temple of Literature) with about 80,000, the Perfume Pagoda with 80,000, the Imperial Citadel of Thang Long with nearly 20,000, Co Loa relic site with about 18,000, and Duong Lam Ancient Village with about 15,000.
In general, tourist sites and attractions have moved to upgrade their service quality, launched plenty of new programmes and products, as well as organised cultural and artistic activities aimed at stimulating demand and attracting more tourists.
Government lays down Resolution No.01
The Government has recently brought Resolution No.01 into force, which centres around economic, fiscal, and legal plans to move Viet Nam up in the global competitive rankings this year.
One of the resolution's key objectives involves macro-economic stability, fast economic growth and low inflation.
To achieve the objective, policymakers are required to keep a close watch on price fluctuations, domestically and globally, to quickly respond to inflationary shocks.
They are also required to step up tax reforms to improve collection and put an end to fraud. The continuation of tax cuts is among the fiscal possibilities that would be employed to support the economy this year.
As the objective hinges on the stability of the monetary, corporate bond, securities, and realty markets, the resolution also requires stricter supervision of financial institutions in those markets to ensure their robust operation.
"Push ahead with the scheme to reorganise credit institutions and settle bad debts between 2021 and 2025 to guarantee their stable operation," said the resolution.
It also highlights the need to attract high-quality foreign direct investment (FDI) flows, especially those into the semiconductor industry, and encourage projects implemented under Public-Private Partnerships.
Trade promotion is another must-do to achieve the objective. The resolution underlines trade matching, e-commerce, e-transaction, and free trade agreements as the catalysts for better commercial performance.
"The prices of goods and services under the State management, including electricity and fuels, need to be managed in a more open and transparent manner to keep the price levels in check," the resolution stated.
Curbing the COVID-19 pandemic is another objective on the agenda, which calls for new preventive measures and the development of domestically-produced medications for COVID-19 treatment.
The resolution also highlights the importance of international cooperation and foreign aid in the fight against the virus.
The next objective involves institutional improvement, law enforcement, and crackdowns on corruption.
To this end, the law-making process needs to be accelerated, in pace with what has been laid out in the National Assembly's guidelines on law-making for 2023, to ensure the timely enactment of important legal documents, especially those regulating the business environment.
"The step of inviting stakeholders to comment on the latest drafted version of the Law on Land should be done in a manner that ensures every single voice is heard," said the resolution.
Fighting against corruption, according to the resolution, demands a hands-off approach to administration, higher accountability of public leaders, and keeping power in check.
Those notions will be elaborated in the National Strategy to Combat Corruption until 2030 and the Scheme to Observe UN Convention against Corruption. A National Database on Personal Income is also under development to add to the corruption-preventive effort.
Achieving the objective requires the acceleration of administrative reform and digital transformation, the improvement of national competitiveness, and the development of e-government.
Additionally, the number of civil servants is planned to decrease by 5 per cent in 2026, and that of public employees by 10 per cent to streamline public agencies.
The resolution stresses the need for digital systems that facilitate public administration, including a national portal that provides public services to firms and individuals.
"As data creates value, 2023 will be designated as the Year of National Digital Data," said the resolution.
The fourth objective is to streamline the economy by improving national productivity, resilience, adaptability, and competitiveness.
Achieving the objective requires tougher measures to step up the delivery of public money, especially the money to critical projects that would act as the engine of growth in 2023 and also requires the Government to double down on its effort to restructure State-owned enterprises, handling those that run unprofitably and canceling inefficient investments.
Achieving the objective also calls for the restructuring of the digital sector and the deeper involvement of local firms in global supply chains. The contribution of the digital economy to gross domestic product (GDP) is aimed to reach around 15.5 per cent by 2023.
The next objective revolves around infrastructure upgrades, environmental protection, and the efficient use of natural resources.
The construction of critical projects, which is instrumental in achieving the objective, will be expedited to complete on schedule. Of the projects, My Thuan - Can Tho Highway, Mai Son - National Road 45 Segment, and Vinh Hao - Phan Thiet Segment are among the projects expected to launch this year.
Another item on the to-do list is to remove the obstacles in the way of key power facilities, including Thai Binh 2 Thermal Power Plant and Van Phong 2 Power Plant, to get them operational in 2023.
Environmental protection, one pillar of the objective, exposes the need for higher bars on waste disposal and garbage classification, which can be achieved by imposing heavy penalties for environmental infringement and the construction of interprovincial waste treatment facilities.
Source: VNA/SGT/VNS/VOV/Dtinews/SGGP/VGP/Hanoitimes