VIETNAM BUSINESS NEWS JANUARY 28
Vietnamese firms told to be ready for legal challenges when exporting to US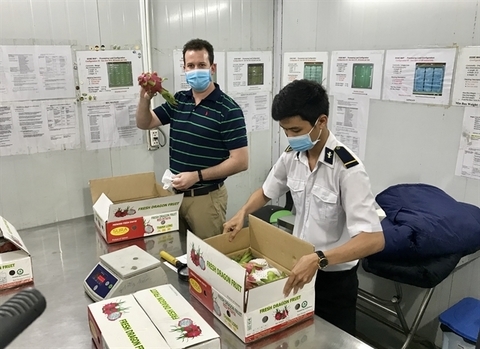 Inspection of dragon fruit by the US Animal and Plant Health Inspection Service at the Son Son Irradiation Company in HCM City's Binh Tan District.
 

Vietnamese enterprises must be well prepared for legal issues if they seek to export to the US market, a seminar heard in HCM City last week.  Tran Phu Lu, deputy director of the Investment and Trade Promotion Centre of HCM City (ITPC), said the US is Viet Nam's largest export market and major items include seafood, textiles, footwear, and farm produce.
"The US is the largest market in the world with more than 328 million people and a per capita income of US$65,760."
Vietnamese goods enjoy high profit margins in the US, which also has a diverse range of demand from high-tech products to affordable consumers goods, dovetailing with the strengths of Vietnamese enterprises, he said.
But it is also a highly demanding market, he said.
Vietnamese exports to the US are expected to face anti-dumping lawsuits and trade remedies, he added.
As of the end of last year there were 193 trade remedy cases involving investigations by the US into Vietnamese exports, including 108 anti-dumping cases, 22 anti-subsidy cases, 23 cases of tax evasion, and others.
The majority of Vietnamese goods subject to investigation are those that enjoy competitive advantages including metals, fibre, aquatic products, plywood, construction materials, and chemicals.
Diep Quoc Ke, CEO of ASIA Golden Link INC, said Vietnamese businesses need to respond to the US's trade remedies by learning about the laws of that country.
"They must understand and constantly keep abreast of the US legal system. In addition to federal law, there are separate laws for each state. In addition, it is important to understand trading partners to avoid high-risk transactions."
C. Matthew Schulz, attorney at Dentons US LLP law firm, said periodically and for various partners the US adjusts its trade policies to protect the interests of its businesses.
It tends to target countries with large trade surpluses, and imports that grow rapidly increase face the risk of lawsuits and trade remedies, he said.
It has strict policies with regard to origin fraud and trade evasion, and so Vietnamese businesses need to be cautious and transparent about traceability information and should accurately classify their goods when exporting to the US, he added.
Trade remedies, including anti-dumping, anti-subsidy and safeguarding measures are allowed under free trade deals and World Trade Organization rules to prevent unfair competition.
HCM City construction materials market expected to benefit from huge demand
HCM City is removing legal bottlenecks to the housing market and the COVID-19 pandemic is under control, factors that will revive its construction materials market whose annual peak season begins in the first quarter.
Le Hoang Chau, chairman of the HCM City Real Estate Association, said it would recover from the first quarter since Viet Nam had done an excellent job of containing the pandemic, instilling confidence in businesses.
Rising domestic consumption and the EU-Viet Nam Free Trade Agreement (EVFTA) would drive the retail industry, and foreign retailers, especially from the EU, were expected to enter the country, increasing demand for office space, he said.
Vo Thi Khanh Trang, head of market research at Savills Vietnam, said in the city high-end condos remained in demand despite the pandemic and there were no signs of a fall in prices.
According to the Viet Nam Real Estate Brokers, some 20 housing projects will be launched in HCM City in the first half of this year in all segments with 30,000 units.
Pham Van Bac, director of the Ministry of Construction's department of building materials, said the rise and fall of the construction market was closely linked with the property market.
It would also benefit from the public investment projects to be implemented this year, he said.
Repairs to infrastructure damaged by the floods and landslides in the central region would also require large volumes of construction materials, and all these factors would cause the construction materials market to rise sharply this year, he said.
The industry needed to prioritise producing new materials, scale and advanced technologies as well as projects that use waste from other sectors, he said.
VNDirect Securities Company said the building materials industry would benefit greatly from the increasing investment in construction this year, including in major infrastructure projects like the North-South Expressway.
It estimated that the building materials market would be worth VND23.7 trillion this year.
Viet Nam could also benefit from China's plans to invest in infrastructure this year, which would increase its demand for steel and cement, it said, estimating the trend would continue until mid-year at least.
The steel industry exported nearly $3.65 billion worth of products in the first nine months of last year, a year-on-year increase of 16 per cent.
China was the largest buyer, accounting for 28.5 per cent of the exports, followed by Cambodia and Thailand.
However, imports provided the industry with fierce competition and it also had to deal with trade remedy investigations in export markets, experts said.
Thaiholdings capitalisation hits nearly $2.6 million after recent share sale
In a statement, Thaiholdings Joint Stock Company (THD) said that the company successfully finished the sale of 296.1 million shares for its existing shareholders. After the sale, Thaiholdings's capital rose to VND3.5 trillion from VND539 billion.
The company used most of the money from mobilisation to buy 81.6 per cent of Thaigroup shares, according to its fourth quarter result. The merger and acquisition (M&A) deal helps Thaiholdings post greater results in the fourth quarter.
During the period, its profit after tax was over VND1.02 trillion, 67 times higher than that of 2019. In 2020, the company's profit after tax reached VND1.09 trillion, nearly 23 times higher than that of 2019.
After the M&A deal, Thaiholdings' share price surged. Last week, THD share price ended Friday at VND172,000 which helps Thaiholdings become the company with the biggest market capitalisation on the Ha Noi Stock Exchange. This also helps Nguyen Duc Thuy, chairman of the board of Thaiholdings, become one of top 10 richest people on Viet Nam's stock market.
On Tuesday, the THD share price edged higher despite a strong decrease of the general market. THD shares traded at VND160,000, up 0.63 per cent while the northern benchmark HNX-Index declined by 1.74 per cent to end Tuesday at 227.82 points. The VN-Index also went down by 2.57 per cent to 1,136.12 points.
Recently, Thaiholdings has officially cooperated with Samsung Group through a technical service agreement of Hotel Shilla to build a luxury complex on the site of Kim Lien Hotel. 
Board of directors remuneration survey out, attracts interest among firms
Most companies have remuneration policies for directors that are decided at annual board meetings, according to the 2020 Board Remuneration Survey Report conducted by Talentnet and Vietnam Institute of Directors.
The structure of the remuneration includes base retainer fees, role fees (compensation for additional appointments and responsibilities), meeting fees (by number of meetings attended and meeting types), and additional ad-hoc fees.
In the case of base retainer fees, chairpersons get 1.5-3 times the amount directors do, with the median values being VND500 million (US$21,676) for the latter and VND750 million ($32,515) for the former.
A majority of businesses have an annual remuneration budget for board members, with the highest being at financial services due to the risky and complex nature of the business.
The remuneration is mostly decided by a compensation committee or shareholders (32 per cent), with a small proportion of companies having owner or chairperson deciding it.
It is mostly paid in cash (87 per cent), with 7 per cent getting a combination of cash and stocks and 6 per cent getting cash and others (dividend, service, goods, and others.)
The survey will enable businesses to establish lucrative remuneration policies to attract interest from independent directors with expertise and in-depth business experience.
To ensure objectivity, the board and other committees should strike a balance between independent, executive and non-executive directors.
It was the second year the survey was done, and it received 68 data points, double the rate in the 2019 survey, indicating the increasing interest among companies to standardise remuneration plans for directors.
Financial services and real estate companies showed the most interest, followed by manufacturing companies.
Other industries represented in it include high-technology trading, retail, life sciences, and agriculture.
Listed companies accounted for 76 per cent. 
Thai investors eye more investment opportunities in Vietnam
Vietnam is still a destination for foreign investment, including Thailand because it is a large and growing market, Tanee Sangrat, Director General of the Department of Information and Spokesman of the Foreign Ministry of Thailand, has said.
Addressing at a press conference themed "Golden opportunity for Thai investors in Vietnam" jointly held by the Vietnamese Embassy in Thailand, the Thailand-Vietnam Business Council (TVBC) and Amata Vietnam Public Company Limited on January 26, Tannee Sangrat, who is also former Thai Ambassador to Vietnam, affirmed that Vietnam has been one of Thailand's most important foreign investment markets since its first investment in Vietnam after the country's policy of doi moi (renewal).
Thai businesses entering Vietnam are growing stronger and their investment is expanding and gaining success, he said.
He highly valued Vietnam's efforts to improve competitiveness and investment and business environment to attract FDI, saying that the success of Thai investors in Vietnam in the next few years will largely depend on continuation of the current investment policy and the support of the Vietnamese Government, and the country's economic growth.
Meanwhile, Chairman of the TVBC Sanan Angubolkul mentioned a number of reasons for Thai businesses to invest in Vietnam, including political stability, successful control of the COVID-19 epidemic, abundant and quality workforce, and attractive investment incentives, potential domestic market with large purchasing power, and open investment environment.
Vietnam has joined 17 free trade agreements (FTAs) with 55 countries, and new generation FTAs such as the European Union - Vietnam Free Trade Agreement (EVFTA), the Comprehensive and Progressive Agreement for Trans-Pacific Partnership (CPTPP) agreement, and the Regional Comprehensive Economic Partnership (RCEP), have helped create new opportunities for Vietnamese exports, he said.
Thai businesses need to take advantage of these to set up manufacturing factories in Vietnam for export, he added.
Ambassador Phan Chi Thanh briefed participants on Vietnam's economic achievements in recent times and its socio-economic development goals in the next ten years.
Vietnam needs to mobilise about 200-300 billion USD of foreign investment in the 2021 - 2030 period, he said.
He spoke highly of success of Thai business operating in Vietnam, describing it as a vivid manifestation of long-term cooperation between the two countries.
According to Thanh, Thailand currently ranks the 9th biggest investment partner of Vietnam with 603 FDI projects worth 13 billion USD, and investment flows from Thailand to Vietnam is expected to strongly increase in the coming time.
He affirmed that Vietnam is a successful and safe destination for foreign investors, especially in the context of supply chain disruptions due to trade tensions and the COVID-19 pandemic.
Somhatai Panichewa - General Director and Chief Executive Officer of Amata Vietnam Plc (AMATAV), said in the perspective of an industrial estate developer in Vietnam, the company believes in the growth of Vietnam.
The Thai firm has so far operated six projects with a total investment of about 840 million USD in Vietnam.
Through the global business disruption due to the COVID-19 pandemic, Vietnam was among very few countries in the world enjoyed positive economic growth (GDP) of 2.91 percent in 2020. The country's economic outlook for 2021 is bright with GDP of 6.5-7 percent as expected by international financial organizations such as the World Bank, the International Monety Fund and ASEAN Development Bank./.
Electricty dispatch centre asks for better infrastructure
The National Load Dispatch Center (A0) has asked Vietnam Electricity (EVN) to equip it with better infrastructure for the operation of a future wholesale and retail electricity market with more renewable energy resources.
A representative of the centre said: "Wind and solar power plants have been put into operation on a large scale but data on their scale and generating capacity is not yet accurate."
The representative added that rooftop solar power, with a capacity of up to 9,583 MWp, was affecting the load chart, making it tough to plan the power system operation as well as the market, especially due to the limitations of the transmission grid, particularly the 500kV / 220kV grid in the north.
The centre also said the operation processes of the hydroelectric plants with a capacity of more than 30 MW had shortcomings to fit with electricity market regulations.
As the future infrastructure will convert the transaction cycle from 60 minutes to 30 minutes, while the core software has reached its limit, the centre has asked EVN to soon install new tools.
Leaders of A0 also suggested the EVN consider offering supporting services for electricity loading and dispatch to develop the market.
It also asked EVN to approve its plan for upgrading and expanding the existing infrastructure systems such as SCADA / EMS to better collect metering data due to the sudden development of renewable energy for the wholesale electricity market and the growing requirements for energy security.
At the same time, it asked EVN to equip the Electricity Market Management System (MMS) system for after 2022 to ensure the infrastructure for the wholesale/retail electricity market with renewable energy. 
Speaking to the Vietnam News Agency, A0's representative said in 2021, it would set up better systems to improve the economic efficiency of the electricity system and minimise electricity costs for the country, adding it would develop the information technology infrastructure for the future for the wholesale electricity market.
The centre also planned to complete the project of upgrading the IT infrastructure to serve the competitive wholesale electricity market of Việt Nam (VWEM) in 2020-2022 as well as apply open-ended technical innovations and scientific research.
The centre said it would improve the quality of short-term and long-term load forecasting for uncontrollable power sources including renewable energy, rooftop solar power and wind power sources.
With an increasingly large-scale power system and the development of renewable energy sources to replace fossil fuels, the centre said it would propose solutions to strengthen the legal framework for renewable energy sources.
A0 said it would research and install storage equipment to fit with the increase in renewable energy sources to meet local operational requirements and standards
Regarding human resources, A0 would recruit new engineers and improve the existing ones with more quality training to meet the requirements of a wholesale electricity market. 
According to the centre, there are 100 plants directly participating in the electricity market with a total installed capacity of 27,526 MW, accounting for 46.3 per cent of total installed capacity of power plants controlled by the national dispatching level. In 2020, four new factories joined the market with a total capacity of 1,837 MW. The total cost for those plants was VNĐ122 trillion (US$5.3 billion).
Last year, the centre prepared to operate the wholesale electricity market including the calculation and announcement of market electricity price (CSMP), market capacity price (CCAN), total market price (CFMP), rate of electricity purchase and cost of purchasing electricity from some factories of power corporations.
It also helped compile five processes regulating the operation of the competitive wholesale electricity market and reported to the EVN on the electricity market operation in 2021-2030 in the EVN's Power Plan VIII.
The ENV is eyeing the operation of a competitive retail electricity market in 2021 after running a competitive wholesale market since 2019. The plans were specified in 2013, with the marketplace set to be developed in three distinct parts – the power generation market, the wholesale market and the retail market.
Vietnam has great opportunity to achieve stronger development
Vietnamese businesses and economic experts have expressed confidence in the decisions being adopted at the 13th National Party Congress, believing that they will add fresh impetus to the national economy's rapid and sustainable development moving forward.
Mac Quoc Anh, vice president and General Secretary of the Hanoi Association of Small and Medium Enterprises, says that 35 years on after the initial implementation of the Doi Moi (Renwal) process, under the leadership of the Party, local businesses have consistently enjoyed growth in both quantity and quality.
"The nation is facing a great opportunity to develop a contingent of businesses and entrepreneurs capable of compete with other countries in the region. In particular, an important factor is to accelerate the digital transformation of businesses.
To build an e-Government, e-businesses and digital enterprises are needed. We wish that the digital economy in the next term will further develop so that businesses, especially small and medium-sized enterprises, will make fundamental changes as a means of improving their competitiveness in international economic integration," he emphasizes.
According to Anh, both the Party and State must adopt policies aimed at forging closer links between small and medium-sized enterprises, start-ups, craft village enterprises, along with five million individual business households. This can therefore serve as the foundation which can provide a stronger boost to the national economy.
With regard to international economic co-operation, Assoc. Prof. Dr. Nguyen Anh Thu, deputy rector of the University of Economics - Hanoi National University, underscores the necessity of fine-tuning institutions in a bid to attract high-quality foreign investment. The ongoing congress is believed to have set out a breakthrough way in which to promote the rapid and strong development of high-tech industries and fields, an effort which will serve to meet the goal of turning the country into a prosperous nation in the future.
"First of all, the high-quality FDI inflow must be in line with Vietnam's development orientation. For example, if Vietnam is strong in the agricultural sector, it can develop high-tech agriculture. Besides, we must have criteria such as value added to the budget. That is the criterion of research and development for these businesses. In addition, it is essential to attract high-tech workers or deal with environmental protection issues. In my opinion, this should be clearly defined to attract high-quality capital," Dr. Thu states.
Tuna exports unlikely to see recovery in 2021
Vietnamese tuna exports are unlikely to record a bounce back during the year ahead due to the complicated nature of developments regarding the novel coronavirus (COVID-19) pandemic globally, according to the Vietnam Association of Seafood Exporters and Producers (VASEP).
The association stated that the country's tuna exports during 2020 endured an annual decline of 9.8% to US$649 million, with the item anticipated not to enjoy a recovery this year due to the COVID-19 pandemic not being brought under control in several major markets worldwide.
Furthermore, the United States, the largest export market for Vietnamese tuna, is facing fierce competition from cheap canned tuna products from China.
Simultaneously, several major importers in the US, including Walmart, Bumble Bee, and Chicken of the Sea, have turned to seek sustainable supply sources of tuna, which could potentially reduce the import demand for tuna products.
With regard to the EU market, the EU-Vietnam Free Trade Agreement (EVFTA) can be considered as leverage to boost tuna exports to the demanding European market in the year ahead.
Despite these advantages, frozen steamed tuna fillet products, a key Vietnamese key export item, is projected to experience a downward trajectory in the opening months of the year. This is due to these products enjoying tax incentives under the EVFTA, therefore, they will not exempt from a preferential tariff of 0% in line with the autonomous tariff rate quota (ATQ) when being exported to the EU.
Moreover, the import quota for this type of product in line with the ATQ has been increased to 35,000 tonnes from 2021, thereby creating favourable conditions for Chinese tuna exporters.
At present, the country has 205 local businesses exporting tuna products to 108 markets globally, with the US, the EU, ASEAN, Israel, and Canada making up the nation's five major markets.
Bangkok Post highlights prudent Vietnamese rice strategy
Bangkok Post of Thailand recently published an article by Thai expert Suwatchai Songwanichi shedding light on the general quality of Vietnamese rice.
The article states that as the world's second largest rice exporter, Vietnam made a surprising move this month by starting to import the grain from India. It is therefore importing the cheaper Indian rice in an effort to meet domestic demand while saving its own output, which is currently selling at a multi-year high, specifically for the export market.
The Thai economist points out that the price of Vietnamese rice in recent times has been outperforming that of Thailand, which traditionally attracted a high premium. One factor is that the country has signed a free trade agreement (FTA) with the EU, thereby opening the door to greater prospects in the lucrative European market. Indeed, the recently signed Regional Comprehensive Economic Partnership (RCEP) will also open fresh markets for higher-priced rice.
Vietnam can be viewed as being in a strong position to take advantage of these opportunities, having strived to improve the quality and variety of its rice. In addition to producing more high-quality fragrant rice, Vietnamese researchers have also been developing varieties aimed at meeting market trends such as soft-textured white rice, alongside reorganising production methods, improving both food safety and quality management, and increasing yields.
These efforts have served to meet higher yields whilst improving brand recognition and picking up various global accolades, such as winning the best rice variety at the World Rice Trade Conference in 2019, coming second to Thailand last year.
The article outlines that Thailand once held the crown as the world's largest rice exporter, but has now slipped into third place behind India and Vietnam. Moving forward, Thailand must learn from how Vietnam adapted its trade in order to match market developments.
Recent years has seen Thai rice lose popularity with consumers shifting to softer rice types. It is anticipated that Thailand could drop to fifth place over the next decade if it remains complacent and fails to develop a more diverse and competitive long-term rice strategy.
The article states that there are some positive signs that policymakers are beginning to take action on this front. Last year saw Commerce Minister Jurin Laksanawisit announce a five-year strategy aimed at accelerating the development of 12 new rice varieties. This includes four hard-textured varieties of white rice, four varieties of soft-textured white rice, two varieties of Thai Hom Mali fragrant rice, and two varieties of high-nutrition rice.
The economic expert emphasises that Thailand will need to do more in order to regain its crown as the world's largest rice exporter. Drawing lessons from Vietnam's experience, the entire supply chain must be looked at, whilst Thai productivity has also lagged behind regional competitors for years, with local rice yields at approximately 450kg per rai (a rai equivalent to 1,600sq.m.) compared with 960kg for Vietnam and two tonnes for China.
One way Thailand can find its way out of the economic crisis triggered by the novel coronavirus (COVID-19) is to build on its advantages as a food-producing country by adding value and improving efficiency, with rice being a good place to start, the expert notes.
Vietnam boost sweet potato exports
Vietnamese authorities are boosting sweet potato exports to Japan after the prices for Vietnam's potatoes in Japan peaked to USD2,047 a tonne. 
In the first ten months of 2020, Japan imported 11,030 tonnes of sweet potatoes worth USD13.86m, a decrease of 6% and 15.2% respectively compared to the same period in 2019. The average import prices for potatoes in Japan was USD1,257 a tonne, a 9.7% decrease
According to the International Trade Centre, the demand for sweet potatoes in Japan is still very high. China is the biggest seller to Japan with 5,300 tonnes of sweet potatoes in the first ten months of 2020, an increase of 11.9% on last year and accounted for 48.4% of Japan's total imported potato values.
Vietnam is in second place with 3,500 tonnes of sweet potatoes, a decrease of 19.4% compared to the same period last year. Indonesia is in third place with 2,260 tonnes, a decrease of 16.5% on last year.
However, Vietnam's sweet potatoes are at highest prices of USD2,047 a tonne while sweet potatoes from Indonesia and China were sold at USD1,461 and USD650 a tonne.
Sweet potatoes are one of the main crops in Binh Tan District, Vinh Long Province. Binh Tan has 13,000ha of sweet potatoes that provide 300,000 tonnes a year to export to Japan and South Korea. Many export firms are collaborating with processing firms to make products more diverse.
As of now, Binh Tan's potatoes have had geographical indications. However, the distribution links still have shortcomings. Farmers are selling sweet potatoes to traders without sustainable contracts so the prices are volatile.
Besides the Japanese market, the Ministry of Agriculture and Rural Development is also seeking to export sweet potatoes to China as demand for potatoes in this market are rising sharply.
The Department of Cultivation and Plant Protection is planning to set up clean raw material areas that meet VietGAP practice standards. Binh Tan District People's Committee is carrying out an agriculture reform programme to prioritise the most suitable and profitable crops in the areas.
In early November 2020, Vinh Long Province People's Committee approved of the plan to develop a sweet potato supply chain to promote the products to international markets and to boost exports to China.
Imports impeding chicken production
Domestic chicken breeders, especially livestock companies, are facing a series of uphill struggles due to the impact of epidemics, low-cost imports, and oversupply caused by dramatic repopulation.
Nguyen Thanh Son, chairman of the Vietnam Poultry Association, told VIR he has received numerous phone calls in recent weeks from livestock company representatives and members of the association, complaining about not being able to sell chickens even as the Lunar New Year approaches.
"The companies say that at this time last year sales were good, but this time around numerous traders are buying cheap imported chicken, even as local producers are offering prices below their break-even point," Son said.
Neither businesses nor households earn enough profit with these prices, he added, while production expenditure has increased, including feed, vaccines, and labour costs. "They are turning to the association to propose that the government can issue policies to regulate supply and mitigate the damage for domestic production," Son said.
Frozen low-cost chicken arrives en masse to Vietnam through diverse channels, appearing at budget food courts and kitchens serving workers at industrial zones and supermarkets.
Ngo Thanh, owner of a budget food court in Hanoi's Cau Giay district said that she has replaced domestic chicken with frozen imports in the past year for the cost savings. "The majority of customers are labourers and students, so the meals must be affordable," Thanh said.
"Since the African swine fever (ASF) broke out in the country, the price of ingredients has seen a dramatic increase, and frozen imported chicken is a good replacement."
In supermarkets, imported chicken is 30-40 per cent cheaper than domestic products. For example, at Big C Le Trong Tan supermarket in Hanoi, C.P. Vietnam chicken legs sell for VND46,000 ($2) per kg. Meanwhile, drumsticks imported from the United States costs VND40,000 ($1.70) per kg and whole chickens cost VND58,000 ($2.50) per kg.
On social networks, prices are even lower than in supermarkets. Whole chickens are offered at VND35,000 ($1.50) per kg, and imported chicken cuts are offered for VND17,000-48,000 (75 US cents-$2) per kg.
At domestic farms, the average price of white chicken is VND13,000 (55 US cents) per kg, lower than the actual breeding expenditures. As a result, farmers are suffering losses.
According to the Ministry of Agriculture and Rural Development (MARD), to date, approximately 2,000 companies are allowed to export meat and animal products to Vietnam, including 479 companies from the US, 172 from France, and 152 from Japan. Last year Vietnam is estimated to have imported 200,000 tonnes of chicken and over 3.4 million breeding chickens.
Son said that chicken production prospects will become even bleaker as Vietnam's tariff drop commitments in free trade agreements come into effect.
"According to schedule, the import tariffs on poultry will decrease each year and reach zero in 7-10 years. Thus, competition between domestic and low-cost imported products will only get fiercer," said Son.
Along with the imported product factor, the large-scale repopulation of herds is another reason causing oversupply, leading to damage for the domestic chicken breeding sector.
Son said that a number of association members reported a repopulation ratio of 30 per cent on-year, with one company even increasing capacity from 35 million to 100 million heads last year alone. The country's poultry output is in the top ten worldwide, with a total of 520 million chickens annually.
"As per the unofficial statistics of the association, the total supply of chicken in 2020 increased by 18-20 per cent on-year. Meanwhile, the demand saw a drop since early in the year due to COVID-19 affecting schools and factories. In addition, the tourism sector has yet to recover, impacting chicken sales," Son said.
Vu Manh Hung, general director of Hung Nhon Group, also highlighted the serious losses suffered by chicken breeders due to the oversupply that was formed by both households switching to poultry and livestock companies expanding poultry herds following ASF.
"The lack of specific development strategies and management mechanisms have destabilised supply. As a result, the government and the MARD are facing difficulties in issuing supporting policies for chicken breeding," Hung said.
Hung added that Vietnam can learn from the experience of countries like the Netherlands, which builds breeding plans with a specific number of animals for each farm. "If farms want to increase their herds, they have to negotiate with other farms. This will help keep supply stable and it is easier for the government to issue policies to control imported products," Hung said.
Proactive, flexible and prudent in operating monetary policy
The banking sector gained positive achievements in 2020, contributing significantly to national socio-economic development as well as creating a solid premise for the completion of tasks in the future.
Keeping stability amid turbulent context
The world has witnessed great fluctuations since March 2020 that have never been seen before due to the impact of the COVID-19 pandemic, which has also affectedmany aspects of social life in Vietnam. Playing a vital role in the economy, the operation of the banking systemcould not avoid the negative effects of the pandemic.
In that context, the banking sector proactively, flexiblyand prudently implemented solutions to operate itsmonetary policy, contributing to controlling inflation, stabilising the macroeconomy and supporting the economy in coping with the adverse effects of the pandemic.
The State Bank of Vietnam (SBV) sold its bonds toactively control the currency and inflation but still maintain available funds at a reasonable level, especially from mid-March 2020 (the first phase of social distancing).
The SBV also lowered interest rates three times in 2020 to support the economy in the face of the COVID-19 pandemic with a total reduction of about 1.5 to 2% peryear on operating interest rates, a total decrease of 0.6 to 1.0% per year on ceiling interest rates for deposits in Vietnamese dong under six months, and a total decrease of 1.5% per year for priority sectors. Vietnam's reduction of interest rates is currently one of the highest reductionsin the region.
The stable exchange rate continued to be a bright spot in 2020 despite the negative impact of the pandemic. The SBV flexibly regulated the exchange rate through announcing fluctuations of the central rate every day in accordance with domestic and foreign market developments, macroeconomic balance and monetary policy to limit speculation on and hoarding of foreign currencies and help the economy respond better to external shocks.
Up to now, the domestic foreign currency market has maintained its stable operation and positive liquidity while the legal foreign currency demand has been fully and promptly met. The SBV is also able to buy foreign currencies to supplement the State's foreign exchange reserves, helping ensure national monetary and financial security and consolidate Vietnam's credit rating.
The SBV also flexibly implemented credit growth to ensure a sufficient supply of capital for the economy. The credit balance of the whole banking system in 2020 increased by 11% compared to the end of 2019.
The restructuring of credit institutions and the settlement of non-performing loans continued to be conducted in a stable manner. The on-balance-sheet non-performing loan ratio of credit institutions was maintained at below 2% from 2017 to July 2020. However, the rate increased to 2.14% in late September 2020 and 2.09% in late October 2020 due to the impact of the COVID-19 pandemic.
The efforts of the banking sector in the process of restructuring and dealing with non-performing loanssignificantly contributed to ensuring the safety of banking operations, creating a sustainable macroeconomic foundation, and enhancing Vietnam's position in the international arena.
Facing many challenges
Monetary policy and banking activities achieved many important results in 2020, creating a premise fordevelopment in the coming years, but there are still many challenges in 2021, requiring the whole banking sectorfocus on addressing same.
They are the ongoing developments of the COVID-19 pandemic, the fragile recovery prospects of the world economy, the unpredictable developments of the global financial and monetary market, the movement of global investment capital flows, the imposition of tariff and non-tariff measures on Vietnamese goods and others affectingthe supply of and demand for foreign currencies and the domestic foreign exchange market.
These uncertainties make analysis and forecasting more difficult, posing great challenges for the management of monetary policy and exchange rates of the SBV.
International organisations have forecast that Vietnam's economic growth rate in 2021 will be 4.5 – 8.1%, among the countries with the highest growth rates in the world.
However, the unpredictable developments of the COVID-19 pandemic and the application of lockdown measures on a large scale may have a negative impact on economic prospects in 2021.
Vietnam's average inflation in 2021 is likely to be curbed at about 4% but will still face pressure and the risk of increasing. This requires a close and synchronous coordination between monetary policy and other macroeconomic policies, particularly the fiscal and pricemanagement policies of the State.
A prolonged coronavirus pandemic across the world will affect the global trade and investment activities with a negative influence on Vietnam's import-export and tourism activities.
Due to the pandemic, credit institutions have had to reschedule, extend, and postpone debt repayment obligations for customers which can cause bad debt risks for credit institutions in the medium and long term and create pressure on the stability of the financial and banking systems.
In addition, the strong development of information technology and the industrial revolution 4.0 is posing challenges for payment operations and technology in the banking sector, especially in terms of the protection of personal data and the security and safety of information technology systems.
This requires a further improvement of the legal framework and mechanisms on non-cash payments to meet the development trends of new payment services and models.
Opportunities for sustainable development of the livestock industry
Despite the many difficulties caused by the Covid-19 pandemic, diseases in livestock, extreme changes of weather and climate, the country's domestic livestock production achieved remarkable results in 2020.
Many good practices have opened up opportunities for the sector's sustainable development in the coming time.
According to the Department of Livestock Production under the Ministry of Agriculture and Rural Development (MoARD), livestock production value was estimated to have increased by around 5% in 2020. Total pig production reached 26.17 million; the total number of cows was 5.87 million (an increase of 4.2%); and total poultry was about 496 million (up 6.2%). The output of live hogs, live poultry meat and eggs reached around 3.46 million tonnes (up 3.9%), 1.42 million tonnes (up around 9.2%) and 14.5 billion tonnes (up 9.5%), respectively.
In particular, the export turnover of livestock products (including pork, poultry, eggs, honey, and milk) was estimated at about US$300 million. In particular, the export of processed chicken to Japan was quite stable. In December 2020, the CP Vietnam Livestock Joint Stock Company exported the first batch of processed chicken products to Hong Kong (China). In addition, several Vietnamese enterprises sent multiplier chicken eggs and salted eggs to the Republic of Korea, Singapore, Australia, Cambodia and Laos; chicken eggs to Myanmar; frozen suckling pigs and piglets to Hong Kong (China) and Malaysia; and honey to the US and the EU.
Acting Director of Department of Livestock Production Nguyen Xuan Duong said that livestock production basically achieved its set targets in 2020, maintaining a high growth rate, satisfying both domestic and export demands. Livestock production witnessed great developments both in quantity and quality, becoming a major commodity production industry and creating income for hundreds of farmers.
The above achievements are the results of coordination between many major groups and enterprises to develop a closed chain of effective production with biosafety and food safety in animal slaughter as well as many effective livestock models and good practice. The A-Z food chain by Hoang Long Livestock Cooperative in Tan Uoc commune, Thanh Oai district, Hanoi, is one example, with a total of 500 sows and 5,000 multiplier pigs. Since 2016, the cooperative has invested in a closed chain model of breed production, animal feed, slaughtering and processing with a capacity of 150 animals per day, providing 13 A-Z processed products such as pork pies, sausages and bacon, meeting market demand. Many commentators have said that the livestock sector has made a great contribution to social security and the implementation of the goals of national industrialisation and modernisation. The sector has also restructured its production quite effectively in accordance with linking value chains and commodities, including the enterprises - livestock processing farms and enterprises – cooperative – farmers' households chains. Accordingly, the sustainable development of livestock towards organic and biosafety standards will be prioritised, focusing on the stages of slaughter, processing and consumption.
In addition to these achievements, the livestock sector still has shortcomings such as unsustainable growth, especially in disease control, food safety, environment and product market. The sector alsos face many challenges in the context of deep international integration. Especially following the signing of free trade agreements, domestic livestock products will have to compete more fiercely with products of the same type from foreign countries with better qualifications and experience than Vietnam. On the other hand, Vietnamese experts and the relevant agencies do not yet fully appreciate the important role of market factors for the development of the pork industry and land-related issues for grazing spaces of buffalo and beef breeding. Breeders still lack land the funds for investment in and development of farms.
On October 6, 2020, the Prime Minister approved the Livestock Development Strategy for the 2021-2030 period, with a vision to 2045, under Decision No.1520/QD-TTg. The content and objectives of the strategy are in line with the provisions of the Law on Livestock Production and relevant legal documents, meeting the requirements of a professional and modern orientation for the sustainable development of the livestock industry. Accordingly, the industry's restructuring will be enhanced and measures to promote re-herding and the transfer of herd structure will be promoted towards an increase in the proportion of poultry and big cattle.
The strategy also stresses the reorganisation of the domestic consumption market for livestock products to reduce intermediaries in the circulation process as well as the expansion of the trading floors for livestock products and the enhancement of deep processing to diversify product ranges. The relevant agencies will pay great attention to developing livestock according to farm scale and maintaining farm household husbandry under the traditional organic form and VIETGAP standards. The closed production and linkage model amongst all stages in the value chain will be encouraged to reduce cost and improve efficiency and added value.
The sector will continue to develop high-quality livestock breeds for production, with priority given to the import of appropriate breeds that are suitable for each ecological region. The production of industrial animal feed will be accelerated to meet domestic demand and exports. The relevant agencies should enhance the management and improve the efficiency of animal feed use to reduce production costs, ensure food safety and protect the environment. It is also crucial to disseminate methods of using animal feed safely and effectively among farming households. Hi-tech applications are needed in the field of livestock breeds, with priority given to indigenous breeds; animal feed, breeding conditions, equipment and facilities and veterinary hygiene. The synchronous measures are expected to turn livestock into a conditional production and business industry, ensuring biosafety, food safety, environmental protection and high economic value.
In 2021, the livestock industry strives to achieve an average production value of about 5.5% to 6%. The quantity of meat of all kinds is expected to reach over 5.7 million tonnes, including 3.67 million tonnes of pork (up 6.1%), 1.5 million tonnes of poultry meat (up 5.8%) and 547,300 tonnes of grass-eating cattle meat (up 7.9%). Egg production is expected to reach 15.6 billion tonnes (up 7.5%) and milk production will increase by 11.5% to around 1.21 million tonnes.
Source: VNA/VNN/VNS/SGGP/VOV/NDO/Dtinews/SGT/VIR