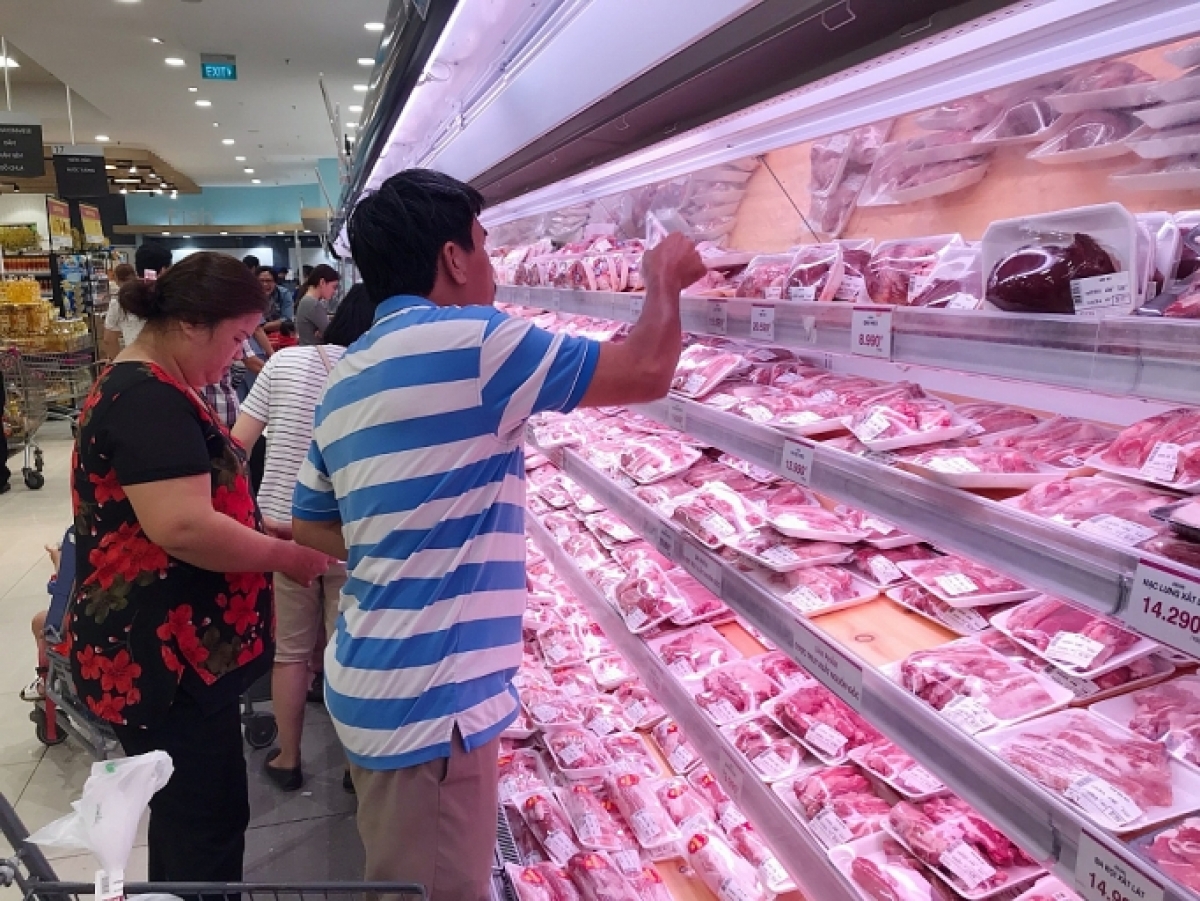 Pork items were mainly imported from markets such as Russia, the United States, India, the Netherlands, and Poland, with Russia making up the largest supplier.
Throughout the Jan-May period Vietnam imported 45,700 tonnes of meat and meat products worth US$97.4 million from Russia, up 437.5% in value year on year.
The first half of the year saw Vietnamese livestock exports increase by 9.2% to US$196 million, of which the export of milk and dairy products rose by 35% to reach US$60 million, whilst the export of meat and meat products soared by 30.8% to US$54.6 million.
Nguyen Van Trong, deputy director of the Department of Livestock Production under the MARD, said due to the impact of the African swine fever, the amount of pork imported from abroad to Vietnam has recorded a sharp increase since 2019.
Trong also noted that the increase in pork imports should not be considered a matter of concern as the import volume merely makes up 4% of the country's total meat imports. Indeed, due to a sharp decline in pork consumption, the amount of meat imported this year is anticipated not to be equal to last year's figures.
Furthermore, the price of imported pork remains relatively cheap, fluctuating at around VND50,000 per kilo, thereby resulting in the price of live hog plummeting. However, consumers are forced to purchase fresh pork at high prices, ranging between VND120,000 and VND130,000 per kilo at markets, Trong said.
This situation can largely be attributed to the emergence of many intermediary stages in the process of distributing pork to local markets.
Pham Cong Thieu, director of the National Institute of Animal Sciences, said it is necessary to limit pork imports in the future to promote the domestic husbandry industry.
Gov't renews criteria for classification of SOEs
Deputy Prime Minister Le Minh Khai has recently signed Decision No. 22/2021-QD-TTg on the criteria for classifying the wholly State-owned enterprises, partially State-owned enterprises undergoing restructuring in 2021-2025.
Uder the decision, the State shall hold 100% of charter capital in SOEs operating in 13 fields and sectors including mapping services for national defense and security, manufacture and sale of industrial explosives, electricity transmission, national electricity system dispatching, management of electrical grids, construction and operation of major power plants, and national defense and security, lottery business, printing and manufacture of notes and gold bullion and golden souvenir, credits in service of socio-economic development, deposit insurance, bad debt settlement associated with restructuring the system of credit institutions among others.
The State shall hold 65 percent of charter capital in SOEs undergoing privatization and restructuring and operating in seven fields and sectors, including management and operation of airports and airfields, large-scale mining exploitation, finance, banking (excluding insurance, securities, fund management companies, finance companies and financial leasing companies).
The State shall hold between 55 percent and 65 percent of charter capital in SOEs undergoing privatization and restructuring and operating in seven fields and sectors namely exploitation, production, and supply of clean water and drainage in urban and rural areas, manufacture of basic chemicals, air transportation and others.
The decision shall take force from August 19, 2021, replacing Decision No. 58/2016/QD-TTg dated December 28, 2016 of the Prime Minister on criteria for classification of SOEs.
Binh Thuan develops plan to consume 440,000 tons of dragon fruit
Authorities in the South -Central Province Binh Thuan have been developing a plan to help farmers to consume 440,000 tons of dragon fruit as the coronavirus epidemic has hit the fruit export.
The new coronavirus has put a dent in Vietnam's exports as the outbreak forced authorities to temporarily close border crossings, disrupting the crossborder trade of fruits and vegetables whereas from now until the end of 2021, farmers in Binh Thuan Province will harvest about 440 thousand tons of dragon fruit.
The People's Committee of Binh Thuan province has just built a plan to connect farmers and enterprises for the promotion of agricultural products consumption, especially dragon fruit.
According to statistics, Binh Thuan province, which is the country's largest dragon fruit producer with over 33,700 hectares, yields 700, tons. Accordingly, the plan built by the provincial People's Committee aims to sell all dragon fruit at reasonable prices.
All related competent agencies were asked to focus on boosting consumption of dragon fruit in the country and exports via official and unofficial channels.
Simultaneously, the People's Committee asked enterprises to join hands in helping farmers to sell the fruit by processing the fruit and preserving it.
In addition to dragon fruit, the province has developed a plan to sell other agricultural products and fish such as rubber, shrimp, and other aquatic products.
Cement, tiles and glass production see massive surplus
Cement, tile and construction glass are seeing excess supply over demand, according to the Ministry of Construction.
Thanks to high investment in the three industries, the combined total output has already nearly reached their output target for 2025.
In 2020 cement manufacturers in Vietnam produced over 104 million tonnes of cement, but only 62 million tonnes were sold in the domestic market, and 38 million tonnes were exported.
According to the Vietnam Cement Association, domestic demand is slowing down, leading to fierce competition between suppliers in the country.
Exports of cement and clinker in the first five months of the year rose by 50 percent year-on-year. This is because the country had expanded its cement exports in developing countries, said Luong Duc Đức Long, vice president cum general secretary of the association.
However, he said that export of cement to these markets was unsustainable because these countries were also focusing on developing their domestic cement industries.
The construction glass industry is also seeing higher supply than demand, with an excess output of 80 million square metres in 2020. Several manufacturers have had to close down some of their production lines.
Meanwhile, tile manufacturers in Vietnam produced 560 million square metres worth of tiles in 2020, but only 465 million square metres of them were sold.
Domestic tiles also have to compete with imported tiles that are not certified or closely monitored for quality and pricing, according to the Vietnam Building Ceramic Association.
Chinese tile products, which account for up to 25 percent of Vietnam's market, are sold very cheaply.
According to construction material manufacturer CMC Joint Stock Company, which recorded a 14 percent drop in revenue in 2020, excess supply over demand contributed to harsh competition last year, with businesses making large price cuts just to get rid of their stock.
Nguyen Van Sinh, deputy minister of construction, said that proposed investment projects in these three industries should be reconsidered, and localities should seek opinions from state authorities to avoid excessive investment and waste of manpower.
He said that investment in cement production in large cities and areas in need of environmental protection should be limited./.
Vietnam Airlines, Viettel team up to offer in-flight internet service
The Viettel Military Industry and Telecoms Group will provide internet connectivity to aircraft operated by Vietnam Airlines using an air to ground (ATG) network as part of their freshly signed strategic cooperation deal for 2021 – 2025.
Under the pact, Viettel will support the national flag carrier in digital transformation, including the offering of systems for business management, infrastructure services and IT. Another system for customers' self check-in will also be built.
Vietnam Airlines will continue to provide products and services for Viettel under a preferential trade policy as well as coordinate with the telecom services provider to build a service ecosystem for customers of both sides.
Viettel has become a priority partner of Vietnam Airlines in freight transport to promote the development of a logistics and e-commerce center. The two will study a plan to establish a joint venture company to consolidate and expand cooperation in the future, contributing to boosting the national socio-economic development.
Acting Chairman and General Director of Viettel Major General Le Dang Dung said the cooperation will not only generate new experiences to passengers but also bolster the growth of both businesses in contribution to realising the nation's digital transformation goals.
Vietnam Airlines and Viettel have cooperated since 2013 for the development and diversification of products and services as well as the enhancement of business performance to strengthen their leading positions in the fields of aviation and technology./.
Dong Thap launches agricultural products website
The southern province of Dong Thap launched a website to sell the provincial agricultural products and specialties at htxdacsandongthap.com on July 7.
Ngo Chi Cong, a representative of the Dong Thap Specialty Cooperative, said the website currently offers more than 220 agricultural products and local specialties from 50 small and medium enterprises (SMEs) and cooperatives.
He said e-commerce channels would help the SMEs, cooperatives and production facilities sell their products in the context of COVID-19, adding it is also time for them to participate in the digital transformation process.
Earlier, the cooperative partnered with websites, social networks and e-commerce platforms to advertise on Google to increase the sales performance of businesses.
In the future, the province may expand cross-border sales in Southeast Asian countries, said Cong.
Huynh Lam Ho, co-founder and CEO of the Haravan Technology Company, which works with the province's businesses in implementing e-commerce and omnichannel retail solutions for 2021-2025, said for businesses to implement digital transformation in multi-channel sales and commerce effectively, besides the technology and training, equipping local businesses and their staff with digital and e-commerce knowledge is key.
According to the agreement between the Dong Thap Department of Industry and Trade and Haravan, firms in the province will be supported in digital transformation and e-commerce./.
Vietnamese and Indian enterprises look for business opportunities
The strengthening of trade exchange between Vietnam and India not only by the traditional method but also in the online format has contributed to promoting the comprehensive strategic partnership between the two countries, said Hoang Minh Chien, deputy head of the Vietnam Trade Promotion Agency (VIETTRADE) under the Ministry of Industry and Trade.
He made the statement at the Vietnam - India trade exchange conference which was held virtually by VIETTRADE and the Vietnamese Embassy in India on July 9.
According to Chien, in the context of the COVID-19 pandemic, the agency has promoted the organisation of a number of online trade promotion programmes with India and has always received the effective coordination and support of Indian trade promotion organisations including Indian Importers Chambers of Commerce and Industries, the Gujarat Chamber of Commerce & Industry, the Vietnamese Embassy in India, the partners and businesses of the two countries.
Do Thanh Hai, Counselor at the Vietnamese Embassy in India, said that textiles and garment, pharmaceuticals, supporting industries, renewable energy sector, and agricultural products are the driving force for trade relations, and many other industries have great potential.
However, to turn the potential into reality, it was necessary for relevant authorities and the business community to involve in, he said, adding that online trade exchange events are an important channel for enterprises of the two countries to seek find business opportunities.
Hiren Gandi, Chairman of the Food Committee of Gujarat Chamber of Commerce & Industry, recommended that Vietnamese enterprises should use legal commercial contracts when exporting to India to avoid disputes and protect themselves from fraud, false commitments and overcome business risks.
The right legal contracts can help prevent businesses from up to 80 percent of commercial disputes, he said.
Gandi emphasised that Vietnamese enterprises should not use brokers or agents because they have no legal value.
He also advised them to check the financial capacity of the buyers and raised the issue of the right to handle logistics-related issues in commercial contracts.
At the conference, Atul Kumar. President of the Indian Importers Chamber of Commerce and Industry, Srinivasa Murthy, Honorary Consul of Vietnam in Karnataka, India, and Bui Trung Thuong, Counselor at the Vietnam Trade Affairs Office in India, also introduced business opportunities for Vietnamese businesses in the Indian market as well as sharing experiences for successful business cooperation with Vietnamese enterprises to Indian counterparts.
Experts said Vietnamese businesses have many opportunities to export to India. At the same time, Vietnam is also a potential market for Indian investors to do business in the fields of agricultural products, food, automobiles and energy.
Virtual exchanges were also be held during the conference to support businesses in introducing their products and learned about the partner's demand, thereby looking for business cooperation opportunities./. 
Kien Giang: goods exports up 11 percent
The export turnover of the southern province of Kien Giang reached over 380 million USD in the first half of this year, meeting 50.7 percent of the year's target and up 11 percent compared to the same period in 2020.
According to provincial Department of Industry and Trade, the locality's main exports included rice (133.36 million USD), vegetables (11.72 million USD), seafood (112.6 million USD), and leather and footwear (72.86 million USD). 
Kien Giang's products are exported to 43 countries and territories, with major markets being Ghana, the Republic of Korea, Japan, Hong Kong (China), Belgium, the Philippines, China and Thailand.
As the COVID-19 pandemic is developing complicatedly, the province has synchronously carried out various measures to realise the dual targets set by the government. Among those are keeping a close watch on businesses' activities to promptly remove obstacles facing them and supporting them in expanding markets and increasing exports.
Kien Giang aims to earn 750 million USD from exports this year./.
Vietnamese Edtech startup receives 2 mln USD from Alibaba-backed capital fund
Educa Corporation, a Vietnamese educational technology (Edtech) startup, has raised 2 million USD in a Series A funding round from Singapore-based ReDefine Capital Fund.
Founded in 2018, Educa Corporation uses technology to tackle challenges in learning English for Vietnamese students. Its flagship offering is Edupia, an English learning app targeted primary school students.
Three years after the debut, Educa now has half a million paid users. With the new funding, the corporation plans to heavily invest in infrastructure development and R&D with an aim of achieving two million paid users, out of 20 million Vietnamese students, by 2025.
It also wants to reach out to new markets in Southeast Asia.
The company has been developing a number of new products targeting new customer segments, including Educa Tutor and Babilala – an English self-learning app for kids aged 3 – 8.
ReDefine Capital Fund is backed by Alibaba and Ant Financial with hundreds of millions of USD. Last year, it invested 50 million USD in Seedcom, which operates coffee chain The Coffee House and women's accessories chain Juno./.
Vietnam Airlines pilots digital health passport
The national flag carrier Vietnam Airlines hopes that if the trial of "Digital health passport" is implemented successfully, the Government will consider and recognize this solution, towards promoting resumption of international routes.
The pilot launch of digital health passport by Vietnam Airlines is a part of the cooperation agreement signed by the national flag carrier and the International Air Transport Association (IATA) in May.
To be eligible to participate in the programme, passengers must be over 18 years old and have a certificate of negative COVID-19 test results issued by testing facilities registered with IATA.
Those who want to participate in the programme should register on Vietnam Airlines' website at least three days before their planned departure, download the IATA Travel Pass app to their mobile phones, create a digital ID comprising their photo and passport information and fill in flight details to receive information on entry requirements at the destination.
Before departure, passengers will be required to get tested at eligible clinics based on the IATA registry, then share the test results digitally and confirm flight status with the airline ahead of arriving at the airport.
This application is still in the development and testing stages, so passengers will still have to show hard copies of the COVID-19 test results at the request of authorities in the destination country.
To make it easier for passengers to use the application, Vietnam Airlines provides instructions with illustrations on its website at https://www.vietnamairlines.com/vn/en/plan-book /experience/iata-travel-pass.
The IATA Travel Pass is being piloted by many airlines around the world thanks to its feature of ensuring consistent information between parties including governments, testing facilities, airlines and passengers.
The electronic health passport has officially come into effect for EU member states from July 1, 2021, gradually opening the door for free travel within the Union and to international passengers./. 
Anti-dumping tax levied on sorbitol products from China, India, Indonesia
The Ministry of Industry and Trade (MoIT) has decided to impose an anti-dumping tax ranging between 39.63-68.5 percent on sorbitol imports from China, India and Indonesia.
The MoIT started the anti-dumping investigation in December 2020 based on the assessment results of dossiers submitted by the domestic industry in September 2020, requesting for the imposition of anti-dumping measures against these products.
During the seven months of preliminary investigation, the MoIT has coordinated with relevant agencies to carefully evaluate the allegations, including dumping acts by exporters of China, India and Indonesia and damage to the Sorbitol production industry of Vietnam.
The investigation results indicated that the volume of dumped sorbitol imports increased in the period from April 1, 2017 to March 31, 2020, causing pressure on the operation of the domestic manufacturing industry. It was reflected in such criteria as output, capacity utilisation, inventory, market share, domestic sales and revenue, profit and ability to raise capital.
During the investigation period, these indexes showed a downward trend compared to the previous time.
In the coming time, in order to come to a final conclusion on the case, the ministry will continue to work with relevant parties to collect information to assess the comprehensive impact of the case on related parties, including end consumers. The investigation is expected to be finished in the third quarter of 2021.
Sorbitol, also known as glucitol, is generated from refined glucose under high temperature and pressure, hydrogenated with nickel, which is often used in medicine production, food and cosmetic industry./. 
Remittance to HCM rise despite COVID-19 pandemic
Oversea remittances to Ho Chi Minh City were worth 3.2 billion USD in the first six months of this year, despite the COVID-19 pandemic roiling on many economies around the world.
Nguyen Hoang Minh, deputy director of the State Bank of Vietnam's HCM City branch, said the figure represented a 22.34 percent increase year-on-year.
This was a positive growth at a time when the COVID-19 pandemic has seriously affected the global economy, he said, adding that the remittances were mostly poured into production and business activities.
The money flow has not only supported the city's economic development but also contributed to stabilising the supply of foreign currency in the city and Vietnam in general, Minh said.
It is forecast that remittances to HCM City will reach 6.5 billion USD this year, up 6.5 percent compared to last year's figure which stood at 6.1 billion USD.
Vietnamese abroad sent home 17.2 billion USD worth of remittances in 2020, making the country the third-largest remittance recipient in East Asia and Pacific region, according to the Migration and Development Brief released earlier in May by the World Bank and the Global Knowledge Partnership on Migration and Development (KNOMAD).
This represents a rise of nearly 3 percent over 2019, a very positive result compared to the previous forecast in the context of the COVID-19 pandemic.
Vietnam came after China in remittances last year which received 59.5 billion USD, while the Philippines raked in 34.9 billion USD.
With remittances equivalent to 5 percent of the country's gross domestic product (GDP), Vietnam was among the top 10 countries in the region by the share of GDP./.
Top 10 prestigious insurance companies in Vietnam in 2021 announced

The Vietnam Report Joint Stock Company on July 9 announced Vietnam's top 10 prestigious life and non-life insurance companies in Vietnam in 2021 as well as assessments on the Vietnamese insurance market.

The list of top 10 life insurance companies included Bao Viet Life Corporation, Prudential Vietnam Assurance Private Limited Company, Dai-ichi Life Vietnam, AIA Vietnam and Manulife Vietnam.
Meanwhile, firms like Bao Viet Insurance Corporation, PVI Insurance, Post and Telecommunication Joint Stock Insurance Corporation, Petrolimex Insurance Corporation, and Military Insurance Corporation were named on the top 10 non-life insurance firms. 
Commenting on the Vietnamese insurance market in the current period amid impacts of the COVID-19 pandemic, Vietnam Report General Director Vu Dang Vinh said that despite the downturn in the world insurance market, the domestic insurance sector has seen impressive growth.
Last year, insurance companies paid over VND48.2 trillion (US$2.09 billion) of benefits to customers, up 11.4% over 2019, he noted.
In 2021, more than 50% of insurance firms made decisions relating to digital transformation, customer managing and approaching, and insurance product development, he added.
Businesses encouraged to export organic farm products to North Europe
Local businesses have been advised to develop organic food in an effort to boost fruit and vegetable exports to Nordic countries, according to the Vietnamese Trade Office in Sweden.
Due to having a cold climate throughout the year, Nordic countries are forced to import fruit and vegetables from other nations, a factor which has created an array of opportunities for Vietnamese fruit and vegetable exporters to gain a foothold in these countries.
Most notably, the enforcement of the EU-Vietnam Free Trade Agreement (EVFTA) in August, 2020 brought about a range of advantages for domestic firms as import duties levied on fresh fruit and vegetables are slashed to 0%.
Nordic consumers have a habit of purchasing safe and organic products, with the consumption of organic food in this market anticipated to enjoy a three-fold increase by 2030.
Nguyen Thi Hoang Thuy, Vietnamese Trade Counselor in Sweden, points to the fact that demand for prepackaged convenience products continues to grow and become more popular in these countries.
Furthermore, she says Nordic consumers are also interested in tropical fruit and vegetables, such as bananas, melons, pineapples, sweet peppers, and lemons, which have a high demand for import all year round.
These factors are anticipated to create a range of opportunities for local businesses to boost their export of fruit and vegetables to these countries in the near future, notes Thuy.  
According to the Vietnamese Trade Office in Sweden, new suppliers of fruit and vegetables from Vietnam are expected to find it difficult to penetrate the Nordic market due to fierce competition between multinational corporations and logistics companies.
Moreover, consumers in this market tend to prefer vegetables grown in the European region due to the low cost of transportation and lower prices in general.
Other factors include geographic distance and a lack of direct flights to North Europe making it difficult for local businesses to export fresh fruit and vegetables to this market.
Thuy therefore advises domestic firms to develop niche markets, push the export of organic products, comply with stringent regulations set by importers, and develop brands as a means of enhancing the consumer experience.
Digital transformation backs retail growth in H1
Revenue from retail trades and services increased 4.9 per cent to over VND2.46 quadrillion (US$107 billion) in the first half of this year, according to the General Statistic Office (GSO).
Retail sales surpassed VND1.98 quadrillion, accounting for 80 per cent of the total retail sales of consumer goods and services, up 6.2 per cent year-on-year, the GSO said.
These encouraging figures were mainly attributed to businesses and firms that quickly adapted to the "new normal" as a result of the COVID pandemic.
Actively applying technological solutions in trading and payments along with undergoing digital transformations has been an important part of promoting growth in the retail sector and maintaining stability for the business community, according to Vice chairman of the Viet Nam Chamber of Commerce and Industry, Hoang Quang Phong .
Phong said the rapid changes in technology have enabled retail companies to optimise their resources and place consumers at the centre of their businesses. This has helped them to survive, to stabilise their operations, and to thrive throughout the COVID-19 pandemic.
The Internet of Things (IoT), Big Data, AI and Machine Learning have allowed businesses to provide customer service in unique and exciting ways They have helped to optimise management strategies as well as supply chains maximising revenues.
Do Khac Cuong, Sales Director of Corporate Banking and Partner Channel Manager, at Microsoft Vietnam, says that the data points to incorporating the customer experience into an organisations digital transformation is key.
In a survey of 800 business executives, conducted by The Economist and Microsoft, respondents in the retail industry said that improving the customer experience was the top factor driving their digital transformation.
The survey also showed that retailers that deploy online shopping channels and have a deep understanding of their customers managed to better survive the impact of the pandemic.
On the other hand sales of accommodation and catering services reached VND224 trillion from January to June, down 3 per cent year-on-year. They made up 9.1 per cent of the total revenue.
Tourism revenue also experienced a decline of 52 per cent to VND4.5 trillion.
Viet Nam has yet to reopen the borders for international visitors and at the same time, some localities have implemented social distancing, discouraging domestic tourism.
Meanwhile, revenue from other services reached VND2.49 trillion, marking a jump of 4.4 per cent.
Previously, trade economists forecast that Viet Nam's retail market would likely rebound strongly predicting 11 per cent revenue growth in 2021, outperforming any other Southeast Asian country. 
Small flats still on the agenda for new builds but concerns remain
The Ministry of Construction will continue to limit the floor-area of new apartments to no less than 25sq.m, according to a new circular on technical regulations for apartment buildings.
The regulations are a part of the ministry's Circular No 03/2021/TT-BXD on national technical regulations on apartment buildings (QCVN 04:2021/BXD) that took effect from July 5, 2021 and replaced the Circular No 21/2019/TT-BXD.
In both the new and old circulars, the ministry has stipulated that the minimum usable area of ​​an apartment in housing projects is not less than 25sq.m.
In addition, for commercial housing projects, the proportion of apartments with an area of ​​less than 45sq.m should not exceed 25 per cent of the total number of apartments in the project.
Le Hoang Chau, chairman of the HCM City Real Estate Association (HoREA), said that small-scale apartments in any high-end, mid-end or affordable housing project have the lowest total cost compared to other apartment sizes.
The price of a high-end housing project is about VND45 million per sq.m, so the price of a small apartment with an area of ​​​​about 30sq.m in this project is only VND1.35 billion. Young people just starting work can afford these, Chau said.
Meanwhile, affordable apartments with a price of VND25 million per sq.m have a value of VND750 million. That is a very affordable price, meeting the needs of many people, he said.
Doan Chi Thanh, general director of Hoang Anh Saigon Company, says this is good news for business.
In a housing project, small apartments are often purchased due to their lower purchase price compared to large-area apartments.
However, there is not a big enough supply of small apartments to meet demand due to the limited number of small apartments in new development projects.
This pushes up the per square meter price of this market segment roughly 5-10 per cent more than of large-area apartments. Many projects, as a result, have small-area apartments with a price of VND40-50 million per sq.m.
Many experts believe that a 25-sq.m apartment is not the answer to the problem of a lack of housing for low-income people in urban areas.
The price for this kind of apartment is still far beyond the reach of many people.
Architect Ngo Viet Nam Son said many countries have regulations on small apartments with the minimum being a 21sq.m flat in China, 24sq.m flat in the Philippines, and 27sq.m flat in the UK.
Small apartments have a bedroom, living room, kitchen and one toilet. These apartments are built for just one person.
That said, these countries also have very specific regulations for this type of apartment, including the criterion that only one person can live there, Son said.
Meanwhile, Viet Nam has regulations that allow the construction of a 25-sq.m apartment, but does not yet have specific regulations on limiting the number of people living in that apartment.
Small apartments can accommodate one or two person(s) and even a family of three. This puts pressure on social infrastructure and transport, he said.
Do Thu Hang, director of Research, at Savills Vietnam said depending on the scale of the project, small apartments will create pressure in terms of overall operation. This includes demand for electricity, water, waste treatment, fire prevention or the need to use common utilities.
The 25-sq.m "micro" apartment also poses a challenge in terms of managing the number of people living in the apartments, with security and public safety.
The planning approval by the competent state agency must also have important criteria, Chau said. Including land use, construction density, the number of floors and especially the population of the project.
Chau also notes that the management and operation of the apartment management board also plays a direct role, contributing to limiting negative impacts on infrastructure.
Ministry to create favourable conditions for agricultural firms to promote exports
The Ministry of Agriculture and Rural Development said it would create favourable conditions for firms to promote exports of agricultural products by reducing the number of product categories subject to quarantine inspection as well as applying technology to speed up the customs clearance process.
Deputy Minister Nguyen Hoang Hiep said there were still problems in the certification of quarantine inspections of plants and agricultural products for export and import, even though the number of harmonised system (HS) codes which were subject to checks was reduced to 157 from 300.
Further efforts would be made to reduce the number of HS codes of plant and agricultural products subjected to quarantine checks, Hiep said, adding that the time for inspections to be carried out must also be cut by using advanced technology to aid businesses.
In international practice, fresh products are subject to quarantine inspection while processed products are subject to food safety checks.
Currently, international practices are applied for plant products while animal products still have to undergo quarantine inspection for both fresh and processed products.
Hiep said the ministry asked the Department of Animal Health to review the process for the application of international practices to ensure that products are safe and enterprises have the best environment to operate in.
Nguyen Hoai Nam, Deputy General Secretary of the Viet Nam Seafood Exporters and Producers, said seafood companies wished to receive support from the Government to remove the European Commission's 'yellow card' as soon as possible.
According to Nguyen Thanh Son, President of the Animal Husbandry Association of Viet Nam, many instructions to implement the Law on Husbandry, which took effect from the beginning of 2020, must be clarified. Son said several standards were not appropriate to reality, which wasted time and increased costs for enterprises.
Tran Quang Trung, President of the Viet Nam Dairy Association, urged the ministry to consider removing the regulation on quarantine checks on imported processed dairy products.
Vu Thi Mai Hien, Deputy Director of the ministry's Legal Department, said some regulations about certification for enterprises were being reviewed.
According to Hiep, the ministry would also enhance the administrative reforms and improve the attitude of civil servants to create favourable conditions for enterprises. 
Micro-entrepreneurs learn digital skills to survive amid COVID
In the northern and north-central parts of the country, Go Digital ASEAN has helped thousands of micro-entrepreneurs improve their capacity to use digital applications to market their products online and access business information and networks to better manage and expand their businesses amid the COVID-19 pandemic.
Vu Thi Anh Tho, who runs a watch shop in Nam Dinh City, told Viet Nam News: "Before COVID-19, I had a steady stream of direct customers. Once the pandemic began and social distancing set in, I lost a significant number of customers. My family's income reduced accordingly.
"I have learnt many things, thanks to the training programme, but my greatest gain has been increasing the sales of my products through e-commerce, which I had never thought of before.
"A particular lesson on e-commerce channels left a strong impression on me as it provided me with business ideas on using various digital channels to promote my products and boost my income during COVID-19.
"I have begun using sites like Lazada and Shopee to sell my products. I have attracted a significant number of customers through them, and I now also know how to facilitate secure internet banking transactions.
"I would like to expand my online sales through more digital channels like Zalo and Tiki, and also onboard more products on my platform to better appeal to and serve customers."
Speaking to Viet Nam News, another trainee in the programme, Nguyen Thi Chuan, who farms, processes and sells fish in Dien Chau District, Nghe An Province, said earlier she used to sell her products only in her commune or nearby areas.
"Through the training programme, I learnt how to make videos to advertise my products on Facebook and Zalo. So customers in many northern and southern provinces and cities, including Ha Noi and HCM City, know about my products and place orders. My family's income has increased accordingly.
"The training programme was very useful and helped me understand digital technology to interact better with customers, know their feedback, get market information, and expand my market."
Vu Thi Binh of Bac Giang City said: "My family has an agency selling rice noodles and rice pancakes. Most of my customers already have access to digital technology. Now I must also gradually get used to it.
"After the training we learnt methods and ways to advertise products, and post or write reasonable content to promote products. At first it was confusing, but once we got used to it, it became very easy.
"Thanks to the posts and product descriptions on the internet, my customers have contacted me and placed orders. I am very excited."
They are among nearly 65,000 entrepreneurs and underemployed youths in Viet Nam who have benefited from the Go Digital ASEAN project.
Approved by the ASEAN Coordinating Committee on Micro, Small, and Medium Enterprises and implemented by The Asia Foundation with support from Google's philanthropic arm, Google.org, the project is designed to equip micro and small enterprises and underemployed youth with crucial digital skills and tools, especially in rural and isolated areas, expand economic opportunity across ASEAN member states and mitigate the negative impacts of COVID-19.
Micro, small and medium enterprises account for 99 per cent of all businesses in the region and employ more than 80 per cent of the workforce, but a majority of small business owners, and underemployed youth, in rural areas use their smartphones for communication and entertainment rather than for business.
Launched a year ago, the project aims to train up to 200,000 individuals across the region, 60 per cent of them women, broadening participation in the digital economy and creating a more inclusive ASEAN region.
Filip Graovac, Vietnam deputy country representative at The Asia Foundation, said: "With support from our partners [Tinh Thuong One-member Limited Liability Microfinance Institution and Vietnet Information Technology and Communication Centre], the programme has been very successful in Viet Nam and as of June 2021 we have trained 65,000 entrepreneurs and underemployed youth, 80 per cent of which are women, in the northern and north-central parts … in digital skills like online job search, basic social media marketing and online safety and security."
Marija Ralic, APAC lead, Google.org, said: "COVID-19 has certainly impacted millions of people directly and billions more through the impact on the regional economy. Reports have shown that over 81 million people have lost their jobs here in APAC, with another 25 million seeing their incomes shrink to poverty levels, and the numbers continue to rise.
"With continued economic challenges, rising unemployment, and a demand for new skills, we recognise technology can help people find work, keep businesses going and learn new skills. As the pandemic wore on, so has our strategy. We quickly pivoted our efforts to focus on economic relief and recovery by focusing our efforts on supporting digital training and upskilling programmes that will benefit impacted businesses by the pandemic.
"Just like the Go Digital ASEAN programme, collaboration and support of non-profits, the public sector and government agencies are critical to combat the pandemic."
Graovac said: "While technology has empowered hundreds of millions of people across Southeast Asia, many more are struggling to survive, and are urgently looking for ways to adapt their business to reach new markets. Mastering the new digital landscape has become increasingly important to the future of Viet Nam's digital economy."
The Asia Foundation and its partners would continue to run the programme and train another 16,650 people this year, he said.
"We are aware that the demand for digital skills, especially during the COVID-19 crisis, is extremely high."
HCM City logistics companies unhappy with COVID isolation of ports
Logistics firms are worried transport of cargo to and from the Vietnam International Container Terminals will be disrupted by the lockdown of HCM City's District 7 where it is situated.
Tan Thuan Dong Ward and a part of Tan Thuan Tay Ward and Binh Thuan Ward in the district have been locked down since 6pm on July 8.
A major logistics firm said paperwork and other procedures related to COVID-19 testing for container truck drivers to enter the port are inconsistent.
Besides, ships cannot dock for loading and unloading, goods owners cannot enter the port for customs procedures and there is a shortage of workers for loading and unloading due to travel restrictions.
Saigon Port Joint stock Company, which operates Tan Thuan Port, Tan Thuan Dong Port, Ben Nghe Port One-Member Limited Company, and Vietnam International Container Terminals (VICT) have called on the city and District 7 administrations and other relevant departments and agencies to find a solution.
They want the authorities to allow them to proactively implement measures such as issuing letters to workers confirming they are working at the port so that they can pass through the District 7 health quarantine and control stations, customers to submit a work order to the stations to visit ports and drivers of container trucks to make a medical declaration to pass.
Truong Nguyen Linh, deputy general director of the First Logistics Development Joint Venture Company, which owns and operates VICT, said there is an ongoing problem related to employees and drivers furnishing a negative COVID-19 test certificate since it is expensive.
Speaking to Tuoi Tre Online, a spokesperson for the Vietnam Logistics Business Association (VLA), said not only VICT but also Tan Thuan Dong and Saigon Port are facing difficulties, and isolating seaports like residential areas is unreasonable since it would greatly affect supply chains.
VLA has written to the departments of Transport, and Industry and Trade to resolve the difficulties faced by ports and logistics companies.
Viet Nam's economy to surpass Singapore's by 2030: DBS Bank
Viet Nam's economy is expected to grow by between 6-6.5 per cent over the next decade. If it does, it will surpass Singapore by 2030, DBS Bank experts have said.
Last year, Viet Nam's economy was worth US$343 billion while Singapore's was $337.5 billion, and Malaysia's hit $336.3 billion. This ranks Viet Nam the 40th largest economy globally and fourth in the Association of Southeast Asian Nations (ASEAN).
In their latest forecast, the International Monetary Fund (IMF) and the Asian Development Bank (ADB) said Viet Nam was on track to outpace both Malaysia and Singapore this year.
Despite two waves of COVID-19 in the first half of this year heavily impacting industrial hubs, Viet Nam's still posted gross domestic product (GDP) growth of 5.64 per cent. Its export revenue rose 28.4 per cent compared to the same period last year.
Although GDP expanded slower than expected, it was still much higher than the 1.82 per cent recorded in the same period last year.
This suggests that policies, strategies and directives aimed at both controlling the pandemic and ensuring socio-economic development have been effective.
Standard Chartered on Thursday also released a survey that said that ASEAN companies focusing on intra-regional opportunities expect to experience robust growth over the next 12 months.
The survey was a part of its "Borderless Business: Intra-ASEAN Corridor" report that explores high-potential opportunities for cross-border growth within the region.
The most important drivers for expansion across the region, according to the senior executives surveyed, were: access to the large and growing ASEAN consumer market, access to a global market enabled by a network of Free Trade Agreements, and availability of abundant and skilled workforce.
In addition, the Regional Comprehensive Economic Partnership (RCEP) is expected to attract more investment in ASEAN, with all respondents saying they are planning to increase their investments over the next 3-5 years.
Furthermore, 80 per cent of the surveyed respondents said they were focusing on expanding in Singapore to capture sales and production opportunities, followed by Thailand, and then Viet Nam.
As ASEAN companies look to invest across the region, Singapore is considered the most desirable market for companies to set up to host their regional sales and marketing teams, headquarters, and research and development teams.
The survey also identifies a wide range of risks in the region including: COVID-19 and/or other health crises, geopolitical uncertainty and trade conflicts, and a drop in consumer spending.
Furthermore, respondents said that adapting their business model to industry practices and conditions within ASEAN, building relationships with suppliers, and adapting supply chain logistics, as well as understanding regional regulations, payment methods, and infrastructure, are the most significant challenges they face in the next 6-12 months.
To drive resilient and rebalanced growth in ASEAN and to mitigate these risks and challenges, the surveyed executives said entering new partnerships and joint ventures to increase their market presence would be key.
They also said that sustainability and environmental; social, and governance initiatives; and executing digital transformation programmes are the most important areas their companies will focus on.
To further support their growth, these companies say they are seeking banking partners with strong cash management capabilities, one-stop corporate financing and capital-raising services, and extensive trade financing services.
Michele Wee, CEO, Standard Chartered Vietnam, said: "Viet Nam continues to offer appealing business and investment opportunities given its strong fundamentals – robust economic growth, a sizable domestic market, low labour costs, an abundant workforce, free trade agreements, and strategic location. " 
Source: VNA/VNS/VOV/VIR/SGT/Nhan Dan/Hanoitimes

Vietnamese, German firms sign contract for supply of container cranes