VIETNAM BUSINESS NEWS JULY 13
Khanh Hoa proposes developing Van Phong-Nha Trang expy project
Khanh Hoa Province has sought the Government's approval to develop the Van Phong-Nha Trang expressway project, which is part of the North-South Expressway project during the 2021-2025 period, under the public-private partnership (PPP) format, a Transport Ministry representative said today, July 9.
The south-central province sought to borrow loans from the Government's bond issues to implement the site clearance work, as it is facing financial obstacles and planned to mobilize PPP capital for the construction.
According to the project's prefeasibility study submitted to the ministry, the 83-kilometer project will start from Van Ninh District's Van Tho Commune to Dien Khanh District's Dien Tho Commune.
The four-lane Van Phong-Nha Trang expressway will allow vehicles to travel at 100-120 kilometers per hour, requiring a total investment of VND12.906 trillion.
Once the investment for the project is approved, the province will begin investor selection in early 2022. Then it will start work on the project six months later and put the project into service by late-2024.
It will connect with other subprojects of the North-South expressway such as the Nha Trang-Cam Lam and the Cam Lam-Vinh Hao expressways in the south-central provinces of Khanh Hoa and Binh Thuan.
VNA to pilot digital health passport this week
The national flag carrier Vietnam Airlines (VNA) has announced that it will pilot the International Air Transport Association's (IATA) Travel Pass mobile app for digital health verification on two VN301 flights, which will depart from Japan's Narita airport to Danang on July 15 and 23.
The move is aimed at implementing the cooperation agreement signed by VNA and IATA in May this year, reported VietnamPlus.
The IATA Travel Pass is a mobile app that allows air passengers to store and manage their Covid-19 testing and vaccination certificates. The app is available on the iOS and Android stores.
Passengers who want to participate in the pilot program can register on the official website of the carrier at least three days before their departure, download the IATA Travel Pass app, create their account and insert their flight information into the app.
In addition, passengers eligible to join the program must be over 18 years of age and have a negative Covid-19 test certificate issued by testing units that have registered with IATA.
As the app is in the trial period, passengers will need to show a physical copy of their Covid-19 testing results upon the request of authorities in the destination countries.
Passengers can visit the carrier's website at https://www.vietnamairlines.com/vn/vi/plan-book/experience/iata-travel-pass for more information on the use of the digital health app.
Digital health passports took effect in member countries of the European Union from July 1 this year, which has gradually paved the way for efforts to lift travel restrictions in the bloc.
VNA hopes that if the pilot program is successful, the Government will consider implementing this mechanism on a larger scale, thus accelerating the reopening of regular international flights to Vietnam in the upcoming period.
MB achieved record low bad debt ratio in H1

The Military Commercial Joint Stock Bank (MB) posted a record low bad debt ratio of 0.76 per cent in the first half of the year. This has been also the lowest level in the banking industry.
The information was released at the bank's conference to review business results in the first six months of the year in Ha Noi on Saturday.
MB accelerated the handling of bad debts and increased risk provision in the six-month period. The ratio of the risk reserve fund to bad debts reached 311 per cent, more than double the level at the end of 2020. This means MB has a very high "defensive" ability when having bad debts. With the above results in terms of safety in terms of credit quality, MB and Vietcombank are the two banks with the highest ratio of bad debt provision in the entire banking industry.
Luu Trung Thai, MB's vice chairman of management board cum general director said by the end of June, the total asset of MB Group (including MBBank and subsidiaries) reached more than VND524 trillion (US$22.7 billion), increasing 5.9 per cent from the beginning of the year. Of which, credit rose by 10.5 per cent to VND340 trillion.
Its consolidated revenue in the January-June period exceeded VND22.9 trillion, representing a 44 per cent year-on-year increase. Of which, the pre-provision revenue alone reached more than VND14.6 trillion, up 44 per cent from the same period last year. MBGroup's pre-tax profit post high growth.
MB has also enjoyed a top business performance in the period with a return on asset (ROA) ratio of 2.48 per cent and a return on equity (ROE) ratio of 23.28 per cent.
The bank's governance indicators also maintained good levels like the cost-to-income ratio (CIR) of about 28.6 per cent, the non-interest income ratio of more than 30 per cent and the average before-tax profit per capita was 1.6 times higher than the same period last year.
Thai said its newly issued international credit card market share reached 17 per cent in the period, the highest level in the country. Its subsidiary companies also saw high business results, like Military Insurance Corporation (MIC) becoming among the top five insurers in the country.
Notably, MB has many outstanding products and services relating to digital transformation that contributed to its high growth in the period like MB SmartBank and opening a bank account on MB app through electronic know-your-customer (eKYC). It is expected that MB would have five million new users using its app by the end of this year, triple the figure in 2020.
MB has also donated more than VND100 billion so far for the Government's COVID-19 prevention efforts.
The Government issued Resolution No 63/NQ-CP on key tasks and solutions to promote economic growth, public investment disbursement and sustainable exports in the year-end months and the beginning of 2022. Of which, the Government asked the State Bank of Viet Nam to work with ministries to propose credit policies to support businesses, people and those affected by COVID-19.
Amid the pandemic's complicated developments, both economic sectors and credit institutions face risks of increasing bad debt ratios. This is why each bank working to overcome difficulties to have positive business results is crucial.
Deputy Governor of the central bank, Dao Minh Tu asked banks to implement two targets of enhancing supports to the economy, businesses while ensuring the safety for the banking system not only in short-term but also medium and long term period.
ABBANK gets central bank green light to hike charter capital

An Binh Commercial Joint Stock Bank (ABBANK) will issue more than 369.6 million ordinary shares this year to increase its charter capital by over VND3.69 trillion to VND9.4 trillion (US$409.96 million).
The proposal has been approved by the State Bank of Vietnam.
The issuance will be divided into two phases.
In the first, it will issue 114.26 million shares to existing shareholders at VND10,000 per share at a rate of 20 per cent, and another 11.43 million to employees under an ESOP scheme.
In the second, it will issue bonus shares to existing shareholders by capitalising undistributed profits of VND2.26 trillion and VND183.4 billion from additional chartered capital reserve fund. They will add up to nearly 243.95 million shares.
Dao Manh Khang, the lender's chairman, said: "Through this capital increase, ABBANK's financial potential will be strengthened to serve the needs of its business expansion and it will invest in key projects, including digital applications, to improve its competitiveness.
"The consensus among shareholders to increase the charter capital, including the issuance of bonus shares instead of cash dividends, shows their trust in ABBANK's development potential."
The bank's pre-tax profits went up by 85 per cent in the first half to VND1.16 trillion ($50.4 million).
Licogi 13 to transfer entire stake in Quang Tri Solar Power Company

The Board of Directors of Licogi 13 JSC (LIG) plans to transfer 100 per cent of their stake in Quang Tri Solar Power Company Limited to VN Green Holdings Pte Ltd, a company specialising renewable energy under Dragon Capital group.
The value of the transfer is expected to reach more than VND456 billion (US$19.9 million).
VN Green Holdings is a foreign organisation with more than 25 years operating in Viet Nam, with financial potential and investment experience in many fields. The acquisition of the stake in Quang Tri Solar Power Company is part of its energy investment strategy, demonstrating a strong commitment to sustainable investment in Viet Nam.
Quang Tri LIG solar power plant has a capacity of 49.5MWp with a designed output of 67,960 MWh per year. The plant has been in operation since May 2019, fully enjoying the Government's incentives in renewable energy.
Quang Tri Solar Power Company Limited currently has a charter capital of nearly VND242 billion, wholly owned by LIG.
In 2020, LIG ​established three companies in Quang Tri, LIG Quang Tri Solar Power JSC, LIG Energy JSC and Licogi 13 Solar Power Company Limited.
However, due to failing to meet the prescribed conditions, the above units were dissolved.
On the stock market, LIG ​​is currently traded at VND7,000 per share, up nearly 15 per cent compared to early this year.
HNX approves the listing of Phuoc An Port on UPCoM

The Ha Noi Stock Exchange has approved the listing of shares of PetroVietnam Phuoc An Port Investment And Operation Joint Stock Company on the Unlisted Public Company Market (UpCom) from July 14.
The reference price on the first trading day is VND10,100 (US$0.44) per share.
Phuoc An Port project is located in Nhon Trach district in the southern province of Dong Nai, which is the center of the Southern key economic region with a total investment of up to VND19 trillion, including two zones.
Phuoc An Port, the first zone, covers an area of ​​183ha, berth length of 3,050m, including six container berths and four general berths, receiving cargo ships of 60,000DWT, capacity of 2.5 million TEU per year and 6.5 million tonnes of goods per year.
The second zone is the Port Logistics Service Area with an area of ​​​​over 550 hectares, including a modern road system and convenient inland waterway system.
In 2017, the company's profit after tax was nearly VND11 billion, but in 2018, it lost more than VND13 billion. The figure in 2019 was nearly VND18, and nearly VND14 billion in 2020.
By the end of 2020, the company's cash and cash equivalents reached more than VND45 billion, down VND673 billion compared to the beginning of the year, of which mainly were deposits at banks.
Coffee exports enjoy price surge over five-month period
Vietnam's coffee exports during the five months of the year declined by 3% to US$1.3 billion, despite recording an increase of 7.6% in price compared to the same period last year, according to figures released by the General Department of Vietnam Customs.
May alone saw local coffee exports decrease by over 1% in terms of both volume and value compared to the previous month. However, the coffee export price witnessed a slight increase by 0.2% to US$1,869.3 per tonne.
During the five-month period, the country exported 715,263 tonnes of coffee worth US$1.3 billion, a drop of 12% in volume, but marking a rise of 7.6% in price compared to the same period from last year.
The German market was the primary recipient of Vietnamese coffee exports during the reviewed period, with turnover reaching US$178.67 million, accounting for 14% of the nation's total coffee export turnover, while the export price also witnessed an annual rise of 15.6% from the same period last year.
Southeast Asia represents the second largest consumer of Vietnamese coffee in the opening five months of the year with turnover at US$149.67 million, down 3.5% in volume but up 6.7% in turnover, while the export price also enjoyed an annual rise of 10.6%.
Coffee exports to the US also decreased 24.7% in volume to US$101.09 million, down 18.6% in value but up 8.1% in price.
Elsewhere, the Chinese market can be viewed as the only bright spot in terms of local coffee exports with turnover increasing by 52.7% to US$52.8 million, up 61% in volume.
Nearly 78 pct of manufacturing, processing firms expect stable, better performance in Q3
Some 39.2 percent of surveyed manufacturing and processing enterprises expect better performance in their production and business in the third quarter of 2021, and 38.6 percent believe to enjoy stable production and business, according to a survey recently conducted by the General Statistics Office (GSO).
Meanwhile, 22.2 percent of responded enterprises predict they may face more difficulties than the period quarter.
The GSO said that industrial production in the second quarter reported positive growth as production and business activities were maintained and gradually recovered, with the added value up 11.45 percent year-on-year.
In the first half of this year, the industrial sector's added value is estimated to increase by 8.91 percent year-on-year, of which the manufacturing and processing industries grew by 11.42 percent.
At present, major groups are planning to invest in Vietnam, mainly in electronic production and component manufacturing.
As of June 30, the inventory rate of the manufacturing and processing industries increased by 24.3 percent year-on-year.
To address inventory and boost production, the Ministry of Planning and Investment proposed localities continue stepping up administrative procedure reform and simplifying specialised inspection procedures.
On June 1, the number of labourers working in industrial firms decreased by 1.4 percent month-on-month, and 1 percent year-on-year./.
Biendong POC exceeds revenue target in H1
Bien Dong Petroleum Operating Company (Biendong POC), a subsidiary of the Vietnam Oil and Gas Group (PetroVietnam), has reported that its revenue in the first six months of 2021 exceeded the set plan by four percent.
The company's gas exploitation output reached 41 percent of the yearly plan.
After nearly eight years of operation, Biendong POC's total accumulated revenue hit 3.88 billion USD, 311 million USD higher than the combined investment and operation cost.
With synchronous measures, Biendong POC has overfulfilled most of its targets in the period.
The application of modern technology in management and administration as well as production has helped the firm improve its production and business activities despite complicated developments of the COVID-19 pandemic.
According to Sergey Raykhert from Gazprom, its partner, Biendong POC has safely and effectively operated rigs amid difficulties caused by the COVID-19 pandemic in the first half of 2021.
General Director of Biendong POC Ngo Huu Hai said the enterprise will continue with comprehensive solutions to ensure its stable operation in the remaining months of the year./.

VinFast officially becomes operational in North America, Europe
The VinFast Commercial and Services Trading Co. Ltd officially put its branches in the US, Canada, France, Germany, and the Netherlands into operation on July 12.
The move aims to prepare for the debut of Vinfast's electric cars in those markets and is a step towards the goal of turning VinFast into a global smart electric car manufacturer.
The US, Canada, France, Germany, and the Netherlands are five key markets in the firm's business expansion plan.
VinFast has reportedly worked to quickly complete its operation apparatus in these countries over the past year.
Apart from the key management posts held by Vietnamese, the company has recruited a number of experienced automobile and business experts from major car makers like Tesla, BMW, Porsche, Toyota, and Nissan to complete its system, expand the network of partners, and prepare for the debut.
Vinfast has also tailored its business strategies to the specific characteristics of each market.
The Vietnamese car maker is set to launch two smart electric car models, VF e35 and VF e36, globally in March 2022.
CEO of the company Thai Thi Thanh Hai said VinFast considers North America and Europe's road maps for banning internal combustion engine cars to switch to electric vehicles as a great chance for it to conquer global markets.
Earlier, its first electric car model, VF e34, set a record in the Vietnamese market when over 25,000 orders were made in just a short period of time after the launch./.

HCM City completes power supply to COVID-19 treatment hospitals
Hoc Mon and Binh Chanh power companies of the Ho Chi Minh City Power Corporation (EVN HCMC) have completed power supply to new COVID-19 treatment hospitals set up in the two districts.
According to EVN HCMC, a mobile transformation station with a capacity of 400 kVA, and a 250-KVA generator were installed in the COVID-19 treatment hospital No.5A in Hoc Mon district.
Meanwhile, seven transformation stations and two generators were installed to ensure power supply for a COVID-19 treatment hospital in Vinh Loc B commune in Binh Chanh district.
Another mobile transformation station with a designed capacity of 560 kVA was provided for a COVID-19 treatment hospital in Binh Hung commune.
Earlier on July 10, the Thu Duc power company put 11 transformation stations with a total capacity of 22MWA into operation in six resettlement areas in An Khanh ward, which are being used as a temporary hospital and concentrated quarantine areas.
According to EVN HCM City, the firm has ensured power supply for more than 150 facilities serving COVID-19 prevention and control in the city, including temporary hospitals, medical stations, concentrated quarantine sites, COVID-19 check points and 538 vaccination facilities./.
Deputy PM urges Mekong Delta localities to raise guard against COVID-19
Deputy Prime Minister Vu Duc Dam on July 12 asked Mekong Delta localities to raise guard against COVID-19 given a surge in local infections.
All of returnees from pandemic-hit areas have to make health declarations truthfully to facilitate the testing and quarantine work, Dam, who is also head of the National Steering Committee for COVID-19 Prevention and Control, said at an online meeting with representatives from 12 cities and provinces in the Mekong Delta region.
Each locality should review their medical equipment, the capacity of concentrated quarantine and treatment facilities, and personnel for COVID-19 testing, the Deputy PM said.
He asked the cities and provinces to step up screen tests in hospitals, promptly activate monitoring systems to get information about people displaying COVID-19 symptoms, and improve testing capacity.
The localities were also requested to re-organise treatment systems for COVID-19 patients, who, Dam said, should be classified into three groups – patients with no or mild symptoms, patients with symptoms, and patients in critical conditions.
At the meeting, the participating officials shared difficulties in pandemic prevention and control in their localities, mainly relating to testing capacity.
Deputy Minister of Health Do Xuan Tuyen said the localities are expected to record more COVID-19 cases in the time ahead, and urged them to better assign tasks, and seriously observe quarantine and lockdown regulations./.
Petrol price up 850 VND per litre on July 12
The Ministry of Industry and Trade (MoIT) and the Ministry of Finance (MoF) announced the adjustment of petrol prices to be over 850 VND higher per litre at 3pm on July 12.
Accordingly, the price of bio-fuel E5 RON 92 is 20,610 VND per litre, an increase of 850 VND; and that of RON95-III, 21,783 VND, a rise of 867 VND per litre. The price per litre of diesel 0.05S is 16,537 VND, up 418 VND.
Meanwhile, the prices of kerosene and mazut are 15,503 VND per litre and 15,670 VND per kg, increasing 452 VND and 221 VND, respectively.
According to the two ministries, the prices of petrol and oil in the global market had been fluctuating, mostly increases, for the past 15 days.
Announcements regarding fuel price changes are scheduled every 15 days to keep up with swings in the global market./.
VAMA members see fall in car sales in June
Members of the Vietnam Automobile Manufacturers' Association (VAMA) sold 23,587 vehicles in June, down 8 percent month-on-month.
They included 15,802 passenger cars, down 10 percent from May; 7,131 commercial vehicles, down 5 percent; and 654 special-use vehicles, down 25 percent, the association said on July 12.
The numbers of domestically-assembled vehicles and imported completely-built-up units sold in the month stood at 13,365 and 10,222, respectively, down 3 percent and 13 percent.
Toyota topped the list of best-selling brands with 5,127 vehicles, followed by Kia (3,290), Mazda (1,862), Honda (1,550) and Ford (1,284).
VAMA members' sales totalled 150,481 units in the first half of this year, up 40 percent year on year, with passenger cars up 37 percent year-on-year, commercial vehicles up 48 percent, and special-purpose vehicles up 68 percent.
Apart from VAMA members, other brands were also present in Vietnam's auto market, such as Audi, Jaguar Land Rover, Mercedes-Benz, Nissan Subaru, Volkswagen and Volvo, but they have not posted their business results./.
Soc Trang develops cattle farming
Cattle breeding has long been the strength of the Mekong Delta province of Soc Trang, contributing to raising the living conditions of many local households, especially those belonging to the Khmer ethnic minority group.
According to the provincial Department of Agriculture and Rural Development, as a Mekong Delta locality that has a hot and humid climate and is less prone to flooding, Soc Trang is very convenient for cow farming.
Thanks to the province's project on dairy farming development for 2013-2020, by the end of 2020, the total herd of dairy cows in the province had reached more than 10,000 heads, over 5,300 heads higher than that in 2013.
Meanwhile, local households are raising 44,000 heads of beef cattle. The traditional husbandry has generated jobs to over 15,000 locals in rural and Khmer-inhabited areas, thus contributing to poverty reduction and agricultural development.
Vuong Quoc Nam, Vice Chairman of the provincial People's Committee, said that in the coming time, the locality will continue developing cattle farming projects, and increasing State management in carrying out the projects.
He stressed the need to pay more attention to high-efficient husbandry models./.
Kien Giang attracts investment in tourism projects
The southern province of Kien Giang has lured over 1 trillion VND (43.4 million USD) worth of investment in tourism projects spanning over 21 hectares in the first half of this year, according to the provincial Department of Tourism.
The department said that the resurgence of COVID-19 has led to difficulties in attracting tourism investment.
Phu Quoc island city ranked first in investment attraction with 283 projects, of which, 42 projects have come into operation.
The province is supporting and creating favourable conditions for businesses to accelerate the implementation of projects. It is pushing forward with the construction of transport infrastructure to better serve tourism and attract investment.
In the first six months of this year, Kien Giang welcomed over 2.3 million tourist arrivals, reaching 33 percent of the yearly target, with an estimated total revenue of more than 2.68 trillion VND.
In the remaining half of the year, the province sets a target of receiving 3.1 million to 5 million visitors, depending on the development of the COVID-19 pandemic./.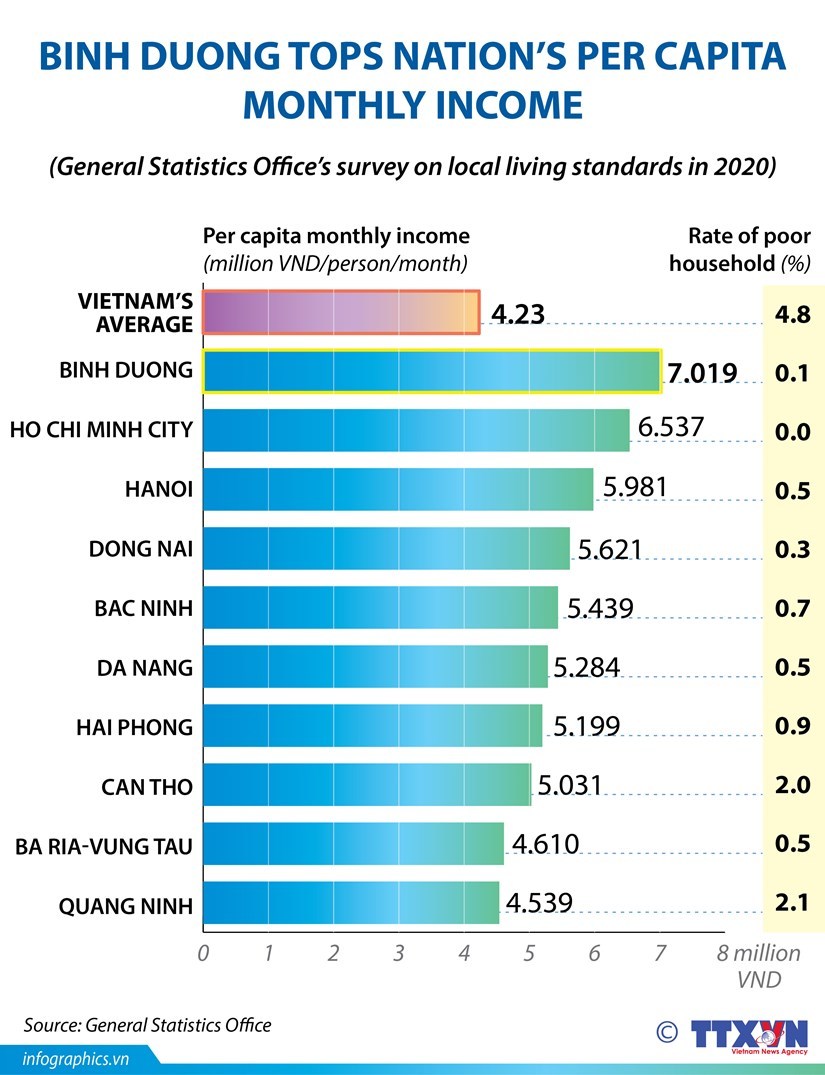 VIETNAM BUSINESS NEWS JULY 13
Thanh Hoa has 24 more provincial-level OCOP products
The north central province of Thanh Hoa recently announced 24 products meeting standards of its "One Commune-One Product" (OCOP) programme, raising the total number of such products to 76.
According to Bui Cong Anh, deputy head of local coordinating office for new-style rural area building, most of the products selected for classification as OCOP products tend to develop well and can compete with similar products in the market.
Of these, four products were given four stars, including Viet Trang sedge products of Viet Trang Import and Export Ltd. Co. in Nga Son district; Quy Chau bronze drum of Dong Son Che Dong Traditional Bronze Casting Company Limited; Toan Linh bronze drum of Tra Dong village's traditional craft bronze casting Co. Ltd in Thieu Hoa district; and FUWA3e floor cleaner of FUWA Biotech Co. Ltd in Thanh Hoa city.
Shrimp paste of Khue Cac Co. Ltd (Hoang Hoa district), Solanum procumbens tea (Trieu Son district) and Nong Phu broom of Nong Phu Trading and Service Company Limited (Vinh Loc) were recognised as three-star OCOP products.
Of 16 new products, three meet four-star standards. They include Nam Giao cantaloupe of Tay Do Agricultural Cooperative (Vinh Loc district); TODIKA supplementary food and Cordyceps sinensis of Thao Ngoc Viet Joint Stock Company (Nghi Son town).
Anh said that as many as 76 products from localities in the province have been certified as meeting OCOP standards since 2018.
After recognising as OCOP products, most businesses have expanded their production scale and their produce are well received and appreciated by consumers.
In order for the programme to develop sustainably and effectively, Thanh Hoa province always pays attention and strictly implements the evaluation and ranking steps to ensure they met quality standards, he said, adding that the province aims to rate about 80 OCOP products by the end of this year.
The implementation of the OCOP programme in Thanh Hoa has obtained positive results, according to participants at a meeting held to review the province's implementation of the programme in the 2018-2020 period.
OCOP products have seen improvements in terms of quality, design, packaging and traceability, they said.
Many OCOP products of Thanh Hoa are exported to foreign countries such as Russia, the Republic of Korea, South Africa, Switzerland, Sweden, the United States, Japan and China.
Le Gia shrimp paste from Hoang Hoa district's Hoang Phu commune has been exported to Russia, the Republic of Korea, Taiwan (China) and South Africa. Bamboo straws have been shipped to Switzerland, Sweden, and the United State. Handicrafts and other products made from sedge are sold in 64 supermarkets in the United States.
A preliminary survey conducted on enterprises engaged in the programme showed that their turnover growth on average increased more than 15 percent after their products were recognised as OCOP goods.
Le Duc Giang, Vice Chairman of the provincial People's Committee, said Thanh Hoa province has taken part in trade fairs held in the province and other localities to stimulate the production and consumption of OCOP products.
Last year, it has established six sites for showcasing and selling OCOP products. Via these sites, outstanding rural products from the province will have access to more consumers, providing a basis for cooperatives, businesses, producers and farmers to continue improving goods' quality and design to meet customers' increasing demand.
Over the past three years, Thanh Hoa has spent over 114 billion VND (4.9 million USD) supporting the implementation of the OCOP programme. Of these, more than 18.2 billion VND (791,622 USD) came from the central budget, 36 billion VND (1.5 million USD) from the local budget and the rest from producers.
In the 2021-2025 period, the province is striving to have at least three OCOP products rated as five stars, more than 100 as three and four stars, he said.
It will complete the application of information and technology in the production and trading of OCOP products. Each district will have at least one showroom which displays and sell these products. Creative design centres will also be formed in association with OCOP products promotion during the period.
The OCOP was initiated by the Ministry of Agriculture and Rural Development in 2008, following the model of Japan's "One Village, One Product" and Thailand's "One Tampon, One Product". It is an economic development programme for rural areas focusing on increasing internal power and values, which is also meant to help with the national target programme on new-style rural area building./.
Exporters face slew of difficulties due to COVID
Though exports remain strong, several sectors face difficulties due to the COVID-19 pandemic and require support from the Government if they are to sustain the growth, experts said.
Vietnam is benefiting from the disruption of global supply chains, and manufacturers are seeking to diversify supply, including from Vietnam.
Global demand is recovering and this is an opportunity for Vietnam to boost its exports of consumer and industrial products, according to the Ministry of Industry and Trade.
It forecast Vietnam's foreign trade to remain robust as free trade agreements are gradually being implemented in a more comprehensive and effective manner.
The Comprehensive and Progressive Agreement for Trans-Pacific Partnership, the EU-Vietnam Free Trade Agreement (EVFTA) and the UK-Vietnam Free Trade Agreement will continue to smooth the way for Vietnamese goods to enter partner markets with preferential tariffs.
Yet Pham Xuan Hong, Chairman of the Ho Chi Minh City Association of Garment, Textile, Embroidery and Knitting, said he remains worried since some members have had to suspend production since they are in a lockdown area or their workers are isolated for living in such areas.
"Though [the impact] is not too serious yet, there is cause for worry since we do not know when the pandemic would be controlled. If social distancing is prolonged, it will definitely affect export orders signed with foreign partners."
Truong Dinh Hoe, Secretary of the Vietnam Association of Seafood Exporters and Producers (VASEP), said he has petitioned the Ministry of Agriculture and Rural Development to resolve the problem of lack of containers for exports and reduce the growing freight rates.
In April freight for a 40-foot container to the west coast of the US was around 5,000 USD, but now it is more than 10,000 USD. It used to be less than 1,000 USD during pre-pandemic times
Freight rates to Europe are also at high levels of 7,000-8,000 USD.
Tran Van Linh, Chairman of the Thuan Phuoc Seafood and Trading Corporation, said that marine transportation fees were at unreasonably high levels but import-export companies like his had to accept them.
Cancellation of orders or failure to deliver in time would undermine the company's prestige and efforts to find customers in future.
Truong Tien Dung, Director of the Sai Gon Aquatic Products Trading Joint Stock Company, said despite the increase in transport costs, it would be impossible to negotiate increases in products prices because COVID has caused consumers in places like the US and the EU tighten their purse strings.
But the high transport costs are eating into companies' profits, and not just the seafood sector but also others' exports would be hit hard, he warned./.
Businesses urged to devise strategy to cope with EU imposition of VAT
Local firms have been advised to develop a long-term strategy when exporting to the EU market due to value added tax (VAT) being officially applied for online B2C transactions of suppliers from third countries to its customers, according to the Vietnam Trade Office in Belgium and the EU.

The move will see goods originating from a third country subject to VAT, whilst they must also conduct customs declarations when being imported to the EU market as of July 1.
At present, EU members have established the Import One Stop Shop (IOSS) System aimed at conducting customs clearance for online transactions valued at EUR150 or less.
Nguyen Thi Minh Huyen, deputy director of the Department of E-commerce and Digital Economy, said the latest regulations will contribute to the development of e-commerce transactions and serve to create an equal competitive environment among various businesses both inside and outside of the EU.
However, amid growing e-commerce transactions, the new EU rule will affect both EU consumers and businesses who process B2C transactions via online platforms or from a third country outside of the EU.
Furthermore, with the EU's VAT calculation method, local firms are anticipated to face a number of hurdles when exporting their agricultural products or goods to the EU market moving forward.
Huyen noted that the new regulation is expected to lead to higher costs for e-commerce transactions, thereby leading to numerous difficulties for businesses.
The European-American Market Department has therefore advised local online sellers to apply for business registration in an EU member state in the event they wish to sell products to the EU, while simultaneously declaring transactions according to the IOSS website of each member state.
Novaland issues US$300 million of international convertible bonds
Novaland Investment Group Corporation (Novaland, NVL) has successfully issued US$300 million of international convertible bonds for foreign investors, without warrants and collateral, and will be listed on the Singapore Stock Exchange (SGX).
They are 5-year bonds, starting from the date of issuance (maturity in 2026) with a fixed interest rate of 5.25 per cent per year.
Under the terms, these bonds are convertible into common shares. The exchange price is VND135,700 per share, 15 per cent higher than the closing price at the offering date of July 7.
On July 7, the market price of NVL shares was VND118,000 per cent share. The par value of each bond is $200,000.
Credit Suisse (Singapore) Limited is the exclusive global manager and exclusive book builder for Novaland's fundraising this time.
The issuance received interest from many reputable international investors with the registration value higher than its issuance plan.
The real estate developer said that the capital mobilised from the issuance is used for developing key projects and increasing the land fund to complete the profit plan in the next three years. Moreover, the success of this transaction will strengthen Novaland's debt structure as its medium and long-term debts rise significantly. 
SeABank issues 110 million shares for dividend payment
Southeast Asia Commercial Joint Stock Bank (SeABank, SSB) said that it will issue more than 110 million additional shares to pay 2020's dividend at a rate of 9.12 per cent, as well as issue 23.5 million shares for employees (ESOP).
The capital to issue dividend stocks is from the accumulated undistributed profit after tax according to the consolidated audited financial statements for 2020.
The last registration date to exercise the right to receive dividend stocks is July 26 with a rate of 9.12 per cent.
In June, SeABank was approved by the State Bank of Vietnam (SBV) and the State Securities Commission (SSC) to increase the maximum charter capital by more than VND2.697 trillion through the form of stock issuance to pay dividends from 2020's retained earnings after allocating provision funds, issuing stocks for existing shareholders and preferred shares for employees.
In March, the bank was officially listed on the Ho Chi Minh Stock Exchange (HoSE) with ticker symbol SSB.
Insurance companies performing well, but cautious about business prospects in H2
Insurers have become more cautious about their business prospects in the second half of the year according to a survey conducted by the Viet Nam Report (VNR).
In Viet Nam, following the growth momentum of 2020, 75 per cent of insurance enterprises participating in VNR's survey recorded positive results in 2021.
In the fourth wave of the COVID-19 outbreak, however, insurers have become more cautious about their business prospects. Only slightly more than half are optimistic about their business results in the second half of the year, a significant reduction from just over the 90 per cent recorded last year.
Meanwhile, the number of insurers who think that business would be more difficult has increased sharply from 4.8 to 35.3 per cent of respondents.
The VNR survey showed that insurers are facing five big challenges including: increasing competitiveness in the industry, risks caused by natural disasters and extreme weather conditions, pandemics, decreased income of its client base, and insurance fraud.
According to the General Statistics Office, about 22.2 million workers lost income due to the impact of COVID-19 in 2020. In the first quarter of 2021 alone, this number reached 6.5 million people, approximately one-third of 2020's whole year figure.
However, this does not mean that the door for growth opportunities is closed.
VNR's survey indicates three growth drivers for the industry. These include: people's awareness and understanding of insurance increasing; technology being developed and applied to improve the insurance industry's value chain; and the diversification of insurance distribution channels.
Awareness of and about insurance has been a big contributor in growth in the industry, according to 70.6 per cent of surveyed enterprises, a sharp increase from 61.9 per cent in 2020.
It's believed that this has been driven by COVID-19 pandemic, which has brought to the fore the vulnerability of people's personal finances.
That said, the insurance penetration rate/GDP in the country is still relatively low.
In 2020, Viet Nam had 11 per cent of the population participating in life insurance, with the average insurance premium-to-GDP ratio up by 3 percent. With this momentum, by 2025, it is estimated that 15 per cent of the population will participate in life insurance generating an expected revenue of 3.5 per cent of GDP.
VNR said in the next normal period, risk management - the core value of the insurance industry - will be different due to fundamental changes in perceptions and behaviours of economic agents.
COVID-19 has increased the need for industry stakeholders to more greatly engage with their customers. This is creating a profound shift towards a holistic service approach focused on risk management and prevention. 
COVID-19 can help boost the use of new technology in manufacturing
With production and supply chain disruptions caused by the COVID-19 pandemic, producers and consumers have to find ways to adapt.
One method is increasing the use of high technology and AI (Artificial Intelligence).
Ho Minh Duc, CEO of VBee, a Vietnamese tech company providing AI text-to-speech services, said that the pandemic is providing impetus for companies and customers to change their mindset towards the application of technology.
With continuing difficulties caused by COVID-19, especially the ongoing fourth wave of infections, manufacturing industries are also facing a shortage of workers due to movement restrictions and social distancing measures.
This provides a chance to promote the use of technology and AI systems in mass production to cut costs and increase efficiency.
Wang Yu, a research fellow at the College of Intelligence and Computing, Tianjin University, said COVID-19 posed both threats and opportunities to manufacturing industries.
"As all sectors, including manufacturing companies, have suffered huge losses from the pandemic, they realise the importance of AI and intelligent manufacturing," Wang said during "The Future of AI in Manufacturing Industries" webinar, recently held by the China Daily, China's Tianjin Municipal People's Government Information Office and Asia News Network.
A survey conducted by Wang's team on more than 470 manufacturing enterprises in Tianjin, China, in 2020 showed that companies are paying more attention to advanced manufacturing with 45 per cent of them planning to apply tech in production, while 65 per cent already did.
In Viet Nam, many industrial zones like those in Bac Giang Province have become COVID-19 hotspots during the latest outbreak. According to the People's Committee of Bac Giang Province, the pandemic has caused a daily loss of VND2 trillion (US$86.8 million) and forced more than 140,000 workers to stop working.
When workers can't come to factories, the production process is disrupted, as Viet Nam's manufacturing industries are still labour-intensive, affecting the economy as a whole.
Phan Thi Thanh Xuan, General Secretary of Viet Nam Leather, Footwear and Handbag Association (Lefaso), said that restructuring is necessary for businesses during this tough period if they want to survive. Technology is one solution to reduce the dependence on workers.
"Despite rising orders, the industry still faces many difficulties from higher material prices to a scarcity of workers," Xuan said.
"Companies will come up with restructuring plans, including the application of technology, to reduce the number of workers in factories, and to increase production capacity and efficiency."
In order to not create issues for labourers when they return to factories, technology should be applied to processes which do not require a lot of workers, Xuan added.
During the webinar, Neale G. O'Connor, professor and head of the Department of Accounting, Monash University Malaysia, said that intelligent manufacturing will also help with fault detection, quality control and attention to detail.
However, in Viet Nam, technology and AI are currently used mostly in the finance and banking industry, as well as healthcare and agricultural sector, said Duc. "Rarely do we have technology companies making AI products for manufacturing industries," Duc added.
"It will be a challenge for both technology firms and manufacturing enterprises."
Corporate culture is a crucial factor. If a company's leader and every employee are willing to take risks and make changes, they will be ready for AI. When there is demand, supply will surge.
In Viet Nam, not many tech start-ups aim for industrial zones, therefore supply sources for the field are limited, Duc said.
"If it is about payment or logistics solutions, tech start-ups will jump in," Duc said.
"But when it comes to production lines, they hesitate because they are short of knowledge, while it is difficult to approach manufacturing enterprises, especially ones with self-contained production lines."
"We received orders from some producers for security cameras with fire alarms, environmental sensors, and automatic lighting systems to cut costs, but they are just small links in a chain."
Moreover using tech may consume a large amount of capital which normally only big companies are willing to invest, while small and medium sized enterprises (SMEs) are reluctant to participate. The number of SMEs accounts for roughly 97 per cent of the country's total companies.
Companies also have to send their workers to training sessions to operate new systems and need to invite experts to assist and guide them in using the technology.
AI requires big data to gain expected results and enterprises have to ensure the quality of input information. Data processing, which requires extensive intervention for AI projects, also needs a highly qualified IT workforce. That is another challenge for Vietnamese companies.
"The work force for the IT industry has always been scarce in Viet Nam, especially for new technology and AI," Duc said.
"Thus, training centres and schools need to cooperate to build an ecosystem for new technology and encourage young people to join this tough industry."
Source: VNA/VNS/VOV/VIR/SGT/Nhan Dan/Hanoitimes

Remittances to HCM City rise by 22.34% in first half of 2021