VIETNAM BUSINESS NEWS JULY 18
Over 425 million tonnes of cargo handled at seaports in seven months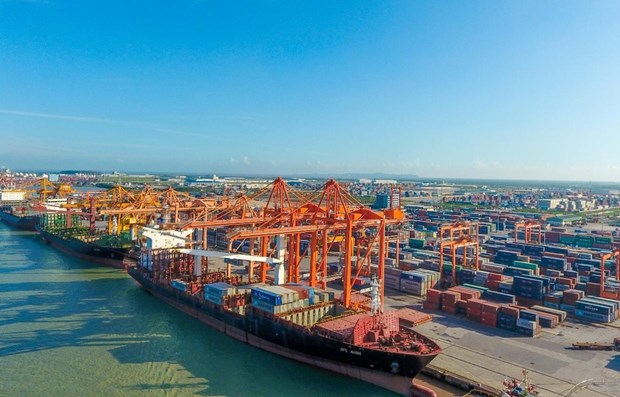 The total volume of cargo handled at Vietnamese seaports is estimated to reach more than 425 million tonnes in the first seven months of 2021. (Photo: VNA)
The total volume of cargo handled at Vietnamese seaports is estimated to reach more than 425 million tonnes in the first seven months of2021, up 6 percent over the same period last year, according to the Vietnam Maritime Administration (VMA).
Of the figure, export cargo hit over 106 million tonnes, a year-on-yearincrease of 9 percent, while import cargo stood at roughly 133 million tonnes,up 2 percent. The handling of domestic goods neared 184 million tonnes, up 7percent year-on-year.

In particular, the volume of container goods handled at seaports reached about14.7 million twenty-foot equivalent units (TEUs), a 21-percent year-on-year increase.
VMA statistics also showed a sharp rise in the volume of cargo through ports inThai Binh province (up 65 percent), Dong Thap (up 56 percent), Quang Ngai (up38 percent), Hai Phong (up nearly 16 percent), and Ho Chi Minh City (up nearly9 percent).

Strong growth was also seen in the volume of container goods through seaportsin Vung Tau (up 41 percent), Ho Chi Minh City (up 16.46 percent), and Hai Phong(up over 19.8 percent)./.
UK- a promising market for Vietnamese vegetable and fruits: webinar
With the annual import value of vegetables and fruit amounting to more than 6 billion pounds (equivalent to 8.4 billion USD), the United Kingdom is a promising market for vegetables and fruit of Vietnam, heard a webinar organised by the Vietnam Trade Office in the UK.
The webinar drew the participation of enterprises involve in agricultural import and export of the two countries.
The event offered an opportunity for Vietnamese fruit and agricultural product exporters to directly introduce their produce to British importers, and negotiate cooperation agreements.
Vietnamese products presented at the webinar include banana, dragon fruit, mango, avocado, pineapple, guava, lychee, longan, jackfruit, coconut, cashew, pepper and coffee.
At the event, Vietnamese businesses were introduced to the Birmingham market in the Midlands. It is one of Europe's largest wholesale markets, supplying fresh produce and vegetables to hotels, restaurants, supermarkets, fast food chains and retailers across the UK.
Kevin, a representative of the Birmingham market, said that every day it welcomed 5,000 visitors. Tens to hundreds of tonnes for each item such as bananas, dragon fruit, mango, avocado, lychee, and jackfruit were consumed every day.
According to Harry Hoan Tran, Director of the Midan Global Ltd, this is a potential focal point for Vietnamese fruits and agricultural products to penetrate the UK market.
Speaking at the webinar, Ta Hoang Linh, Director General of the European and American Market Department at Ministry of Industry and Trade, said that after the trade agreement between the two countries took effect, bilateral trade has progressed spectacularly with a total value reached 3.3 billion USD in the first six months of this year, up 28 percent over the same period last year.
The value of Vietnam's exports to the UK amounted to nearly 2.9 billion USD, a year-on-year increase of 29 percent, despite the outbreak of the COVID-19 pandemic.
The free trade agreement between Vietnam and the UK brings opportunities to access and expand markets for businesses of the two countries while promoting comprehensive, long-term and stable trade relations between the two parties, Linh said.
Nguyen Canh Cuong, Vietnamese Trade Counselor in the UK, said it is necessary for businesses involved in export to take advantages of Vietnam - being one of the countries that signed a free trade agreement with the UK early - to access and expand the market to this country.
He emphasised that Vietnamese businesses should seize the opportunity as the UK was looking for suppliers outside the European Union (EU) after it leaves the bloc, causing disruptions in the supply chain.
Statistics from the British Government showed that in 2019, the country imported more than 3.6 million tonnes of fruit, worth nearly 3.9 billion pounds (more than 5.4 billion USD). Vegetable imports reached 2.3 million tonnes with a total value of more than 2.5 billion pounds (more than 3.5 billion USD)./.
Long An to establish six logistics centres
The Mekong Delta province of Long An has planned to set up six logistics centres to meet transportation, and export and import demands, according to the provincial Department of Industry and Trade.
The centres are also expected to help local firms improve their competitiveness, the department said.
Of the facilities, three will be located in Thanh Phu, Thanh Loi and Luong Hoa communes in Ben Luc district, with a total area of 110ha. The others are at the Binh Hiep international border gate economic zone, the My Quy Tay border gate economic zone, and the Long An international port.
The centres in Thanh Phu commune and the Long An international port in Can Giuoc district have been put into operation.
All of the centres are connected with roads, waterways and sea routes, providing transportation, logistics and goods distribution services.
Apart from the building of logistics centres, Long An has taken measures to develop a competitive, multi-model transportation sector where information-technology is optimised.
At the same time, it has worked to speed up the implementation of major transport projects to complete the transport infrastructure system connecting industrial clusters and parks with the Long An international port, thus meeting the travel and transportation needs of people and businesses./.
Vietnam Airlines targets over 1.6 bln USD in revenue this year
Facing the complicated COVID-19 situation, Vietnam Airlines said it has built a feasible business plan with a view to earning 37.364 trillion VND (over 1.6 billion USD) in consolidated revenue this year, equivalent to 88.4 percent of the 2020 figure.
To that end, the national flag carrier will focus on maintaining flight safety, ensuring safety from COVID-19, conducting comprehensive restructuring, and boosting digital transformation, General Director Le Hong Ha told the annual shareholders' meeting this week.
It will push ahead with measures to raise revenue and cut down costs, restructure its investment in non-core sectors, streamline the apparatus, and improve service quality. By taking such actions, it expects to save more than 6.8 trillion VND in 2021.
Vietnam Airlines is also planning to sell six old ATR-72s and replace them with jet aircraft so as to improve its competitiveness in niche markets or the airports unable to handle such planes as Airbus A320s and A321s, he noted.
Despite huge impacts of the COVID-19 pandemic, the firm transported 14.13 million passengers and 195,300 tonnes of cargo in 2020, approximating the set targets. Its on-time performance stood at 90 percent.
Last year's revenue and profit were better than forecast. The consolidated revenue and the parent company's revenue were respectively posted at 42.276 trillion VND and 33.266 trillion VND, 4.2 percent and 2.2 percent higher than expected.
Meanwhile, the consolidated losses and the parent firm's losses were lower than forecast, equivalent to 72.2 percent and 60.4 percent of the planned figures, the carrier reported.
Chairman Dang Ngoc Hoa said despite the pandemic's impacts, Vietnam Airlines has tapped into every opportunity to raise revenue such as by increasing flights to transport cargo, repatriate overseas Vietnamese, and carry foreign experts to the country, and opening over 20 domestic routes to seize chances created by the domestic market's quick recovery.
Its efforts, together with assistance from the Government and relevant agencies, have helped Vietnam Airlines reduce losses by nearly 5.8 trillion VND last year, Hoa added./.
H1 State budget collection up 16.3 percent y-o-y
State budget revenue hit 781 trillion VND (34 billion USD) in the first half of 2021, equal to 58.2 percent of the estimate and up 16.3 percent year-on-year, according to the Ministry of Finance.
As many as 60 of 63 localities nationwide ensured the domestic collection progress (reaching over 50 percent of the estimate). Of the total, 48 localities achieved over 55 percent of the estimate.
The ministry said the state budget collection during January-June is positive, with revenue from production and business activities surpassing 52 percent of the estimate and increasing by over 17 percent year-on-year.
However, if the COVID-19 pandemic is not put under control soon, it will have huge impact on economic activities and State budget collection in the following months, the ministry stressed.
Meanwhile, State budget spending was estimated at 694.4 trillion VND during January-June, equal to 41.2 percent of the estimate.
Disbursement in the period was equivalent to only 29.02 percent of the plan assigned by the Prime Minister.
In the context of 'fighting the pandemic like fighting the enemy', both central and local budgets are giving priority to allocating capital to pandemic prevention and control efforts and support for people hit hard by the pandemic. Accordingly, the state budget has spent 4.65 trillion VND on this fight in the first six months of this year, and 21.5 trillion VND since 2020./.
AEON eyes exporting Vietnamese longan to Asian markets
Japanese-based retail giant AEON is planning to use its commercial network to export Vietnamese longan to neighbouring Asian nations, according to Yuichiro Shiotani, General Director of the AEON TOPVALU Vietnam Co. Ltd.
Shiotani said the group wants to promote the fruit, particularly from the northern province of Hung Yen, among Vietnamese consumers and foreigners in Vietnam.
AEON hopes for relaxer regulations on farm produce trade between Vietnam and Japan so that Hung Yen longan will be exported to Japan in the near future just like lychee, he added.
In 2020, AEON was the first Japanese firm to put Vietnamese lychees on shelves at its stores in Japan. In the 2021 crop, the amount of Vietnamese lychees exported to Japan increased by 750 percent compared to last year.
Japan officially approved the import of Vietnamese fresh lychee in December 2019. Similar decision is yet to be made for longan from Vietnam./.
Second National Food Systems Summit Dialogue held
The second National Food Systems Summit Dialogue was held by the Ministry of Agriculture and Rural Development (MARD), in partnership with a number of ministries, the UN in Vietnam and international development partners in Hanoi on July 16.
The dialogue is among a series of events to prepare the nation for its attendance in the UN Food Systems Summit (UNFSS) in September 2021.
Addressing the event, which was themed "Vietnam Food Systems: Transparency, Responsibility, Sustainability," Deputy Prime Minister Pham Binh Minh stressed that Vietnam is deeply aware of the need for close coordination among nations and factors in the food system in order to create extensive and intensive changes in the system.
Such coordination will help Vietnam perform better in poverty reduction and ensuring of food security and nutrition in rural and ethnic minority areas as well as in vulnerable groups, particularly women and children, he said.
Minh also noted that international cooperation will provide opportunities for Vietnam to develop its key farm produce value chain in a transparent, responsible and sustainable manner.
The Government official made clear that agriculture plays an important role in ensuring food security, social stability and livelihoods for over 60 percent of Vietnam's population who live in rural areas and contribute 14.85 percent of the national GDP (statistics in 2020).
Despite the impacts of the COVID-19 pandemic and climate change, the agricultural sector was able to post a 2.68 percent growth rate in 2020. Besides ensuring food security for nearly 100 million Vietnamese, the sector also gained an important place in the global food system. Vietnam earned 41.53 billion USD from the export of agro-fishery-forestry products in 2020, and 24.23 billion USD in the first half of 2021.
Deputy PM Minh added that the Vietnamese Government also pays attention to digital technology and innovation in agriculture with the goal of raising productivity, improving food safety and connecting producers with consumers.
Minister of Agriculture and Rural Development Le Minh Hoan called attention to the fact that Vietnam's food system is facing many challenges, as Vietnam is among countries hardest hit by climate change.
UN Resident Coordinator in Vietnam Kamal Malhotra said the UN will accompany the Vietnamese Government, along with development partners, to transform the food system, contributing to realising the Sustainable Development Goals.
World Bank Country Director for Vietnam Carolyn Turk also affirmed that the WB and other development partners are willing to work together with the Vietnamese Government and the private sector in the transformation process./.
Golden Gate Ventures names nation as a "rising star" in SEA startup sector
Golden Gate Ventures, a venture capital (VC) firm published a report on July 15 predicting that by the end of the decade Southeast Asia would be home to more startups, with the annual number of initial public offerings (IPOs) in the region expected to surpass 300 by 2030.
Moving forward, more start-ups in the region are expected to go public, with the annual number of IPOs anticipated to pass 300 by 2030, according to the report titled "The Southeast Asia Ecosystem 2.0".
This figure would be almost three times the number of regional firms that went public in 2020. Indeed, some of the firms likely to list are online marketplace Carousell, real estate platform PropertyGuru, and travel booking site Traveloka.
Furthermore, Golden Gate Ventures anticipates that funding for the entertainment and media sector will likely grow substantially over the coming decade.
The sector recorded roughly US$100 million in funding last year, although this figure is likely to rise as entertainment and media start-ups which primarily focus on Asian content gain a greater global following, the report noted.
It therefore identified the country as the region's rising star, stating that it is set to emerge as the third-largest start-up ecosystem in Southeast Asia next year.
The report also outlined some of the regional trends seen over the past few years.
Since 2015, a new generation of entrepreneurs has started to emerge, with the catalyst being mega rounds of fund-raising carried out by fast-growing start-ups such as Grab and Gojek. In addition, former senior employees of high-growth companies have gone on to start their own enterprises, thereby starting a new chain of entrepreneurship.
More corporate VCs have also emerged over the course of the past decade, the report said. There were roughly 60 corporate VCs in the region last year, compared with just seven a decade ago. Such firms are therefore increasingly leading funding rounds, especially at the seed and Series A stages.
Local shrimp exports likely to reach US$4.2 billion this year
Vietnamese shrimp exports are anticipated to increase by 12% to reach US$4.2 billion this year compared to last year's figures, accounting for more than 40% of the domestic seafood industry's export value, according to industry insiders.
According to information provided by the Directorate of Fisheries, the local shrimp sector will continue to face numerous difficulties over the course of the year due to the complex nature of the COVID-19 pandemic and unpredictable international trade competition.
This will be especially prevalent due to changes occurring in quarantine requirements coupled with food safety regulations being imposed on imported products in several countries.
Most notably, China, one of the nation's major shrimp import markets, has tighten regulations on importing frozen products, including shrimp, due to the COVID-19 pandemic, a move which has caused shrimp exports to the market to decrease by over 20%.
Furthermore, the Republic of Korean (RoK) market now also requires shrimp products to meet heat treatment regulations in order to be exempt from quarantine requirements.
During the first half of the year, brackish water shrimp output surged by 12% to 371,000 tonnes against the same period last year, with total shrimp export turnover reaching US$1.5 billion.
Shrimp exports ahead in the second half of the year are projected to enjoy robust growth, with the export target anticipated to reach between US$3.8 billion and US$4 billion.
The United States, Japan, China, the EU, and the RoK are considered as the largest consumers of Vietnamese shrimp.
Nguyen Hoai Nam, deputy general secretary of the Vietnam Association of Seafood Exporters and Producers (VASEP), said local shrimp products are exported to 106 markets worldwide, an increase of five markets compared to the previous year.
Aside from these challenges, the domestic shrimp industry will see plenty of opportunities to expand markets for shrimp and tra fish products moving forward thanks to the signing of numerous free trade agreements (FTAs).
Vietnam becomes fifth largest supplier of coffee to Austria
Vietnam has become the fifth largest supplier of coffee to the Austrian market and the largest foreign provider of coffee outside of the EU, according to data compiled by the Ministry of Industry and Trade.
Along with taking advantage of the various opportunities from the EU-Vietnam Free Trade Agreement (EVFTA), Vietnamese coffee is anticipated to make further inroads into the demanding market moving forward.
Statistics released by the International Trade Center indicate that Austria increased imports from the country throughout the 2016 to 2020 period with an average annual growth rate of 15.54% in volume and 14.57% per year in value.
During the first quarter of the year, Austria imported 13,240 tonnes of coffee worth US$101.38 million, a decline of 26% in volume and 3.0% in value compared to the same period from last year.
The average coffee import price in the Austrian market surged by 31% to reach US$7,657 per tonne compared to last year's corresponding period.
Austria typically imports coffee from the intra-EU bloc, while Vietnam, Brazil, and Indonesia make up the major foreign suppliers of coffee to the Central European nation.
The first quarter saw Austria import 510 tonnes of coffee from the Vietnamese market worth US$965,000, a fall of 9.9% in volume and 6.9% in value against the same period from last year.
Despite this, the country's coffee market share as part of Austrian coffee imports soared from 3.17% in the first quarter of last year to 3.85% in the first quarter of the year.
According to the Vietnamese trade office in Austria, the Central European nation imports roasted coffee mainly from the German, Dutch, and Italian markets, with a market share making up over 80%, while importing unroasted Arabica coffee beans from Brazil and Robusta coffee beans from Vietnam.
Additionally, local businesses have been advised to capture consumer trends and seize upon the opportunities from the EVFTA as a way of helping Vietnamese coffee and other farm produce to achieve greater Austrian market penetration.
Vietnam, Russia aim for stronger trade promotion in construction and furniture
The nation currently runs a relatively high trade deficit of wood products from Russia, with a turnover of up to US$13 million.
The Eastern European country is viewed as a great potential market for foreign businesses, including those from Vietnam, whilst also serving as a gateway for goods to enter the European market.
In return, Russian businesses entering the Vietnamese market will not only have the opportunity to invest in the nation, but can also consider the country to be a bridge between Russia and the community of 10 ASEAN member states that consists of over 600 million consumers.
As a means of fully tapping into this potential, the Trade Promotion Department under the Ministry of Industry and Trade has co-ordinated with the Vietnamese Embassy and Trade Office in Russia, the Russian Embassy in Hanoi, and relevant agencies to hold an online trade conference between both sides. This is being done for the purpose of promoting trade in the field of construction and furniture.
The conference also aims to enhance connectivity between Vietnamese businesses and their foreign partners whilst simultaneously boosting trade exchanges amid the complicated developments caused by the COVID-19 pandemic.
With regard to import and export demand for construction and furniture products of Russian enterprises, Oleg Numerov, deputy head of the Forestry Business Department under the Russian Chamber of Commerce and Industry and first vice president of the Wood Processing and Wooden Furniture of Russia, said he hopes the event will give firms from both nations a deeper insight into each other's market. It is anticipated that this will lead to the signing of more contracts in the near future.
Sergey Ianchenko, deputy chief representative of the Trade Agency of the Russian Federation in Vietnam, assessed that Vietnam boasts a high economic growth rate, along with great potential for broader trade ties. Since the enforcement of the Free Trade Agreement (FTA) in 2016 by Vietnam and the Eurasian Economic Union (EAEU), economic and trade co-operation between the EAEU and Vietnam in general, as well as between Vietnam and Russia, has recorded a number of important results.
This co-operation has greatly contributed to creating a driving force for each country's economic development, thereby enhancing investment and bilateral trade and service exchanges, along with expanding co-operation in the region. It is estimated that since the agreement first took effect in late 2016, the annual two-way trade growth rate between Vietnam and EAEU countries has reached an average of nearly 30%, according to figures given by Ianchenko.
Duong Hoang Minh, trade counselor of the Vietnamese Embassy in Russia, believes that amid the global spread COVID-19, trade co-operation between both countries has still been able to yield positive results. In terms of construction and furniture, the opening five months of the year has seen the import-export turnover of the two countries reach US$2.21 billion, up 21.4% over the same period from last year.
The nation mainly exports computers, phones and electronic components, garments and textiles, footwear, along with electronic machinery and equipment to Russia, whilst importing minerals, iron and steel, and coal of all kinds from the Eastern European nation.
Hoang Minh Chien, deputy director of the Trade Promotion Department, stated that trade promotion in the field of construction and furniture between the two sides is one of the activities set out in the national programme on trade promotion in 2012.
This is a practical activity aimed at supporting Vietnamese and Russian businesses to boost connectivity and exchanges online about co-operation possibilities once the pandemic is fully brought under control, he added.
Digital technology and innovation help change food system: experts
Digital technology and innovation play an important role in increasing production efficiency, productivity, food safety and distribution, as well as in connecting producers with consumers, according to Deputy Prime Minister Phạm Bình Minh.
The Deputy PM was speaking at the second National Dialogue on Việt Nam's Food Systems on Friday in Hà Nội.
Minh added it was also crucial to minimise food losses and wastes, and create better resilience of agricultural supply chains, raise awareness and promote green and sustainable consumption to protect the environment and public health.
"The Government of Việt Nam is fully aware of the need for close coordination among countries and actors in the food systems to create revolutionary, sustainable and extensive changes of the whole systems.
"This will help us do better in the cause of alleviating poverty, ensuring food and nutrition security in the rural areas, especially in the remote or ethnic minorities' regions, and among vulnerable groups in a more effective and sustainable manner, with a special focus on women and children," he said.
Stakeholders both within and outside the food sector could share their experience and develop the value chains of Việt Nam's key agricultural products toward transparency, responsibility and sustainability, he said.
Viêt Nam's agriculture plays a particularly important role in ensuring food security, social stability and livelihoods for more than 60 per cent of the population living in rural areas, and contributed 14.85 per cent of the country's GDP last year.
Despite the impacts of the COVID-19 pandemic, as well as climate change and natural disasters, Việt Nam's agriculture sector maintained a growth rate of 2.68 per cent in 2020.
The export turnover of agricultural, fish and forest products hit US$41.53 billion in 2020 and $24.23 billion in the first half of 2021.
Minister of Agriculture and Rural Development Lê Minh Hoan said grassroots farmers' organisations should be made a key part of agriculture value chains.
It was also necessary to diversify public-private partnership models to attract private investors and promote responsible, transparent and sustainable agricultural value chains, he said.
Effective links between farmers' groups and enterprises should be expanded to help increase transparency and fairness in farming product consumption, ensure consumers' rights and protect human health and the environment, he said.
Hoan said Việt Nam's diverse food systems are facing many challenges.
Global forecasts and empirical data in recent years show Việt Nam is one of the countries most heavily affected by climate change.
Việt Nam needs to form smart, resilient and sustainable food systems, not only ensuring food and nutrition security for nearly 100 million Vietnamese people but also contributing to global food security, he said.
Kamal Malhotra, the UN Resident Coordinator, said at the summit that Việt Nam today was not only producing sufficient food quantities to feed the population, but also contributing to ensuring world food security.
"However, the Vietnamese food systems are also facing critical challenges. Nutritional security remains a dilemma mainly due to unhealthy diets and unsafe food. Environmental degradation due to natural resource depletion and chemical overuse is becoming more and more alarming. The unequal value distribution, inability to attract young workers, lack of market connectivity, and weak supply chain management have reduced the competitiveness of agriculture and food industry," he said.
Carolyn Turk, World Bank Country Director for Vietnam, said: "The agricultural sector, with its enormous progress over the past three decades, has played a central role in Việt Nam's successes in reducing poverty and maintaining food security and social stability."
"However, the sector is facing daunting challenges which, if left unresolved, will put the country at risk of not fulfilling the sustainable development goals," she said.
She warned that the sector is the third-largest emitter of greenhouse gases, agricultural production is extremely vulnerable to climate change and food safety remains a major public health and trade concern.
"Now is the time for the sector to transform itself into a greener, more sustainable and inclusive one. The World Bank and other development partners stand ready to join forces with the government and the private sector to foster such transformation," she said.
Francisco Pichon, Country Director, International Fund for Agricultural Development (IFAD) for Việt Nam and Mekong Region said as a specialised agency of the UN and an international financial institution, IFAD remains committed to support Việt Nam to work for more inclusive and sustainable food systems.
"IFAD has an important comparative advantage as an agent of change in the agriculture and rural sector, access to rural finance and development of last mile's small-scale rural infrastructure for inclusive, pro-poor value chains.
"And we target all our interventions in the poorer and more remote and underserved rural areas of Việt Nam with a high concentration of ethnic minorities," he said.
After the summit, Việt Nam will develop a roadmap for transforming food systems to implement and review the suitability of the food system framework.
In the implementation process, it is necessary to solicit support from ministries, agencies, local authorities, development partners, businesses, associations, international organisations, NGOs, scientists, experts, and the public, in ensuring the achievement of socio-economic outputs, including nutritional and health ones, and minimising negative impacts on the environment, contributing to the successful roll-out of the 2030 Agenda for Sustainable Development.
At the second national dialogue, the draft on the priorities and implementation roadmap for transforming the food systems in Việt Nam was introduced.
PM approves new domestic trade strategy
Domestic trade is expected to contribute 15-15.5 per cent of the national GDP by 2030 according to a strategy approved by the Prime Minister Pham Minh Chinh this week.
Under the strategy, Viet Nam expects to set up sustainable supply chains in the country that will ensure the effective implementation of regulations on food safety and quality, origin tracing, and environmental protection.
It aims to ensure the fast and stable development of domestic trade, build the Viet Nam-made brand, protect the interests of both enterprises and customers while also meeting demands for socio-economic development.
Total revenue from retail trade and services would average 13-13.5 per cent annually in the 2021-30 period and 12-12.5 per cent annually in the 2031-45 period, the strategy predicted.
By 2030, revenue from e-commerce is set to account for 10.5-11 per cent of national retail sales with a growth rate of 20-21 per cent.
It also said 40-45 per cent of small and medium enterprises operating in trade will take part in major domestic and foreign e-commerce platforms by then as well.
To this end, the strategy emphasised the importance of improving local investment and the business environment. It said transforming domestic trade promotion and improving infrastructure for trade, especially in rural and remote areas, was key.
Priority would be also given to improving infrastructure for trade especially in rural and remote areas and forming sustainable distribution channels for Made-in-Viet Nam products.
Training a high-quality workforce to meet the growing demand of global trade integration would be also included.
State governance in domestic trade would focus on ensuring market stabilisation, combating trade fraud and mitigating violations of consumer rights while respecting market principles.
Meanwhile, the government aims to protect the domestic market via instruments and intervention measures that are in line with its international commitment.
The latest report from the General Statistic Office (GSO) showed that revenue from retail trades and services increased 4.9 per cent to over VND2.46 quadrillion (US$107 billion) in the first half of this year.
Retail sales surpassed VND1.98 quadrillion, accounting for 80 per cent of the total retail sales of consumer goods and services, up 6.2 per cent year-on-year, the GSO said.
These encouraging figures were mainly attributed to businesses and firms that quickly adapted to the "new normal" that resulted from COVID pandemic.
On the other hand, sales of accommodation and catering services reached VND224 trillion from January to June, down 3 per cent year-on-year. They made up 9.1 per cent of the total revenue.
Tourism revenue also experienced a decline of 52 per cent to VND4.5 trillion.
Meanwhile, revenue from other services reached VND2.49 trillion, marking a jump of 4.4 per cent.
HCM City to handle violations of sales of essential goods amid false rumors about hard lockdown

HCM City authorities have demanded that supermarkets and convenience stores take preventive measures to handle essential goods reselling at much higher prices, causing a supply shortage at supermarkets.
Duong Anh Duc, vice chairman of the People's Committee, said: "City authorities have asked distribution systems to ensure daily capacity of more than 5,000 tonnes of fresh food and 6,000 tonnes of vegetables and fruits to meet demand for people's daily life."
The move came as local media have reported that speculators took advantage of the pandemic to buy goods in bulk and then resell them at sky-high prices.
Customers said they had been queuing for a long time to buy food such as vegetables, meat and fish and other essential supplies at supermarkets and convenience stores. Much of the food was being sold at higher prices.
Meanwhile, customers who buy goods in bulk explained they wanted to buy enough for a whole week to limit their travels for fear of catching the virus.
According to Saigon Co.op (Union of Commercial Cooperatives of HCM City), violators are taking advantage of the price-stabilisation policies at Saigon Co.op to buy goods in bulk, causing essential goods to sell out quickly.
For example, under price-stabilisation policies at Saigon Co.op, the price remains low, at VND26,000 per package of 10 chicken eggs and VND31,000 per package of 10 duck eggs, about VND10,000-15,000 lower than market price.
To prevent speculation, supermarkets and stores of Saigon Co.op have applied the rule that each customer can only buy one or two packages of eggs to ensure enough supply for "customers who come later".
According to a representative of MM Mega Market, there is "really no shortage of goods", but there are customers buying in large quantities.
"With a huge stockpile, the supermarket has no shortage of food, especially poultry eggs. Customers should not stock up at the moment since the supermarket remains open to serve," said a representative of MM Mega Market.
Satra supermarkets and Satrafoods store systems said they do not have any priority policy, so it is easy to notice speculation buyers.
Lawyer Phan Thi Viet Thu, chairman of the HCM City Consumer Protection Association, said: "Speculation of essential goods for reselling at high prices is a speculative act of profiteering, which will be sanctioned under Article 31 of Decree 98/2020 with a fine of VND5-100 million."
"It can be criminally prosecuted for the crime of speculation under Article 196 of the Penal Code 2015. Depending on the value of the orders, violators will be subject to a maximum of 15 years in prison in case of illegal profits of over VND1 billion."
City ensures shipment of goods
The city government has established shipment points to ensure circulation of goods to retail systems because all three wholesale markets have been temporarily closed.
The Thu Duc wholesale market has set up a 16,500sq.m area to receive goods to ship to retailers in the city.
Each night, 1,000-1,500 tonnes of vegetables and fruits are expected to be supplied to supermarkets and selling places in the city.
Hoc Mon wholesale market said it had submitted a plan to the Department of Industry and Trade and the People's Committee to partially reopen the market.
The market will arrange an area of ​​more than 2,000sq.m to ship more than 100 tonnes of vegetables and fruits from the market to retailers in the city every day.
Nguyen Nguyen Phuong, deputy director of the Department of Industry and Trade, said the amount of food delivered to HCM City in a day reached about 1,900 tonnes in a day, an increase of 100 tonnes compared to July 12.
According to the Department of Industry and Trade, 166 traditional markets had stopped operating, which greatly affected the supply of goods to people, mainly fresh food.
The department has set up a force to monitor the situation of market prices and coordinate and supply goods in a timely manner.
Tran Quang Lam, director of the Department of Transport, said the city has coordinated with 19 southern provinces to facilitate nearly 22,000 vehicles to pass the checkpoints at city gateways.
Duong Anh Duc, vice chairman of the People's Committee, has announced that there are 2,833 points of sale distributed widely in 22 districts and Thu Duc City, including 106 supermarkets, 2,616 mini-marts and convenience stores, 111 safe traditional markets, and 28,700 department stores.
City considers reopening traditional markets
The Department of Industry and Trade has asked districts and Thu Duc City authorities to consider reopening traditional markets to reopen those that are safe to meet demand.
Only 63 out of 234 traditional markets are still operating in HCM City due to the outbreak.
The city will pilot a plan in which only two to 10 small traders of fruit and vegetables (depending on the size of the market's operation) will sell at traditional markets or take turns if many small businesses want to reopen at the same time.
The city will also work to control the number of people going to the market.
Recently, there were rumours on social media that there would be a complete citywide lockdown, along with calls for city residents to start stockpiling food and supplies.
Food scarcity and shortages were also rumoured to be imminent as well as a ban on shopping starting July 15. Several posts also rumoured that city leaders had contracted the deadly virus.
Such groundless rumours have urged many people to rush to supermarkets and convenience stores to buy supplies.
HCM City authorities have officially refuted the rumours.
The city has recorded nearly 20,000 locally transmitted cases since the outbreak began in late April.
VinaCapital funds report high growth

Several of VinaCapital's funds achieved remarkable results in the first half of the year.
VinaCapital VN100 ETF reported a return of 38.5 per cent and VEOF and VIBF ranked among the top three performers in their respective categories with returns of 39.1 per cent and 26.6 per cent.
As of June 30 the three funds had assets under management of over VND855 billion (US$37.2 million) and nearly 6,000 subscribers.
VinaCapital VN100 ETF was established a year ago and replicates the VN100 Index, which is comprised of the 100 leading stocks listed on the Ho Chi Minh Stock Exchange (HOSE).
It is traded on HOSE under the ticker FUEVN100.
Over 80 per cent of the fund's assets are invested in the financial, real estate, consumer staples, and materials sectors.
The top holdings are Hoa Phat (HPG), Vingroup (VIC), Techcombank (TCB), VP Bank (VPB), and Vinhomes (VHM).
Launched in July 2014, VEOF is one of VinaCapital's longest established open-ended funds. It invests in large and mid-cap companies with the growth potential to earn higher profits than the VN-Index.
VIBF is a two-year-old open–ended balanced fund that combines bonds and listed stocks.
Brook Taylor, CEO of VinaCapital Fund Management Joint Stock Company, said, "After just one year, the VinaCapital VN100 ETF has delivered on our expectations that the fund would mirror the performance of the VN-Index better than any other ETF currently on offer in Viet Nam.
"The ETF, as well as VEOF and VIBF offer local and foreign investors exposure to a range of growth stocks that are positioned to benefit from Viet Nam's continued macroeconomic stability, rising corporate profits, and positive growth of the stock market, which could see a number of new listings in the year ahead as the equitisation process of State-owned enterprises accelerates as planned.
"Viet Nam [was] one of the rarest countries in the world with positive GDP growth in 2020 (+2.9 per cent) which continued into the first half of 2021 (+5.6 per cent), boosting the confidence of domestic and foreign investors. As a result, Viet Nam's stock market has become one of the best growth markets in Asia, increasing by 15 per cent in 2020 and 27.6 per cent in the first six months of 2021."
New money into stock market slows down, economy growth may miss expectations: Dragon Capital

In its recent report, Dragon Capital said that the market uptrend is still led by new individual investors. However, while margin loans were still at a record high and securities companies continued to raise capital, new money deposited into accounts started to show signs of declining.
Meanwhile, foreign investors started to reduce their net selling, from nearly VND12 trillion (US$521.8 million) in May to VND3.9 trillion in June. And since July, foreign investors started to buy strongly, over VND4.3 trillion by the end of July 9. This is a very positive signal regarding institutional investors' trading trend, the fund said.
In the near term, corporations' results will play a crucial role in the stock market, Dragon Capital added. It expects profits of TOP 60, which includes 60 biggest companies tracked by the fund, to grow by 46 per cent in 2021, mainly depending on banking, real estate and steel sectors.
On the other hand, the correction factors will mainly come from the negative impact of the current fourth wave of COVID-19 on economy and businesses.
If the yearly growth is only 35 per cent, 2021 price to earning ratio (PE) will reach 14.1 when the VN-Index is at 1,350 points. This is still an attractive level compared to other markets in the region.
Therefore, Dragon Capital believes that the market may need time to accumulate. If the global markets continue to rise and there are no negative factors, the country's stock market will keep its rallies in 2022 thanks to the strong recovery of fundamentals after the pandemic.
GDP in 2021 may not be as expected because of the Delta virus strain. Although the 4th wave of COVID was spreading strongly, Viet Nam's GDP growth in the first six months of the year still reached 5.6 per cent, significantly higher than 1.8 per cent of the same period in 2020. The economy continued to maintain its recovery momentum thanks to the growth of production activities, accounting for 38 per cent of total GDP, up 8.4 per cent, leading to strong growth in trade activities.
2021 GDP might miss expectations due to the Delta variant
Domestic economic activities showed signs of slowing down in June when Viet Nam began to apply social distancing in many provinces, reflected in a drop of 40 per cent in travel compared to the same period last year. Service and retail sectors were also hit hard as total passengers and retail sales fell 13 per cent and 2 per cent, respectively, in June.
For manufacturing, in June, the PMI decreased to 44 from 53 in May, as some industrial zones halted production. However, the fall is not much compared to the record low of 33 in March last year.
The fund expects production activities will not be affected as strongly as in 2020 due to the priority of the COVID-19 vaccines for industrial zones, and potential higher orders when US and Europe, accounting for 41 per of Viet Nam's export market shares, reopen.
Credit growth from the beginning of the year to mid-June reached 5.5 per cent, while the M2 money supply only increased by 3.5 per cent.
On the other hand, the six-month average inflation only increased by 1.5 per cent over the same period last year, which is a low increase amid rising global inflation. This allows Viet Nam to continue maintaining its loose monetary policy and aim at credit growth of 12 - 14 per cent to support the economy to overcome the tough time.
Besides, credit growth since the beginning of the year is higher than deposit growth, at 3.1 per cent, putting pressure on banks to mobilise capital in the future.
However, Dragon Capital expects the State Bank of Viet Nam to inject about VND115 - 140 trillion into the system in the third quarter through the acquisition of USD. This move will help improve the liquidity of the banking system.
Due to the complexity of the Delta variant, Dragon Capital lowered its GDP growth forecast for 2021 from 6 per cent to 5 per cent to reflect existing risks.
Nevertheless, the Government will not change the given plan, but instead set out two growth scenarios of 6 per cent and 6.5 per cent.
At the same time, the Prime Minister approved a financial support package worth VND26 trillion, as well as moved to approve a tax exemption and reduction programme worth nearly VND115 trillion.
Moreover, with nearly 10 per cent fiscal space compared to 65 per cent public debt ceiling, Dragon Capital expects the next economic support packages to be announced soon and the Government will make efforts to accelerate investment disbursement mainly for infrastructure development projects in the second half of this year.
Ministry warns investors to be cautious when buying corporate bonds

To ensure transparency and reduce risks in the bond market, the Ministry of Finance (MoF) has asked corporate bond issuers to consider the feasibility of production and business plans, financial capacity and settlement of interest and principal before issuing bonds.
At the end of last year, the Government issued three decrees regulating the offering and trading of corporate bonds to develop the corporate bond market towards openness and transparency to create favourable conditions for capital mobilisation.
In a recent announcement, the Ministry of Finance recommended market participants fully comply with the provisions of the new regulations and pay attention to a number of highlights.
When issuing corporate bonds, enterprises must comply with the provisions of law, disclose information to investors about their financial situation, production and business plans and financial statements.
As for investors buying bonds, the MoF recommended they clearly distinguish between the two methods of issuing corporate bonds, public issuance and private issuance.
Investors must request bond issuers provide full information including purpose of issuance, commitment of the issuer to the bond, issuing term and method of repayment of principal and interest, the financial capacity of the issuer, procedures and dossiers on the identification of professional securities investors, the MoF said.
Bond investors should also note that service providers - security companies, commercial banks – are just the distributors of bonds and do not guarantee the safety of investment in corporate bonds. They enjoy service fees from issuers without being responsible for the repayment capacity of the issuers, the MoF said.
These service providers must sign service provision contracts on corporate bonds with investors, clearly stating the rights and responsibilities of each party. They need to identify professional investors to buy bonds for each issuance, providing sufficient information to investors about the financial capacity and production and business situation of the issuing enterprise, the conditions and terms of the bond, the attached commitments of the issuing enterprise.
"When distributing corporate bonds, they need to provide sufficient information about the risks of bonds and the interests of bondholders, so that investors do not misunderstand that the issuers guarantee all the risks," noted the Ministry of Finance.
Private corporate bond issuance volume reached VNĐ168.7 trillion (US$7.3 billion) in the first six months this year, up 3.2 per cent year-on-year, while the volume bond issued to the public totalled VNĐ15.37 trillion, equivalent to 50.3 per cent of the public issuance volume of 2020.
Credit institutions were the largest issuers, accounting for 40.2 per cent of total issuance volume. Bond issuance volume of real estate enterprises decreased by 55.5 per cent over the same period in 2020, accounting for 13.2 per cent of total issuance volume.
The average issuance interest rate in the first six months of 2021 was 7.9 per cent per year, down 1.6 per cent compared to the same period in 2020.
Besides these positive results, there are still risks for businesses and investors in the corporate bond market, the MoF said, noting that enterprises raising capital through issuing bonds must ensure debt repayment ability.
However, in some cases they issue a large amount of bonds with high interest rates, but due to inefficient use of capital or difficulties in business and production, they may fail to repay principal and interest. This would destabilise the bond market, the MoF said.
Market edges higher, VN-Index heads toward 1,300 points

Shares closed higher on the last trading day of the week with the market benchmark hovering just below the important level of 1,300 points.
The VN-Index on the Ho Chi Minh Stock Exchange (HoSE) inched 0.42 per cent higher to 1,299.31 points. The market's breadth was positive with 199 stocks increasing while 178 stocks declined.
The liquidity was higher than on Friday but still lower than the 20-day average, showing the buying force was not strong enough.
During the session, over 465.4 million shares were traded on the southern market, worth nearly VND15.46 trillion (US$671.6 million).
The trend was in line with expectations of analysts from Saigon - Hanoi Securities JSC (SHS).
"The market might continue to fluctuate and struggle in a range of 1,260 - 1,300 points," SHS said in a daily report to investors.
The index's gains were thanks to large-cap stocks, especially in real estate, material, bank and information technology (IT) stocks. The 30 biggest stocks tracker VN30-Index rose 0.54 per cent to 1,438.05 points.
Of the VN30 basket, 19 stocks climbed while 10 fell and one ended flat.
Top five stocks dominating the market's gain were real estate and material stocks. Of which, Vingroup JSC (VIC) rose the most in market capitalisation, up 3.73 per cent.
It was followed by Masan Group (MSN), Viet Nam Rubber Group (GVR), Asia Commercial JSC (ACB) and Phat Dat Real Estate Development JSC (PDR). All these stocks posted gains of at least 2.6 per cent.
Other stocks witnessing good performance were FPT Corporation (FPT), Vinamilk (VNM) and VPBank (VPB).
However, the gains were still capped by losses of some pillar stocks like Vinhomes JSC (VHM), down 1.18 per cent, Investment And Industrial Development Corporation (Becamex, BCM), down 4.75 per cent, Vietinbank (CTG), down 1 per cent and Techcombank (TCB), down 0.96 per cent.
On the Ha Noi Stock Exchange (HNX), the HNX-Index also closed higher on the last trading session of the week, up 0.48 per cent to 307.76 points.
More than 96.65 million shares were traded on the northern bourse, worth over VND2.3 trillion.
On the other hand, foreign investors were net buyers with a total value of VND65.07 billion. Of which, they poured VND66.89 billion in HoSE, while net sold a value of VND5.32 billion.
HCM City to set up 1,000 outlets to sell groceries as retailers struggle to meet demand

Around 1,000 outlets will be set up around HCM City to sell groceries since supermarkets are struggling to meet the burgeoning demand amid the COVID-19 shutdown, its Department of Industry and Trade said.
Bui Ta Hoang Vu, director of the department, told a meeting held to review a week of implementing Directive 16 that supply of food and foodstuffs has become difficult since the city's three wholesale markets closed down.
The volume transported to the city is down by half to 2,200 – 2,700 tonnes a day.
Since many traditional markets are closed, people are queuing up at supermarkets to buy essential goods, putting a strain on their capacity.
People have been finding it very difficult to buy groceries despite supermarkets' claim that supply is sufficient, especially since many are stocking up fearing the worst.
The department has been urging retailers and supermarket chains to increase their stocks by up to three times.
Businesses partaking in the city's regular market stabilisation programme are also increasing their supply.
Since July 11 the department has also been working with logistics and other businesses to increase food supply, but the city is still unable to meet daily demand.
Supermarket chains in the city have topped out and have no more storage space, according to the department.
It is working with businesses, postal companies, delivery services and logistics businesses to set up the 1,000 distribution points.
Even businesses such as baby products retailer Con Cung and beauty products supplier Guardian are selling vegetables at their stores.
E-commerce platforms such as Tiki, Lazada and Sendo have also agreed to supply vegetables using their own warehouses.
The department is also working with Thu Duc City and Hoc Mon District to set up transhipment stations at wholesale markets to increase supply of essential goods.
Nguyen Thanh Phong, chairman of the city People's Committee, said the city should consider setting up sales outlets on streets.
HCM City has become the COVID epicentre of the country with more than 21,000 cases so far since the fourth and latest outbreak in April.
It has mandated social distancing since May 31.
Prices rise on many essential products in Mekong Delta amid social distancing

The rising incidence of COVID-19 has led many localities in the Cuu Long (Mekong) Delta region to adopt social distancing.
Business activity has shrunk dramatically but consumers have been buying and stockpiling food, resulting in a shortage of certain products and pushing up their prices.
After the An Giang Province People's Committee announced social distancing under Directive 16 in nine districts and city for 10 days from July 15, people rushed to buy goods.
The day before at Long Xuyen Market the prices of many vegetables shot up. For instance the price of a kilogramme of bottle gourd quadrupled to VND44,000.
Nguyen Minh Hung, director of the provincial Department of Industry and Trade, told Tuoi Tre online that this happened because people in some places were worried.
"We have plans in place to ensure steady supply of goods. Currently goods are being transported to traditional markets."
In Can Tho City, which announced Directive 16 in Ninh Kieu, Cai Rang and Binh Thuy districts and Directive 15 in other places from July 12, 64 out of 105 traditional markets are closed. The difficulty in transporting goods from outside has also affected supply of goods in recent days.
A resident of An Khanh Ward in Ninh Kieu said since July 12 he has had to get up early every day to buy food, but has to go to three or four places before finding all necessary items such as meat, vegetables and eggs.
Most places do not have enough poultry eggs to meet demand, he added.
A resident of An Binh Ward said she bought 20 duck eggs from a seller on Facebook for VND80,000, while it was only VND60,000 earlier.
An employee at a Satra convenience store on Nguyen Van Linh Street, Ninh Kieu District, said pork and vegetables used to be available at his store until evening, but not since July 11 when they are sold out at 8am.
The situation is similar in Hau Giang Province, where Directive 16 is in place in Long My town's Long Phu Commune since July 13.
Traditional markets and supermarkets have been crowded with shoppers coming to buy mainly items such as rice, instant noodles, milk, packaged foods, vegetables, fruits, and meat.
At traditional markets many sellers said they sell out much earlier than before.
Tran Thi Nhu Lan, who sells agricultural products at the market, said: "Gourds, melons, squash, and pumpkins are in high demand. Each customer buys two or thrice times the usual volume, and so I sell out goods pretty early."
This high demand means the prices for agricultural goods at traditional markets have shot up, especially those transported from other provinces, according to traders.
Nguyen Van Tham, deputy director of the Hau Giang Department of Industry and Trade, said the pandemic has had a significant impact on production, business, markets, and commodity prices.
The province has plans to stockpile goods to ensure adequate supply for different COVID scenarios, he said.
"So people should not panic and buy goods to hoard."
According to the Can Tho Market Management Department, prices are up mainly at traditional markets and small shops, and it would co-ordinate with other relevant agencies to strengthen oversight.
Ha Vu Son, director of the city Department of Industry and Trade, said a number of sales outlets would be set up for people to buy goods at regular prices.
Supermarkets and convenience stores in many places have seen the number of shoppers increase by 100-200 per cent besides a surge in online orders.
But they have promised to keep prices steady.
La Ngoc Truong, director of Co.opmart Can Tho, said the number of online orders has increased by 500 - 600 per cent and the store has increased stocks by more than 50 per cent to meet demand.
Source: VNA/VNS/VOV/VIR/SGT/Nhan Dan/Hanoitimes

Businesses have expressed their hope that customs agencies and relevant ministries and sectors will further simplify administrative procedures, which, they suggested, should be completely handled online, according to a survey.