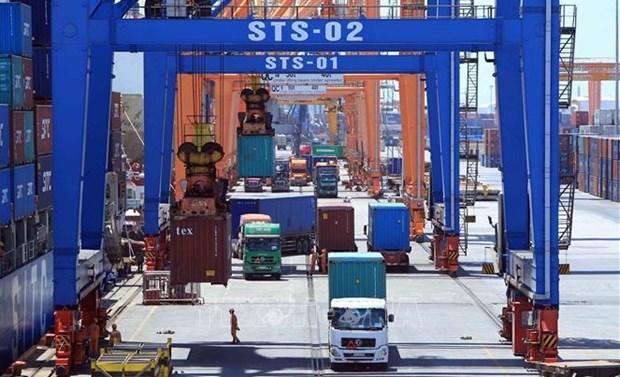 At the Dinh Vu port in Hai Phong city 
Germany's crane supplier Kocks Ardelt Kranbau on July 8 signed a contract for the supply of container cranes with Dinh Vu Petroleum Service Port JSC of Vietnam.
Addressing the signing ceremony in Brandenburg state, Vietnamese Ambassador to Germany Nguyen Minh Vu expressed his delight at close cooperation between Kocks Ardelt Kranbau and Vietnamese enterprises.
He highly valued Kocks Ardelt Kranbau's move not to only export their products to Vietnam but also cooperate with Vietnamese firms to manufacture large cranes right in the Southeast Asian country for export to many markets around the world.
This brings benefits to both sides, the diplomat said, expressing his belief that the two companies will continue to expand cooperation in the future.
Kocks Ardelt Kranbau's General Director Bernd Flaskamp affirmed that Vietnamese enterprises are leading partners of the German company.
The partnership between Kocks Ardelt Kranbau and Vietnamese businesses in the past time has recorded good results, he said, adding that cranes manufactured in Vietnam have good quality and meet international standards, and have been exported to many countries in South America, Russia, and the Democratic People's Republic of Korea.
Both sides want to further expand export markets for these cranes, and promote more joint projects in the time to come, he said.
Flaskamp suggested the Vietnamese side create favourable conditions for experts from Kocks Ardelt Kranbau to soon come to Vietnam to assist Vietnamese partners in the production process.
Kocks Ardelt Kranbau is a leading supplier of cranes for loading and unloading cargo for major ports in Vietnam such as Hai Phong, Dinh Vu, Ha Long, Da Nang. Having present in Vietnam since 1989, Kocks Ardelt Kranbau has not only provided finished products to Vietnam but also cooperated with Vietnamese enterprises such as Lilama 18 JSC and Tan Cang – Cai Mep Towage Service JSC to manufacture cranes for export to other countries, in which the German firm provides production technology, training and quality management systems, and skilled experts to support the Vietnamese enterprises.
After the signing ceremony, the Vietnamese ambassador visited production lines of Kocks Ardelt Kranbau in Brandenburg./.
Reference exchange rate up 11 VND
The State Bank of Vietnam set the daily reference exchange rate at 23,201 VND per USD on July 9, up 11 VND from the previous day.
With the current trading band of +/- 3 percent, the ceiling rate applied to commercial bank during the day is 23,897 VND/USD and the floor rate 22,505 VND/USD.
The rates listed at commercial banks dropped.
At 8:30 am, Vietcombank listed the buying rate at 22,880 VND/USD and the selling rate at 23,110 VND/USD, both down 11 VND from the rates on July 8.
BIDV kept both rates unchanged, listing the buying rate at 22,915 VND/USD and the selling rate at 23,115 VND/USD.
During the week from July 5-9, the daily reference exchange rate fluctuated variably and ended the week up 11 VND./.
Vietnamese lychees make it onto UK supermarket shelves
Vietnamese lychees have hit UK supermarket shelves under the UK - Vietnam Free Trade Agreement (UKVFTA) and have found favour thanks to their rich aroma and sweetness.

Enterprises engaging in the import-export process must prepare necessary documents in advance so as to shorten customs clearance time, and bring their products to the shelves of large Vietnamese supermarkets in the UK like Bao Long, Hanoi, Huy Minh and Longdan in a quick manner.
In the meantime, import duties levied on Vietnamese agricultural products fall sharply in the UK.
Earlier, both FUSA and TT Meridian had a lot of experience in importing and exporting agricultural products to several EU countries such as the Czech Republic, France, and the Netherlands./.
Copper artefacts unearthed in central Nghe An province
Experts and cultural officials have believed that several artefacts discovered recently by a family while levelling their garden in Chau Ly commune, Quy Hop district in the central province of Nghe An could be up to 600 years old.
The unearthed artefacts include three copper pots of different sizes and one copper kettle. While the pots have no handles and are decorated with lizard figures, the kettle has its spout and handle decorated with the patterns of a dragon head and dragon tail.
After receiving the information about the discover on June 30, Quy Hop district's authorities directed the Bureau of Culture and Information to work with Chau Ly commune's authorities to verify the artefacts.
The artefacts are being temporarily preserved and managed by the Chau Ly authorities while waiting for appraisal by superior authorities.
The Quy Hop authorities has also notified the provincial Department of Culture and Sports of the discovery.
The Nghe An Museum said that will send specialists on relics and antiquities to appraise the artefacts.
A representative of the heritage management department of the Nghe An Department of Culture and Sports said the kettle with dragon handle is believed to date from the Tran dynasty (1225–1440) and the pots, based on their designs and patterns, could be from the Le dynasty, around 500 years ago.
"These are precious artefacts of scientific and historical value associated with the development of Quy Hop district," he said.
Previously, the district also discovered precious antiques such as bronze drums or bronze Buddha statues./.
Korean businesses interested in Vietnamese market: Forum
The Vietnam – Korea Business Forum with the theme of "Cooperation for a sustainable future" was held virtually on July 8.
Co-organised by the Vietnam Chamber of Commerce and Industry (VCCI) and the Korea International Trade Association (KITA), the event focused its discussions on bilateral investment cooperation, especially in the fields of information technology, electricity, renewable energy, education and smart city development.
Speaking at the event, VCCI Vice Chairman Hoang Quang Phong said the Republic of Korea (RoK) is an important economic partner of Vietnam and has taken the lead in terms of foreign investment in the Southeast Asian country.
By the end of 2020, the RoK had had over 8,900 valid projects in Vietnam with combined registered capital of around 70.65 billion USD, ranking first among 139 countries and territories investing in the country. Last year, the RoK was also the third largest trade partner of Vietnam with a two-way trade of 66 billion USD. It was the fourth largest export market and the second biggest importer of Vietnam.
Despite COVID-19 the pandemic, the Vietnamese Government has created favourable conditions for foreign enterprises in the country and committed to institutionalise people's travel while developing infrastructure and regional connectivity, Phong said.
In order to boost bilateral business ties, he suggested stepping up the application of digital technology and the development of telecommunication infrastructure, including mobile broadband infrastructure, and e-commerce.
In the field of energy, Vietnamese and Korean firms should enhance the sharing of information and promote Korean investment in power plants and renewable energy, he said.
Regarding education, he proposed further increasing the exchange of students, develop teaching methods using artificial intelligence and big data, especially in the training of foreign languages and workforce major in high technology.
Phong expressed his hope that the two governments and business communities will further enhance online business connectivity activities, helping to maintain and promote the global supply chains, technology transfer and assistance from the RoK in Vietnam's industries.
Commenting on bilateral trade and investment prospects, President of the Lee & Ko Global Commerce Institute and former Korean Trade Minister Taeho Bark said a number of Korean companies are paying special attention to the Vietnamese market.
Bark said the two countries should further tap the advantages of bilateral and multilateral free trade agreements in a bid to achieve the target of 100 billion USD in two-way trade by 2023.
At the same time, the RoK and Vietnam should develop the private sector and small and medium-sized enterprises (SMEs) by actively building e-commerce platforms in conformity with common trends and amid the pandemic at present, he said./.
Digital transformation facilitates retail growth
According to General Statistic Office, in the first six months of 2021, total retail sales of goods and services went up 4.9 percent compared to the same period in 2020 to 2,463.8 trillion VND (over 107 billion USD), of which goods retail revenue hit 1,985.4 trillion VND,  up 6.2 percent.  
According to economists, the results could be attributed to the fact that the people, household businesses and firms have been quick to adapt their business operation to the new normal situation amid the pandemic and actively apply technological solutions in trading and payment. This means digital transformation has played a important role in promoting the growth of the retail sector in particular and maintaining stability for the business community in general.
Vice Chairman of the Vietnam Chamber of Commerce and Industry Hoang Quang Phong stressed the importance of digital transformation to the development of Vietnamese businesses, especially those in the retail sector. The rapid changes in technology enable retail companies to optimise their resources and place consumers at the centre of their businesses, therefore helping them survive, stabilise their operations and thrive sustainably in the context of the complicated development of COVID-19 pandemic.
The application of new technology such as Internet of Things (IoT), Big Data, AI and Machine Learning have allowed businesses to provide customer services with unique and valuable experiences, optimising management strategies as well as supply chain, hence improving revenue.
Do Khac Cuong, Sales Director of Corporate Banking and Partner Channel Manager, Microsoft Vietnam, said that in a global survey of 800 business executives conducted by The Economist and Microsoft, respondents in the retail industry said that improving customer experience was the top factor driving their digital transformation in the past time (49 percent compared to the survey average of 36 percent). This showed that the COVID-19 pandemic has made digital transformation more important than ever, especially for the retail industry.
The survey also showed that retailers that deploy online shopping channels and have deep understanding of customers managed to better survive the impacts of pandemic./.
Vietnam effectively taps opportunities from FTAs
Vietnam's export turnover reached more than 280 billion USD in 2020, a 55-fold increase from the figure of 5 billion USD in 1995 thanks to the effectiveness of free trade agreements (FTAs) it has signed with partners, according to the Multilateral Trade Policy Department under the Ministry of Industry and Trade.
In recent years, Vietnam's legal system has been improved on a par with international standards. Since Vietnam joined the World Trade Organisation (WTO), law making and law enforcement have been bettered with policies broadly consulted in line with international regulations. When Vietnam participated in FTAs, these policies have been perfected.
The scale of domestic businesses has also been upgraded as many enterprises in verious fields such as banking and telecommunications have become the backbone of the economy and reached out to the world.
FTAs have brought great opportunities to Vietnam, reflected by its export growth in major markets. Of those, the Comprehensive and Progressive Trans-Pacific Partnership Agreement (CPTPP) has created momentum for Vietnam's exports.
Statistics showed that the country's exports to CPTPP members have been on the rise. Vietnam saw trade surpluses of 5 billion USD and 6 billion USD with Mexico and Canada in 2020.
Just five months after the European Union - Vietnam FTA (EVFTA) took effect, Vietnam's export turnover to the EU grew by 2 percent as compared to the same period of 2019.
However, there remained challenges regarding the enforcement of sustainability commitments, intellectual property, and e-commerce, the department said.
The Multilateral Trade Policy Department is tasked to organise and resolve difficulties in the implementation of the FTAs. It will focus on developing an FTA index to help management agencies improve their operations and enforcement of the FTAs.
In particular, the Vietnam FTA Portal has been put into operation, so the Department of Multilateral Trade Policy expects that businesses will access and learn about the FTAs and help connect ministries and branches to understand the mechanisms and policies to fully exploit the FTAs./.
Vietnam among top destinations for ASEAN companies looking to expand business inside bloc
Vietnam is among the top expansion destinations for ASEAN companies looking for growth opportunities in the 10-nation bloc, according to a survey commissioned by Standard Chartered for its "Borderless Business: Intra-ASEAN Corridor" report released on July 8.
According to the survey, 80 percent of the respondents are focusing on expanding in Singapore to capture sales and production opportunities, followed by Thailand (60 percent) and Vietnam (59 percent).
ASEAN companies are also found to be highly optimistic about intra-regional growth over the next 12 months. The majority of ASEAN companies focusing on intra-regional opportunities expect robust business growth in the region over the next 12 months, as seen in 99 percent of respondents expecting growth in production and 96 percent anticipating growth in revenue.
Access to the large and growing ASEAN consumer market (69 percent), access to a global market enabled by a network of Free Trade Agreements (59 percent) and availability of abundant and skilled workforce (49 percent) were among the most important drivers for expansion across the region, according to senior executives of the surveyed ASEAN companies.
In addition, with the Regional Comprehensive Economic Partnership (RCEP) expected to attract more investments into ASEAN, all respondents said that they are planning to increase their investments over the next 3-5 years.
Meanwhile, the top three risks in the region are identified as the COVID-19 pandemic or other health crises, geopolitical uncertainty and trade conflicts and the slow revival of the economy and the drop in consumer spending.
Furthermore, the respondents also agreed that adapting their business model to industry practices and conditions within ASEAN, building relationships with suppliers and adapting supply chain logistics, as well as understanding regional regulations, payment methods and infrastructure are the most significant challenges they anticipate in the next 6-12 months.
To drive resilient and rebalanced growth in ASEAN and to mitigate these risks and challenges, the surveyed executives identified entering new partnerships/joint ventures to increase market presence, driving sustainability and ESG (Environment, Social and Governance) initiatives and executing digital transformation programmes as the most important areas for their companies to focus on.
Michele Wee, CEO of Standard Chartered Vietnam, said Vietnam continues to offer appealing business and investment opportunities given its strong fundamentals – robust economic growth, a sizeable domestic market, low labour costs, an abundant workforce, free trade agreements, and strategic location.
She said as an international bank with 117 years of history in Vietnam, Standard Chartered has deep local knowledge to support internationalising companies' cross-border growth aspiration and provide them with the right solutions that meet their financing and operational needs./.
HCM City prepares for scenario of 15,000 COVID-19 cases
Ho Chi Minh City has prepared for a scenario of up to 15,000 COVID-19 patients as the total infections in the southern metropolis surpassed 7,000, with hundreds of cases reported daily.
To handle the surge in infections, the city has set up two temporary hospitals for COVID-19 patients in Thu Duc city and Binh Chanh district, both converted from resettlement apartment buildings.
Each of the hospital accommodates 3,000 beds, pushing the total number of beds in four temporary hospitals for COVID-19 treatment in HCM City to 12,000.
Hundreds of the municipal High Command and thousands of medical workers from hospitals across the city have been deployed to the four facilities.
Health Minister Nguyen Thanh Long said on July 7 that his ministry will mobilise about 10,000 medical workers to aid HCM City in the pandemic combat.
The ministry has also sent a document to the Ministry of National Defence, calling for the assistance from military medical forces in the city./.
Tasks set to turn Quang Ninh into northern all-round growth pole
Minister of Industry and Trade Nguyen Hong Dien has pointed out six tasks that Quang Ninh province needs to carry out in order to become an "all-round growth pole" in the northern region.
At a recent meeting with a delegation from the Ministry of Industry and Trade (MoIT), Secretary of the Quang Ninh Provincial Party Committee Nguyen Xuan Ky said the province has identified industrial development as a task of leading importance that helps guarantee national energy security. It is also working to boost economic development based on science and technology so secure cleaner production.
Open-cast coal mines will be gradually shut down while stone mines and cement factories located near Ha Long Bay, a world natural heritage site, will also be closed.
Paying special attention to trade and services, Quang Ninh is moving to capitalise on the local airport, expressways, seaports, and international border gates to foster cross-border trading, Ky said.
He added that apart from the State-invested border gates, many businesses have poured money into developing bonded warehouses and temporary cross-border bridges, thus attracting a large number of enterprises to export and import activities.
Dien affirmed the MoIT's support for the province's viewpoint of green and sustainable development based on natural resources, humans, and culture.
Highlighting six tasks for Quang Ninh in the time ahead, he recommended that firstly, the province should build an industrial and trade development strategy which needs to base on the local potential and advantages, Vietnam's development trend, and especially the national strategies.
During the current and following tenures, it should work hard to develop the industries that serve as the foundation for national industrialisation and modernisation.
The second task is to accelerate the making and submission of the provincial planning for approval, Dien said, noting that this planning must match the sectoral, regional, and national planning schemes.
Thirdly, Quang Ninh needs to promptly seek competent agencies' permission to develop infrastructure in border economic zones in Mong Cai city, form a wholesale farm produce market in the vicinity of the inland container depot, build a night market in the Bac Luan 1 area, develop tourism and maritime services in Tra Co ward and Cape Sa Vi of the city. Besides, urban development must match the population, industrial, and service growth.
Fourthly, Dien recommended the province to further use capital sourced from the State budget to attract private investment to building socio-economic infrastructure. It should also continue applying the new governance methods it has experienced in such as public investment - private governance, and private investment - public governance.
The fifth task is paying attention to the domestic market, which has sometimes been neglected when it comes to agricultural products, he said, adding that when the MoIT adopted the policy of boosting domestic sale of farm produce via traditional markets and supermarkets nationwide, the sales have doubled compared to the previous years.
The minister also underlined the need to continue developing e-commerce and digital economy, facilitate cross-border trading based on importers' demand and the signed free trade agreements, issue incentives to attract domestic investment, and create a road map for assisting Vietnamese businesses to join production and supply chains.
The last but not least task is related to market surveillance as Quang Ninh boasts long borderlines, both on land and at sea. Its administration need to create favourable conditions for market surveillance units to coordinate with other forces like public security, customs, taxation, and especially, authorities of border localities.
Sharing more than 118km of land border and 191km of sea border with China, Quang Ninh is located at the start of the countries' "Two Corridors, One Belt" economic cooperation zone, in the Nanning - Singapore Economic Corridor, and the expanded Gulf of Tonkin inter-regional cooperation area within the ASEAN - China Free Trade Area./.
Vietnam-Japan supporting industry exhibition to take place in September
The 2021 Vietnam-Japan Supporting Industry Exhibition (SIE) and the Vietnam Manufacturing Expo (VME) will be held from September 15-17 with both onsite at the Viet Xo (Vietnam-Russia) Friendship Cultural Palace and online via the VME website.
Reed Tradex, ASEAN leading exhibition organiser, together with the Japan External Trade Organisation (JETRO) in Hanoi and the Vietnam Trade Promotion Agency (VIETRADE) under the Ministry of Trade and Industry (MoIT), have recently signed a cooperation agreement to organise the two events.
The agreement aims to promote trade relations between Vietnam and Japan in manufacturing, industrial and supporting industries, and improve the competitive strengths for domestic manufacturing businesses to reach out to the global markets.
The year 2021 is a milestone for domestic and international trading businesses to strongly transform with digital technology and bounce back after the COVID-19 pandemic via strategies for optimising resources and expanding business connections.
Besides the challenges from the instability of the world economy, the effectiveness of new trade agreements such as the European Union - Vietnam Free Trade Agreement (EVFTA) and the United Kingdom - Vietnam Free Trade Agreement (UKVFTA), and policies to support and encourage foreign direct investment (FDI) from the Vietnamese government are expected to create potential investment opportunities and partnerships for those who are ready to catch up with market trends.
More than 200 booths of exhibitors from 20 countries and territories, including Japan, the United States, the Republic of Korea, China, Taiwan (China), Singapore, Thailand, Germany and Russia, are expected to take part in the two events, according to the organisers.
Products displayed at the exhibitions will comprise spare parts for automobiles, motorbikes, machinery and equipment for production.
VIETRADE Director Vu Ba Phu said supporting industries play an important role, laying the foundation for the development of a highly competitive and sustainable industry.
The MoT has been implementing many synchronous solutions to support investment development, technology application, and development of manufacturing and supporting industries, he said.
"The organisation of Vietnam - Japan Supporting Industry Exhibition by VIETRADE in collaboration with the JETRO Hanoi is a great contribution to support Vietnamese enterprises to enhance production capacity and connect with Japanese partners," Phu said, believing that the two exhibitions will become remarkable events, actively promote investment and trade cooperation between Vietnam and Japan in supporting industries.
Takeo Nakajima, Chief Representative of the Japan External Trade Organisation (JETRO) in Hanoi, said Japan is the second biggest foreign investor in Vietnam in terms of both number of projects and investment capital.
A JETRO survey in 2020 showed that about 50 percent of Japanese enterprises which have been investing in Vietnam answered that they wanted to "expand business activities" in the next one to two years that make Vietnam top among ASEAN countries for investment. However, the difficulties still remain, in which one of the biggest challenges is the low rate of localisation in raw materials, supplies and components of Japanese enterprises in Vietnam (37 percent) and Japanese enterprises want to further enhance localisation activities.
He emphasised that SIE 2021 is organised with the purpose to improve the localisation rate of Japanese enterprises and increase the supply of components and industrial parts, adding that during the two previous editions held 2017 and 2019 in Hanoi, 136 Japanese and Vietnamese enterprises participated and achieved more than 8,500 trading agreements with the total value of contracts reaching 3.8 million USD.
Vu Trong Tai, General Manager of Reed Tradex Vietnam, said despite the pandemic, Vietnam continue to be recognised by major financial institutions with positive vibes, stable evaluation as an attractive destination for in the China 1 strategy of global enterprises. For foreign investors, Vietnam is still a potential market with many opportunities in manufacturing and supporting industries, he added.
The two exhibitions will "double" the power of business matching to support industrial businesses with access to new technologies and expanding trading networks between domestic and foreign enterprises, especially between Japanese and Vietnamese firms, Tai said./.
Kien Giang attracts over 1 trillion VND in two tourism projects
The southern province of Kien Giang has lured over 1 trillion VND (43.4 million USD) worth of investment in two tourism projects spanning over 21.7 hectares in the first half of this year, according to the provincial Department of Tourism.
Bui Quoc Thai, Director of the department, said that the resurgence of COVID-19 has led to difficulties in attracting tourism investment. Phu Quoc island city ranked first in investment attraction with 283 projects worth 353.5 trillion VND, accounting for 86.5 percent of the province's total projects. Of which, 42 projects have come into operation.
The province is supporting and creating favourable conditions for businesses to accelerate the implementation of projects.
Kien Giang is pushing forward with the construction of transport infrastructure to better serve tourism and attract investment such as building a road to Ba Hon tourist area and the tomb of hero of the people's armed forces Phan Thi Rang in Hon Dat district; upgrading and expanding the main road to Cay Gon tourist site in U Minh Thuong; upgrading and widening the road around Hon Me mountain in Hon Dat; and improving infrastructure at Da Dung mountain relic site in Ha Tien city, among others.
In the first six months of 2021, Kien Giang welcomed over 2.3 million tourist arrivals, reaching 33 percent of the yearly target, with an estimated total revenue of more than 2.68 trillion VND.
In the remaining half of the year, the province sets a target of receiving 3.1 million to 5 million visitors, depending on the development of the COVID-19 pandemic./.
Vietnam's economy to rank fourth in ASEAN: experts
Vietnam's economy would grow from 6-6.5 percent in the next decade, DBS Bank experts said.
If the country maintains its growth rate of 6-6.5 percent, it will surpass Singapore by 2030, the experts noted.
Last year, Vietnam's economy was worth 343 billion USD against Singapore's 337.5 billion USD and Malaysia's 336.3 billion USD, ranking 40th globally and fourth in the Association of Southeast Asian Nations (ASEAN).
In their latest forecast, the International Monetary Fund (IMF) and the Asian Development Bank (ADB) said Vietnam would still outpace the two countries this year.
Despite impacts from two waves of COVID-19 outbreaks in the first half of this year, especially on industrial hubs, Vietnam still posted gross domestic product (GDP) growth of 5.64 percent and its export revenue rose 28.4 percent over the same period last year.
Although the GDP expansion was lower than the target set by the Government, it was much higher than 1.82 percent recorded in the same period last year.
This showed the effective policies, strategies and directions from the central to local levels with the implementation of "dual targets" of controlling the pandemic and ensuring socio-economic development at the same time./.
Vietnam's shrimp exports rake in 1.7 billion USD H1
Vietnam's shrimp export revenue in June hit nearly 402 million USD, bringing the six-month figure to 1.7 billion USD, up 13 percent year-on-year, reported the Vietnam Association of Seafood Exporters and Producers (VASEP).
Specifically, the country's shrimp exports to the US grew by 45 percent monthly; Japan up 17 percent; the Republic of Korea, 10 percent; and several European nations, 15-60 percent.
Though the US accounts for 30 percent of the world's shrimp import turnover and 22 percent of Vietnam's shrimp exports, Vietnamese shrimp products secured only 8.5 percent of the US market share, behind India, Indonesia and Ecuador.
Deputy Director of the Department of Industry and Trade of Ca Mau province Duong Vu Nam said the locality expects to earn over 1 billion USD from shrimp exports this year, contributing 25 percent of the country's shrimp export earnings.
Experts attributed the growth to advantages from new-generation free trade deals such as the EU-Vietnam Free Trade Agreement (EVFTA), the Comprehensive and Progressive Agreement for Trans-Pacific Partnership (CPTPP) and the UK-Vietnam Free Trade Agreement (UKVFTA).
Nam said Ca Mau is now home to 40 shrimp processors and exporters, including 32 aquatic product processing plants with an annual capacity of 250,000 tonnes. Their products have been shipped to more than 60 countries and territories around the world.
Their counterparts in the southern province of Bac Lieu are also working to fully tap the EVFTA with taxes reduced to zero percent from 12-20 percent.
In order to maintain prestige on the market, experts suggested domestic shrimp farmers and businesses enhance chain connectivity, take synchronous measures to meet demand of importers./.
Cement, tiles and glass production see massive surplus
Cement, tile and construction glass are seeing excess supply over demand, according to the Ministry of Construction.
Thanks to high investment in the three industries, the combined total output has already nearly reached their output target for 2025.
In 2020 cement manufacturers in Viet Nam produced over 104 million tonnes of cement, but only 62 million tonnes were sold in the domestic market, and 38 million tonnes were exported.
According to the Viet Nam Cement Association, domestic demand is slowing down, leading to fierce competition between suppliers in the country.
Due to lower domestic demand, businesses are looking into exports to get rid of their stock, despite unfavourable prices. In 2020 the country exported cement at an average price of US$37 per ton, which was lower than the price in 2018 ($40).
Exports of cement and clinker in the first five months of the year rose by 50 per cent year-on-year. This is because the country had expanded its cement exports in developing countries, said Luong Duc Long, vice president cum general secretary of the association.
However, he said that export of cement to these markets was unsustainable because these countries were also focusing on developing their domestic cement industries.
The construction glass industry is also seeing higher supply than demand, with an excess output of 80 million square metres in 2020. Several manufacturers have had to close down some of their production lines.
Meanwhile, tile manufacturers in Viet Nam produced 560 million square metres worth of tiles in 2020, but only 465 million square metres of them were sold.
Domestic tiles also have to compete with imported tiles that are not certified or closely monitored for quality and pricing, according to the Viet Nam Building Ceramic Association.
Chinese tile products, which account for up to 25 per cent of Viet Nam's market, are sold very cheaply.
According to construction material manufacturer CMC Joint Stock Company, which recorded a 14 per cent drop in revenue in 2020, excess supply over demand contributed to harsh competition last year, with businesses making large price cuts just to get rid of their stock.
Nguyen Van Sinh, deputy minister of construction, said that proposed investment projects in these three industries should be reconsidered, and localities should seek opinions from state authorities to avoid excessive investment and waste of manpower.
He said that investment in cement production in large cities and areas in need of environmental protection should be limited. 
Forestry product exports expected to reach US$15.5 bilion in 2021
Export turnover of wood and forestry products for the year has been forecast to hit US$15.5 billion, a year-on-year increase of 17 per cent.
The figure was revealed by Bui Chinh Nghia, deputy general director of the Vietnam Administration of Forestry (VNFOREST) under the Ministry of Agriculture and Rural Development, at a conference held on Wednesday in Ha Noi.
The export value of wood and forestry products in the first six months of this year was estimated at $8.71 billion, up 61.6 per cent compared to the same period last year, the conference heard.
Wood processing enterprises continued to push the export of products with high added value such as kitchen cupboards and furniture, Nghia said, adding that these are also products that have achieved a great growth rate of 40 per cent.
While appreciating the good results gained by the VNFOREST over the past six months, Deputy Minister of Agriculture and Rural Development Le Quoc Doanh said it should not rest on its laurels as the industry has been facing challenges from the impacts of the COVID-19 pandemic and natural disasters. Trade barriers would directly affect export activities, he added.
The deputy minister demanded the administration ensure the forest industry is ready to cope with emerging challenges.
Regarding the US's investigation into some wooden products imported from Viet Nam, Doanh said the wood manufacturing and processing industry needed to be more cautious to show other countries Viet Nam is moving towards transparent trade and is a reliable partner.
To meet the demand for transparent domestic raw materials, VNFOREST plans to issue a certificate of sustainable forest management, Nghia said.
The administration will work closely with the Programme for the Endorsement of Forest Certification (PEFC) to accelerate the recognition of the national forest certification system and link with the PEFC forest certification.
It is reported the area of the newly-planted forest has so far reached 108,258ha, accounting for 41.6 per cent of the plan and that of the whole year is expected to hit 260,000ha, meeting the year's target.
As many as 109 forest fires and 1,329 forest-related violations were recorded in the first six months of the year. The damaged forest area was 1,210ha, a decrease of 53 per cent compared with the same period last year. Of which, 283ha were damaged by forest fires and 672ha due to illegal deforestation.
The administration will strengthen forest protection and management to meet the target of reducing the number of violations by 10 per cent and the damaged forest area by 20 per cent compared with last year. 
Firms offered recommendations to boost exports to EU
Europe may be a large market for Vietnamese goods, but businesses need to ensure quality standards and consumption trends to fully capitalise, a workshop has been told.
Nguyen Tuan, deputy director of the Investment and Trade Promotion Centre of HCM City, said trade between Viet Nam and Europe has recorded encouraging results in the recent past, and it is forecast to grow even more thanks to the EU-Viet Nam Free Trade Agreement (EVFTA).
Bilateral trade turnover saw a 12-fold increase from US$4.1 billion in 2000 to nearly $50 billion in 2020. Viet Nam's exports to the EU surged by 13-fold from $2.8 billion to $35.1 billion during the period.
Last year, Viet Nam posted about $29 million in trade surplus with the EU despite the COVID-19 pandemic. The main importers of Vietnamese goods include Germany, France, and Poland.
Tuan said as the pandemic is still wreaking havoc on the global economy and trade, Viet Nam, including HCM City, has been working hard to connect local enterprises with foreign markets via online platforms and new sales channels. As a result, trading has been maintained, keeping supply chains uninterrupted.
Adam Koulaksezian, director of the French Chamber of Commerce and Industry in Viet Nam (CCIFV), noted Viet Nam currently ranks 15th in the world and first in ASEAN among trade partners of the EU.
Thanks to the EVFTA that took effect in August 2020, tariff barriers have been lifted for a number of exports from both Viet Nam and the EU, creating momentum for bilateral trade. Export and import between the two sides have been on the rise and are predicted to grow further in the future, which will be a great opportunity for Vietnamese exporters in many industries, he said.
However, Koulaksezian added that EU consumers are paying more attention to sustainability, including origin traceability of products, corporate social responsibility, and environmental protection. Therefore, Vietnamese businesses should ensure the sustainability of their products and build an export strategy matching the demands and trends in foreign markets.
Pointing out certain challenges to bilateral trade, Business Support Service Director at CCIFV Nguyen Dac Boi Quynh said the complex COVID-19 situation, especially in southern Vietnam where many wood and aquatic product processing firms are located, is forcing businesses to implement social distancing but keep production going.
Other challenges include the requirements for product origin traceability and different types of certificates, and the fast-changing consumption trends in the EU.
Sharing her business's experience, Pham Thi Hong Quang, director of the Viet Source Handicraft Co. Ltd, said the company has built its infrastructure meeting importers' requirements, shifted to online marketing in the face of the pandemic, and stay updated with new consumption trends in the EU, which has helped its shipments to this market increase 20 per cent from the pre-pandemic period.
She recommended enterprises that want to access this market need to immediately meet quality requirements, update themselves with consumption trends, and make use of modern marketing channels. 
HCM City seeks to ease goods transportation from other provinces
HCM City has developed a plan together with six neighbouring provinces to create favourable traffic conditions for and issue QR identification code to their vehicles transporting foodstuffs and other goods through its COVID-19 quarantine checkpoints to ensure adequate retail supply.
Tran Quang Lam, director of its Department of Transport, said smooth cargo transport is the city's main priority.
Trucks from neighboring provinces would be identified by QR codes so that they could pass through anti-pandemic checkpoints quickly, he said.
From yesterday the department will issue QR codes to businesses in neighbouring provinces to paste on their vehicles.
Lam also suggested prolonging the validity period of a negative COVID-19 test certificate for drivers from the current three days to seven to reduce costs for transport businesses.
Nguyen Van Huyen, general director of the Directorate for Roads of Viet Nam, said his agency has instructed southern road management agencies to co-ordinate their work to create favourable traffic conditions to ensure smooth circulation of goods.
It has also called on provinces to publicise the locations of their COVID-19 checkpoints, quarantine forms and the phone numbers of COVID-19 check point managers so that businesses could have documents ready to avoid congestion at the checkpoints, he said.
The checkpoints need to arrange separate test places for foodstuff transport drivers so that they could leave quickly, he added.
Minister of Transport Nguyen Van The has called for simplifying and speeding up the issuance of QR codes for vehicles by using technology.
Localities need to agree on how to manage foodstuff transport vehicles passing through checkpoints so that they are not stopped for inspection, he said.
With all three of its largest wholesale markets and half the traditional markets, supermarkets and food stores closed, the city is publicising information about 2,833 food supply points with locations, contact phone numbers and delivery methods for people to easily access them.
The city Department of Industry and Trade said the list of these places would be sent to each district, ward and commune, adding the number of places is high and they are widely distributed, and so the public could be assured of uninterrupted supply.
In the past few days people have flocked to supermarkets and food stores to buy goods and stock up, mainly foodstuff, leading to temporary shortages, especially of fresh produce like meat and vegetables at the end of the day.
Food supply businesses assured that these shortages are temporary and only occur because staff are unable to replace the goods on the shelves fast enough because of the huge buying.
Supply is abundant and enough to meet all needs, they said.
According to the department, the city consumes 5,000-6,000 tons of foodstuffs a day but has stocks of over 120,000 tonnes, triple the normal volume, to ensure demand is fully met.
Credit Suisse, HSC, Mirae Asset raise target price of MSN share to over $5.63
In a note on July 7, Credit Suisse raised the target price for the Masan Group share, MSN, to VND137,000 (US$5.93).
Earlier, the Ho Chi Minh Securities Corporation and Mirae Asset had also hiked target prices to VND134,000 ($5.81) and VND131,000 ($5.68).
On Wednesday, MSN rose to VND116,000 ($5.02).
The expected 2021 financial performance of VinCommerce (VCM) and the growth potential of the offline-to-online platform are said to be reasons for analysts to increase MSN's short-term target price.
On July 1, Masan Group announced the acquisition of The CrownX stakes from minority shareholders, increasing its direct and indirect ownership in it from 80.2 per cent to 84.9 per cent.
With The CrownX valued at around $7.3 billion, the transaction was estimated to be worth $343 million.
The Masan management believes this transaction has made optimal use of the company's cash because of its trust in the growth and profit trajectory of The CrownX.
Danny Le, chief executive officer of Masan Group, said: "We will hit a key milestone this year with VinCommerce becoming profitable. We are turning our focus on expansion to build the nation's number one network while keeping our profit momentum intact. This turnaround gives us confidence to invest big to accelerate our offline-to-online strategy."
Masan expects VCM's profits to continue growing after it achieved breakeven earnings before interest and tax (EBIT) in June.
"The management has a path to deliver positive EBIT in the second half of 2021," Le said.
By opening 300-500 VinMart+ minimarts by year end, Masan is aiming to expand the VCM store network back to 3,000, the number when Masan acquired it.
The new stores are projected to deliver breakeven EBITDA in six to 12 months due to a revamped and more efficient supply chain model, total commercial margin uplift and a winning assortment to drive consumer traffic.
Customers line at a Phuc Long kiosk at a VinMart+ store. — Photo courtesy of Masan
Besides, the store-in-store Phuc Long Kiosk has and will drive traffic and profitability for Vinmart+. By the end of June, around 50 VinMart+ stores have set up Phuc Long kiosks. They expected to generate VND5 million ($216.6) additional sales per day in which VCM has a 20 per cent revenue sharing arrangement.
VCM has a target of opening 1,100 Phuc Long kiosks across Vinmart+ locations by year-end.
The additional revenue per day is expected to enhance EBITDA margins by 4 per cent for each Vinmart+ store with one of them.
Masan's offline-to-online retail platform has also attracted a lot of investment from foreign investors.
In May 2021, a consortium led by Alibaba Group and Baring Private Equity Asia paid $400 million to acquire a 5.5 per cent stake in The CrownX.
Under the deal, VCM will be the grocery retailer of choice on Lazada in Viet Nam, Alibaba's Southeast Asian e-commerce platform.
Vietnamese consumers will thus be served goods that meet 'the very best of fresh standards" whether they shop online or at supermarkets/stores.
In April, Masan Group announced that South Korea's SK Group acquired a 16.26 per cent stake in VCM for a cash consideration of $410 million. The transaction values VinCommerce at $2.5 billion.
The management plans to raise a further $300-400 million at The CrownX in the latter half of the year. 
Market inches lower, VN-Index loses 1%
The market ended lower yesterday as selling pressure dominated some attractive stocks in banking, real estate and material sectors.
The VN-Index lost 13.87 points, or 1 per cent, to close the trading day at 1,374,68 points. The market's breath turned negative with 204 stocks declining, while 148 stocks rose and 68 ended flat.
The liquidity was much lower than yesterday as nearly VND20.2 trillion (US$877 million) was poured into the southern bourse, equivalent to a trading volume of over 552.3 million shares.
The fall was due to losses of large-cap stocks which were weighed by selling pressure since the morning session opened. The 30 biggest stocks tracker on HoSE posted a drop of 1.14 per cent to 1,521.21 points. Twenty-one stocks in the VN30 basket fell while only seven stocks rose and two stayed flat.
On Ha Noi Stock Exchange (HNX), the HNX-Index also plunged 1.2 per cent to 315.98 points.
During the session, more than 140 million shares were traded on the northern market, worth nearly VND3.2 trillion.
Real estate stocks were still influencing the market's trend yesterday with No Va Land Investment Group Corporation (Novaland, NVL) losing the most, down 6.1 per cent.
It was followed by Vingroup JSC (VIC), Vietcombank (VCB) and Vinhomes JSC (VHM). All these stocks fell in a range of 1.7 - 2.63 per cent.
Other stocks posting losses of more than 1 per cent included Hoa Phat Group (HPG), Vietinbank (CTG), VPBank (VPB), Vietnam Dairy Products JSC (Vinamilk, VNM), Vietnam Rubber Group (GVR), Vincom Retail JSC (VRE) and Vietjet Aviation JSC (VJC).
The market pared losses on gains in some large-cap stocks like Masan Group (MSN), up 3.28 per cent, PetroVietnam Gas JSC (PVGas, GAS), up 1.64 per cent, Mobile World Investment Corporation (MWG), up 4.04 per cent, and Vietnam International Commercial Joint Stock Bank (VIB), up 3.21 per cent.
With the market's current moves, analysts from Saigon - Hanoi Securities JSC (SHS) recommended investors watch and see more in the next sessions to find the right direction.
"Investors who sold for profits last week should not take long positions at this moment and wait until the market corrects deeper to jump in. Meanwhile, investors with large stock proportion in their portfolios also should not take more long positions and reduce the stock proportion during the week's rallies," SHS said in a daily report to customers.
On the other hand, foreign investors fled the market again as they net sold a total value of VND258.45 billion on both exchanges. Of which, they net sold a value of VND238.52 billion on HoSE and a value of VND19.93 billion on HNX.
Different systems blamed for recent errors at securities companies
Recent errors during trading at some securities companies were due to their different technology systems, said Le Hai Tra, General Director of Ho Chi Minh City Stock Exchange (HoSE).
"HoSE and FPT are closely monitoring the situation to support securities companies to overcome internal errors as soon as possible," he said.
A series of securities companies have encountered errors since Monday when the new transaction system for the HoSE was officially launched.
The new transaction system, provided by IT firm FPT, is designed to process three to five million orders per session, which is expected to be able to address the current overloading issue on the previous system.
Under the new system, while investors noted trading activities went smoothly without any crashes, there were still minor issues, such as delays in updating transaction volume and prices in real-time at securities firms at the beginning of the morning session.
SSI Securities Incorporation (SSI) attributed the errors to the incompatible trading systems of the companies with HoSE's new system, leading to slow login process, inaccurate data, and slow updates of order status.
In addition to SSI, investors also have had trouble trading on the systems of VNDirect Securities Joint Stock Company, VPS Securities Joint Stock Company, Technological Securities Joint Stock Company, and FPT Securities Joint Stock Company. These companies also encountered difficulties in logging in and slow responses at the beginning of the session.
After detecting the errors, SSI's technology team quickly identified the causes and fixed them.
SSI said that from the beginning of the afternoon session on Wednesday, the trading floor at SSI was fixed and re-opened to serve investors.
"The newly-applied trading system on HOSE is still operating stably. The errors occurring internally at some securities companies were due to different technology systems," said Le Hai Tra.
"Currently, HoSE and FPT are working closely to support securities companies with errors to fix them as soon as possible to meet the trading needs of investors," Tra said.
Duong Dung Trieu, Chairman of FPT Information System Co Ltd (FPT IS), also said that there was no conflict between HoSE's new and old systems. The new system also requires no upgrades to the IT infrastructure of securities companies, he said.
"There is no conflict, only the speed and frequency of returning information to securities companies is now higher than before, so HoSE has allowed a certain delay during the recent testing period so securities companies can review their system and consider whether or not to adjust it. We have to find out and improve together," Trieu said.
In the past six months, a rise in transaction orders well above the limit of up to 900,000 transactions per day has been behind frequent crashes on HoSE's current trading system, causing frustration among investors.
The new system by FPT is among solutions to address the overloading issue when a surge of orders forces the stock exchange to halt trading.
Along with the system developed by FPT, HoSE is testing a new stock trading system from the Korea Exchange from June 14-August 6, with a view for it to be launched later this year.
Once the process is completed, this would replace the system from FPT. 
HCM City's first-half overseas remittances up 22.34% on-year
HCM City received overseas remittances of around USD3.2 billion in the first six months of this year, representing an on-year rise of 22.34%.
According to Nguyen Hoang Minh, deputy director of the State Bank of Vietnam's branch in HCM City, this is a good signal in the context of ongoing Covid-19 pandemic.
Earlier, experts forecasted that HCM City's overseas remittances would reach USD6.5 billion this year, up 15% compared to the record high figure of USD6.1 billion last year.  
To date, the city's overseas remittances equalled around 50% of the year target.
In the first half of the year, HCM City's overseas remittances through Saigon Thuong Tin Commercial Joint Stock Bank (Sacombank) grew by 50% on-year. Asian and American markets made the biggest contribution.
Tran Minh Khoa, general director of Sacombank Remittances said that despite the ongoing Covid-19 situation, vaccinations in many countries have been sped up, so Vietnamese people abroad can return to work. However, due to the pandemic, they have not been able to visit Vietnam.
Over recent years, remittances have come not only in the form of savings but also in securities, real estate, share purchases, or new businesses.
Banks have also enhanced the use of technology and offered promotions to attract more customers. For example, Sacombank has co-operated with partners in the US, Australia, Europe, Japan, and Taiwan (China), and adopted API technology allowing quick payments around the clock. Recipients can receive their remittances in no more than a minute.
Source: VNA/VNS/VOV/VIR/SGT/Nhan Dan/Hanoitimes

Steering committee set up to ensure goods supply for HCM City, southern provinces