VIETNAM BUSINESS NEWS MARCH 18/2023
Committee to discuss shelved steel project with Chinese partner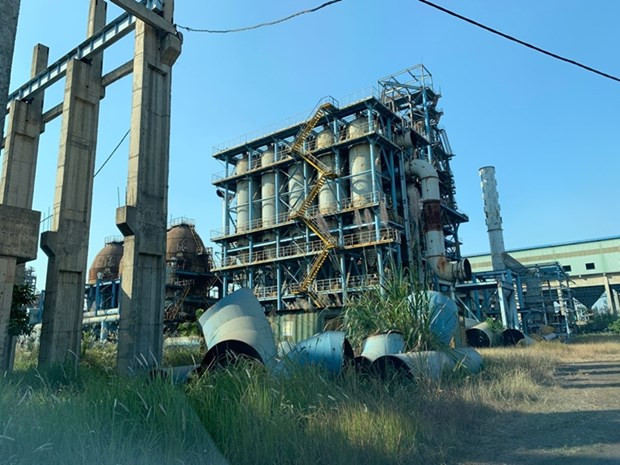 The Tisco 2 project started in 2007 but has been suspended since 2013. (Photo: dangcongsan.vn)
A delegation of the Committee for Management of State Capital at Enterprises (CMSC) will meet with leaders of the China Metallurgical Group Corporation (MCC Group) in Beijing on March 18 to discuss the stagnant second-phase expansion of the Thai Nguyen iron and steel plant (Tisco 2).

The working session will look into some issues related to the second-phase expansion project and clarify the viewpoints of the parties concerned with a view to soon reactivating Tisco 2, a major project in Vietnam's Thai Nguyen province that started in 2007 but has been suspended since 2013.

The CMSC delegation, led by Chairman Nguyen Hoang Anh, is paying a working visit to China from March 13 to 19.

In Guangzhou city of Guangdong province, the delegation met with representatives of the international cooperation department of the State-owned Assets Supervision and Administration Commission of the State Council of China (SASAC) and the Guangdong SASAC.

Anh noted the visit aims to carry out the important common perceptions stated in the memorandum of understanding on enhancing cooperation in the field of State-owned assets and enterprises signed between the CMSC and SASAC in late 2022, part of Party General Secretary Nguyen Phu Trong's official visit to China. It also looks to seek ways for addressing obstacles to some cooperation projects.

The CMSC and SASAC also held an information exchange and cooperation conference in Guangzhou on March 14.

During the visit, the CMSC delegation also visited and had meetings with the China Southern Power Grid Co. Ltd and the Huawei Technologies Co. Ltd in Guangdong.
2023 Vietnam Business Forum focuses on green growth
The 2023 Vietnam Business Forum (VBF) opened in Hanoi on March 17 under the theme of "Business Community in Partnership with Government of Vietnam in Fostering Green Growth".
The annual forum, co-organised by the Vietnamese Ministry of Planning and Investment and the World Bank Group's International Finance Corporation (IFC), serves as an uninterrupted and close dialogue mechanism between the Government and the domestic and foreign business communities in order to improve business conditions to promote the development of the domestic private sector and facilitate the investment environment, thus contributing to Vietnam's sustainable economic growth.
In her opening remarks, MPI Deputy Minister Nguyen Thi Bich Ngoc said throughout its 25-year history, VBF has always adhered to the goal and mission of acting as a bridge between the business community and Government agencies. Through the forum, the business community has provided feedback and recommendations to improve the business and investment environment and promote sustainable socio-economic development, while constantly renewing their vision and operation methods towards paying greater attention to social responsibility.
In 2022, the scale of Vietnam's economy exceeded the 400 billion USD mark for the first time with a growth rate of 8.02%, far higher than the set target and the highest growth rate in the past decade. Foreign direct investment almost reached 30 billion USD, while the import and export turnover amounted to 732.5 billion USD, putting Vietnam in the top 20 countries with the largest trade scales. Despite being in the post-COVID-19 recovery development phase, FDI disbursement increased by 13.5% year-on-year, once again affirming the attractiveness of Vietnam's investment environment on the regional and global investment maps.
During the forum's technical session, research groups are expected to report on many topics related to preparations for the period of energy transition and circular economy; and sustainable development and competitiveness enhancement in the new context.
A high-level session of this year's forum is scheduled to take place on March 19.
Bamboo Airways to launch Hanoi - Ca Mau direct flights
Vietnam's low-cost carrier Bamboo Airways on March 17 started selling tickets for its direct flights from the capital city of Hanoi to the southernmost province of Ca Mau and vice versa with prices from 769,000 VND (32.6 USD) per ticket.
The airline will operate three return flights on the route per week on Tuesdays, Thursdays, and Saturdays from April 29, 2023. It takes just more than two hours to travel from Hanoi to Ca Mau province by 98-seat Embraer E190 aircraft.
Nguyen Ngoc Trong, Chairman of the Board of Directors of Bamboo Airways, said Ca Mau Airport will be the last destination to complete Bamboo Airways' domestic flight network connecting all of the nation's 22 airports.
According to the airline's survey, the Hanoi - Ca Mau route is one of the longest road trips in the country, with a distance of more than 1,900 km. Previously, passengers had to travel for days by road and waterway, or by connecting flights.
Specifically, if traveling by car, it takes passengers from 32 to 37 hours, and they may have to use a ferry. By train, passengers will have to transfer to stations because there is currently no direct railway connecting Hanoi and Ca Mau.
Meanwhile, currently, to reach the southernmost province, air passengers choose to take a Hanoi - Ho Chi Minh City flight or Ha Noi - Can Tho one, then take a connecting flight or go by road to Ca Mau, spending up to 3.5 - 6 hours, not including transit time.
According to the provincial authority, the Ca Mau Airport now operates two flights to Ho Chi Minh City. Its throughput is 35,000-40,000 passengers per year, far below its full capacity of 200,000 each year. The airport plans to increase its capacity to 40 million passengers in 2025-2035.
The Ca Mau Airport was built under French colonial rule with a runway of 1,500 metres long and 30 meters wide, capable of receiving only small aircraft such as the Embraer E190.
Ca Mau province is home to diverse fauna, especially birds, which makes it an attractive eco-tourism destination for domestic and international travelers. Surrounded by sea on three sides, the coastal province is also home to numerous national historical and cultural relics, while the combination of ethnic cultures creates abundant festivals and cultural features such as floating markets and regattas.
Reopening of Bakhoi- Ha Long Bay cruise route under scrutiny
The reopening of the cruise route between Bakhoi district in Guangxi of China and Ha Long Bay in the northern province of Quang Ninh will be the primary focus of an upcoming event being held in late March in Ha Long city, according to the Quang Ninh Department of Tourism.
The function will attract representatives of the Quang Ninh Department of Tourism and Department of Culture and Tourism of Guangxi Zhuang Autonomous Region.
Furthermore, the reopening of the maritime route represents a proposal made by the Department of Culture and Tourism of Guangxi Zhuang Autonomous Region with the hope of further promoting ties in tourism development between the two sides.
The Quang Ninh Department of Tourism stated that it has also asked that Guangxi province devise specific contents as part of efforts to implement the joint activities in the near future.Although the maritime route has been bustling after starting in 1998, it has been suspended due to many reasons, including the COVID-19 pandemic.
Hue travel agencies on FAM trip to experience Malaysia
A delegation comprising of 23 travel agencies from Thua Thien-Hue province made a familiarization (FAM) trip to Malaysia from March 13 to March 16 in order to experience local tourist attractions and culture on offer in the Southeast Asian country.
This marks the first Vietnamese famtrip to Malaysia since the Southeast Asian country moved to reopen its border to foreign tourists.
The trip took the group to Genting SkyWorlds theme park, Genting Highlands, Skytropolis Indoor Theme Park, and Sky Mirror tourist spot.
Furthermore, Vietnamese tour operators experienced time on the cruise ship Cruise Tasik in Putrajaya, as well as visiting Batu Caves and Merdeka Square in Kuala Lumpur.
They also held working sessions alongside Malaysian businesses as part of efforts to build connections and launch tours from Malaysia to Thua Thien-Hue province and vice versa in the future.
Novaland appoints new CEO
On March 17, No Va Land Investment Group Corporation (Novaland) issued Resolution No.18/2023-NQ.HDQT-NVLG from the Board of Directors on the appointment of Dennis Ng Teck Yow as CEO.
According to the announcement, Yow will now take the role of CEO of Novaland, replacing Nguyen Ngoc Huyen.
With nearly 30 years of experience, Yow has held a variety of senior leadership positions in business strategy, project investment, team development, financial analysis, and planning at domestic and international real estate investment companies.
Under challenging circumstances, Novaland has been focusing on completing key projects, timely property handovers to customers, and flexible construction planning based on current situations.
Novaland is negotiating with credit institutions to arrange sources of funding, while concurrently striving to work with the local authorities to promptly complete the legal procedures for its projects.
The company keeps focused on completing economic urban areas, which contribute to social security in the provinces where Novaland has invested. With all available resources, the company continually strives to balance customers', investors', and stakeholders' interests.
Yow holds an MBA Degree from Hull University in the United Kingdom and is a member of various international finance, banking and construction associations.
He has years of experience in leading the implementation of commercial and residential projects, and integrated urban areas that meet domestic and international standards. He has also held senior positions at global corporations across sectors such as business strategy development, human resources, investment appraisal, finance, and accounting.
Prior to his appointment as CEO of Novaland Group, Yow was CEO of Gamuda Land LLC Vietnam.
Can Tho exports first batch of durian to China via official channels
The Can Tho Department of Agriculture and Rural Development held a ceremony on March 17 to mark the export of its first batch of 18 tonnes of durians to the Chinese market.
The move comes under the protocol signed between the Vietnamese Ministry of Agriculture and Rural Development and the General Department of China Customs.
Vietnamese firm Ngoc Minh Lang Son Import-Export Co., Ltd will be the exporting company while the importing enterprise will be Shenzhen Pan Asia Logistics Co., Ltd. of China.
Upon addressing the ceremony, Tran Thien Thanh, deputy director of Truong Phat Durian Cooperative in Can Tho City, said after being inspected by the Chinese side, the co-operative was assessed to fully meet stringent export standards and was therefore granted two growing area codes to export to the market.
Truong Phat Cooperative has therefore signed a long-term product consumption contract with Ngoc Minh Lang Son Import-Export Co., Ltd., with the purchase price being equal or higher than the market price during the harvest season.
Industry insiders pointed out that despite durian exports recording bright prospects this year, there remains high risk of excess, adding that farmers must fully abide by the export contract and duly apply techniques in order to launch products in line with the requirements of businesses.
HCM City's property market expected to recover soon: insiders
Information relating to the loosening of credit room, and commitments from the Ho Chi Minh City People's Committee and other agencies on removing hurdles to transactions have led to experts' positive views on the future of the property market.
According to Vo Huynh Tuan Kiet, Director of the Housing Division of CBRE Vietnam, credit in 2023 will be more abundant than in 2022 thanks to the State Bank of Vietnam (SBV)'s decision to extend limits by about 1.5 - 2% for commercial banks to inject about 457 trillion VND (19 billion USD) into the market.
The SBV's decision to loosen the credit room is a positive signal for the recovery of the domestic real estate market in general and HCM City in particular. Currently, many real estate projects have halted due to a lack of capital. Buyers face difficulties because they do not have access to credit to purchase houses. The facilitation of capital flow will help investors continue to implement projects and buyers have the opportunity to realise their dreams.
Kiet said that the source of money from the stock market is trending to increase again. In case the stock market rises to 1,300 - 1,400 points, there will be a large amount of capital put into the economy and real estate sector. The bond market is gradually recovering, he said, noting that this is also an important capital channel.
According to Deputy Director of the city's Department of Natural Resources and Environment Nguyen Thi Thanh My, there are currently 116 real estate projects in the city that have problems related to the procedures for selling apartments, tax calculation and construction permits. Among them, 38 projects have been delayed for successive years.
Recently, the municipal People's Committee had a meeting with six real estate businesses to remove obstacles for seven troublesome projects in the city. These projects are located in districts 1, 4, 7, Tan Phu and Thu Duc city, she said.
In addition to providing legal support for commercial real estate projects, the city will also focus on solving issues related to investment procedures for social housing projects, worker accommodations and renovation of old apartment buildings.
It will focus on removing difficulties for 18 prioritised social housing projects and 16 degraded apartment buildings this year, My said.
With the above-mentioned solutions, HCM City is expected to bring to the market a large number of real estate projects in different segments, meeting the demand of the market, especially solving a lack of supply of affordable social housing.
Dragon Capital raises stake in DGC
Dragon Capital has increased its ownership in Duc Giang Chemicals Group JSC, whose DGC shares are traded on the Hochiminh Stock Exchange (HOSE), from 5.96% to 6.07%.
Vietnam Enterprise Investments Limited Fund, a member of Dragon Capital, purchased 400,000 DGC shares on March 13.
According to DGC's 2023 business plan, its revenue is expected to drop 24.7% over 2022 to VND10,875 billion, while its profit after tax would plunge by half over the year-ago figure to VND3,000 billion.
The firm also plans to pour VND50 billion into its NPK fertilizer factory in the Central Highlands province of Dak Nong and VND500 billion into the Duc Giang-Nghi Son chemical complex project in the north-central province of Thanh Hoa.
Last year, it posted over VND14.4 trillion in revenue and VND6 trillion in profit, up 51.2% and 140.2% over the preceding year, respectively.
Ministry of Agriculture warns against reckless durian cultivation

The Ministry of Agriculture and Rural Development has warned against the unbridled growth of durian trees in the Mekong Delta, Southeast, and Central Highlands regions.
The call comes as durian prices hit an all-time high in recent months.
The Department of Crop Production cautioned that the unchecked expansion of durian cultivation areas, disregarding planning and guidelines, could result in unforeseen consequences such as oversupply.
According to the department, several farmers have already uprooted coffee and pepper trees, converted rice fields to durian orchards, and even planted durian trees in areas with unsuitable soil and ecological conditions. These practices could ultimately impact the productivity and quality of Vietnamese durian.
In November 2022, the Minister of Agriculture and Rural Development issued a directive about sustainable durian and passion fruit production development.
The Department of Crop Production said that it was necessary to change the thinking of farmers towards production following the planning.
Instead of increasing the area and output, the department said it was better to standardise the production process from cultivation and harvest to processing, transportation and distribution to develop brands and increase the added value. Policies would be raised to promote the linkage between farmers and enterprises to establish the durian value chain.
Vietnamese durian has been officially exported to the Chinese market since July 2022, which helped Vietnam earn US$421 million from durian export in 2022, up 137 per cent against 2021.
The price of durian has increased sharply since then.
In early 2023, the price of this fruit skyrocketed to set a historical record of around VND200,000 per kg. Although cooling down, the price was still at a high level.
According to Tra My, the head of the Provisional Vietnamese Business Association in China, the Chinese market was increasingly demanding in terms of product quality, adding that the focus must be placed on ensuring the quality of durian.
Digital platforms simplified for traceability of produce, food
The Executive Team of the 970 Agricultural Connection Forum and the Australian Center for International Agricultural Research yesterday held a forum in Hanoi on boosting digitalization in produce – food traceability.
Director Nguyen Quoc Toan of the Center for Digital Transformation and Agriculture Statistics (under the Agriculture and Rural Development Ministry) informed that Vietnam now has 19,000 agricultural cooperatives, 14,200 agricultural businesses, 7,500 agricultural product processing factories, 9,400 supermarkets and level-1 markets. Data collected from these places can form the Big Data for the national agriculture sector for traceability purposes.
At present, the traceability system of the Agriculture and Rural Development Ministry is formally operating at the address of http://checkvn.mard.gov.vn. The database is integrated with those of 8 provinces and cities. Nearly 4,000 businesses own the traceability codes for 16,987 produce and food items.
Many enterprises agree that the transparency and precision in the results of produce traceability is extremely important; yet during the process of filing the codes for planting areas, many units have copied one another, leading to inaccurate results. Therefore, it is advisable to be more flexible when implementing digital platforms besides choosing proper, user-friendly software pieces so that people can enter new data or access current ones easily.
As to solutions to improve the traceability system, Director Toan stated that it is necessary to develop suitable mechanisms, legal corridors for these software pieces, from data building to data distribution steps.
In addition, production and processing procedures must be first systemized and then carefully organized before being integrated. After that is the time to implement technologies for smooth operation, as said once by Minister of Agriculture and Rural Development Le Minh Hoan.
Authority clarifies renewable electricity pricing mechanism
he Electricity Regulatory Authority of Vietnam (ERAV) said that the transitional framework for electricity prices is based on the actual costs of renewable energy plants and advice from independent consultants.
This followed a petition by 36 investors of transitional wind and solar energy projects proposed the prime minister remove hindrances in the electricity pricing mechanism as the prices were much lower than they expected, likely causing disruptions to their financial plans.
In response to the above petition, ERAV said that they had reviewed and sought advice from experts and relevant agencies.
An independent consulting committee, including nine experts in the sectors of electricity, pricing, finance and State management on energy, had been established to give the commission advice on the framework for electricity prices, according to ERAV.
The electricity pricing mechanism has been calculated based on the indexes provided by local and foreign consultants after they had a reference to the actual costs stated in the feasible study reports and technical design of plants that signed electricity sales agreements with the EVN before the time limits for the entitlement of the feed-in-tariff prices expired.
In principle, the investors' internal rate of return (IRR) is now 12% but their profit would fall sharply due to the new feed-in-tariff (FiT) prices. For example, the solar energy projects' IRR will drop from 11.7% to 5% if these projects apply the new FiT, instead of the incentive FiT prices.
More than 84 renewable energy projects lag behind the commercial operation date (COD), of which construction and trial operation has been completed for 34 transitional projects.
These projects' investors will have to negotiate the electricity prices with the Vietnam Electricity Group (EVN) based on the framework for electricity prices issued by the Ministry of Industry and Trade early this year.
HCM City works to improve agro-forestry-aquatic products' quality
The Ho Chi Minh City People's Committee has issued a plan to implement the Ministry of Agriculture and Rural Development's decision approving a project on ensuring food safety and improving the quality of agro-forestry-aquatic products in the 2021 - 2030 period.
Accordingly, the city set a target that between 2026 and 2030, the area of cultivation and aquaculture, and livestock establishments that are certified for good agricultural practice (GAP) will increase by 15% yearly.
By 2030, all agro-forestry-aquatic product production and business establishments in the city are certified to meet all food safety conditions or sign a commitment to comply with food safety regulations.
The number of processing establishments that are certified to meet Hazard Analysis and Critical Control Point (HACCP) and ISO 2200 standards will increase by 15% and 20% a year, respectively.
The rate of highly processed products (ready-to-eat) increased by 15% yearly. The proportion of samples of agro-forestry-aquatic products monitored for violations of food safety regulations decreased by 10% yearly.
To achieve the above targets, the city proposes solutions to improve the quality of human resources in food safety and quality management, and support producers to apply higher standards for quality assurance, food safety, and good agricultural practices such as VietGAP, Global GAP, organic or ecological agriculture.
Producers are urged to join safe food chains, apply product traceability, and establish and operate a food safety and quality control system at their establishments with the participation of community supervision.
In particular, one of the important solutions is research, transfer, application of science and technology, and digital transformation to ensure productivity, quality, food safety, and traceability.
Rules of Origin in ASEAN-Japan Comprehensive Economic Partnership Agreement (AJCEP)
On December 23, 2022, the Ministry of Industry and Trade issued Circular No. 37/2022/TT-BCT stipulating the Rules of Origin of goods in the AJCEP. This circular takes effect from March 1, 2023.
Circular 37/2022/TT-BCT stipulates that a product is considered to be originating in a member country if it: is wholly originating or produced in that member country; meets regulations in the case of non-originating materials; is produced entirely in that member state solely from materials originating from one or more member states.
Hanoi to invest US$226M in streets and service roads under Ring Road No.4 project
Hanoi is set to allocate VND5.4 trillion (US$226 million) to building service roads under Ring Road No.4 project.
The project aims to build a system of streets and service roads spanning approximately 58.2km in Hanoi.
Ring Road No.4 runs through Hanoi in Tan Dan commune, Soc Son district, to the boundary between Hanoi and Hung Yen Province in Thuong Tin district.
The route passes through seven districts, including Ha Dong, Soc Son, Me Linh, Dan Phuong, Hoai Duc, Thanh Oai, and Thuong Tin. Its right service road runs a distance of about 51.61 km, while the left service road is approximately 51.55 km long.
The local streets are designed to meet the standards of the urban main thoroughfare with a design speed of 80km/h. However, the section running parallel to Song Phuong Dam is designed to meet the standards for secondary main roads with a design speed of 60km/h.
Intersections that require the construction of interchanges will be built in conjunction with Component 3 of the Ring Road No.4 project.
Intersections with provincial roads, national roads and other busy urban axes requiring complex traffic organization will be controlled traffic lights and painted lines with guide signs to ensure safety during operation.
The total investment for the project is VND5.38 trillion ($226 million), with VND4.52 trillion ($190 million) allocated from the city budget for construction costs.
The Chairman of the Hanoi People's Committee has appointed the Hanoi City Traffic Construction Investment Project Management Board to ensure the accuracy of the volume and funding, and the capacity of organizations and individuals to conduct surveys and draft feasibility study reports.
This body must also make an overall and detailed plan and schedule for the implementation of the investment project, and comply with regulations on the investment policy of the Ring Road No.4 project.
The Ring Road No.4 project involves the construction of a total distance of 112.8 km, comprising 103 km of Ring Road No.4 and a 9.7 km route connecting to the Noi Bai - Ha Long Expressway. The route covers 58.2 km through Hanoi, 19.3 km in Hung Yen, and 25.6 km in Bac Ninh while the connecting route is 9.71 km long.
The project is designed as a 4-lane expressway with a width of 17m and a design speed of 80 km/h.Service roads will be constructed on both sides of the road through urban and residential areas.
The investment for the project will be a combination of public and PPP investment, with a preliminary estimated investment of about VND86 trillion ($3.6 billion).
The budget requirement for the 2026-2030 period is VND6.21 trillion ($260.7 million), with VND2.75 trillion ($115.4 million) from the central budget and VND3.46 trillion ($145.2 million) from the local budget of which, Hanoi contributes VND2.13 trillion ($89.4 million), while Hung Yen and Bac Ninh contribute VND230 billion ($9.65 million) and VND1.1 trillion ($46.17 million), respectively.
Vietnamese enterprises expect poor performance in Q1 due to weak macro data

Many enterprises forecast less optimistic business results in the first quarter of the year, due to weak domestic macro data in the first few months.
The global economy has started 2023 with uncertainties and challenges with inflation in many countries remaining at high levels despite showing signs of cooling down, hurting the Vietnamese economy and social situation.
The country's consumer price index grew 4.6 per cent year-on-year during the period, while the core inflation increased 5.08 per cent, said the General Statistics Office. Moreover, the index of industrial production fell 6.3 per cent, foreign investment declined by 38 per cent, and export turnover was down 10.4 per cent due to a reduction in orders.
Thereby, many enterprises expect adverse business results in the first quarter.
Particularly, the leading tyre producer Danang Rubber Joint Stock Company sets a target of VND1.1 trillion (US$46.3 million) in net revenue and VND70 billion in profit before tax, both down 14 per cent over last year.
Bao Viet Securities (BVSC) said that the company reported net revenue of VND301 billion in January, a decline of 23 per cent year-on-year. The reduction was driven by seasonal factors and weaker demand affected by difficulties of the wider markets.
However, leaders of the company said that there are signs of recovery of the domestic market in February and March. Even though the export market dropped by about 9 per cent to $10 million, it can reach $11 - 12 million a month in the remaining two months.
Meanwhile, export volume was supported by growing demand in Brazil, and improvement in tyre orders in Asian markets such as Myanmar, Egypt and the Middle East since February.
Digiworld also forecasts that its first quarter's revenue will decrease by 43 per cent to VND4 trillion, while net profit falls 38 per cent to VND130 billion, following the downtrend of the fourth quarter of 2022.
Doan Hong Viet, chairman of the Board of Directors of Digiworld, said that the demand for information and communication technology (ICT) equipment is at a low level due to signs of economic recession, causing consumers to reduce spending. On the other hand, during the COVID-19 pandemic, ICT products sold well and had not yet reached the replacement cycle.
Challenges remain until the second quarter, the head of Digiworld said, adding that recovery will begin in the second half of the year when the world economy is better, the Vietnamese export orders increase, and income improves, leading to an increase in purchasing power.
Duc Giang Chemical Group plans its first quarter's revenue to reach nearly VND2.6 trillion with consolidated profit after tax of VND700 billion, down 29 per cent and 53 per cent on-year, respectively. Therefore, Duc Giang Chemical's profit is forecast to continue to decline after peaking in the second quarter of 2022.
Mirae Asset said that China's zero-COVID policy from May 2022 - January 2023 caused a reduction in demand for semiconductor products, affecting the demand for yellow phosphorus - the company's main product. Therefore, the reopening of China's economy and production promotion of electronic devices will help semiconductor demand rebound, balancing Duc Giang Chemical's profit in the first half of 2023.
Meanwhile, after achieving positive results last year, LIX Detergent sets a negative target for the first quarter of the year with profit before tax down 9 per cent to VND50 billion, while its revenue is almost flat. If it meets the target, the results will be the company's worst performance since the third quarter of 2021.
With difficulties in the cement market and packaging production industry, leaders of Vicem Packaging Bim Son set a target of only VND261 billion in revenue in 2023 and VND1.5 billion in profit before tax. In the first quarter alone, the company estimated revenue of VND62 billion and a loss of VND180 million.
Although its business activities have not experienced outstanding performance since 2003, Vicem Packaging Bim Son never suffered a loss.
In the rubber industry, Tan Bien Rubber foresees a loss of VND9 billion in the first quarter of this year, while the profit is unchanged over last year at VND38 billion.
According to data from the General Department of Customs, rubber prices decreased by 17 per cent on-year despite a recovery compared to the end of 2022. As of mid-February, rubber exports dipped 8 per cent in volume and 27 per cent in value.
VNDirect Securities Corporation considers the reopening of China's economy a very good opportunity for rubber prices and exports to recover.
Hoa Binh wants to swap debt for realty and other assets
The cash-strapped Hoa Binh Construction Group (HBC) has proposed swapping debt for real estate and other assets like construction equipment after its subcontractors issued an ultimatum.
Some engineering and electrical subcontractors pg HBC's construction projects in the northern provinces of Hung Yen and Lao Cai and Hanoi City have written to HBC saying they would suspend work on the projects from March 15 due to HBC's failure to settle debt, according to the Vietnam News Agency.
They comprised Bach Viet, Hoang Anh, Manh Tien, Phu Duc, Long Giang, KDG Vietnam Electricity Mechanical JSC and ICD Vietnam.
They wrote to the firm several times earlier asking it to pay overdue debt but got no reply. The payment delay has adversely affected their business operations as they have had to service their bank loans, pay for their employees and cover their operating costs.
Thua Thien-Hue striving to become wellness tourism hub
With its strengths in traditional medicine, abundant medical human resources and natural hot springs, the central province of Thua Thien-Hue has rolled out measures to optimise its potential in wellness and medical tourism.
Boasting a system of high-end resorts and hotels located in peaceful areas on hills and along river banks and beaches, the ancient capital city of Hue is an ideal place for tourists to immerse themselves in nature and relax.
In order to be ready for the new tourism trend, the Hue Central Hospital has worked with the provincial Department of Tourism to build wellness tourism programmes, while upgrading its infrastructure system.
Associate Prof. Doctor Nguyen Van Hy from the hospital said it has offered diverse medical packages suitable to different groups of customers, focusing on dental, aesthetic and cosmetic medicine, and plastic surgeries to meet the increasing demand for beauty care.
Particularly, as the capital city of the country during the Nguyen Dynasty, Hue also had "Thai Y Vien", which was once the healthcare agency for not only the royal family and mandarins in the Royal Palace, but also soldiers and people under the Nguyen Dynasty. Thai Y Vien has become a unique heritage that is being restored and promoted as an exclusive product of Hue, helping promote the province's medical tourism using traditional medicine.
Director of the provincial Department of Tourism Nguyen Le Phuc said that in Vietnam, wellness tourism is still a new product but with great potential.
He underlined that Thua Thien-Hue boasts full conditions to become a wellness and medical tourism hub of the whole country. However, the province has much to do to bring its advantages into full play, he said.
Truong Thanh Minh, Director of the Tourism Information Promotion Centre, said the province has still been weak in the promotion of its destinations and wellness tourism trademark.
Permanent Vice Chairman of the provincial People's Committee Nguyen Thanh Binh said that in order to turn the locality into a real centre for wellness and medical tourism, in the time to come, the province will focus on training professional personnel while combining human resources of different sectors to serve wellness and medical tourism activities.
At the same time, the locality will strengthen marketing activities to popularise its strengths, intensive medical technologies and modern medical achievements to visitors, while designing special tours with the combination of natural exploration and medical activities, he said.
Director of the provincial Department of Tourism Nguyen Van Phuc said that the locality aims to develop wellness tourism into a supplementary product of its heritage-culture-festival tourism, helping enhance the province's attractiveness.
It will call for the engagement of the whole political system and local residents in responding to the World Wellness Weekend campaign to lure more visitors, he said.
According to the Global Wellness Institute, wellness tourism marked its presence in more than 100 countries in 2019 and is forecasted to expand 7.5% each year.
Airport, casino construction at Khanh Hoa EZ proposed
Authorities of the southern central province of Khanh Hoa are seeking Prime Minister Pham Minh Chinh's approval for revising the general planning of Van Phong Economic Zone (EZ) by 2040 and a vision until 2050.
Under the proposal sent to the prime minister, Van Phong EZ has a total area of 150,000 hectares, including 70,000 hectares of land and 80,000 hectares of water area, covering part of Van Ninh District and Ninh Hoa Town.
Khanh Hoa aims to build Van Phong EZ into an economic centre with international container transshipment ports, industrial parks, modern urban areas, theme parks and tourism services.
By 2030, the EZ would have a total population of 350,000-380,000 people.
The EZ will be home to three industrial parks namely Ninh Thuy, Doc Da Trang and Ninh Diem. A 550-hectare airport construction has been proposed in Van Thang Commune in Van Ninh District. Around 430 hectares will be built in Dam Mon and Vinh Yen-Mui Da Son areas.
Roughly 686 hectares will be used for building resettlement areas in Vinh Yen, Van Thang, Ngoc son, Xom Quan and Ninh Thuy communes.
The province has also recommended building a casino in Van Phong Economic Zone.
Source: VNA/SGT/VNS/VOV/Dtinews/SGGP/VGP/Hanoitimes