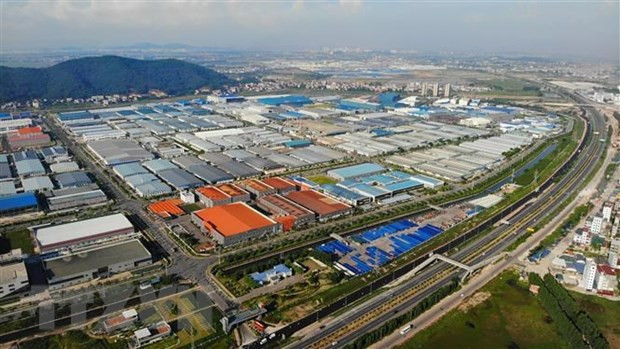 Vietnam's industrial real estate sector has great potential for developing more projects related to data centres, cold storages and logistics, according to John Campbell, Associate Director, Head of Industrial Services at Savills Vietnam - the largest and most experienced real estate services company in the Southeast Asian nation.
Main opportunities in the logistics industry include last-mile logistics services and the implementation of a logistics 4.0 system, said Campbell.
Moreover, investors can take advantage of the lack of cold storages in Vietnam to develop new projects, and increase supply for the market, he said, adding that the construction of built-to-suit warehouses to meet special technical requirements is also an attraction for investors.
Jack Harkness, Director of Regional Industrial and Logistics Services at Savills Asia Pacific, stated that the industrial and logistics real estate sector, which used to receive little attention, is currently developing with increasing demand for emerging products such as last-mile delivery, small warehouses near urban areas to serve consumers and cold storage.
The main markets favoured by investors from all over the world are China, Japan and Australia. However, Harknes predicts that interest is shifting to India and Southeast Asia, which are benefiting from the diversification of production and consumption growth and will emerge strongly in the coming time.
Hoa Binh ships first batch of fresh sugarcane to U.S.
The northern upland province of Hoa Binh yesterday, March 19, shipped its first batch of 20 tons of newly harvested sugarcane to the U.S.
A ceremony was co-held by the provincial Department of Agriculture and Rural Development and Tien Ngan Trade and Investment Company to mark this shipment, the local media reported.
Speaking at the ceremony, Dinh Cong Su, vice chairman of the provincial People's Committee, said the province's first shipment of sugarcane is expected to pave the way for more local farm produce to be shipped overseas.
According to Nguyen Huy Nhuan, director of the provincial Department Agriculture and Rural Development, sugarcane can generate high economic value and has great potential for export.
The first shipment of 20 tons of fresh sugarcane was a result of four-month negotiations between Tien Ngan Company and its U.S. partner.
Over the years the company has exported close to 100 tons of sugarcane to the European Union and South Korea.
Nguyen Le Diep, director of the company, has proposed that the province's Lac Son District create favorable conditions for the firm to develop a farming area covering 10-12 hectares to grow sugarcane, and invest in infrastructure for purchasing, processing and packing sugarcane.
The company is set to export some 300 to 500 tons of sugarcane to foreign markets this year, Diep said.
Central Retail signs agreements with southeastern businesses, cooperatives
Central Retail Vietnam's sourcing team has met with businesses and suppliers in the southeast to discuss cooperation opportunities at a trade promotion conference between Ho Chi Minh City and its neighbours in Binh Phuoc province last week.
Representatives of the retailer's fast-moving consumer goods and fresh food divisions apprised their interlocutors about their purchasing processes, documentation, packing, and labelling requirements.
The meeting should make it easier for businesses and cooperatives to bring their products into Central Retail's Go! and Big C supermarket chains, they added.
Central Retail struck deals with six suppliers in the southeast region: VINAHE Co., Ltd (roasted cashewnuts), Nham Nhung production establishment (coffee, cashewnuts), Ha Mỵ JSC (cashewnuts), Co Co Vietnam Food JSC (coconut jelly, aloe vera-based products), La Media establishment (melon), Kim Long Hi-tech Cooperative (melon, longan and pineapple).
The southeastern region consists of Ba Ria – Vung Tau, Binh Phuoc, Binh Duong, Dong Nai, and Tay Ninh provinces and HCM City.
Tra Vinh clam breeding cooperatives receive ASC certificate
Three clam farming cooperatives in the Mekong Delta of Tra Vinh with a total area of 433ha have been awarded the Aquaculture Stewardship Council quality certification.
They are the Thanh Cong Cooperative in Cau Ngang district's My Long Nam commune, Tien Thanh Clam Cooperative in Chau Thanh district's Long Hoa commune and Long Thanh Agriculture Cooperative also in Long Hoa.
The province Department of Agriculture and Rural Development and the International Collaborating Centre for Aquaculture and Fisheries Sustainability (ICAFIS) held a ceremony to hand over the certificates to the cooperatives last week.
Also at the ceremony, the Ben Tre Seafood Joint Stock Company and the Hung Truong Phat Aquamarine Product Joint Stock Company in Ben Tre province and the Lenger Seafoods Vietnam Company Limited in Nam Dinh province signed an MoU to develop value chains for clam farming with the three cooperatives, the province Fisheries Sub-department and ICAFIS.
Tran Van Dung, deputy director of the department, said the ASC certifies responsibly farmed seafood that minimises negative impacts on the environment and communities and proper implementation of labour regulations.
Products certified as meeting ASC standards are preferred in many markets, especially the EU, he said.
The Mekong Delta province is only the third clam farming area in the world to get the certification, he said.
It would help the province export its clams, enhance its brand and add value, he pointed out.
With a coastline of 65 kilometres, the province has excellent conditions for breeding clams in alluvial grounds and large estuaries along coastal areas.
But its clam farming has faced difficulties in the past because of the small scale and lack of brand name, processing facilities and steady demand.
It has seven clam breeding cooperatives which farm a total of 1,000ha and have an annual output of 4,000 - 6,000 tonnes.
It has identified clams as a key aquaculture species that offers high value, helps create jobs and improves incomes, especially of poor people.
It plans to increase the total clam farming area to 3,300ha by 2030.
Trungnam Group signs cooperartion agreement with Daegu city
Mayor of Daegu city, Hong Joon Pyo, signed an MoU with Trungnam Group - one of the largest energy corporations in Vietnam - to promote the development of renewable energy and technology industries.

The signing took place last week when the representative of Daegu visited the central city of Danang.
With a plan to promote business connections and relationships between the two countries in the fields of energy and IT, the signing ceremony has opened up a new opportunity for Korean businesses to explore and invest in Danang.
Trungnam Group is a leading investor in Vietnam in the fields of renewable energy, infrastructure, construction, real estate, and IT. The group has implemented many large-scale projects in localities throughout the country such as Ninh Thuan, Dak Lak, andTra Vinh, with more than 1.6 GW of electricity contributed to the power grid.
Trungnam Group is also the only private enterprise in Vietnam to participate in the process of transmitting electricity with a 500kV substation and 500kV, 220kV power lines connected to the national power system, accompanying the Vietnamese government in the process of reducing carbon emissions.
Daegu expects that the signing ceremony will open up more positive exchanges between Daegu and Danang. As of the end of 2022, Vietnam is the third-largest export market for Daegu with a value of $454 million, including main export items such as fabric, industrial equipment, and auto parts.
Expanding across borders to close the digital gap
In 2023, the Ministry of Information and Communications (MIC) will launch a campaign to support digital technology businesses that are doing business abroad or want to do so.
The MIC aims to organise conferences and forums overseas that will focus on investment promotion, digital trade, and Vietnamese digital technology. It will also advise the government to sign digital partnership agreements with other countries, and establish a consulting group to support businesses that expand past our borders. And each month, the ministry will organise at least one event to help digital technology enterprises do business abroad.
Going abroad means competing with the best. This is the way for our businesses to become internationally competitive. It also brings Vietnam's knowledge and digital technology to the world, and means Vietnam can contribute to the development of humanity.
Going abroad means taking on new challenges, expanding the knowledge system, and learning to build Vietnam, all to help improve the nation's standing in the world.
Without doing this, without competition, without conquest, and without revenue from foreign markets, Vietnam cannot become a high-income developed country.
Last year, Vietnamese digital technology enterprises strongly ventured further in foreign markets by investing in business activities, and bringing digital transformation solutions to developed countries. Revenues from overseas markets at Viettel in telecommunications, for example, reached $3 billion, while FPT's revenues in IT and digital transformation reached $1 billion.
The world has recognised Viettel's contribution in developing rural telecommunications, closing the digital gap in many countries, from Asia and Africa to Latin America. It has made 5G network equipment and other high-tech products. Elsewhere, Vingroup can make cars to export to the United States. FPT and CMC also provide IT and digital transformation solutions for developed countries like Japan and the US.
Many companies from the first day of establishment have aimed for foreign markets such as NTQ Solutions, SmartOCS, RikkeiSoft, OMI, VMO, and others. There are companies from the very beginning that have set their sights on developing new technologies on par with the world's top tech groups.
These businesses and entrepreneurs have inspired us and made us believe that it can be done. If hundreds of thousands of Vietnamese digital technology enterprises can do it, Vietnam has the opportunity to turn into a tech dragon.
Vietnam's IT and digital technology market is not yet a big one. Spending on IT and digital transformation is not substantial, but the number of businesses operating in this field is considerable.
It is because of that competition that we are able to create quality products and services at low prices and successfully exploit the markets that large digital technology companies are leaving open. This offers up the competitiveness to be able to go abroad.
In technology, there is no place for average products. Quality and low-cost products are suitable for this period of digitalisation, when all countries from rich to poor are accelerating digital transformation in a comprehensive manner.
The opportunity for a country like Vietnam to improve its ranking is now. In a settled world, new opportunities are few. For developing countries there are even less; and the opportunity to go abroad can dwindle. In the next 10-20 years, there will be important transitions – from telecommunications infrastructure to digital infrastructure; from IT to digital technology; from individual software to digital platforms; from processing and assembling to making truly Vietnamese-made products, and lots more.
Digital technology becomes the basic production force; digital talent becomes the basic resource; and digital innovation becomes the fundamental driving force of development. Major tech companies are developing digital technology to solve big problems and meet universal needs, such as AI. Imagine that every Vietnamese civil servant in every field has a virtual assistant at the expert level. How much will the state of Vietnam change? How strong will the country develop? Vietnamese digital tech businesses could find opportunities in this area, for example.
Over the years, Vietnam has only created a few unicorns. Maybe it will not be the Vietnamese way. What if a startup company is worth hundreds of millions of dollars and revenues are only trillions of VND, but it is excellent in its field, and the product and the market is number 1 in the world? They would be our Vietnamese unicorns. If we have many excellent digital tech companies that value hundreds of millions of US dollars, then Vietnam will still become a leading digital technology country.
Whatever is done, domestic companies should always think of the Vietnamese way, based on the characteristics and core strength of the country. They should seek to modernise using the latest technology, and help to solve age-old problems.
They should also aim to create products that are easy to use, that can become cheaper, and can become accessible so that modern digital products can reach everyone.
Plenty of room ahead to boost exports to ASEAN market
Though there is ample room to boost the export of advantageous Vietnamese products to the ASEAN market, local firms are advised to utilise incentives through free trade agreements (FTAs) and improve products' competitiveness in order to maintain growth to the market.
Pham The Cuong, trade counselor of Vietnam in Indonesia, revealed that there is great potential for rice exports to the Indonesian market, particularly as the Indonesian side has recently announced plans to continue importing rice for national reserves amid concerns about extreme weather in 2023.
Vietnamese food exporters also see huge opportunities to fully tap into the market, particularly as Indonesia is home to the fourth largest population in the world and the largest economy in Southeast Asia. Indeed, foodstuffs and beverage imports account for 6.5% of their total imports, equivalent to US$16 billion.
Cuong suggested that Vietnamese enterprises strive to export food items such as pho (Vietnamese noodle soup), vermicelli, instant noodles, and frozen dumplings to the Indonesian market moving forward.
Meanwhile, Malaysia imports a large amount of processed farm products as local production is yet to meet people's demand.
Le Phu Cuong, trade counselor of Vietnam in Malaysia, pointed out that the income of local people in Malaysia has increased remarkably, a factor which is anticipated to boost the demand for imported products such as dairy products, spring rolls, and pho that are Vietnam's major food export items.
However, experts have advised local exporters to acquire halal certification in order to meet the stringent requirements in terms of food safety and hygiene to gain a firmer foothold in the market.
They have suggested that Vietnamese firms take full advantage of FTAs to ramp up trade promotion activities and deal with trade remedies that fully tap into the ASEAN market moving forward.
Moreover, local firms have also been recommended to develop their product brand as a means of elevating their position within the ASEAN market and to strengthen linkages to further participate in regional value chains, thereby increasing the added value of export products.
ASEAN is the fifth largest economy in the world, that boasts more than 650 million consumers and GDP of approximately US$3 trillion. This is a potential market for Vietnam, a member state of ASEAN, because many of its products are exported to other countries in the bloc. This will help Vietnam continue to improve its efficiency in exploiting the ASEAN market and improve its position in regional production and value chains.
Telehealth platform Medigo bags 2 million USD in series A funding
Medigo, a Vietnam-based telehealth platform that provides on-demand medicine prescription and delivery services, has successfully raised 2 million USD in a series A funding round led by East Ventures, with the participation of Pavilion Capital and Touchstone Partners.
With the added capital, Medigo plans to strengthen its services and develop a healthcare ecosystem in Vietnam.
Medigo's platform connects customers with the nearest trusted pharmacies, providing on-demand medicine delivery services.
The Medigo app helps people find the nearest licensed pharmacies and order medicine to be delivered instantly. By offering convenient, fast, and cost-saving health services for users, the Medigo app currently has more than 500,000 active users and nearly 1,000 pharmacy partners across Vietnam.
MoMo, Western Union partner for money transfer in Vietnam
Vietnamese digital payment firm MoMo and American multinational financial services company Western Union on March 20 announced a strategic collaboration enabling customers to receive Western Union money transfers on the MoMo app.
It is the first time a money transfer operator's services have become available on a leading super app in Vietnam.
Accordingly, it takes MoMo users about one minute to receive international money transfers from relatives in over 200 countries and territories.
The recipient only needs to access MoMo and enter the 10-digit Money Transfer Control Number provided by the sender to receive the money immediately from their relatives abroad. With an ecosystem of nearly 50 partner banks, in just a few simple steps through the international money transfer service supported by MoMo, the money will be transferred to the recipient's account.
Exclusive insights from Western Union research showed that a staggering number of consumers in Vietnam (81%) want money transfer providers to integrate capabilities into one 'super app'.
Atish Shrestha, head of Indochina, Thailand and Myanmar at Western Union, said adding this service to MoMo's ecosystem reinforces its position as the leading fintech company in Vietnam.
It also bolsters Western Union's recently announced Evolve 2025 strategy to offer high-value, accessible digital and retail financial services, he said.
Do Quang Thuan, MoMo's Senior Vice President in charge of the Financial Services Business Unit, said through low cost and speedy remittance services, MoMo wishes to bring people closer together, bridging the gap between Vietnamese overseas and their families in the country.
According to the World Bank, Vietnam was in the top 10 largest remittance receiving countries in the world and third largest in Asia and Pacific, receiving approximately 19 billion USD last year.
Middle East, North Africa lucrative markets for fruit, vegetable exports
The Middle East and North Africa have high demand for fruits and vegetables, offering Vietnamese firms a great opportunity to boost exports, according to the Ministry of Industry and Trade.
Nguyen Minh Phuong, director of the ministry's Asia-Africa market department, said the Middle East, which comprises 15 countries and has a population of around 400 million people, has a high per capita income.
They import large volumes of agricultural products, including fruits and vegetables, she said.
Africa too has huge demand for agricultural products, but because of the distances, Vietnamese firms only export to countries in the north of the continent, she said.
Vietnam's exports of fruits and vegetables to the Middle East and North Africa (MENA) have soared from 255.1 million USD in 2019 to 380.3 million USD in 2021, with the main markets being Turkey, the UAE, Egypt, Saudi Arabia, Israel, Iraq, Qatar, Morocco, and Algeria, she said.
But the exports account for only 2.6% of the region's total imports in 2021, she said.
Of the exports to MENA, cashew is the largest item, rising from 167.8 million USD worth in 2019 to 260.8 million USD in 2021 and accounting for 50.2% of its total imports, she said.
"Vietnamese cashew products are available in many supermarkets in the UAE, Turkey, Saudi Arabia, Israel, and Egypt, and companies should continue to promote exports to the region," she said.
Vietnam also exports coconut products (mature coconut, copra and coconut oil), lemon, almond, macadamia, banana, grapefruit, guava, mango, mangosteen, watermelon, lychee, rambutan, plum, carrot, and radish to the region.
But because of the distance, it is not easy to export fresh fruits, and so Phuong suggested exporting frozen fresh fruits instead.
She said there are challenges in exporting to Africa and the Middle East, including fierce competition from India, Iran, Turkey, Thailand, the Philippines, China, the US, European countries, and South Africa.
To be successful, Vietnamese firms should understand the regulations in each market, including food hygiene and safety and pesticide residue requirements, and labelling in local languages, she said.
Halal certification is required to export to the Middle East, home to a large Muslim population, while products exported to Israel must have Kosher certification, she said.
LuLu, the leading supermarket chain in the UAE, is present in Vietnam and imports many products, and Vietnamese businesses should touch base with it to export their products to the Middle East, she said.
They should also join the ministry's trade promotion programmes to promote their products in the region, she added.
Dang Phuc Nguyen, general secretary of the Vietnam Fruit and Vegetables Association, said fruit and vegetable exports are expected to rise to 4 billion USD this year from 3.4 billion USD last year as many markets are allowing in Vietnamese fruits and China has reopened its borders.
Durian shipments alone fetched over 420 million USD last year after getting the green light to enter China through the official channel, and this year the figure is expected to top 1 billion USD, he said.
In the first two months of this year fruit and vegetable exports were worth 592 million USD, a 17.8% increase year-on-year.
China remained the major market, accounting for 57.5% of the exports.
Binh Phuoc enjoys trade surplus of 220 mln USD in first two months
The southern province of Binh Phuoc enjoyed an impressive growth in export turnover in the first two months of 2023 with trade surplus reaching 220 million USD, according to the provincial Statistics Office.
In February, Binh Phươc's export turnover hit 320 million USD, an increase of more than 39% against the previous month and rose 46.9% year-on-year.
Since the beginning of this year, the province's export turnover came to 551 million USD, a hike of 6.4% compared to the same period in 2022.
Meanwhile, the province imported 290 million USD worth of goods in the two months, an upturn of 6.6% year-on-year.
The province also saw a slight increase at 0.76% in industrial production index in the period, of which, the processing and manufacturing sectors rose 0.64%, production and distribution of electricity, gas, hot water, steam and air-conditioning picked up 2.15%; and water supply, wastewater treatment and management activities expanded by 7.62%.
Notably, in February alone, some key industrial products saw good growth such as unprocessed lead product up 46%, poultry feed 22% and medical equipment 20%.
On the contrary, some products experienced sharp falls from 18% to nearly 40% included black Portland cement, footwear and furniture, among others.
To maintain economic growth momentum and bolster import- export activities in 2023, Binh Phuoc has implemented solutions in perfecting infrastructure, developing human resources while improving administrative reform, along with boosting trade and investment promotion and supporting enterprises.
Mineral group's coal revenue up 48% in first two months
The Vietnam Coal and Mineral Industries Group (TKV) has announced that in the first two months of this year, it earned 25.2 trillion VND (1.06 billion USD) in revenue, accounting for 15% of this year's plan and up 27.8% over the same period last year.
Of the total revenue, its earning from coal reached 16.33 trillion VND, 17.3% of this year's plan and up 48% over the same period of last year.
During the months, the group produced 5.71 million tonnes of coal, reaching 14.6% of the planned volume this year and equaling 89.6% of the same period in 2022.
It sold 7.27 million tonnes, accounting for 15.6% of the planned volume and equaling 109.4% over the same period in 2022. The group imported 1.24 million tonnes, equal to 13.5% of the planned volume for the whole year.
By the end of last month, the total coal inventory is estimated at about 5.2 million tonnes.
The group also announced that its workers have an average monthly salary of 15.7 million VND and that it has paid 7.47 trillion VND to the state budget, equaling 36.6% of this year's plan.
According to the TKV, coal demand for power generation in February 2023 remained high. Some thermal power plants asked for more coal than the volume in the contracts for the first half of this year.
Regarding coal for chemical fertiliser production, the group provided 160,000 tonnes to fertiliser and aluminum producers, making up 75% of the monthly operating plan and 110% of the same period last year.
In addition, coal for cement producers reached about 120,000 tonnes or 91% of the monthly operating plan and equal to 96% of that in the same period last year.
Hanoi plans various promotional activities to fulfil 2023 development goals
Hanoi plans to organise 167 promotional activities in trade, tourism and investment, including 50 at the municipal level this year in an effort to fulfil the capital city's socio-economic development goals, said Vice Chairman of the municipal People's Committee Nguyen Manh Quyen on March 2.
Addressing a conference to plan the city's promotional campaign for 2023 held by the Hanoi Promotion Agency (HPA), Quyen stressed that the activities should focus on the city's key export markets.
According to the HPA's report, Hanoi organised 172 promotion activities last year, thus contributing to its socio-economic recovery and development after the COVID-19 pandemic.
These activities contributed to bringing total export turnover to 17.1 billion USD last year, up 10.3% year-on-year, and reaching 1.69 billion USD in foreign direct investment, also up 10.3% year-on-year.
In the year, Hanoi welcomed 18.7 million tourist arrivals, a 4.7-fold increase compared to the previous year. Of the total, 1.5 million were foreign arrivals.
This year, the HPA will step up promotional activities to call for investment capital from key markets such as China, Japan, the Republic of Korea, Singapore, Taiwan (China), the US and Europe.
It will promote the role of investment promotion agencies for diplomatic organisations and the foreign-invested economic sector so as to seek new export markets, and gradually reduce dependence on the Chinese market.
Vietnam's e-commerce expected to grow further
Despite the global recession that has hit e-commerce markets in the world's biggest economies, Vietnam appears well positioned, in contrast, and is expected to grow through this phase, according to an article published on the foreign investment consulting firm Dezan Shira & Associates' Vietnam Briefing website.
The article cited Nirgunan Tiruchelvam, an analyst at Aletheia Capital, as saying that e-commerce markets in developed economies are struggling, but the same may not be experienced in fast growing emerging markets like Vietnam.
The global e-commerce sector was valued at over 3 trillion USD in 2022, according to Statista's E-commerce Report 2022. The three biggest e-commerce markets – China, the US, and Europe – account for the lion's share of this total e-commerce trade with a collective 2,723 billion USD in revenue.
However, despite this big number, global e-commerce revenue fell, for the first time ever, in 2022.
A broad range of factors have contributed to contraction in the e-commerce market, with inflation and the pandemic considered two factors that have played a pivotal role in the market's contraction. Moreover, the Russia-Ukraine conflict provoked energy price shocks impacting fuel prices, according to the article.
For international e-commerce businesses, the global economic turmoil has translated to falling stock prices, and most prominently, layoffs.
This layoff trend, however, has not hit Vietnam quite as badly, the article continued.
Vietnam's e-commerce market hit 14 billion USD in 2022 and may reach as high as 32 billion USD by 2025. Google's e-Conomy SEA 2022 report predicts that Vietnam will be in the top three countries attracting the most investors in the e-commerce sector.
AIA Insurance Inc, SBI Holdings, and Alibaba are just a handful of the big names pouring money into Vietnam's Tiki, Lazada, and Sendo e-commerce marketplaces.
Furthermore, the Ministry of Industry and Trade (MoIT)'s Vietnam E-commerce in 2022 report estimates that the online shopping value per user will also continue to increase.
The article pointed out that in Vietnam, the development of e-commerce has leapfrogged traditional retail like supermarkets and convenience stores.
It makes sense then that McKinsey and Company has forecast that Vietnam's e-commerce market could be as big as traditional retail as soon as 2025. A trend that is not being seen in other parts of the world.
Hanoi to host Vietnam Medipharm Expo 2023
The 30th Vietnam International Medical and Pharmaceutical Exhibition (Medipharm Expo 2023) will take place in Hanoi from May 10-13 with the participation of 350 domestic and foreign enterprises, the event's organisers have announced.
Exhibitors from India, Belgium, Taiwan (China), the Republic of Korea, Hong Kong (China), Israel, Russia, Malaysia, Japan, New Zealand and mainland China will showcase advanced equipment and technologies in the healthcare and pharmaceutical sectors in over 500 booths.
The expo would offer organisations and businesses opportunities to enhance the exchange of experiences, promote their products, seize investment opportunities, and transfer technologies to improve efficiency in production and business, organisers said.
A conference on improving the quality management system in line with production practices at pharmaceutical factories according to GMP standards will be held on the sideline of the expo.
Other seminars on maxillofacial and maxillofacial aesthetics and new advances in the treatment of immunopathology, diabetes, cardiovascular and neurological diseases, and online B2B business matching, will also be included.
Vietnam Medical Import Export JSC and Vietnam Advertisement and Fair Exhibition JSC will organise the upcoming event at the Hanoi International Exhibition Centre.
The previous edition attracted over 150 foreign and domestic exhibitors.
Hotels, resort, realty businesses pin high hope on tourist arrivals
The recovery of tourism, especially its international segment, is seen to be the driving force for the hotel market to prosper, with improvements in both occupancy and room rates, said experts from the real estate agency Savills Vietnam.
According to data from the General Statistics Office, last year, Vietnam hosted a total of 101.3 million tourist arrivals, including 3.7 million foreigners, a year-on-year increase of 2.228%. The upcoming reopening of flights between Vietnam and China is also expected to greatly benefit the hotel sector.
In addition to holidaymakers, the industry also sees impressive demand coming from those on working trips and foreign investors.
In 2023, the Vietnamese market stabilised after the pandemic, entering a period of economic growth with a host of investment activities. Foreign investors tend to locate in big cities like Hanoi and then gradually move to neighbouring areas such as Bac Ninh and Hai Phong.
Statistics from Savills Vietnam showed that the occupancy of three-star hotels in Hanoi reached 49% in the fourth quarter of 2022, up 22% annually. The rate for five-star hotels, meanwhile, hit 60%.
The agency said there will be eight new hotel projects – capable of offering about 1,300 rooms in total – built in the capital this year. Looking ahead to figures for 2024 and subsequent years, estimates show there will be 60 new projects and 10,300 rooms.
Implementation of import-export policies to be streamlined: experts
In the post-pandemic recovery period, domestic businesses continue to face difficulties in implementing policies related to import-export activities, requiring prompt solutions, Vice Chairman of the Vietnam Chamber of Commerce and Industry (VCCI) Hoang Quang Phong said on March 2.
Addressing a conference in the northern province of Hai Duong to seek ways to remove obstacles to import and export activities for enterprises in four northern provinces and cities of Hai Phong, Quang Ninh, Hai Duong and Hung Yen, Phong highlighted efforts of the Government, ministries and sectors in simplifying import-export procedures, increasing the transparency in trade policies and setting up mechanisms to deal with difficulties facing businesses.
However, he said that there are still many difficulties for businesses to realise import-export-related policies.
Truong Duc Trong, an expert of local governance and public policy from the VCCI, delivered a VCCI survey on major difficulties and obstacles that businesses in the four localities have faced, including those in tax, customs, professional examination, banking and credit, logistics and transportation.
Community leaders gave a number of proposals to settle the difficulties and create more favourable conditions for cross-border trade. They stressed the necessity of stronger cooperation between the Government and enterprises.
The conference was part of the activities to specify an agreement on the economic connectivity along the eastern highway corridor of Hanoi-Hai Phong-Mong Cai, which was signed by the VCCI and the four localities last July.
The deal aims to strengthen collaboration among the four localities in promoting their potential and advantages, contributing to expanding new economic development spaces and turning the region into a dynamic economic area and an attractive destination for domestic and foreign investors.
Their connectivity focuses on eight areas, including trade and investment promotion, transportation and logistics, and production supply chain. The linkage also centres on tourism, services, improving the business and investment environment, training and human resources, environmental protection; and high-tech agricultural processing.
500 fastest-growing companies in 2023 announced
Tin Viet Finance JSC, Dolphin Sea Air Services Corporation and VPS Securities JSC are among the top 10 in the 500 fastest-growing companies in Vietnam (FAST500) this year as announced by the Vietnam Report JSC and the VietNamNet e-newspaper on March 16.
The others in the top 10 included Vantage Logistics Corporation, Bee Logistics Corporation, Super Cargo Service Company Limited, Deo Ca Traffic Infrastructure Investment JSC, MB AGEAS Life Insurance Company Limited, Thien Phu Si JSC and Mirae Asset Securities (Vietnam).
According to a survey by Vietnam Report, the compound annual revenue growth rate (CAGR) of the FAST500 has improved significantly as compared with the 2017-2023 period.
Notably, the private sector took the lead in terms of the CAGR this year with a growth rate of 2.3 per cent, reflecting the strong recovery of the sector – the main engine of the national economy.
Up to 81.3 per cent of the questioned firms said they maintained their revenue growth in 2022, and some 70 per cent experienced increases in profits from the previous year, of which more than half recorded growth of over 75 per cent.
However, only 69.6 per cent of the enterprises recorded hikes in the number of orders, a drop from the previous year's 82.1 per cent.
Despite the reduction, the layoff rate in the 2021-2022 period was lower than that in 2020-2021.
According to Vietnam Report General Director Vu Dang Vinh, 62.5 per cent of the businesses said they will expand their operations and 37.5 per cent want to maintain their business scale.
FAST500, launched in 2011, is based on the compound annual growth rate (CAGR) in terms of revenue and business performance. Other criteria such as total asset, after-tax profit, and companies' prestige on the media are also taken into account to identify their scale and stature in the industries they operate in.
Ha Tinh to change land purpose for $2.2 billion thermal power plant
Ha Tinh People's Committee is proposing to switch the agricultural land fund to the non-agricultural land fund to serve the development of the Vung Ang II thermal power plant.
Ha Tinh People's Committee signed a document to submit to the Ministry of Natural Resources and Environment (MoNRE) to propose the change of 21.6 hectares of agricultural land for use as non-agricultural land for the development of the Vung Ang II thermal power plant.
According to the province, it completed the change of the land purpose of 36.5ha, and the remaining 21.6ha are waiting for approval.
Previously, the province approved in principle to change of 24.42ha of forest land to industrial land to build the thermal power plant's facilities, such as a slag pipeline, slag yard, cooling pipe discharge, and pumping station, among others.
Located in the central province of Ha Tinh, the Vung Ang II thermal power plant is invested by Vung Ang II Thermal Power LLC (VAPCO), which is a 100 per cent foreign-owned company, combining KEPCO, Mitsubishi, and another Japanese company.
In December 2020, the Japan Bank for International Cooperation signed a loan agreement with VAPCO to finance a loan worth $636 million for the project, under the bank's Growth Investment Facility.
The loan is co-financed with private financial institutions as well as the Export-Import Bank of Korea. The total co-financing amount is approximately $1.77 billion.
The plant is under construction. The investor is targeting to take it into operation in the third quarter of 2025. Once completed, it will generate 5,000 jobs, 8.529GWh per year to the national power grid, and contribute $13.04 million per year to the state budget.
February industrial production index up 5.1%
Vietnam's index of industrial production (IIP) in February rose by 5.1% against the previous month, according to the General Statistics Office (GSO).
The GSO attributed to the rise to a greater number of working days than January and more workers returning to factories after the Lunar New Year holiday.
Compared to a year earlier, the index rose 3.6%, with the mining sector expanding 7%, manufacturing activity 3.3%, power generation and distribution 2.8%, and waste treatment 6%.
However, the figure for the first two months of 2023 fell 6.3% over the same period last year as the global economy continued to face numerous difficulties and inflation in many countries remained high despite having moderated.
Specifically, mining dropped 3.8%, manufacturing slid 6.9% and power generation and distribution fell 5.2%.
The two-month industrial production index rose in 44 provinces and cities and decreased in the remaining 19.
Source: VNA/SGT/VNS/VOV/Dtinews/SGGP/VGP/Hanoitimes