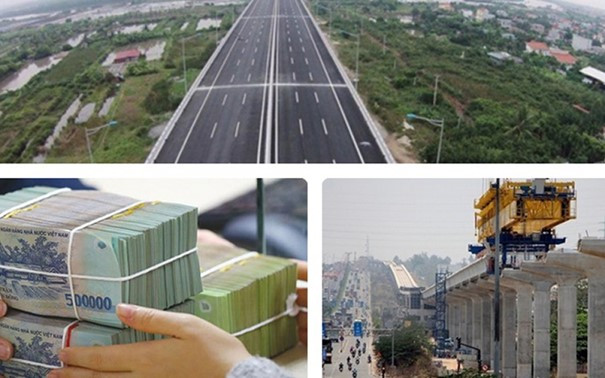 Directive 08 highlighted that public investment disbursement is defined as a key political task as it represents a resource and a motivation for development.
The Ministr of Planning and investment (MoPI) is responsible for directing ministries and localities to carry out mid-term assessment of the implementation of the medium-term public investment plan for the 2021-2025 period, in April 2023.
The MoPI needs to work with the Ministry of Finance to flexibly regulate capital allocation of the socio-economic recovery program and the medium-term public investment plan for the 2021-2025 period, with a view to ensure that public capital planned for 2023 will be totally disbursed.
Under Directive 08, ministries, central agencies and localities are requested to put in place disbursement plans for every project and strictly follow the disbursement plans, timely review and handle arising hurdles.
The Government urges subordinate authorities to boost IT application in management and supervision of the progress of State-funded projects.
Regarding the socio-economic recovery program, the State Bank of Viet Nam (SBV) takes the prime responsibility to promptly draft a decree amending and supplementing Decree 31/2022/ND-CP in interest rate support and submit to the Government before March 25, 2023.
Earlier, the Government set a target of disbursing at least 95 pecent of more than VND711 trillion (US$30.1 billion) in public investment capital this year.
As of February 17, more than VND595.61 trillion (US$25.2 billion) of public investment for 2023 had been allocated to ministries, agencies, and localities to carry out public investment projects, representing 84.2 percent of the initial whole-year plan.
The Government issued many resolutions, directives and official dispatches regarding public investment disbursement, while organizing national online meetings and conferences to discuss the work, and forming six working groups to beef up disbursement pace.
Wind survey snags concern developers
Offshore wind prospects in Vietnam are seeking stability as applications for project field surveys and wind assessments are being postponed, with developers waiting for a decree amendment on the use of marine resources.
Of the nearly 100 registered offshore wind projects in Vietnam, boasting capacity of up to 156GW, just over half have applied to carry out wind surveys via the Ministry of Natural Resources and Environment. However, only two projects have been licensed to survey and measure wind, and the ministry has now suspended the granting of new permits due to legal and technical problems.
Nguyen Thi Thanh Binh, deputy general director of T&T Group, admitted the process of survey licensing, project approval, and investor selection for offshore wind projects may be prolonged.
"This situation makes it difficult to for the country to achieve 7GW of offshore wind power by 2030 as stipulated in the draft Power Development Plan VIII (PDP8)," Binh said.
"Currently, the work of applying for field surveys and wind measurements is being suspended pending the amendment of Decree No.11/2021/ND-CP stipulating the allocation of certain marine areas to organisations and individuals to exploit and use marine resources," Binh confirmed.
Non-profit organisations and associations including the Global Wind Energy Council (GWEC) suggested that the government should have a transitional mechanism in place so that some ready-for-approval applications could be processed using the current mechanism.
In addition, GWEC strongly advised that certain technical and financial criteria be used when the government chooses developers to issue site survey licences in order to guarantee that projects can be completed on schedule.
Many basic principles in the process of developing the PDP8 have been set out and remain unchanged through numerous submissions. These include promoting the development of renewable energy sources with reasonable prices associated with ensuring operation safety and general economy of the power system, and giving priority to the development of renewable energy sources for local consumption or export.
The plan also wants to encourage the development of rooftop solar power and solar power at production and business establishments in the form of self-production and self-consumption, without generating electricity on the national grid.
The rising demand for electricity and the abundant potential of offshore wind power sources have been deemed a great motivation to promote the development of offshore wind power in Vietnam – however, most projects still appear on paper only.
An industry insider said, "In fact, there are urgent projects that are standing still because they are not included in the revised PDP8, which has not yet been approved."
He added that the delays are worrying investors who want to pump money into solar, wind, or liquefied natural gas power ventures.
Offshore wind projects in particular usually aim for a large capacity of 2-5GW and are typically phased in accordance with absorbing and transmitting capacity. The first phase can involve proposals to develop an average capacity of about 1GW.
Stuart Livesey, CEO of the La Gan offshore wind project in the south-central province of Binh Thuan, said policymakers must take immediate action to clear the way for the industry to grow. "A proactive offshore wind strategy would also give Vietnam a competitive edge in the region because it would establish the country as a leader in Southeast Asia for this clean energy technology," he explained.
Livesey recommended that the government create an atmosphere more favourable to investment and a legislative structure that chooses and promotes seasoned foreign developers to influence the market.
"It would be unrealistic for Vietnam to enter the offshore wind industry after only 20-30 years, thus we suggest transitional mechanisms set up with a number of pilot projects, which would give Vietnam time to learn," he added.
Having been asked how Ørsted partners effectively with the Vietnamese private sector and government to help the country leverage and address energy transition challenges, country manager Sebastian Hald Buhl said that several levers need to be activated between the public and private sectors in offshore wind that demands an average investment of $3 billion dollars and an eight-year payback period.
"For such projects, we are analysing whether or not projects can be completed on time and within the estimated budget. The key factor that helps during this process is regulation," Buhl said. "A regulatory framework will give the incentive to develop and implement these projects at the right cost without cutting back on financial returns."
Another lever identified is to partner with local Vietnamese companies to bridge the technology and knowledge gap and bring along local actors on this journey.
"Companies expect clear information about the power development plan and the plan concerning the implementation policies. The legal and policy framework needs to be developed quickly to allow private investments in the national energy industry," Buhl added.
In its latest white book, the European Chamber of Commerce in Vietnam noted that the latest PDP draft has raised many concerns and questions. "As released in the last draft, the high-low operation scenario shows onshore energy increasing statically from now until 2050. Solar farms will remain the same until 2030 and then will increase significantly until 2050. Offshore wind will also play an essential role from now until 2050," it noted.
Binh of T&T Group advocated for several aspects to be clarified in the framework, such as the mechanisms to select investors for renewable energy projects, tariff mechanisms, and the electricity sales model.
"Other countries have had decades of development and now boast synchronous infrastructure, increasing localisation rate, quality human resources, and especially a clear system of mechanisms and policies," said Binh.
Trade surplus increases despite sharp drop in import-export turnover
According to the General Department of Vietnam Customs, in the first two months of this year, import and export turnover decreased, but the trade balance still had a trade surplus and increased many times compared to 2022.
On March 3, the Office of the General Department of Vietnam Customs informed the press that in February 2023, the total import-export value of Vietnam was valued at US$49.46 billion. Specifically, the export value hit $25 billion, and the import value was at $23.58 billion. Compared to February 2022, in February 2023, exports rose by 11 percent, but imports dropped by 7 percent.
In the first two months of 2023, the total import-export value of the whole country reached $96.06 billion, down 13 percent. In which, export value touched $49.44 billion, down 10 percent, and import value was estimated at $46.62 billion, down 16 percent.
However, Vietnam's merchandise trade balance in February 2023 was estimated to have a trade surplus of $2.3 billion. Generally, in the first two months of 2023, the trade balance had a trade surplus of $2.82 billion, in contrast to the trade deficit of $300 million in the same period last year.
Because the import and export turnover declined and faced difficulties, the accumulated State budget revenue of the customs sector from January 1 to February 28 merely achieved VND56.33 trillion, down 19.4 percent over the same period in 2022.
Vietnamese economy likely to boom in second quarter
The Vietnamese economy is likely to recover strongly in the second quarter of the year, according Tim Leelahaphan, economist for Thailand and Vietnam at Standard Chartered.
In a recent interview granted to Lao Dong (Labour) Newspaper, Leelahaphan said the nation endured a challenging 2022, particularly as foreign exchange reserves saw a remarkable decrease, along with difficulties related to real estate and bond markets, as well as liquidity issues.
However, the economic situation gradually improved in the first quarter of the year, he said, pointing to the recovery of the VND and citing Standard Chartered's forecast that the country's GDP growth could hit 7.2% this year and 6.7% ahead in 2024.
Despite the Vietnamese economy still facing a number of macro risks such as inflation, public debt, and confidence on economic recovery, the prospect of recovery moving forward is positive for the second half of the year, he said.
Leelahaphan stated there are at least five challenges facing the nation which relate to economic growth, inflation, foreign reserves, monetary policy, and the real estate market.
The Vietnamese inflation rate is anticipated to rise from 3.15% last year to 4% to 4.5% this year, he said, adding that factors that may impact inflation this year such as increasing tuition fees and import inflation.
However, he noted that the country has experience in inflation control and it will be the top priority in terms of policy management.
According to the expert, Vietnam will continue to be an important link in the global supply chain, as well as being an attractive destination chosen by many businesses.
He said the most important thing now is to speed up the disbursement of public investment in support of the economy, adding that strengthening investment in infrastructure development represents the key to supporting economic growth.
HCM City's two-month export turnover grows 3%
Enterprises based in Ho Chi Minh City exported a total of US$7.5 billion worth of goods via border gates during the opening two months of the year, recording a year-on-year increase of 3%, according to the latest statistics compiled by the Ho Chi Minh City People's Committee.
Furthermore, the southern city's import turnover expanded by 38% to US$11 billion.
In term of tourism's activities, Ho Chi Minh City earned approximately VND13 trillion from tourism in February alone, a rise of 115.8% compared to last year's same period.
The southern metropolis also received over 2.62 million local travelers and 319,678 foreigners, up 93.5% and 100%, respectively.
In line with this, the tourism sector generated over VND21.2 trillion in revenue in the reviewed period, surging by 62.3% on-year. During the two-month period, the city welcomed 676,565 international tourists, a year-on-year rise of 100%, as well as 4.67 million domestic visitors, up 45.7% against last year.
The City collected more than VND93.1 trillion in State budget revenue throughout the reviewed period, up 5.95% on-year, including VND71.7 trillion in domestic revenue, and over VND21.3 trillion in import-export revenue, according to data from the municipal Department of Finance.
Meanwhile, total local spending stood at over VND5.6 trillion, up 11.98% on-year.
Coffee exports enjoy double-digit growth in February
Vietnam exported 180,000 tonnes of coffee worth US$393 million in February, representing a rise of 28.7% in volume and 22% in value on-year, according to figures given by the General Department of Vietnam Customs.
The country shipped 323,000 tonnes of coffee worth US$703 million during the two-month period, marking a fall of 13.1% in volume and 14.6% in value on-year.
February witnessed the average export price of Vietnamese coffee stand at an estimated US$2,182 per tonne, up 0.2% compared to January, but down 3.9% against February, 2022.
The average export price of Vietnamese coffee during the reviewed period stood at US$2,180 per tonne, down 1.7% against the same period from last year.
Most notably, exports of Robusta and processed coffee in January fell compared to January, 2022, while Arabica coffee exports enjoyed positive growth.
Statistics compiled by the General Department of Vietnam Customs indicate that Robusta coffee exports in January reached 128,560 tonnes worth US$239.5 million, down 27.4% in volume and 28.3% in value on-year.
Most notably, exports of Robusta coffee to a number of markets such as Italy, Ecuador, India, and Indonesia in January experienced an upward trend compared to the previous month and against the same period from last year.
Meanwhile, exports of Arabica coffee in January reached 7,210 tonnes, valued at over US$27 million, up 16.1% in volume and 4.3% in value on-year.
In particular, exports of Arabica coffee to markets such as Belgium, Germany, Italy, Ireland, and Spain enjoyed strong growth, while exports to the Netherlands, the United States, Canada, Japan, and Indonesia endured a downward trajectory.
Vietnamese tuna to RoK sees impressive growth
Amid Vietnamese tuna exports to major markets enduring a decline in January, exports of the product to the Republic of Korea have witnessed an impressive growth of 457% on-year, according to details given by the Vietnam Association of Seafood Exporters and Producers (VASEP).
This increase therefore turned the RoK into one of the eight main importers of Vietnamese tuna during the first month of the year.
In fact, the country's tuna exports to the RoK continuously grew in the second half of last year with turnover reaching nearly US$7 million, up 84% against the same period from last year.
VASEP experts have attributed the rise in the RoK's imports of canned processed tuna and raw/fresh/frozen tuna from other countries to a decrease in the RoK's supply source of raw materials for tuna production.
Furthermore, due to unstable tuna exploitation output domestically, the RoK still has to import additional processed and canned tuna from other countries, including Vietnam.
Currently, the country mainly exports frozen steamed tuna loin to the RoK market, accounting for 69% of total export turnover. The average export price of these products last year fluctuated on average at US$ 5,142 per tonne.
After rising to the highest level in May, 2022, of US$ 5,664 per tonne, the average export price of Vietnamese frozen steamed tuna loin to the Korean market decreased, but bounced back late last year.
Nguyen Ha, an expert of the VASEP, revealed that there are currently 18 companies involved in exporting tuna to the Korean market. Of which, Nha Trang Bay, Phat Trien Seafood, and Tuna Vietnam are the three companies that export the majority of tuna to this market, making up 66% of the total export value.
Vietnam, RoK aim for US$100 billion trade target this year
Vietnam and the Republic of Korea (RoK) have made efforts to intensify trade promotion activities as a contribution to bringing the two-way trade turnover up to US$100 billion this year.
The Korea Trade and Investment Promotion Agency (KOTRA Hanoi) have successfully organised a direct trade exchange between businesses from the RoK's Incheon city and Chungbuk Province and Vietnamese importers at Lotte Hanoi Hotel recently.
During the course of the event, a total of 20 prestigious Korean manufacturers and suppliers introduced Vietnamese importers to a wide range of products, ranging from essential consumer goods to industrial products. Due to their strengths in cosmetics, food supplements, and health products, Korean enterprises have received special attention from Vietnamese importers.
With regard to the overall effectiveness of the direct trade exchange, An Manh Tung, director of Tung Minh Import-Export Joint Stock Company, said that local businesses remain keen on the RoK's health care products as a result of their high quality, adding that through 120 direct trade exchanges nearly 70 Vietnamese firms have found suitable products from Korean suppliers.
Eun Sung Kang,dDirector of Flexplay Korea, emphasised that this marks the fourth time that the enterprise has come to Vietnam in order to seek co-operation opportunities, noting that Flexplay's whole grain and cereal powdered milk products have great potential for further development in the Vietnamese market.
As a means of fulfilling the Vietnam-RoK trade turnover target of US$100 billion, Tran Thi Hai Yen, head of KOTRA Hanoi's office, said the KOTRA Office will continue to arrange between 70 and 80 direct and online trade events this year in a bid to connect more than 1,000 Korean enterprises with over 1,500 local businesses.
FIEs frustrated with new abode rules
Many foreign-invested enterprises are continuing to struggle with arranging accommodation for expat workers due to a decree released last year on prescribing the management of industrial and economic zones.
Manufacturers in the southern province of Dong Nai have reflected that since Decree No.35/2022/ND-CP came into effect in July last year, they remain confused about implementing the regulations regarding accommodation for foreign workers.
Many factories currently have dorms on their campus for their workers. However, the new regulation in Decree 35 asks workers of entire enterprises to live in a concentrated accommodation area within the industrial zones (IZs). In other words, according to the new rules, IZ developers have to arrange particular land in the complex for enterprises to build dorms for their expats, instead of them living in dorms on factories' campuses.
A Dong Nai representative of the Korean Chamber of Commerce and Industry in Vietnam, said at a February meeting that Korean expats often want to live in areas that have international schools to be favourable for their children, such as District 7 or Thu Duc in Ho Chi Minh City.
"The distance to their factories is far and the traffic is frustrating, and factories often operate all day and night, thus expats have to stay at the factories to resolve technical troubles," Whan said.
Before the introduction of Decree 35, expats would often take their downtime in private rooms at hotels near manufacturing areas, or in office buildings at the factories.
"But Decree 35 requires expats to stay in concentrated abodes in IZs, but we have no such facilities in Dong Nai. As a result, enterprises are forced to book hotel rooms for them, which come at a large cost," he said. Whan has asked the authorities to build concentrated lodgings for foreign workers as soon as possible.
A representative of Samil Vina Co., Ltd., in Long Thanh IZ said that Article 25 of Decree 35 regulates that accommodation establishments must be built on the area of land intended for services of IZs. They must ensure conformance to environmentally safe distance requirements set out in the Law on Construction and other relevant regulatory provisions; and ensure conformance to social security requirements and no adverse impacts on production and business activities inside the perimeter of IZs.
"The company currently has dorms for expats on the company's campus. However, because the decree does not allow enterprises to use such accommodation, we had to contact the operating unit of Long Thanh IZ to study land plots to hire or to build dorms – but they say that the land for this has run out," the representative said.
Responding to opinions, Dong Nai Industrial Zones Management Authority acknowledged that current IZs do not have sufficient accommodation built for this purpose. Manufacturers are often proactive in arranging resting places for overseas workers near the manufacturing area of factories and office building areas. Thus, they cannot now comply with the regulations about accommodation as laid out in Decree 35.
Dong Nai is collecting corporate opinions to report to its people's committee to allow businesses to maintain accommodation at factories for at least the next few months, with the hope a solution can be found.
The same situation is being felt at many other IZs, such as in Haiphong and Nam Dinh in the north of the country.
A representative of Nam Dinh Industrial Zones Management Authority said many large-scale enterprises also built housing for their foreign workers. At present, the local authority is asking these enterprises to restructure their accommodation area for business purposes. At the same time, it is working with the provincial leadership to adjust planning, so that land planned for accommodation can be turned into industrial service land, thus enterprises can maintain accommodation for their foreign workers.
Responding to enterprises' concern, Tran Quoc Trung, deputy director-general of the Economic Zones Management Department under the Ministry of Planning and Investment, said that Decree 35 allows enterprises to build housing for foreign workers at land areas planned to be service land area of IZs. If enterprises built housing areas before the decree came into effect, they are still allowed to maintain their buildings.
Binh Duong welcomes new-generation FDI
The southern province of Dong Nai has seen positive changes in foreign direct investment (FDI) in the first two months of this year as its newly-licensed projects use advanced technology, are less labour intensive and more environmentally friendly.
According to the Dong Nai Industrial Zone Authority (DIZA), the province attracted 281 million USD in FDI, with eight new projects being licensed and 14 projects receiving additional capital, in the time under review.
Head of DIZA Pham Manh Cuong said that new FDI projects in the province do not have too much capital but all use advanced technologies in the logistics industry, which meets the province's requirements and orientations which will limit labour intensive projects using outdated technologies.
The province has been speeding up projects on new industrial zones and infrastructure works including Long Thanh International airport, Bien Hoa – Vung Tau express, and Ho Chi Minh City's Ring Road 3 and Ring Road 4.
Such improved infrastructure is expected to make the province more attractive to investors, Cuong said.
For the last two years, FDI to Dong Nai reduced and for the first time in the last 30 years, Dong Nai was out of the top five leading FDI recipients in Vietnam, Cuong said, adding that a lack of land funds is one of its difficulties in attracting investors.
Enterprises from Japan, the Republic of Korea, Taiwan (China), and Europe are eyeing to implement projects in the province but there is no land available to meet their demand, Cuong said, noting that the province's industrial zones projects are just at land clearance phase.
Once the bottleneck in infrastructure is removed, FDI flows into Dong Nai will be much stronger, which helps the province regain its position, Cuong said.
Four toll stations to be set up on Nha Trang-Cam Lam expy
The Nha Trang-Cam Lam expressway across Khanh Hoa Province will have four toll stations installed at the Dien Khanh, Suoi Dau, Cam Lam and Cam Ranh intersections, according to the Directorate for Roads of Vietnam (DRVN).
DRVN reported this plan to the Ministry of Transport during its review of toll collection at the Nha Trang-Cam Lam expressway.
According to a technical design plan approved earlier by the Transport Ministry, the stations would have lanes dedicated to electronic multi-lane free-flow toll collection services only and lanes allowing non-stop electronic toll collection (ETC) mixed with manual toll collection (MTC).
However, DRVN said that the Government had told all expressways nationwide to install ETC systems from August 1 last year. Therefore, the project investor needs to adjust its technical design.
Regarding the electronic multi-lane free-flow toll collection, the country has yet to issue a legal framework, regulations and guidelines to provide this service.
DRVN suggested the investor increase the speed limit set for vehicles entering the toll stations from 40 to 60 kilometers per hour.
The Nha Trang-Cam Lam expressway runs through Cam Ranh City, Dien Khanh and Cam Lam districts in this south-central province. The route is part of the country's North-South expressway project.
Work on the Nha Trang-Cam Lam expressway project began in September 2021 under the build-operate-transfer contract woth over VND7.6 trillion.
The 49-kilometer expressway, whose investor is Son Hai Group, would be opened to traffic in June this year and be put into service three months later.
Da Nang welcomes 742,500 visitors in first two months
The central city of Da Nang welcomed about 742,500 visitors, including 195,300 foreign ones, in the first two months of this year, according to the city's Department of Tourism.
The figure is 4.7 times higher than that of the same period last year and accounts for 90.4% of the same period in 2019 before the outbreak of the COVID-19 pandemic.
The number of foreign visitors to the city in the first two months is 49 times higher than that of last year while the number of domestic visitors increases 3.5 times.
The city got a tourism revenue of 4.374 trillion VND (184.5 million USD) which increases 1.7 times than that of the same period last year and is over 21% higher than that of the same period in 2019.
Despite positive signs of tourism recovery, the city's tourism sector is still facing major challenges in finance, human resources, and infrastructure.
Last year, Da Nang attracted 3.69 million visitors with 483,000 foreign ones, and gained a revenue of nearly 8.9 trillion VND from tourism activities.
Pepper exports hit 129 million USD in first two months
Vietnam exported over 41,000 tonnes of pepper worth 129 million USD in the first two months of this year, up 35% in volume, but down 7.4% in value over the same period from 2022, according to the Import-Export Department under the Ministry of Industry and Trade.
The average export price of the Vietnamese spice in February 2023 was 3,059 USD per tonne, a downturn of 11.1% compared to the previous month and 32.8% year-on-year.
During the reviewed period, its average export price stood at 3,177 USD per tonne, a fall of 31.4% compared to last year's corresponding period.
In terms of the domestic market, prices of both black and white pepper in February increased sharply due to growing demand from the Chinese market.
The price of black pepper rose by between 8,000 VND per kg to 8,500 VND per kg (0.34- 0.36 USD), an increase of 13.9% to 15.3%, compared to January to reach between 64,000 VND and 65,500 VND per kg.
Meanwhile, white pepper rose 98,000 VND per kg, an increase of 6,000 VND per kg compared to the end of January, but still lower than the 121,000 VND per kg seen in the same period from last year.
The ministry has said the global pepper market is forecast to recover due to increasing demand from importers.
Lao Airlines to re-operate direct fights to Da Nang late this month
Lao Airlines will resume direct flights from Vientiane to Da Nang city, central Vietnam, on March 30.
Accordingly, the Da Nang - Vientiane air route will see two flights per week on Thursdays and Sundays.
Noudeng Chanthaphasouk, commercial director of Lao Airlines, said that the resumption of the direct route, favoured by a large number of tourists before the COVID-19 outbreak, will meet increasing demand of visitors in the region after the removal of travel restrictions caused by the pandemic.
Lao Airlines previously operated the route to Da Nang with stops at Pakxe and Champasak in southern Laos, using ATR72-600 aircraft. However, carrier dropped the Pakxe stop and started nonstop flights just weeks before the two-year pandemic brought all international flights to a halt.
Later this month, it will use airbus A320, with a flight time of 1 hour and 15 minutes and a round-trip ticket costing about 4.8 million LAK (290 USD).
Earlier, Lao Airlines resumed direct flights to Hanoi and Ho Chi Minh City right after the country reopen its door for international tourism on May 9, 2022.
Cao Phong orange hits the shelves in UK
The Cao Phong orange from the northern province of Hoa Binh is now officially put up for sale in the UK, marking the return of this specialty to the global market after over 40 years.
The nearly 7 tonnes of Cao Phong orange, exported via the official channel by the Hoa Binh-based RYB Joint Stock Company, met strict quality, food safety, and origin standards, including passing the testing for nearly 900 chemical elements in plant protection products.
The fruit is sold at the Longdan supermarket chain in London and some other cities in the UK. It is also distributed to other local wholesalers and retailers of Asian products.
In February, Longdan, the biggest importer of Vietnamese goods in the UK, also purchased over 5 tonnes of the red-flesh pomelo farmed in Tan Lac district and 11 tonnes of the Dien pomelo farmed in Yen Thuy district of Hoa Binh province. This was also the first time the citrus of the two varieties cultivated in Hoa Binh had been officially exported to the UK.
Nguyen Canh Cuong, Trade Counsellor of Vietnam's Trade Office in the UK, said the successful export of pomelo and orange has shown Vietnamese producers and exporters' breakthrough progress in meeting quality and Global GAP production standards.
The UK has great demand for orange and pomelo, especially orange, he said, noting that it imports about 420 tonnes of orange worth some 263 million GBP (315 million USD) each year, mainly from Spain, South Africa, Morocco, and Egypt.
While most of fresh fruits from Vietnam such as lychee, mango, and dragon fruit face certain preservation difficulties, orange and pomelo can be kept for a longer time thanks to their characteristics, especially pomelo.
However, Cuong added, businesses should pay attention to prices to stay competitive and expand their market share in the UK. Besides, as the Vietnamese orange and pomelo are new products here, the firms also need to have appropriate marketing strategies, especially digital marketing, to introduce them to local consumers.
ID numbers to be used as personal tax code
In an effort to streamline tax data for the national database on population, the General Department of Taxation (GDT) is aiming to complete the synchronisation process and unify the use of citizen identification numbers as personal tax codes this year.
According to GDT Deputy Director General Dang Ngoc Minh, there are currently 78 million identifiers that need to be standardised.
The General Department of Taxation on March 1 convened an online meeting with tax departments from several provinces and municipalities to discuss plans for reviewing and standardising personal tax identification numbers.
If the national population database has detailed information on taxpayers, the tax office must ensure that at least three fields of information are complete and accurate.
This information must include full name; date, month, year of birth; citizen identification number or taxpayer's identifier to query the Ministry of Public Security database.
Minh shared that the General Department of Taxation has used two services to connect and share with the national population database of the Ministry of Public Security and actively analyse individual tax registration data in the past time.
Through assessing the current situation of personal tax identification number data, the General Department of Taxation realised that it was necessary to review and standardise the personal tax identification number data to ensure sufficient information to determine the identification numbers of the taxpayers.
The deputy director general said that the tax authority was determined to standardise personal tax identification data and use citizen identification numbers as tax identification numbers under the direction of the Ministry of Finance.
He also suggested that professional solutions and IT applications be created in reviewing and standardising data.
In addition, provincial and municipal tax departments should continue to disseminate information on the policy of changing the tax code with the citizen identification numbers and closely support and guide taxpayers in changing tax registration information.
Digital consumption to propel Southeast Asia's growth: consulting firm
YCP Solidiance, an Asia-focused management consulting firm, has projected that a rapid increase in digital consumers will be a major driver for the economic growth of Southeast Asia.
The firm's report indicated that Southeast Asia is on course to become the world's largest market by 2030, with an influx of investment and business set to benefit several industries, including the digital economy.
According to the "Investing in Asean 2023" report published by the economic bloc in partnership with Allurentis, the region's digital economy is expected to exceed 300 billion USD by 2025 and 1 trillion USD by 2030.
Meanwhile, the Asian Development Bank and the International Monetary Fund said the regional economy are projected to outpace the 2.7% growth of the global economy in 2023. Last year, the digital economy accounted for 7% of Southeast Asian GDP.
The YCP Solidiance report explained formal institutions that support the region's digital development contribute to economic growth. Those organisations' significance involves creating centralised frameworks and initiatives that promote the internet economy.
Millennials and Generation Z that account for 75% of consumers in the region will be the driving force for digital consumption.
Through digital technologies and the internet, the digital economy has given business owners and independent players new ways to connect with clients, broaden their markets, as well as boost their earnings, according to YCP Solidiance.
ACV proposes delay to completion of Long Thành Airport
The Airports Corporation of Việt Nam (ACV) has proposed the Ministry of Transport (MoT) postpone the completion of Long Thành Airport's passenger terminal to 2026 instead of 2025.
In a letter sent to the MoT, the ACV said that based on lessons learned from unsuccessful bidding and suggestions from some bidders in pre-bid conferences, it asked technical design consultants to carefully re-evaluate the construction time.
The technical design consultants suggested the passenger terminal construction time in phase one is 39 months, including 36 months of construction and three months for a trial period.
The proposal was verified and approved by the Việt Nam National Construction Consultant Corporation and the Institute of Construction Economics.
After receiving opinions from the technical design consultant, the project management board decided that the minimum construction time of 39 months was feasible and suitable.
Covering a total area of more than 5,580 hectares, the Long Thành international airport will be spread across six communes in Long Thành District, Đồng Nai Province.
The airport's total investment is VNĐ336.63 trillion (US$14.2 billion), with construction divided into three phases.
In the first phase, a runway and one passenger terminal along with other support facilities will be built at a cost of VNĐ109.1 trillion to serve 25 million passengers and 1.2 million tonnes of cargo each year.
The project started in 2021. Once fully completed, the airport will be able to handle 100 million passengers and five million tonnes of cargo annually.
Located 40km east of HCM City, the airport is expected to relieve overloading at Tân Sơn Nhất International Airport in the southern metropolis, now the country's largest airport.
Ministry of Industry and Trade calls for stable supply of coal

The Minister of Industry and Trade has recently asked the trio of power giants to keep the supply of coal stable at all costs in 2023 as the mineral is essential for power generation and fertiliser production.
In his meeting with State-owned heavyweights on March 3, Minister Tran Hong Dien requested Vietnam Electricity, Vietnam Oil and Gas Group, and Vietnam National Coal and Mineral Industries Group (TKV) to keep a close watch on coal supply.
He said under no circumstances should the supply be disrupted as coal is an essential mineral that thermal power stations and fertiliser factories can not go without. If a coal shortfall occurs, it will deal a heavy blow to the economy.
To keep coal shortages at bay, the minister urged the trio to act in line with the governmental Directive No.29 and the ministerial instructions on the provision of coals.
He also ordered that coal suppliers and purchasers comply strictly with the contracts they both agreed to. Otherwise, they would be held responsible for any damage arising from their failure to fulfil the contracts.
He also called on the trio to find new coal exporters, especially those who have signed a free trade agreement with Viet Nam, to boost coal imports. Some potential candidates include Indonesia, South Africa, and Laos.
Specifically, he called for extensive research into Lao policies on coal exports and the construction of routes allowing Lao coal transport into Viet Nam at the lowest costs. He also suggested coal warehouses be built near the Lao border to reduce mileage.
Vietnamese coal importers are urged to move into top gear to be well-prepared for the import targets set for this year. The same goes for coal producers, who must toil away to keep pace with their targets.
KTV and Dong Bac Corporation (DBC) are tasked with improving capacity to churn out sufficient coal for electricity generation. They are also asked to build intermediate warehouses in the central and southern provinces so coal in transit can be temporarily stored before being reshipped to thermal power plants.
The minister has asked the Inspectorate of the Ministry of Construction to carry out regular checks on the corporations to ensure their construction works take place as requested.
According to the Department of Oil, Gas, and Coal, Ministry of Industry and Trade, about 57.9 million tonnes of coal would be brought to the market in 2023, of which 44.7 million tonnes would be domestically produced and 13.2 million tonnes come from abroad.
Meanwhile, total coal consumption would run to approximately 57.0 million tonnes during the same period, with 46.2 million tonnes being used for electricity generation, 2.5 million tonnes for fertiliser production, and 8.3 million tonnes for others.
TVK has entered into contracts with 22 thermal power plants and two fertiliser factories to date. Under the contract, the first will sell 38.5 million tonnes of coal to the second and 1.6 million tonnes to the third. DBC followed suit with a contract involving the sale of 7.6 million tonnes to 10 thermal power plants.
In the first two months of 2023, coal available for sale hit 8.3 million tonnes, slightly lower than coal consumption of 8.7 million tonnes. About 7.3 million tonnes went to electricity generation whereas 0.4 million tonnes to fertiliser production.
At the end of the meeting, the minister called on the heavyweights to always put productivity and innovation high on their agenda. He said they should closely cooperate to deal with common obstacles more easily.
HCMC proposes using own budget to build inter-port road
The HCMC Department of Transport has written to the municipal government proposing using the city's budget to develop a six-kilometer-long road connecting Cat Lai and Phu Huu ports.
The inter-port road would be extended to the HCMC-Long Thanh-Dau Giay expressway and Beltway No. 3, facilitating cargo transportation to other provinces.
The 12-lane road would start from Nguyen Thi Dinh Street and end at the intersection between Beltway No. 3 and the HCMC-Long Thanh-Dau Giay expressway.
The project would cost an estimated VND8 trillion, which would be entirely funded by the HCMC budget, instead of the private sector through a build-operate-transfer (BOT) contract, the local media reported.
The Transport Department reasoned that it would be financially unviable to implement the project under a BOT contract because three nearby road projects are due to start toll collection under BOT contracts, making it tough for the investor of the inter-port road to recover capital.
Moreover, the pressure from road tolling in the area might spark negative reactions from drivers and trucking businesses as they are now paying seaport infrastructure fees.
The department plans to add revenue from the seaport infrastructure fee collection to the city's budget for developing and upgrading infrastructure around seaport areas in the city.
The inter-port road is scheduled to get off the ground in 2024.
The Cat Lai port is the largest in Vietnam. Cargo throughput at the port accounts for 85% of the total in southern Vietnam and half of the nation's total. Meanwhile, the Phu Huu port has also seen a huge spike in goods throughput.
Therefore, many roads around the two ports, such as Nguyen Thi Dinh, Vo Chi Cong, Dong Van Cong and Nguyen Duy Trinh, are frequently congested.
Deputy PM wants report on material shortage in expressway projects
Deputy Prime Minister Tran Hong Ha has urged ministries to report on the current shortage of construction materials in expressway projects in the central and southwest regions.
According to the Ministry of Transport, 10 components of the North-South expressway from Ha Tinh to Khanh Hoa provinces in central Vietnam will need 17.1 million cubic meters of rock, nearly nine million cubic meters of sand and 45.3 million cubic meters of soil.
However, the current quarrying capacity of companies licensed to supply building materials is not enough to meet the huge demand. The above components lack some 7.5 million cubic meters of rock, three million cubic meters of sand and 1.9 million cubic meters of soil.
Likewise, the Can Tho-Hau Giang and Hau Giang-Ca Mau sections of the North-South expressway will require 18.5 million cubic meters of sand.
The ministry said there were enough construction materials in reserve, but the Government should streamline procedures for exploiting new mines to enhance the quarrying capacity.
Can Gio int'l transit terminal hoped to come into being by 2030
An international transit terminal project in Can Gio district, Ho Chi Minh City, has been proposed to start in 2024 and have its first phase put into use in 2027.
As the cargo volume handled at seaports in HCM City is forecast to be 60 million tonnes higher than their capacity by 2030, the southern metropolis wants to accelerate the construction of this 5.3 billion USD terminal, which is expected to create a breakthrough in sea-based economic activities for not only the city but also the entire Vietnam, according to the Lao dong (Labour) daily.
Bui Hoa An, Deputy Director of the municipal Transport Department, was quoted by the newspaper as saying the cargo volume handled at local seaports stood at over 164.19 million tonnes in 2021. With an annual growth rate of 3.8%, it is forecast to approximate 230 million tonnes by 2030 while the capacity of existing facilities by that time is only 170 million tonnes.
Given this, it is necessary to build a new terminal in Can Gio in the 2021 - 2030 period to cater for the sea freight growth before and after 2030, he reportedly noted.
Pham Anh Tuan, General Director of the Portcoast Consultant Corporation, said the Can Gio international transit terminal is set to have 7.2km of wharves and cover some 570ha. It will be able to handle the world's largest container ships (24,000 twenty-foot equivalent units) at present.
The project will be implemented in seven phases, the first of which is hoped to start in 2024 and become operational in 2027 while the last is set to be put into service in 2045.
The official said that once operational, the terminal will contribute about 9 trillion VND (379.6 million USD) to the budget each year and create 7,000 jobs.
Not only giving a boost to socio-economic development in Can Gio district, it is also expected to help HCM City sustain its role as a logistics centre of the region and Asia and become an international financial hub.
Source: VNA/SGT/VNS/VOV/Dtinews/SGGP/VGP/Hanoitimes