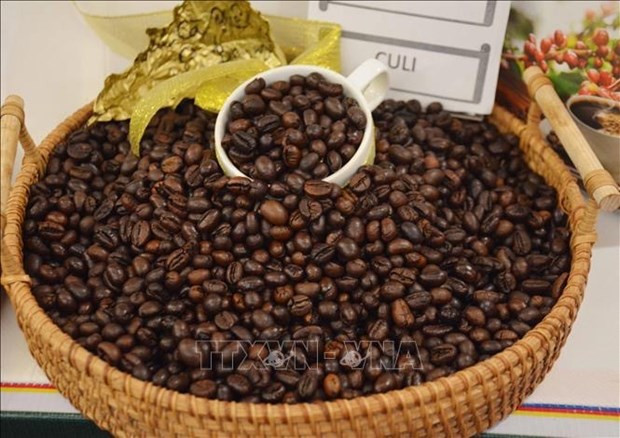 The Vietnam Academy of Social Sciences (VASS)' Institute of African and Middle Eastern Studies and the group of African Ambassadors to Vietnam held an international seminar on promoting African Continental Free Trade Area: opportunities and challenges for Vietnam on May 24.

In his opening speech, VASS President Dr. Phan Chi Hieu said Vietnam and African countries have a long-standing relationship and always support each other, from the struggle for national liberation to national development process. Despite COVID-19 pandemic, trade volume between Vietnam and African nations still recorded positive growth.

Vietnam's main exports to Africa include industrial goods (agricultural processing machinery, phones, phone components), agricultural products (food, coffee, tea, pepper, seafood), and processed goods. Conversely, Vietnam mostly imports raw materials like cotton, cashew nuts and timber from Africa. The goods of both sides complement each other. Therefore, the African Continental Free Trade Agreement (AfCFTA), once effective, will provide an opportunity for Vietnam's goods of competitive edge to penetrate the African market even more, and vice versa.

Algerian Ambassador Abdelhamid Boubazine to Vietnam said two-way trade between Vietnam and Africa doubled from 2.52 billion USD in 2010 to 5.5 billion USD in 2022.

Assoc. Prof. Nguyen Thuong Lang, senior lecturer at the National Economics University's School of Trade and International Economics, said Vietnam needs to fully upgrade its traditional and existing relations with African countries, promote business connectivity, increase market surveys, trade fairs, and exhibitions to fully tap existing opportunities and create new ones, and pay attention to risk management in trade and investment.

Vietnam should establish new forms of cooperation and share new business and economic models such as digital business, circular economy and sharing economy, he said, adding that developing online connectivity platforms can help minimise transaction costs. It is important to focus on forums, workshops, conferences and exchanges to gain specific insights into each member and external partner. Collaboration should be fostered in emerging fields such as renewable energy, digital transformation, climate change mitigation, and initiatives to achieve net-zero emissions by 2050.

During two sessions of the event, delegates discussed solutions to boosting exports-imports via digital platforms, major orientations to economic developments and proposed financial mechanisms, policies and measures in support of joint projects with Africa.

So far, 46 African countries have officially approved the AfCFTA. Once fully operational, the AfCFTA will become the world's largest free trade area, encompassing a market of 1.3 billion people and a combined gross domestic product of up to 3.4 trillion USD.
Workshop discusses activities supporting innovation, startups
The Ministry of Science and Technology held a workshop on models to deploy public activities and services serving the state management of innovation and start-ups in Hanoi on May 24.
Highlighting the importance of these models, Deputy Minister Tran Van Tung said they help promote the development of national innovation startup support centres in Hanoi, Da Nang and Ho Chi Minh City. The models must invest in both facilities and human resources, he noted.
Pham Dung Nam, Director of the National Startup Support Center, informed participants about a strong growth of innovation and startup activities in the country between 2019 and 2022, adding that Vietnam has so far housed more than 3,000 science and technology enterprises.
Tran Hai Dang from the office of science and technology resources cooperation and development at the ministry's Agency for Southern Affairs said the southern region has seen the strong development of Vietnam's innovation startup ecosystem. In 2022, it recorded more than 4,000 start-ups, of which ten were valued at over 100 million USD, including four technology unicorns.
National innovation startup centres in Hanoi, Da Nang, and HCM City have affirmed their role and position in helping Vietnam emerge as a development centre for innovative startups in the Asia-Pacific region, he said.
The workshop also discussed the support for organisations and individuals to apply and innovate technology; as well as innovation and related state management.
Wood companies seek orders through fairs amid declining export
Wood and fine arts enterprises hope to seek potential customers at the Vietnam ASEAN International Furniture & Home Accessories Fair (VIFA ASEAN 2023), scheduled to take place in HCM City from August 29 - September 1, in the context of a sharp decrease in the export of wood and wooden products in the last four months.
Addressing a May 23 conference to announce the organsation of the fair, Tran Ngoc Liem, Director of the Vietnam Chamber of Commerce and Industry, Ho Chi Minh City Branch (VCCI-HCM), said facing the global economic downturn, an average of about 19,000 businesses withdraw from the market every month.
Over 80% of the enterprises operating in the wood industry have been affected, with decreasing revenue, he added.
Statistics of the General Statistics Office show that the export turnover of wood and wood products totaled an estimated 1.2 billion USD in April, and 4 billion USD in the first four months of 2023, down 24% and 28% year-on-year.
The high prices of global fuel and energy affect production costs of wood enterprises, Liem said, adding that the inflation rate still remains high and monetary policy has not been loosened.
The slow recovery of the global economy and the collapse of some banks in the world have led to the trend of tightening spending on non-essential products such as wood and wood products in big markets, including the US and the European Union (EU), causing sharp drops in import demand, he noted.
China's reopening also creates competition pressure on wood and wood products, especially Vietnam's wooden furniture, he noted.
Wood enterprises also meet difficulties related to interest rates, and in accessing capital.
Many businesses, which are facing a sharp decline in orders, still have to maintain production and wait for improvement, Liem went on.
The country's export turnover of wood and wood products in the first half of 2023 is forecast to drop by between 28%-32% compared to the same period last year.
According to Cao Ba Dang Khoa, acting general secretary of the Vietnam Coconut Association (VCA), the hosting of VIFA ASEAN 2023 will help turn Ho Chi Minh City into a regional and international furniture centre.
It will offer a venue for exhibitors to access potential customers, thus expanding export markets, he noted.
VIFA ASEAN 2023, which will be jointly hosted by Lien Minh Wood Handicraft JSC, VCCI-HCM and VCA, iexpects to attract 1,400 booths from 350 domestic and international export furniture & handicraft producers and processors.
Fruit, farm produce week underway in Hanoi
A wide range of fruits and other agricultural specialties from various localities are being offered at Vincom Plaza Long Bien shopping mall in Hanoi within the framework of a fruit and farm produce week that opened on May 24 to stimulate demand.
Acting Director of the Hanoi Department of Industry and Trade Tran Thi Phuong Lan said the fair is expected to stimulate domestic consumption, increase the total retail sales of goods and effectively implement regional linkage activities and support promotion and connection of goods supply and demand between Hanoi and other localities.
The fair gathers more than 130 booths of over 80 enterprises and cooperatives of Hanoi and 18 participating cities and provinces.
Many products of the localities' strength are supported by large distribution enterprises in Hanoi such as Aeon, Central Group, MM Mega Market, and have been put into distribution systems in foreign countries such as Japan (AEON) and Thailand (BigC).
The week is scheduled to last through May 28.
Capital city fosters industrial development
In order to achieve the target of industrial growth of 7-7.5% this year, Hanoi has been implementing a series of solutions to support industrial enterprises in the capital city.
Data from the Hanoi Statistics Office showed that the industrial production index (IIP) is estimated to grow by 3.3% last month over the previous month and by 3.6% over the same period last year.
The index in the first four months of 2023 rose by 1.6% over the same period last year.
The labour utilisation index of industrial enterprises in the first four months of the year fell by 3.6% over the same period last year.
The city had 2,900 newly-registered enterprises last month, a year-on-year increase of 15%, raising the figure in the first four months to 10,300, up 13% from the same period last year.
Talking about the 1.6% growth of industrial production, Acting Director of Hanoi's Department of Industry and Trade Tran Thi Phuong Lan said that the reason was due to the city's socio-economic situation, which takes place in a complicated global context.
Facing common difficulties, the capital city's leaders had directed its Department of Industry and Trade and other departments in the area to implement synchronous and drastic solutions to promote economic recovery and development.
Therefore, the macroeconomic situation remained stable, inflation was controlled, and social security was ensured.
The municipal Party Committee, People's Council and People's Committee had focused on directing all levels, branches and localities to promote economic growth, speeding up socio-economic recovery and industrial production from the beginning of the year.
In particular, Hanoi would develop plans to organise fairs and exhibitions, connect businesses in supporting and key industries, so that companies could meet domestic and foreign partners to exchange, deploy and apply scientific and technical advances, connect consumption of machinery products, industrial equipment and proceed to export.
Besides organising specialised fairs of supporting industry products and key industrial products, most recently, the city has also organised a fair of industrial products, machinery and equipment and automation with the participation of domestic and foreign supporting industry enterprises from the Republic of Korea, Japan, Taiwan (China), Hong Kong (China), and Thailand.
Through fairs and exhibitions, enterprises manufacturing and trading supporting industrial products, machinery and equipment of Hanoi in particular and the whole country, in general, could introduce and promote products, and connect production between enterprises in the supply chain, said Lan.
It would help raise standards of quality and competitiveness of products, meeting customers' needs.
Besides the support of the authorities, now businesses in the capital were also trying to maintain and develop production, said Lan.
Notably, the industrial production index of enterprises in Hanoi last year grew significantly more than in the first quarter of this year, showing that industrial enterprises in the city had gradually stabilised, she added.
Businesses were actively seeking orders in the industrial field. Companies are also searching for new markets while maintaining and keeping the traditional markets.
Besides organising fairs, exhibitions, and trade promotion programmes to promote industrial development, Lan said that the Hanoi Department of Industry and Trade would continue to carefully monitor and grasp the difficulties and problems of enterprises to propose to the competent authorities and especially the Hanoi People's Committee to solve them promptly.
In addition, the city would support businesses in the fields of capital, science and technology, and trade promotion so that companies could continue to promote development and retain labourers.
Businesses, farmers yet to benefit from recent coffee price hikes
Over the past month, the price of coffee bean has continuously increased, reaching the mark of 60,000 VND (2.55 USD) a kilogramme, the highest in the past 15 years, in the Central Highlands provinces which are considered the country's "coffee capital".
According to the Department of Industry and Trade of Dak Lak province and coffee exporters, the market has been strongly influenced by the law of supply - demand.
Vietnam is leading the world in Robusta coffee production. However, while the demand for this kind of coffee has increased in recent years, Vietnam's output is decreasing by about 10-15%, causing a shortage of supply.
In addition, the current inflation has pushed up the prices of raw materials and fuels, especially agricultural materials, by two-three times, resulting in a rise in coffee production and processing costs, and selling prices.
The Department of Industry and Trade of Dak Lak province said that in the first four months of 2023, the locality exported about 165,000 tonnes of coffee beans, equal to that of the same period of the previous years. The high coffee price leads to an increase in the export turnover. However, local farmers and businesses have yet to benefit much from the growth.
Deputy Director of the provincial Department of Industry and Trade Huynh Ngoc Duong said that local coffee enterprises are still weak in terms of capital, human resources, while their capacity to participate in large markets remains limited and linkages between them are not high.
In the coming time, the industry and trade sector will move to help solve limitations facing businesses. In addition, the province will continue to encourage product diversification and deep processing, create conditions for businesses to access loans, and focus on improving the role of relevant associations.
Indian businesses explore opportunities in southern region
An Indian delegation comprising 17 business executives from various sectors like IT, infrastructure, electrical equipment, aquatic processing, technology services, and renewable energy met with their Vietnamese counterparts to explore tie-ups at a meeting held both online and offline on May 23.
Speaking at the event, Dr Madan Mohan Sethi, the Indian Consul General in Ho Chi Minh City, said India has become Vietnam's seventh largest trading partner after bilateral trade increased significantly in recent years.
Sethi said he saw tremendous scope for enhancing cooperation between the two countries not only in trade but also in many other sectors including investment, medical care and tourism.
He hoped to be a bridge for cooperation between the two sides.
Nguyen Thi Diem Quynh, Deputy Director of Long An province's Department of Planning and Investment, said the province is home to nearly 1,200 foreign-invested projects with total registered capital of 10.3 billion USD.
They include seven Indian projects worth 215 million USD mainly in food processing, animal feed and textile and garment, he said.
The province seeks to industrialise and become the largest hub for processing and distributing agricultural produce in the South in the next 10 years, she said.
It would prioritise attracting investments in supporting industries, processing and manufacturing, automation, electronic equipment and components, software, semiconductors, artificial intelligence, and urban development, she added.
Doan Thi Ngoc Van, Deputy Director of Dong Nai province's Department of Planning and Investment, said the locality has a trade surplus with India.
Its major exports include raw materials for plastic, curtain and technical fabrics, machinery, equipment, spare parts, fibre, and yarn.
India's strengths like IT, biotechnology, education, and medical care are also areas of interest for Dong Nai province, which offers the two sides a great opportunity to collaborate, she added.
Dr Ranjeet Mehta, Deputy Secretary General of the PHD Chamber of Commerce and Industry, New Delhi, said the objective of the delegation's visit is to seek tie-ups with Vietnamese companies in various areas such as agriculture, textiles, education, food processing, railways, infrastructure, and healthcare.
Shwetima Negi of Invest India spoke about her country's market and opportunities in key sectors such as information technology, manufacturing, aquaculture, logistics, and infrastructure, which are soliciting foreign investment.
Vietnam introduces food, beverage products at Thailand's trade show
Nearly 160 Vietnamese food producers are displaying their products at Thaifex Anuga 2023 in Thailand – the largest food and beverage trade show in Asia for retailers, supermarkets, hotels, and restaurants to introduce the latest products and innovations in the food and beverage industry.
Many healthy products with integrated quality standards, farm produce, agricultural specialties, and processed products with high added value of Vietnam are displayed at the event.
Within the framework of the fair, the Business Association of High-Quality Vietnamese Products in collaboration with the Vietnam Trade Office in Thailand organised a seminar on green economy and orientations for developing sustainable products in Vietnam, during which scholars from the Thai Ministry of Commerce, the consumers' association of Thailand, and Central Retail (CRC) shared the host country's experiences in developing green economy and sustainable products in the context of climate change and merging diseases.
The seminar also offered a venue for representatives from Vietnamese businesses to discuss opportunities to develop markets for green and sustainable products.
Nguyen Thanh Huy, who is in charge of the Vietnam Trade Office in Thailand, highlighted the great potential of Vietnam to promote the development of green and sustainable economy.
Meanwhile, Vu Dinh Huy, Director of QP Foods JSC, underlined the need to promote deep processing in order to increase the value of Vietnamese agricultural products, saying that this is also the common direction of most Vietnamese businesses participating in the fair.
Thaifex Anuga 2023, which runs from May 23-27, saw the participation of over 3,000 enterprises from over 40 countries worldwide, which display their products at 5,500 booths. It is expected to attract over 60,000 visitors from 120 nations.
Vietravel Airlines launches direct flights from Da Nang/Cam Ranh to Macau
Vietravel Airlines on May 25 officially launched direct flights connecting two central localities of Vietnam – Cam Ranh and Da Nang with Macau (China).
Flight number VU1337 took off from Macau International Airport at 13.40 (local time) on May 25 and landed at Cam Ranh International Airport at 14:55 (Vietnam time), bringing the first tourists group from Macau to Vietnam after the period of travel restriction due to the COVID-19 pandemic.
Following the success of the Hanoi – Bangkok and Ho Chi Minh City - Bangkok routes, Vietravel Airlines will operate daily charter flights on the routes Cam Ranh/Da Nang – Macau (China) from May 25.
At the same time, the airline is also working with authorities and partners in countries in Northeast Asia to soon launch flights to Taiwan (China), China, the Republic of Korea, and Japan.
Together with expanding its international route network, Vietravel Airlines also put into operation the Hanoi - Cam Ranh and Hanoi - Da Nang routes with daily flights from May 26.
General Director of Vietravel Airlines Vu Duc Bien said that the airline has made thorough preparation for opening international routes to help boost Vietnam's tourism.
According to the General Statistics Office, in the first quarter of 2023, Vietnam welcomed nearly 2.7 million international arrivals, of which 89.8% traveled by air, an increase of 29.4% over the same period last year. These positive indicators are the basis for Vietravel Airlines to promote the expansion of domestic and international markets.
Standardisation key to raising national economic competitiveness: Official
The National Standardisation Strategy for 2030, once issued, is expected to contribute to raising the efficiency of building and applying standards as well as the internationalisation of national standards, an official has said.
Ha Minh Hiep, Deputy Director General of the Directorate for Standards, Metrology and Quality, said the strategy will also help accelerate the formation of a national standard system to promote technological innovation and raise the productivity and quality of goods.
It will prescribe basic principles and orientations, build a master action programme, and develop mid- and long-term standard systems at the national or global levels, Hiep continued.
According to Pham Thao Phuong, deputy head of the department of standards under the Directorate for Standards, Metrology and Quality, the strategy sets the specific targets like issuing Vietnamese standards for national and key products, and raising Vietnam's harmonisation rate with international, regional and foreign standards to at least 65% by 2025 and 70-75% by 2030.
As Vietnam is integrating into the global economy and has become a member of the World Trade Organisation (WTO), the Association of Southeast Asian Nations (ASEAN), and the Asia-Pacific Economic Cooperation (APEC) forum, as well as new-generation free trade agreements, the country has to observe stringent regulations and requirements on technical standards in foreign markets.
In fact, Vietnamese goods draw warnings from foreign countries repeatedly due to their failure in satisfying technical standards and barriers set by importers.
The Vietnam Sanitary and Phytosanitary Notification Authority and Enquiry Point (SPS Vietnam) under the Ministry of Agriculture and Rural Development reported that last year it received nearly 1,000 notices relating to food safety and animal and plant quarantine. The complaints are up 10% year-on-year, mostly from Japan with 83 notices, followed by Brazil, the EU, Canada, and the US.
Over the past time, the Party and the Government have issued many guidelines, policies and mechanisms aiming to step up the building of standards, making them an effective tool in sustainable socio-economic development and improving national competitiveness.
However, limitations still remain in the standardisation process due to the lack of attention, incentives and data, along with difficulties relating to personnel and equipment.
Smart logistics key for competitiveness improvement: experts
To meet the demand of domestic trading and import-export activities, the logistics sector is working towards professional and competitive services meeting international standards, in which smart logistics development is considered the key solution.
According to Director of the Import-Export Department under the Ministry of Industry and Trade Phan Van Chinh, local logistics firms have been increasingly aware of the need to speed up digital transformation and apply technology to their business operations, aiming to cut cost and increase competitiveness.
Supply chain director at Nestle Vietnam Nguyen Tran Hoang Yen said that digitalisation has helped the firm better connect with the global market and optimise goods transport and distribution activities in the domestic market.
Nestle has launched its Cargoo app to connect manufacturers, importers and shipping lines, enabling them to follow the transportation process of each order and track the goods information, book ships and manage all related documents, she said.
Meanwhile, Marketing Director of the Saigon Newport Corporation Truong Tan Loc said that the firm has launched a system of e-port and e-warehouse, while applying artificial intelligence (AI) in customer services, thus improving its service quality.
However, as 90 per cent of the logistic firms are small- and medium-sized enterprises, the application of smart logistics has remained limited.
Pointing to major barriers hindering smart logistics development in Viet Nam, Vice Chairman of the Viet Nam Logistics Business Association Le Quang Trung mentioned limitations in mindset and confusion in selecting suitable technologies as well as a shortage in financial and human resources and a lack of harmonious policies for digital transformation.
Experts held that strengthening the application of IT and modernising management and operation methods as well as using logistics optimising platforms are among the effective measures to reduce logistics cost and improve service quality.
Loc said that domestic logistics firms should work closely together to enhance the competitiveness of Viet Nam's logistics sector by building a shared database on Viet Nam seaport system with connections with other ports in the region and the world.
At the same time, the State and localities should further simplify administrative procedures, while building a joint database and processing administrative procedures online, he said, stressing the need for updating the legal system to encourage businesses to develop new services and technologies.
Director of Northern Operations Division at Lazada Viet Nam Nguyen Trieu Quang Quang said that logistics businesses should standardise their processes and build a sustainable ecosystem to grasp opportunities from the booming e-commerce, while improving the delivery experience from every touchpoint.
Vice Director of the Import-Export Department under the Ministry of Industry and Trade Tran Thanh Hai underlined the need for coordination and strong linkage among not only logistics firms but also all relevant agencies in order to successfully promote the application of digital technology.
Banks told to bring interest rates down
Measures must be taken to bring down interest rates in the banking sector, said the State Bank of Vietnam (SBV) during a meeting with CEOs from 26 commercial banks in the country yesterday.
In an earlier development, the SBV issued directives to reduce the policy interest rate by 0.5 per cent, from a previous 5.5 per cent to 5 per cent a year, as well as the overnight interest rate in interbank electronic payment and compensatory lending interbank from 6 per cent to 5.5 per cent a year. In addition, the refinancing interest rate was also adjusted by half a percentage point, from 5.5 per cent to 5.0 per cent a year.
In another directive, the SBV has instructed commercial banks to allow restructuring repayment and maintain debt groups to support borrowers and businesses.
Failure to comply with the directives in a timely manner will result in severe penalties, according to the SBV. Banks were also told to minimise inconveniences and facilitate problem-solving to support customers.
In an earlier meeting with commercial banks and governmental agencies, deputy Prime Minister Le Minh Khai stressed the importance of continuing with cost-cutting measures, reducing deposit rates, promoting economic development and granting businesses easier access to funds.
"Establishing a reasonable and sustainable deposit rate is crucial to our efforts to adjust lending rates," he said.
Businesses and banks must realise they are in this together. Banks will go well when businesses do well, he added.
He said top priorities for the SBV in the near future include the management of credit growth, interest rates, exchange rates and connectivity in the banking sector. Stronger efforts are also required to improve the sector's transparency, the business environment, the macroeconomy, exchange rates and the stability of the commercial banking system.
Khai urged the SBV, governmental ministries and commercial banks to provide timely information to the public and take additional steps to handle cases of harassment, corruption and group interests.
Stronger procurement laws needed to ensure fair, competitive bidding
It's high time that Viet Nam started implementing a robust Procurement Law that ensures fair, transparent and competitive bidding, said National Assembly deputies during a meeting on Wednesday in Ha Noi.
Deputies have long voiced their concerns over the current procurement regulations which have resulted in prolonged periods of waiting, waste and loopholes despite being amended a few times in recent years.
They called for reforms to shorten bidding procedures, and improve accountability and responsibility.
The Procurement Law, first introduced in 2005 and amended in 2013, has been the main legal framework overseeing the selection of contractors for public projects. The law covers an extensive number of bidding methods including open and restricted bidding, direct award and procumbent, one-envelope and two-envelope procedures.
For the most part, deputies said the law is in line with Vietnamese laws and regulations, as well as international standards and practices. The law has contributed to enhancing the efficiency of the State budget, State capital in State-owned enterprises and national development programmes.
In addition, it has helped facilitate foreign investments in public projects.
However, shortcomings and limitations remained as there have been misconduct and negative incidents during the bidding process, which in many cases resulted in severe losses and damages to the State's assets.
In practice, as made evident by a number of high-profile criminal cases in recent years, individuals and groups have been found to deliberately collude and commit fraud in violations of the law for personal gain.
Therefore, deputies called for a comprehensive review of the current regulations, especially in overseeing the bidding process, defining the responsibilities of parties and handing out severe penalties for violations.
In an earlier development, the NA Standing Committee started a review and revision process to reduce the use of direct awards in public projects, including resettlement packages. Direct awards for consultancy packages can only be granted on the grounds of intellectual property and technical compatibility.
Direct awards for the procurement of drugs, chemicals, and medical equipment can only be granted when the country's healthcare facilities experience a shortage of supplies. Regarding key national projects, the decision to directly award projects can only be made by the NA.
Vietnamese stainless steel wire products not circumventing US anti-dumping tax
Vietnam's round stainless steel wire products manufactured from materials imported from the Republic of Korea have not circumvented the anti-dumping duty of the United States, according to the Trade Remedies Authority of Vietnam under the Ministry of Industry and Trade.
The Authority said the US Department of Commerce (DOC) on May 22 made a final conclusion on its investigation against duty evasion of trade remedies for stainless steel round wire products imported from Vietnam to the United States.
In its final conclusion, the DOC maintained its assessment in its preliminary determination issued in December 2022 that Vietnam's stainless steel wire products manufactured from materials imported from the RoK were not an act of circumvention of the anti-dumping duty that the United States is applying to similar products of the RoK.
The US side initiated the investigation in February 2022. According to data from the US International Trade Commission (USITC), Vietnam's HS 7223 steel products exported in 2021 are approximately US$4.9 million.
Vietnam, New Zealand target US$2 billion in 2024 bilateral trade
Vietnam and New Zealand will make efforts to bring two-way trade to US$2 billion by 2024 from last year's US$1.2 billion, heard a bilateral meeting in Hanoi.
The target was raised at the eighth meeting of the Vietnam-New Zealand Joint Trade and Economic Commission (JTEC) held recently in Hanoi. The event was chaired by Deputy Minister of Industry and Trade Phan Thi Thang and Deputy Secretary for Foreign Affairs and Trade of New Zealand Vangelis Vitalis.
The officials of Vietnam and New Zealand lauded the mutual efforts to bring local agricultural produce to each other's markets at the end of last year, including Vietnam's pomelos and limes and New Zealand's strawberries and squashes.
The two countries planned to bolster the bilateral relations in a range of aspects, including agricultural supply chains, educational development initiatives, tourism investments and aviation industries.
In 2022, Vietnam-New Zealand trade reached US$1.2 billion, rising by 14% year-on-year.
Vietnam is New Zealand's 13th biggest trading partner and fifth among the ASEAN members, with 11 investments worth US$38.4 million.
New Zealand has 39 ongoing projects in Vietnam with a total pledge of US$209.75 million.
VND120-trillion package not for real estate rescue: Deputy PM
The VND120-trillion credit package is not intended to rescue the struggling real estate sector but to achieve the target of building at least one million social homes by 2030, Deputy Prime Minister Tran Hong Ha said at a recent meeting.
The package is designed to support developers and buyers of social housing. Interest rates for those loans would be 1.5 to 2 percentage points lower than the average of the four banks at the transaction time.
However, the loan disbursement rate is currently far slower than expected as there have been almost no takers since its launch two months ago.
The lower-than-expected disbursement is attributed to obstacles in land allocation and inadequate planning for social housing development. Many businesses are awaiting the implementation of the amended Housing Law for more streamlined procedures.
As the guidance documents were just issued in April, many localities have been still preparing a list of housing projects and the number of people eligible to take out the loans.
Given the situation, Deputy PM Tran Hong Ha urged relevant units to speed up the planning and land allocation for social housing projects, especially large-scale ones in major cities like Hanoi, HCMC, Haiphong, Danang, and Can Tho.
Most issues related to legal procedures are being addressed through amendments to the Housing Law and Land Law. Once these laws come into effect, all of these issues will be effectively resolved, he said.
The Ministry of Construction has been assigned to guide localities to submit monthly reports on the implementation of the credit package.
A report from the Ministry of Construction shows that around 100 social housing projects in 36 provinces and cities have been granted construction permits. These projects will develop 85,662 apartment units with a total investment of around VND70,000 billion.
In Hanoi, over 4,000 social homes are currently available in the market, and 40 projects are under development.
VinFast recalls first batch of US-bound EVs over software glitch
The Vietnamese automaker VinFast is recalling the entire first batch of VF8 electric cars shipped to the U.S. last year due to a software glitch.
The move came after U.S. authorities warned that the software glitch in the dashboard display would prevent critical safety information such as speedometer and warning lights from being shown and might increase the risk of crashing.
VinFast has begun updating the software to fix the problem since yesterday.
Among 999 VF8 electric cars shipped to the United States, 111 had been delivered to customers, while 153 are currently used for fleet services. The rest are still in VinFast's hands.
VinFast said in a statement that the automaker voluntarily reported to the local authorities for the recall. VinFast has yet to record any instances of this issue occurring in other markets.
Previously, VinFast recalled over 2,700 VF 8 cars sold domestically between September 2022 and February 2023 over an issue with the front brakes.
VF 8 is VinFast's first electric model sold abroad. These cars have been delivered to customers in Vietnam since September 2022 and to customers in the U.S. since March of this year.
Currently, there are over 4,000 VF 8 vehicles on the roads in Vietnam.
The second batch of VinFast's electric vehicles, consisting of 1,098 cars, arrived at the port of Benicia, California, the U.S. on May 13. Meanwhile, 781 vehicles were also transported to Canada this month.
Source: VNA/SGT/VNS/VOV/Dtinews/SGGP/VGP/Hanoitimes